A poor video quality loses someone's interest in watching the video. Nobody appreciates pixelated or unclear visuals, especially when binge-watching videos or movies. For your information, some factors make video quality poor. It could be that the size of the video is too small to fit the screen. This is particularly true when watching mobile videos and streaming them on a larger screen like a TV. It might also be that the video itself is of low quality.
Regardless of your purpose, you can enhance video quality effectively when using the right tools. That said, we laid out some of the best solutions that will help you improve video quality online, offline, and even on mobile. Now, you can have a satisfactory video watching experience together with your friends and family. Learn more about these programs and get this job done in no time.
Part 1. How to Enhance Video Quality in AVAide Video Converter
Some people are curious about how to quickly and easily improve video quality. Don't worry because AVAide Video Converter is here to help. This professional software is an excellent tool for improving video quality in the simplest ways. In that case, yes. This is undoubtedly the best video converter and editor on the market, and it deserves first place on our list. With the features of this tool, you will find some professional tools that will assist you in improving the video quality to give your video a new fresh look with little effort.
AVAide Video Converter is also well-known for its powerful video editing capabilities. It can be used as a video enhancer, video editor, and video converter all at the same time. This program supports various file formats, including MOV, MKV, AVI, MP4, WMV, and others. It allows you to create, professionally, edit, and enhance videos. Isn't it incredible? It is, indeed. There isn't much to look for if you have this excellent tool with a high-end video processing feature that allows you to change the video quality completely. You can always preview your work while editing to ensure its quality.
AVAide Video Converter - Toolbox (Video Enhancer)
It will provide you with a high-quality output without sacrificing quality.
Your video can be converted 30x faster with the tool's accelerated technology.
This tool's interface is user-friendly, streamlined, and simple to use.
It works with Mac and Windows.
Step 1Download and Install the Software
First, you must download and install the application on your computer. Go to the official website and look for a download link. Or just click the download button above based on your operating system.
Step 2Go to the Toolbox
After downloading the tool, Go to the Toolbox tab then, Choose the Video Enhancer option, and add a media file by clicking on the Plus icon then begin enhancing your video.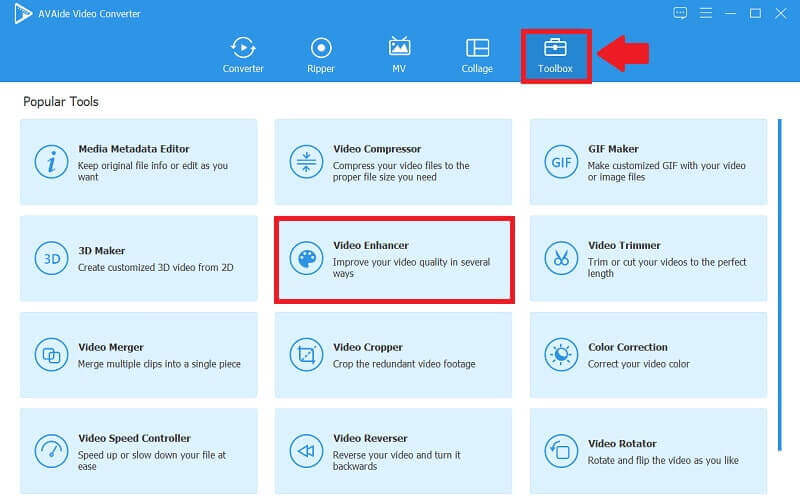 Step 3Upscale Video Resolution
Here are four options to improve your video quality, including Upscale Resolution, Optimize Brightness and Contrast, Remove Video Noise, and Reduce Video Shaking. You can tick the box ahead of the option based on your needs. Or unfold the Resolution menu and select your preferred resolution from the list below, and finally click the Enhance button when finished.
Note: Click the Remove Video Noise and Reduce Video Shaking button to remove the dirt-like video and reduce video shaking. By clicking it, you can also adjust the brightness and contrast.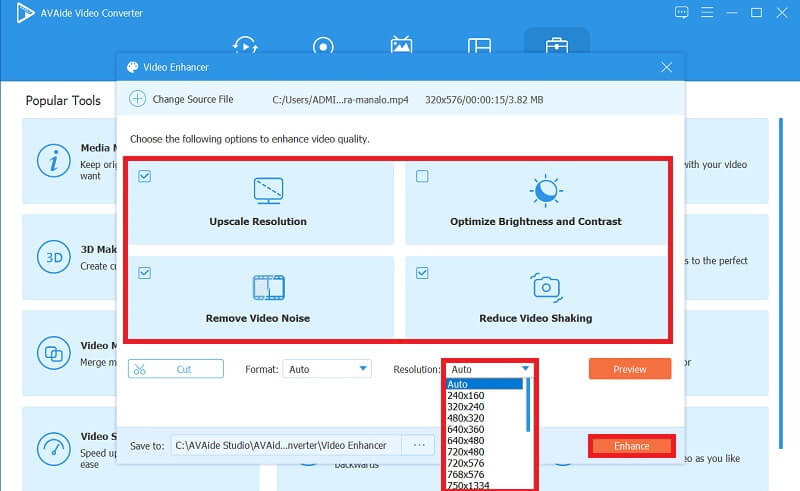 Part 2. How to Enhance Video Quality on Mac Using iMovie
When it comes to improving video quality on a Mac, iMovie is at the top of the list. You may use this tool to adjust the black and white levels, exposure, brightness, contrast, saturation, and white point settings of any video clip you've contributed to a project. Furthermore, the Mac version of iMovie includes more presets, features, and tools than the iPhone version. In that case, because its interface is displayed on a larger screen, all of its features, such as color balance and correction, stabilization, cropping, noise reduction, speed control, and beautification effects, are available. Examine the straightforward step-by-step procedure for increasing video quality in iMovie.
Step 1Launch the iMovie software on your Mac, and then select the Settings icon in the upper right corner of the timeline. The resolution of your project may be seen at the top of the project.
Step 2To continue, choose a video clip from the browser or timeline.
Step 3inally, after choosing your video clip, it will be automatically enhanced. You can change the Color Balance and Color Correction by clicking the buttons.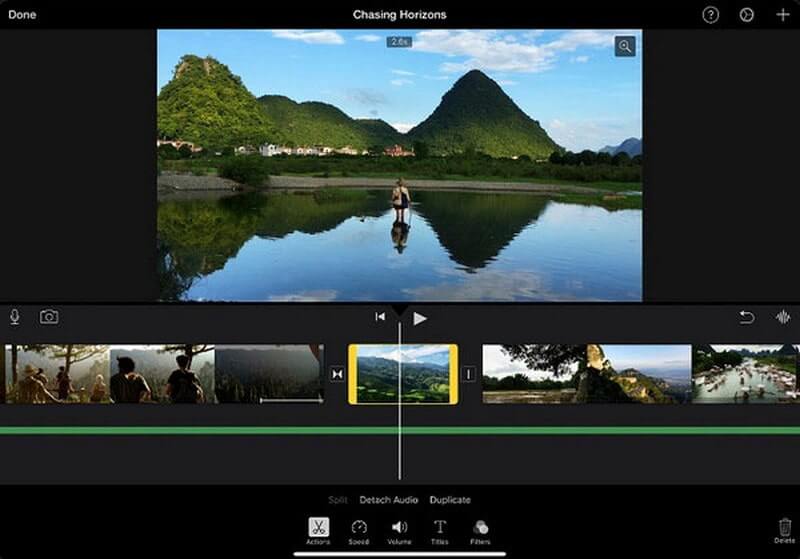 Part 3. How to Enhance Video Quality on iPhone and Android
Are you looking for a Video Enhancer that works on both iPhone and Android? We have a plethora of video editors and enhancers applications in today's generation. Assume you want to improve the video quality on your smartphones. A tool can help you improve your video in the simplest way possible. Learn about the two video enhancer apps and how to use them.
1. Videoshop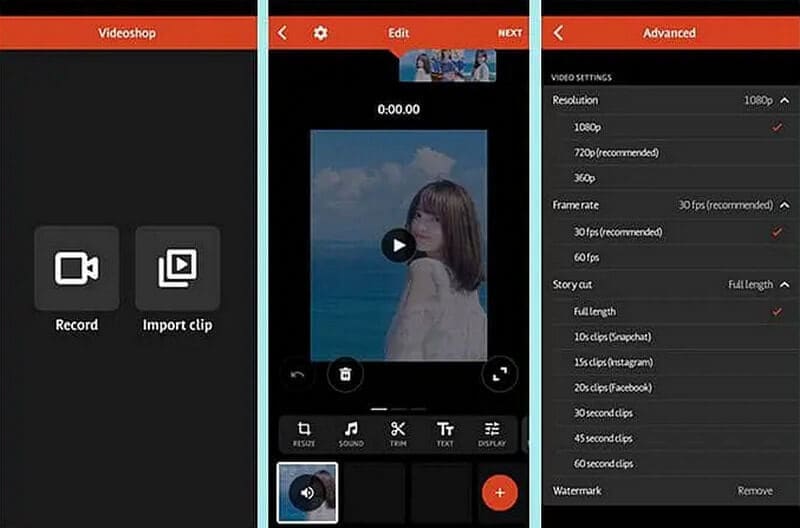 If you want to improve your video quickly, this is the tool for you. This useful software is a cross-platform smartphone app that provides a bit of entertainment in video enhancement. Using this, you can quickly improve the quality of your video. However, whether you use Android or iOS, you can install and use this app for free.
Platform: Android and IOS
Pros

Platform: Android and IOS
It has a fast and straightforward interface
Cons

It has limited features
2. InShot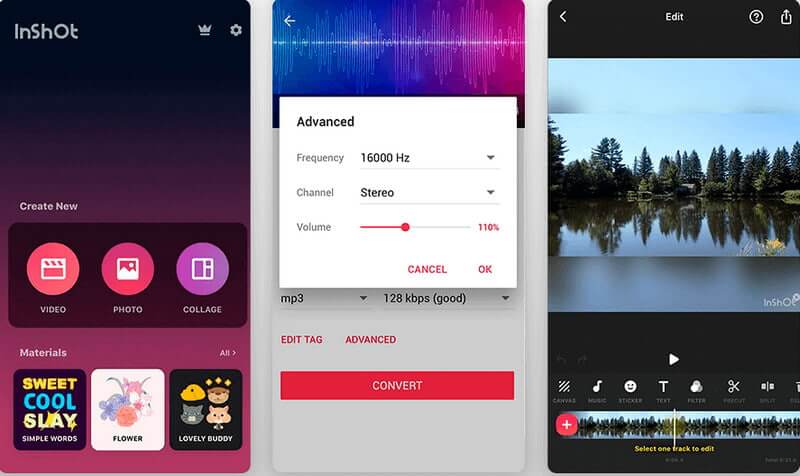 InShot is one of the options if you're looking for another tool available on Android and iPhone. This tool is recognized as one of the greatest video enhancers available, with several features. However, you can use this tool to improve dark videos by making them brighter and lighter. You can install and download this tool for free if you want to use it
Platform: iOS and Android
Pros

It has simplified video editing.
The video clip can be converted to the quality desired.
Cons

Cannot add multiple videos
It crashes at times
Part 4. How to Enhance Video Quality Online
Clideo Video Enhancer is one of the options if you're looking for an online tool to improve video quality. This software is an online video enhancer that allows you to enhance videos quickly. You can use this video enhancer to change videos' contrast, brightness, vignette, and saturation by simply dragging the sliders. This online video quality enhancer works well with various formats, including MP4, WMV, MOV, VOB, AVI, and others.
Platform: Online
Pros

It is an easy-to-use online tool
It is available in various formats
Cons

The uploading and downloading process is too slow
Part 5. FAQs about Enhancing Video
What is the recommended video format when enhancing video on iPhone?
When it comes to enhancing video on iPhone, the most recommended video format is MOV or MP4 because it is compatible and high resolution.
How long would it take to enhance a video?
When enhancing video, each video frame is generally converted from HD to 8K in 2-3 seconds. Each video frame will take about 0.4 seconds to upscale from SD to HD.
Is it possible to improve a low-quality video?
Yes, you can fix and stabilize out-of-sync videos. Professional video editors, such as the tools mentioned above, can repair poor quality.
Conclusion
We recognize the value of video enhancer software, but why settle for it when you can have a more powerful, user-friendly, and an excellent tool like AVAide Video Converter. You've already seen how they differ from one another. So the decision is entirely yours. Choose your tool wisely, and start enhancing your video right away.
Your complete video toolbox that supports 350+ formats for conversion in lossless quality.