Have you ever experienced recording a video file but unconsciously had the wrong visual orientation? For as users of different devices, like mobile phones or camcorders, we sometimes accidently do this particular mistake. Thanks to the available solutions we have today. There's an appropriate answer which is what we called the video rotation. You can easily rotate videos on apps for iOS, Android, and computer desktop. Discover this opportunity to make adjustments on your video media files.
Part 1. 5 Best Apps to Rotate Video for iPhone and Android Devices
There are comprehensive tools that you can count on to access just by using your smartphones. This part of the write-up features five (5) different tools for iOS and Android phone users.
For iOS Devices
1. iMovie
One of the videos rotate apps we have for iPhone users is the built-in media player which is the iMovie. This software lets you apply video rotation in clockwise and counterclockwise depending on your demand. Moreover, this is one of the most used apps because you're not going to install a third-party tool. To rotate your content on iMovie, simply follow these mentioned steps below.
Step 1Open the built-in software in your iPhone. To start the rotation process, click the Plus sign on the interface.
Step 2Secondly, click the Movie button to create a new project. When done clicking, you can transfer your video/s.
Step 3To rotate the video file, use your finger by maneuvering it. Rotate in clockwise or counterclockwise. Once finished, tap the Done button. Now, check your rotated video in your media gallery.
2. Photos in iPhone
The next Apple app is the Photos default gallery of the user. This is also the best app to rotate video on iPhone because it's built-in just like the first featured tool. It works well for editing, trimming, and rotating either clips or the whole content. Most importantly, it has additional features like various presets to add visual filters on your video. This can also help you avoid installing other tools that can consume your storage or bring danger to your system. If you're an iPhone user, explore how it can be used.
Step 1Open the Photos app on your phone. Go to your video that needs change in orientation. Then, tap the Edit tab to start.
Step 2Afterwards, click the Rotation button. Click the intended direction from the icons given to get the right position. After finalizing the display orientation, click Done and look at your output in the gallery.
3. RFV
Consider accessing the RFV. It's an app to rotate videos using your iPhone. This is capable of rotating and flip your videos in different angles or views. This can be downloaded and installed conveniently through Apps store. This can produce an output from a fast-speed process. Plus, the process won't take you a long time.
Step 1First off, select the video with an incorrect orientation.
Step 2Then, simply click the 90 degrees icon to rotate your video in a clockwise direction to get the right position. Lastly, click the Save button.
For Android Devices
4. Viva Video
The third mobile app on the list is the Viva Video. This is an absolute Android app to rotate video from your gallery. This is a chargeless software that is being used mostly by video editors and creators. It's an all-around tool and tagged one of the best. Additionally, you can't just rotate the content, you can also cut, crop, merge, add effects and transitions, and many more. Want to know more? Do the given steps below.
Step 1On the app, you need to select the clips first. Do this by tapping the video followed by clicking the NEXT button.
Step 2Then click the Canvas button. Then, from the options click the Rotate button to make the needed adjustments.
5. AndroVid Video Editor
Listed next on the best app to rotate video on Android is the AndroVid Video Editor. This can effortlessly aid you in making adjustments to your recorded or downloaded video. This tool can incredibly facilitate 90- and 180-degrees rotational adjustment. With only a few taps, you can fully enjoy the complete features of this tool. Check them out now!
Step 1Choose a video file. From the upper bar containing all the features, click the Rotate icon.
Step 2Once clicked, choose among the rotational options. Plus, you also flip the video.
Part 2. Top-Rated Video Rotating Software on Windows and Mac
AVAide Video Converter
Of course, we're not just using our media files on smartphones alone. We can also use a video rotate app on Windows and Mac with the help of AVAide Video Converter. With its given media toolbox, the video rotator feature can be accessed. Using the 90-degrees clockwise and counterclockwise, also the flipping options, you can quickly do all the adjustments without quality loss on your outputs. In addition, you can do other editing like editing video metadata with it. Make use of this desktop tool using these simplified instructions provided below.
Here's an informative walkthrough on how to utilize the desktop tool.
Step 1Firstly, download and install the app on your device. You can do this by visiting the official website of the software. After launching the app, move to accessing and clicking the Video Rotator of the tool.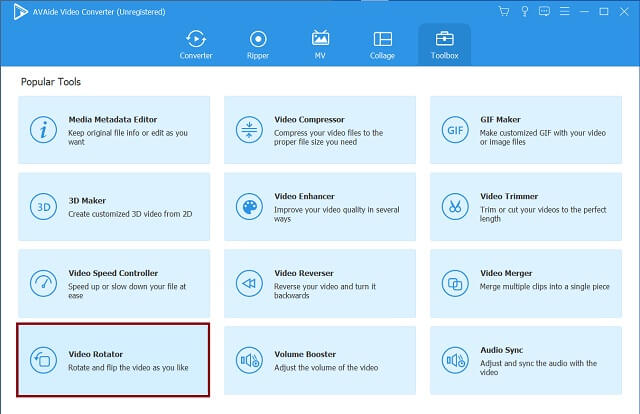 Step 2Followed by adding a video or just by simply dragging it.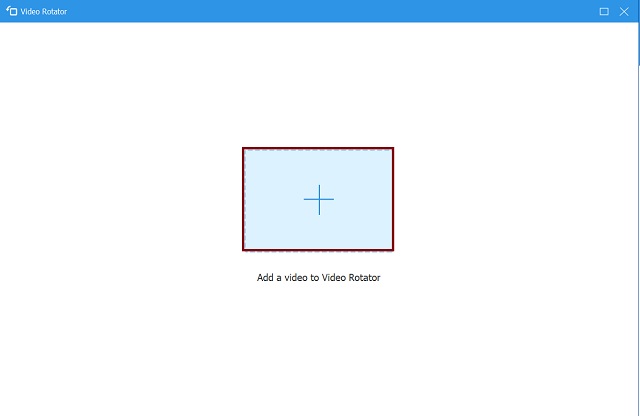 Step 3Rotate the video by using the two (2) rotating icons on the panel, either clockwise or counterclockwise. Also, flipping upside down is also a choice.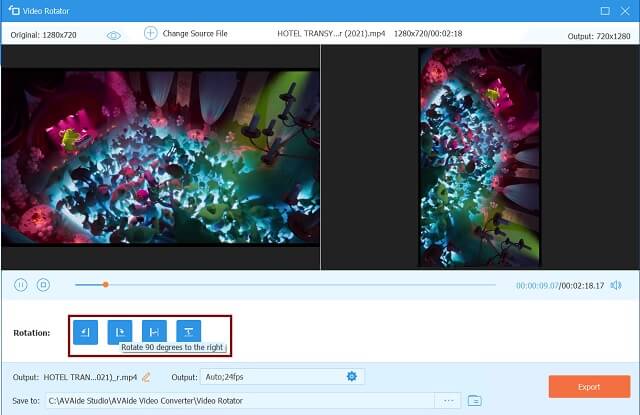 Step 4Finally, once everything is finalized and adjusted, click the Export button to save and process the video file.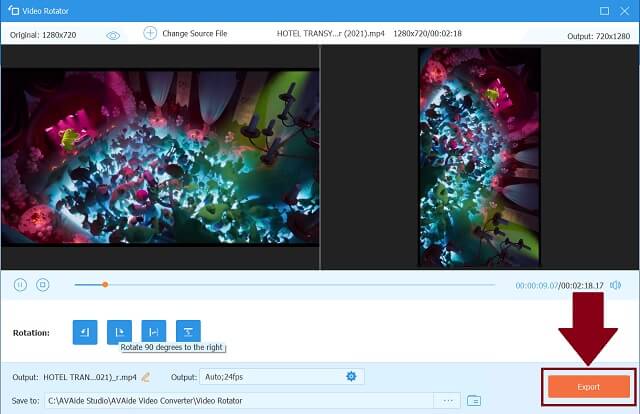 Part 3. FAQs of Rotating Video on Different Mobile Apps and Software
What is the best app to rotate a video?
As per users, AVAide Video Converter is the top-rated video rotate app. Simply because it's a complete package tool that can also convert, rip DVDs, reverse, trim, make GIF and 3D maker.
Does rotating affect the file quality?
Fortunately, rotating a video doesn't affect the output's quality. Only if you will compress it.
How can I rotate in iMovie on Mac?
First, launch the built-in software. Then, click the Create Movie followed by rotating to your desired orientation and save.
Conclusion
When video orientation goes wrong, you can visit the list of the best apps to rotate video on iPhone, Android, Windows, and Mac. These solutions can completely aid you to gain the output you need for adjusting your files. Among them, it is common sense that AVAide Video Converter contains all the features, even the toolbox which offers tons of choice for audio and video enhancing. Discover the capacities of this video rotator first-hand!
Your complete video toolbox that supports 350+ formats for conversion in lossless quality.