A video you shot in the wrong orientation is making your day unpleasant, isn't it? Rejoice! We'll show you how to flip a video on your Android phone using the most prominent apps nowadays, so you don't have to waste time taking another shot to get the perfect shot. Do not be anxious about the process because we have provided the most simple guidelines that you may follow if you are not a techie! So, are you interested in finding out more about the amazing tools for Android in video flipping? Take a look at these useful tools!
Part 1. Video Flipping Apps on How to Flip or Mirror a Video on Android
It's a delight that Google Play has a wide range of apps for Android smartphone users. Hence, flipping videos on Android is as simple as it gets. These are smart and handy tools to use to flip a video on Android devices without having to switch to a desktop computer. Here are the powerful tools that you can utilize using your Android phone.
1. Flip Video FX
This app is meant to flip videos on Android, and it supports both shooting video and selecting a preexisting video for the flipping process. As simple as it is, this program has embedded advertisements throughout the editing process. Here are the steps below on how to horizontally flip a video on Android with the help of Flip Video FX.
Step 1Run the Application
Go to Google Play, download, and install Flip Video FX. From the main interface, select the Start Flip option. Then, from your album or while shooting a video, select the video to be flipped.
Step 2Set the Time Frame
Drag the slider from left to right or vice versa to specify the start and end time frame for the flipped video.
Step 3Wait for the Resulting Video
Then, hit the Start icon and wait for the exported video to finish. Note: This app only works on Android devices when flipping videos horizontally.
2. InShot
InShot is a visual content editing tool that does all the work in your editing problems. It gives you the ability to edit photos, make videos and create collages from your albums. With this android application's distinct features, you can add text and stickers, cut and trim, change tempo, rotate, and flip videos. However, it is limited to flipping videos from horizontal to vertical on Android. Take a look at the steps on how to horizontally flip a video on Android using InShot tool on your Android device.
Step 1Run the Application
Download and install the application Inshot.
Step 2Choose the Video
From the main menu, select Video. After that, choose the video from your library that you want to flip.
Step 3Flip the Video
Hit the Flip icon and click Save at the upper right side of the interface.
Smart Video Rotate and Flip
Smart Video Rotate and Flip tool is useful on how to horizontally flip a video on an Android device. There are only limited editing options here, but they are all focused on rotating and flipping videos. Take a look at the steps below to see how to get this application for yourself.
Step 1Launch the Tool
Download and install the application from Google PlayStore.
Step 2Load the Shot Video
Upon installing, simply click the Select button to select the video you wish to rotate.
Step 3Wait for the Flipped Video
To begin flipping your video, click the Triangle icon. Click Apply to save the changes.
Part 2. Professional Way to Mirror Videos on Windows and Mac
After learning how to mirror flip a video on Android, you should also learn how to flip a video on Windows and Mac in case your phone stops working due to a faulty internet connection or other unforeseen circumstances. AVAide Video Converter is a powerful tool designed to help you troubleshoot your problems.
AVAide Video Converter
AVAide Video Converter is the most efficient video flipping app today! One of the distinct friendly features of this tool is the easy-to-use video editor. You can edit, rotate, split, crop, enhance, compress, and most importantly, you can flip your videos in no time without damaging their quality. Therefore, if you want to flip your videos easily without hassle, this is the best solution for you. Below are the steps on how to flip your video using Windows or Mac.
Step 1Download the Application
To start with, download AVAide Video Converter with the use of the download button provided below. After you download the app, install it and launch on your computer.
Step 2Add a Video File
Next, you can add your video by clicking the Add Files on the upper left of the interface. Otherwise, you can drag your video on the Plus (+) button.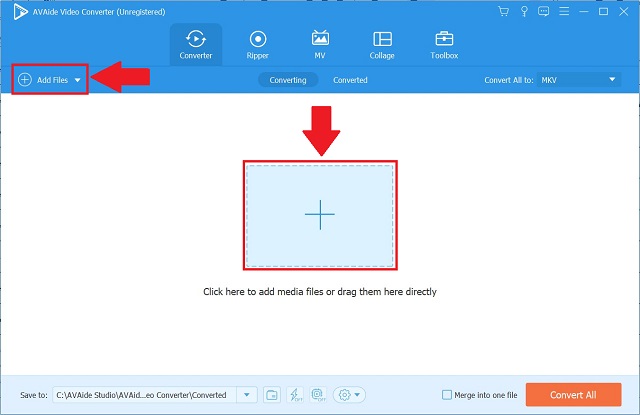 Step 3Customize the Added Video
After you added your video, flip it by going to the app's editing section. Select the Edit icon in the lower-left corner of the video thumbnail.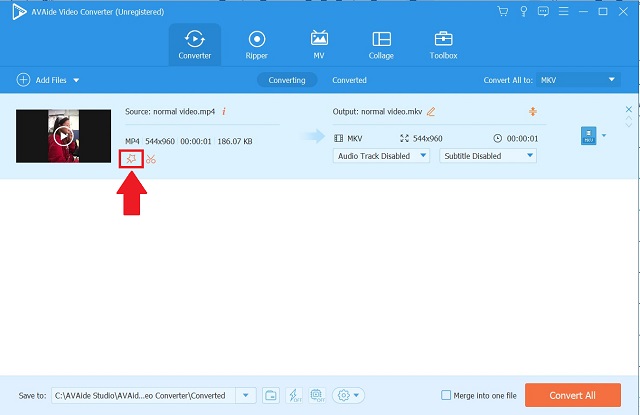 Step 4Flip the Video
After that, select the desired flip options and click the OK button to save the adjustments.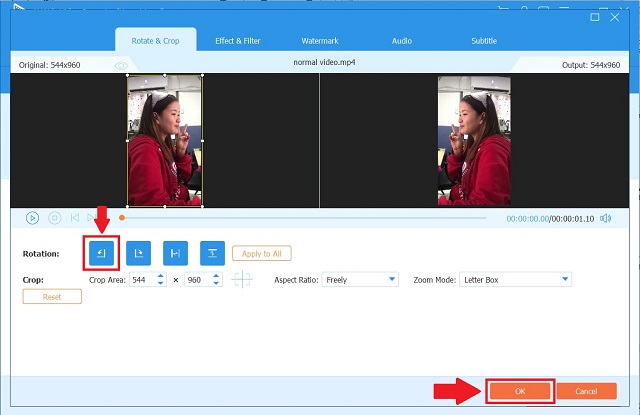 Step 5Save the Flipped Video
After completing all of the preceding steps, return to the Converter tab and click the Convert All button, then wait a few moments for the video to be fully converted.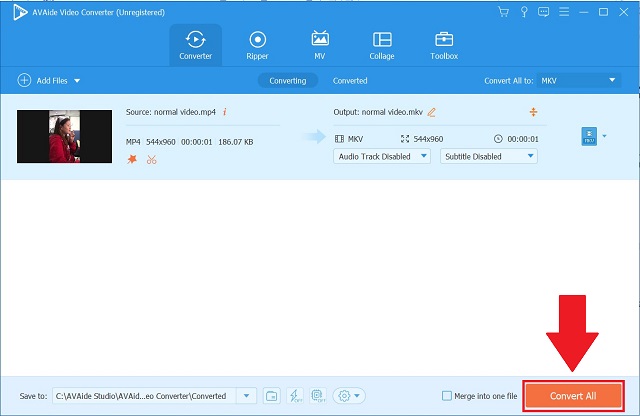 Part 3. FAQs on How to Flip a Video on Android
What application, other than iMovie, will I use to flip a film on a Mac?
You can use AVAide Video Converter because it is an efficient tool that is compatible with both Mac and Windows.
Does the quality of my video will decrease when I use AVAide Video Converter?
No, you can export your video without any quality loss with AVAide Video Converter.
What are the other applications on Windows where I can flip my videos?
You can use DVDFab ToolKit and VideoCruise. However, AVAide Video Converter surpasses all these mentioned tools.
Conclusion
So, there you have it. You do not have to be concerned if your video was captured on an inappropriate scale because this post has already included the easiest and most easy solutions for how to flip a video on Android. The latter solution, on the other hand, is a lifesaver if the learning curve is too steep for you. There are many ways on how to flip a video on Android such as Flip Video FX, InShot, Smart Video Rotate, and Flip. You can also use your personal computer with the latter solution which is, AVAide Video Converter. Hopefully, these simple and easy tools can help you.
Your complete video toolbox that supports 350+ formats for conversion in lossless quality.