There are times when we unconsciously record moments together with the significant people in our lives. Capturing those moments with the wrong camera direction or angle makes us regretful and think that we wasted a once-in-a-lifetime opportunity to document gatherings and holidays. Despite this, there's a sure process that can correct your troubling video. Using tools to flip or mirror videos online is the best solution to partner with. Covered in this write-up are various tools to help you get rid of your struggling experience. Along with their distinctive features are simple steps to follow. Never be anxious about the quality. These tools absolutely support the preservation of the original quality.
Part 1. How to Flip Videos by Utilizing Online Tools
Online tools are way better if your sole purpose is to just flip and rotate video. Here is a reliable list to flip videos online.
1. Video2Edit
First on the list on our write-up is the Video2Edit. This online tool provides free features to the users. What is more, the versatility to upload video files from URL, Google Drive, and Dropbox is supported. Cut, rotate, flip, and enhance your video file without any charge by utilizing this tool. Additionally, the simple procedure is given below on how to mirror a video online to maneuver the tool.
Step 1Go through and access the Video2Edit official website, then click the Rotate Video.
Step 2Transfer the video file that you would like to flip and mirror by clicking on the Choose File. Next to that, rotate the file clockwise by hitting the arrow under the Rotate Video (Clockwise) portion.
Step 3Last is to click the Start green button to save the changes.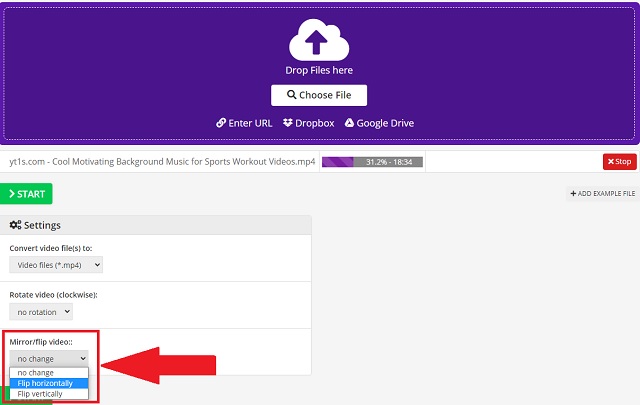 2. Wondershare – Online UniConverter
Another tool to check out that can seamlessly apply a mirror video effect online is the Wondershare – Online UniConverter. This online service offers tons of provisions including flipping, rotating, and even enhancing your video files. This intuitive and straightforward tool is supported by different web browsers. That simply means it's conveniently accessible. To add, before saving the video file, you can choose a file format in preference to your desire. Make use of this tool by undertaking simplified instruction.
Step 1Go and click on the All-tools button on the official webpage. Then, you need to click the Choose file button.
Step 2To make a mirror or flip effect on the video, click the Horizontal and Vertical button.
Step 3Finally, click the START button to begin the quick conversion. Once done, save it in your local storage.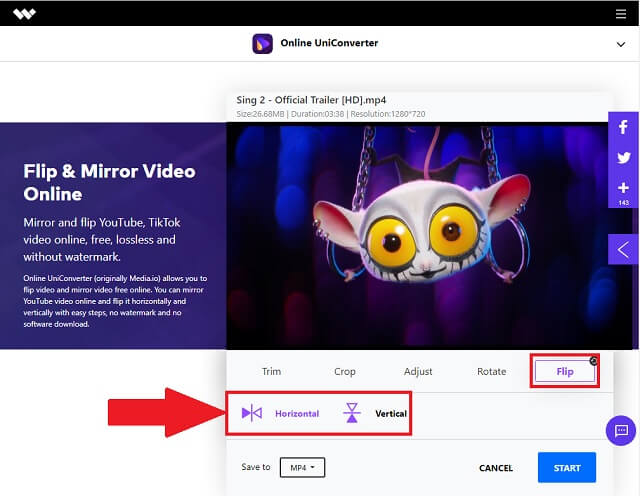 3. Clideo
Last on the given roster is the Clideo. This attested program can be used to flip a video online and edit them quickly with quality attributes. It has a comprehensive tool that you can navigate the purpose and demand easily. Furthermore, with just an effortless click, it can vertically and horizontally flip or mirror your video file. You can also export your output by changing the file format of your video. Hence, discover how this online tool works on your media needs and demand by following the steps provided.
Step 1Visit the online tool Clideo and click on the All tools button on the official webpage.
Step 2Tap the Choose file button and choose your preferred video files to flip. In achieving the mirror video effect, simply select whether you want to flip it horizontally or vertically from the buttons given.
Step 3Then, click the Format down the menu at the bottom left area and choose the video format of your output. Lastly, click the Export and then save the product by clicking the Download button.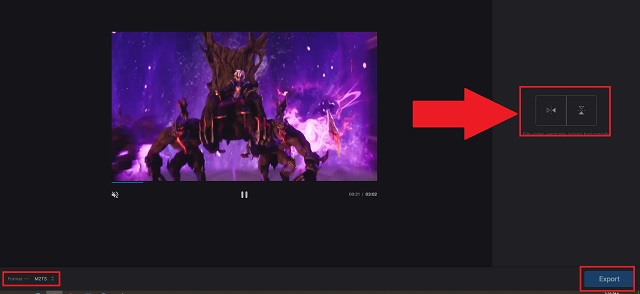 Part 2. How Safely to Flip Video Using a Software
Of course, if there are online methods to flip a video, there is also software that can aid the same concern. What's amazing about tools like these, they work on a PC or desktop. Plus, they contain numerous features that online tools don't have.
AVAide Video Converter
This is the most-used software or desktop tool to flip a video is the AVAide Video Converter. Experience the convenience of its service through different operating systems such as the Linux, Mac, and Windows platforms. The flipping buttons are partnered by options to rotate. It freely allows the tool's users to flip upside down with 90-degrees rotation options. Each button offers a 90-degree flipping preference. Either on two sides or upside down, depending on what direction you need. Most importantly, a preview screen is given to clearly differentiate between the old and flipped video. Besides the editing feature, you can also use it to change video format like converting FLV to MKV. Take a quick look at how you can explore the distinctive features of AVAide.
Comprehensive instructions to utilize the software desktop tool. Follow these convenient steps to seamlessly work with this tool.
Step 1Firstly, you need to go through the official website of the software. By then, you can download the tool on your device followed by installing it right away. After finishing, click the Video Rotator button.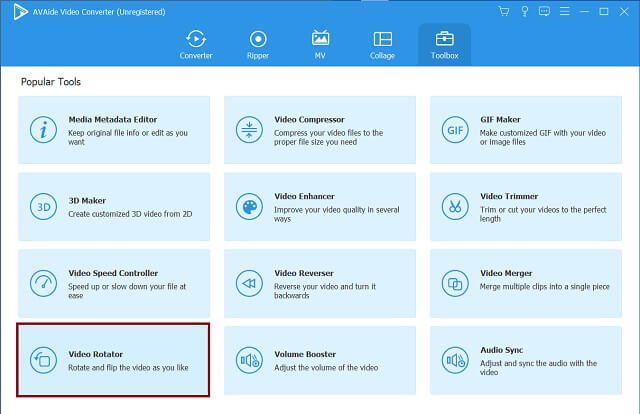 Step 2Uploading the files is an easy endeavor. You can now import or drag your files on the interface effortlessly.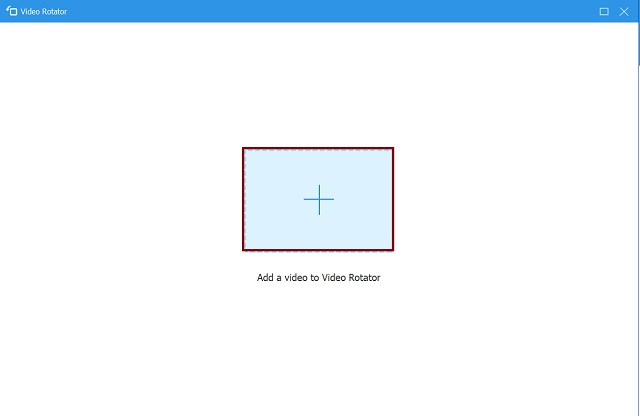 Step 3Afterwards, flip the video by clicking the given two (2) flipping icons on the adjusting panel. Flip the video on left, right, even up, and down is accessible. Also, see the rotation buttons to achieve the desired output.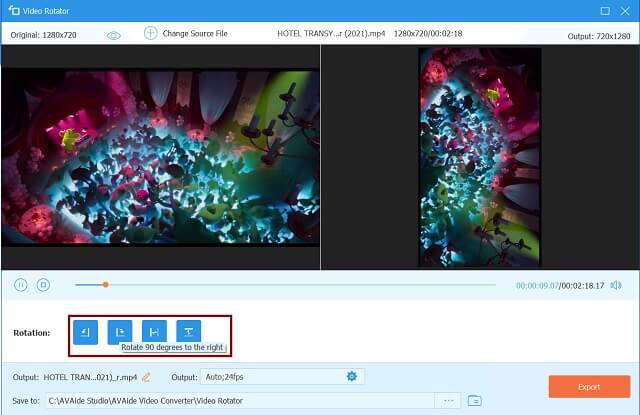 Step 4The final step is to click the Export button to save your output file with its angle and view.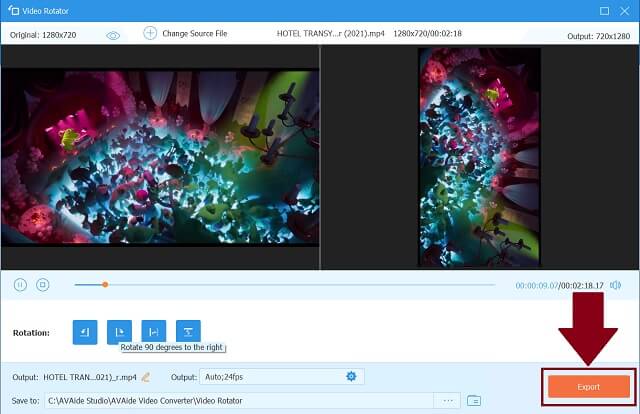 Step 5Once the process is complete, check out your newly flipped videos on your local storage on your device.
PROS:
Multiple-file converter that offers a huge list of file containers.
Preserve the original quality in spite of applying presets and adjustments.
Numerous features are provided on the extra toolbox.
It has the quickest procedures with a fast-speed process.
Part 3. FAQs of Flipping Video Online
Are online methods better than desktop tools?
Online tools aid specifically to serve users for free. If you're just inquiring to flip videos without downloading any tools, online programs are for you. But if you need to edit and enhance your videos, use desktop programs like the AVAide Video Converter.
What is mirroring?
Mirroring is a term and technique used for flipping media files such as photos and videos. This can help you adjust your content to its right angle and direction.
Can I use my iPhone to flip a video?
Yes, you can flip your video by utilizing the built-in gallery which is the Photo Apps. You don't need to download an iOS app to adjust your video files.
Conclusion
With these tons of choices on how you can edit, adjust, and mirror a video online through the aforementioned solutions, the Video2Edit, Wondershare – Online Uniconveter, Clideo, and AVAide Video Converter. Your work to correct and enhance your files is made easy using AVAide Video Converter. Needless to say, it is satisfying when a tool doesn't just contain a flipping and rotating feature. What is more, it is better to use this all-around tool as your media buddy.
Your complete video toolbox that supports 350+ formats for conversion in lossless quality.