As we're experiencing the advancement of technology, we sometimes make mistakes on how we utilize different devices. Thus, when you are capturing or recording videos. There are devices that automatically mirror the video especially when using the front camera or doing selfie videos. Hence flipping a video is necessary when a particular footage has the wrong direction. Applying a mirroring effect will allow you to experience the best possible solution. Also, there are instances that words captured on the scene must be read for some reasons but unfortunately appeared reversely. Like the word intended for an ambulance that we can only perceive rightly on mirrors. This article is made perfectly to guide you flip videos first-hand. As such, reliable tools are listed below to quickly undertake the corresponding procedures.
Part 1. How to Excellently Flip a Video Using Offline Tools
1. Use the Desktop Tool- AVAide Video Converter
Undoubtedly, if you're a PC or Mac user, you may find it convenient to just simply download software to correct and flip a video. AVAide Video Converter is a program which supports different platforms such as Linux, mac, and Windows. Flipping comes with rotation options. It also allows you to maneuver the flip upside down with 90-degrees rotation preferences to get exactly what orientation and direction you need. What is more, it offers a clear difference from the original video because of its preview screen. After flipping, you can change the video format if you need to, like converting MOV to MKV. Take a look and check-out these simplified tools.
Key Features of AVAide Video Converter – Flip Video
Original quality is preserved.
The flipping feature comes with rotating features.
With preview screen to see a clear difference and assess changes.
Supported by different platforms like Linux, Mac, and Windows PC.
Simplified procedures to navigate the desktop tool. Follow these carefully to ace how it works for common and first-time users.
Step 1Install the app
First off, you need to visit the main web page followed by downloading the tool on your device. Afterwards, install it right away. Once launched, click the Video Rotator button.
Step 2Add the video file
Secondly, you can now transfer or drop your files to start the planned adjustments.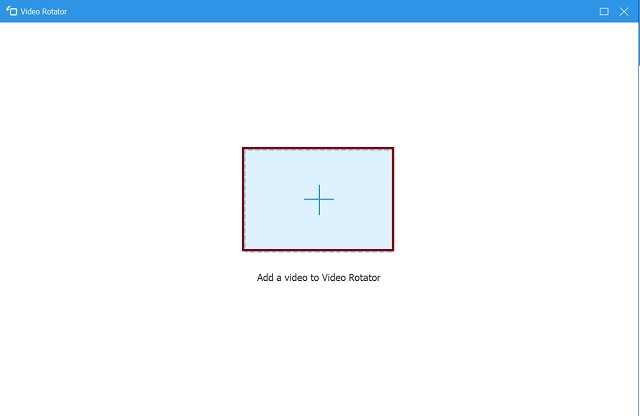 Step 3Flip the transferred video
Flip the video by tapping the two (2) flipping icons on the panel. Flip the video on left, right, even up, and down is possible. Rotate if needed to achieve the correct output.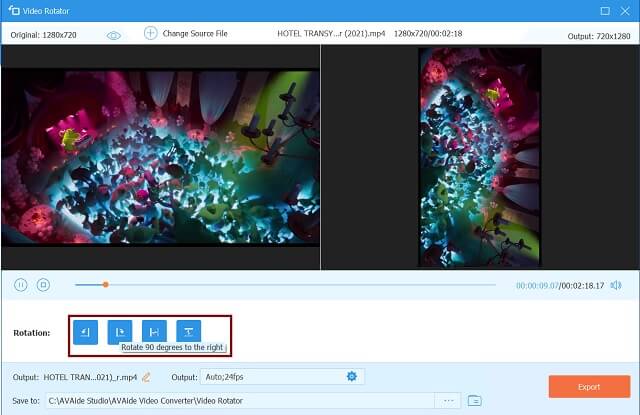 Step 4Export the adjusted file
Lastly, click the Export button to save your file in its new orientation and direction.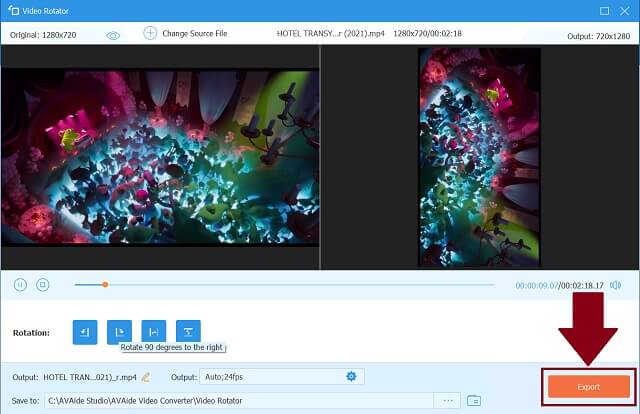 Step 5Complete and check
Check your newly flipped videos on their file designation.
PROS:
Can convert videos and audio into different file formats.
Works well in batch conversion without quality loss.
With plenty options from the media toolbox.
Fast-speed made from advanced acceleration technology.
2. iMovie for Apple Devices
iMovie is another useful program on how to flip a video easily. It's responsible for editing and enhancing needs, helpful especially to the Mac, iPad, and iPhone user. It's already built-in, made specifically to beautify certain media contents. It doesn't just flip to correct the orientation, but it can also rotate, cut, trim, and more. Most importantly, there are tons of filters and presets to add scenic effects. Find out the quick steps on how you can utilize this Apple tool.
Step 1Open the freeware on your Mac computer.
Step 2Then, click the Plus sign button to upload your browsed files and choose Movie. Followed by clicking either the Import button or press Command key + I on your keyboard.
Step 3Choose the video clip(s) you want to flip and tap the Import Selected button. Go to Crop followed by clicking the Rotate button two times to make it flip.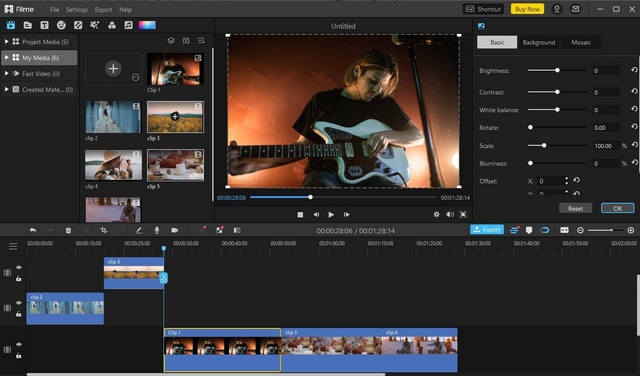 PROS:
Built-in tool for Mac, iPhone, and iPad.
Editing freeware.
CONS:
iOS and macOS-dependent tool.
3. Premiere Pro as an Ideal Software
Another downloadable tool is the Premiere Pro. This offline solution can flip a video clip seamlessly in both right and left direction. You can also explore it first-hand and practice yourself navigating the program. Below are a few informative steps to use it fully.
Step 1Launch the tool on your PC. Go straight to File > Import. Then, drop the chosen video on the tool's interface.
Step 2Secondly, access the Effects panel and go to the Transform tab. Then, flip it to your desired direction.
Step 3Lastly, on the Media tab, hit the Save As button to export the video file.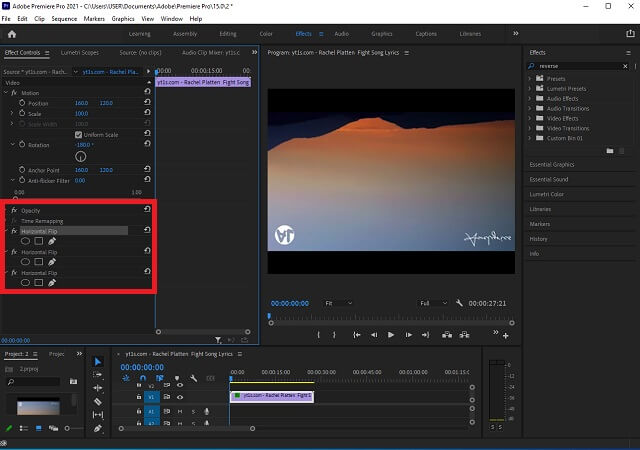 Part 2. How to Flip a Video Using an Online Tool
Clideo is your go-to Online Tool
But if you're looking for an online tool to flip video horizontally or vertically. This program provides its users freedom and opportunity to flip and edit videos. This comprehensive tool is supported and accessible with the reach of your web browser. Plus, you can freely choose other formats that can be contained by the outputs. Export your flipped video by simply following the instructional guide given below.
Step 1Go and visit the and click on the All-tools button on the official webpage. Then, you need to click the Choose file button.
Step 2To make a mirror effect, flip the video vertically or horizontally from the given buttons.
Step 3Finally, choose the Format drop-down menu, click the Export button, then, tap the Download button. Wait and check your final output.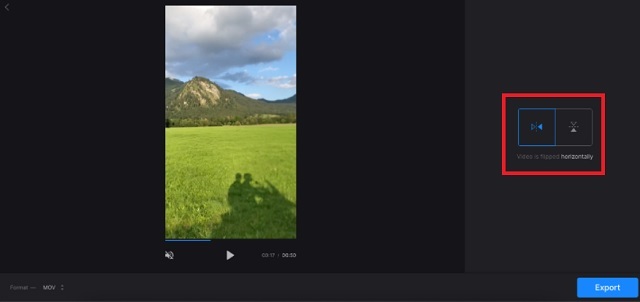 Part 3. How to Flip Videos Through iPhone Device
The Default Gallery of iPhone and iPad - Photo App
And if you are not a computer user, and your media files cycle only through your iPhone, use the default gallery app which is the Photo app. This mobile freeware can suitably flip or mirror videos. You don't need to download anything that can consume the space of your device. Furthermore, it allows iPhone users to trim, rotate clips, and edit your media content. If you are wondering how this gallery app can enhance and adjust your files, then, it's for you to find out by simply undertaking these few effortless steps.
Step 1First and foremost, go to your iPhone's Photos default gallery app. Choose the video files and click the Edit tab to start.
Step 2Secondly, you need to click the Flip button. Choose the right direction and orientation by maneuvering it.
Step 3After all the procedure, simply click the button and check the output on the gallery itself.
PROS:
Default gallery tool for Mac, iPhone, and iPad.
Media files storage. For editing purposes.
Part 4. How to Flip Videos on Android Gadgets
VideoFlip
Of course, not all of us are iPhone users. Some or many may opt to use Android devices. Therefore, it's highly suggested to use VideoFlip that can aid you on how to do a 180 flip with the quickest procedure it has. Let this tool get your work done easily. The capacity of this program is not limited to flipping alone, but also rotating in different directions and orientation. Try it now and discover the simplicity of its service.
Step 1Download and install the tool first.
Step 2After that action, you can now choose the intended video that needs adjustment.
Step 3Then, click the Save icon located on the upper rightmost panel.
PROS:
Portable.
Comprehensive with straightforward buttons.
CONS:
Limited to rotating and flipping.
Part 5. FAQs on Video Flipping
Can I flip a video on the movie maker?
Yes, you can definitely do it. iMovie is a movie maker that can also do video flipping or merely editing recorded clips. Also, it allows you to edit and apply different presets and effects. This program is default for Mac, iPad, and iPhone.
Can Google Photos flip videos?
Unfortunately, it can't. The Google Photos is only limited for rotating video files, but not so for flipping. Better to use other tools like the AVAide Video Converter which gained popularity from many editors and simple users.
Does the quality of the content affect when a video is flipped?
The original file will not lose its quality once flipped. Only if you've decided to compress or convert it into other formats.
Conclusion
Incorrect it may be, but there are tons of methods to adjust your video files. Flipping is necessary to achieve your desired visual orientation for best quality outputs. Whether you captured a right or mirror video, these aforementioned tools will absolutely aid you in solving it. Among these, it's better for us to make use of a software tool. AVAide Video Converter has tons of featured services made for us.
Your complete video toolbox that supports 350+ formats for conversion in lossless quality.