Certainly, all of the video file formats have their prowess, similar to the MOV and MKV files. For some reason, you will find the need to convert MOV to MKV most especially if you are fond of using the DivX Plus Player since this software makes the MKV its default format for the video files. Fortunately, this post will be going to teach you the excellent way to transform your MOV to MKV with the best software converter that you could acquire.
Part 1. How To Convert MOV to MKV Easily with Simple Steps
Introducing you to this AVAide Video Converter, the most reliable software to convert MOV files to MKV without losing the quality. Furthermore, this top tool will make the work swiftly with the help of its acceleration technology. Make use of the 3 easy steps below to guide you.
Step 1Open the AVAide Video Converter the Upload MOV Files
Right after acquiring this MOV to MKV via free download, launch the software to upload the files. Click the Add Files button located on the top-most left part of the interface, then import all the MOV files that you need to convert. Otherwise, you could just drag and drop all the files on the interface at once.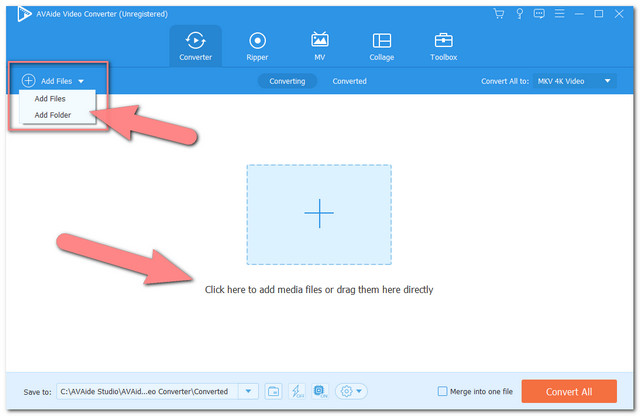 Step 2Set the Files to MKV files
Preset your uploaded files to MKV by clicking the Convert All To button on the upper right of the interface. You will see the different file format list from there, and under the Video tab choose MKV.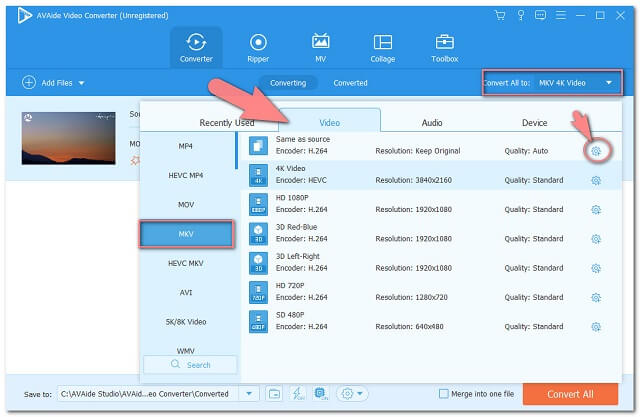 Note: You can customize the profile's bitrate, framerate, and resolution when you click the Setting image.
Step 3Start Converting the Files
Finally, when all are set, you may start to convert MOV to MKV process by clicking the Convert red button. You will notice how this software works very fast by the swift conversion process.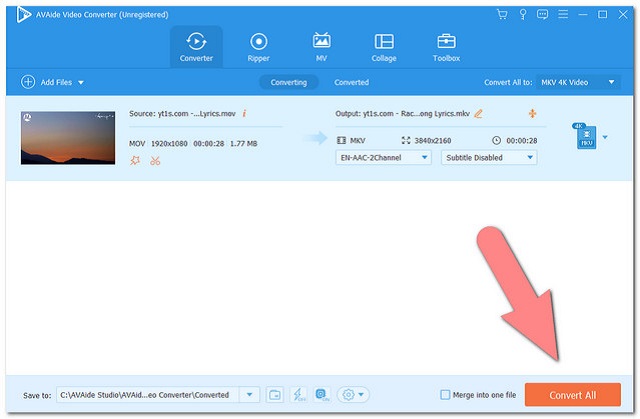 Note: To check the converted files, you may click the Converted tab located at the center upper part of the interface. Try to locate the converted files on your PC by hitting the Folder image beside the converted file.
Part 2. Highlights About AVAide MOV to MKV Converter
This part will give you so many insights about the good features of the AVAide Video Converter. Through this data, you will realize the importance of having this amazing software for converting MOV to MKV for free. And so let us begin with the key features.
Key Features of AVAide Video Converter
This video converter has so many amazing features to brag to. Firstly, it is software that converts your inputs into more than 300 file format outputs flawlessly. It will allow you to choose among the multiple Video, Audio, and even Device file formats from the interface, to make the output perfectly fit your gadget.
Movie Maker
It doesn't only allow you to convert files, but also to make your personalized movie out of your videos. It will help you to expand your interest and talent in making short films by the award-winning tool within the feature. Enjoy choosing from the numerous themes available, add and custom subtitles, personalize your own watermark, and choose the best filters to perfect your movie.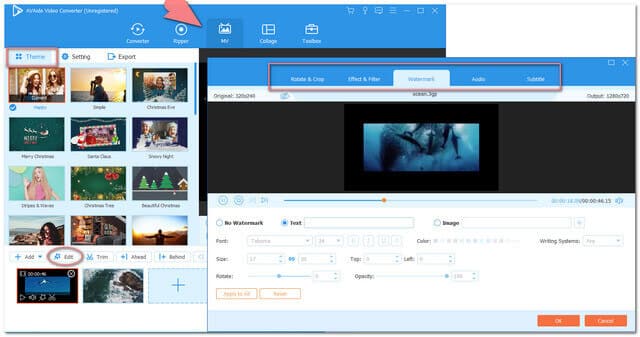 Video Collage
While others are collaging images, this software can collage your videos all at once. Whether you are artistic or not, you can make magnificent collages and feel like a professional once you utilize this feature.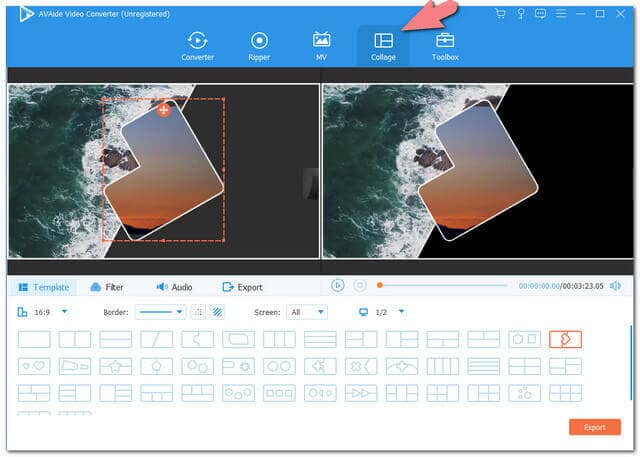 DVD Ripper
One of AVAide Video Converter's favored features is this DVD ripper. This is where you extract the DVD video and audio file and directly convert it to your preferred file format. What amazes us here is that even this ripper can work in a batch.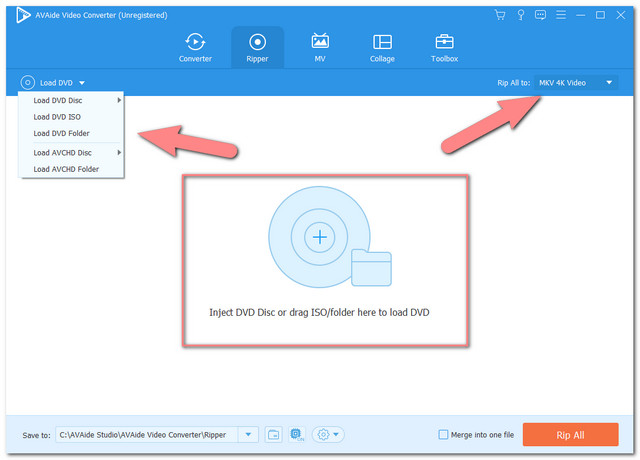 Toolbox
What's more, its amazing toolbox will make you use it over and over again. Below is the enumerated list of the tools that will be a big help to convert MOV to MKV.
● Media Metadata Editor, which helps you edit or keep the original file.
● Video Enhancer, where you can boost the video quality in so many ways.
● Video Compressor, where you can compact the files into your needs.
● Video Trimmer, where you can cut the span of your video into perfection.
● Video Merger, to consolidate your numerous clips into one.
● Audio Sync, allows you to adjust the audio and sync it on the video clip.
● Video Reverser, which allows turning the video backward.
● Volume Booster, where you can adjust the intensity of the sound.
● Video Rotator, where you can rotate and flip the videos.
● Video Speed Controller, that allows you to decrease and increase the original motion.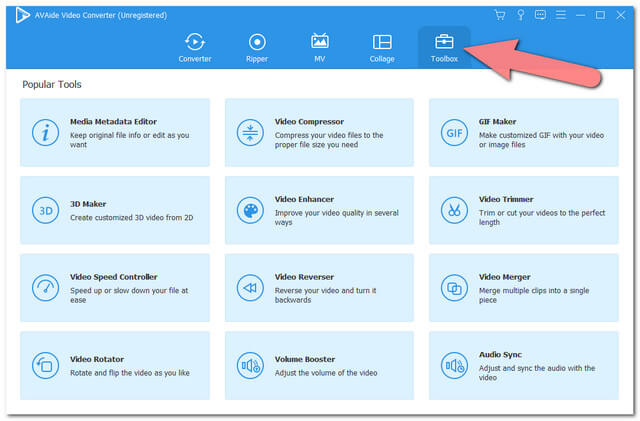 3D Maker
As part of the new generation, a 3D video is also in use nowadays. As it gives a livelier feeling and effect to the viewers, that is why many prefer to have a 3D video. Luckily, this generous software also provides 3D Maker within its toolbox.
GIF Maker
Having a GIF whether from video clips or images is also interesting. Through GIFs, the users can convey their feelings from a long file into short yet meaningful visual information. On this note, AVAide Video Converter also got you covered on this, where you can add a video or an image to transform into a GIF.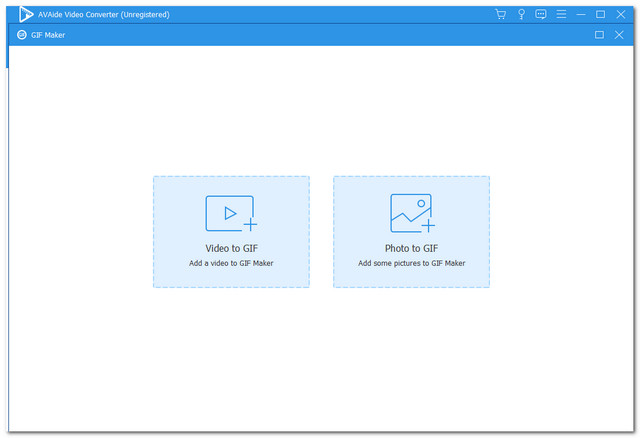 Part 3. MOV VS MKV
Perhaps, you are still wondering why you need to convert an MOV file into MKV. To help you on this matter, we prepared a comparison table between the two files. In line with this, you will also have a piece of extended knowledge about the two.
| | | |
| --- | --- | --- |
| File Name | MOV | MKV |
| Developer | Apple | Matroska |
| Description | It is a multimedia container that also contains subtitles. It is purposely made for QuickTime Player. Hence, with compatibility with some media players as well. | It is an open-source multimedia file container that also supports various types of video and audio codecs unlimitedly. |
| Advantages | It obtains a high quality. In Addition, it is commonly used by video editors for it is easy to edit. | Contains high quality, within a flexible file that obtains greater features than other formats. Moreover, it is also a file format that supports 3D and is capable on Windows and Mac. |
| Disadvantages | Its range of compatibility with divides is not that wide. Speaking of its dimension, it is technically large due to its quality. | Due to having high quality, the file size is also technically huge. |
Part 4. FAQs Regarding MOV to MKV Conversion
Can I also convert MOV to MKV online?
Yes, of course. Through AVAide Free Video Converter, you can easily and safely convert your video and audio files online.
Can I extract the subtitle when converting MOV to MKV?
Yes, you don't have to worry about that matter, AVAide Free Video Converter is excellent in converting files in a lossless manner.
Can I change the audio of my video into a dubbed one?
Surely, with the help AVaide's toolbox, you can easily do that.
Conclusion
The AVAide Video Converter has really many to offer to its users. Having this software on your computer is worth it. Use it and experience the awesomeness of this award-winning software, and so to be part of the users attesting its greatness.
Your complete video toolbox that supports 350+ formats for conversion in lossless quality.