VOB or Video Object is the standard extension of Digital Video Disk or DVD. Videos with format are within the mandatory structure of DVD directory. This video format accommodates video, audio, and subtitle tracks in a single disc. Given these positive attributes, it can also lead us to some issues. iOS doesn't support VOB format. It just means, users with Apple devices will not be able to play these videos. Along with that, it's not compressed and can consume a large space in your storage. Unlike the MKV format which exceeds all the errors of VOB. Suggestively, change VOB to MKV with subtitles and adjustable settings.
Part 1. Online Method on How to Convert DVD VOB to MKV Files
AVAide Video Converter is our Leading Choice
The best method on how to convert VOB files to MKV at the comfort of your desktop is the AVAide Video Converter. This tool is the exact solution you're looking for. Different operating systems, like the Windows and macOS we use, are totally supported by AVAide Video Converter. Moreover, the conversion speed is super fast. Just upload your files and you're good to go. People were amazed at how the tool surpassed their demands and standards. From the testing of speed, unique features, comprehensiveness, and even the long list of available formats, you can never deny the fact that AVAide Video Converter is our top choice among video converters to convert DVD VOB to MKV. Know more by succeeding these quick steps.
Step 1Open the webpage on the browser
First and foremost, go to your device's accessible browser. Then, open the AVAide Video Converter's official internet site. When completely loaded, the informative and simple interface will welcome you. You can download it from the buttons below.
Step 2Select to add the files
Secondly, it's time to import your VOB files straight to the tool. Click the Add Files button and choose all the files you want to be converted. From your local storage, you may select in batch.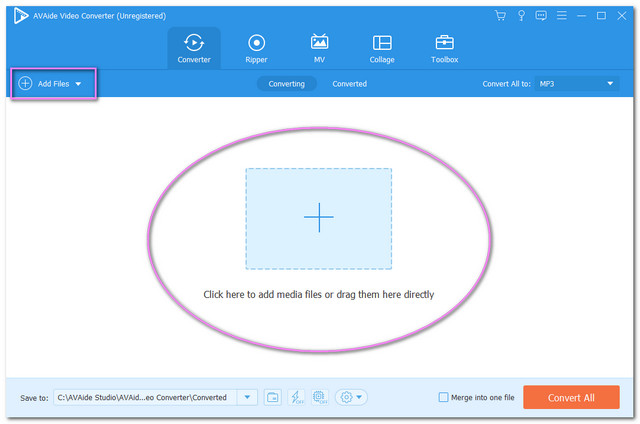 Step 3Change to MKV format
After that, proceed to choosing the MKV format by clicking its appropriate button. Freely adjust the preferences through the setting icon. Edit and enhance your output's quality.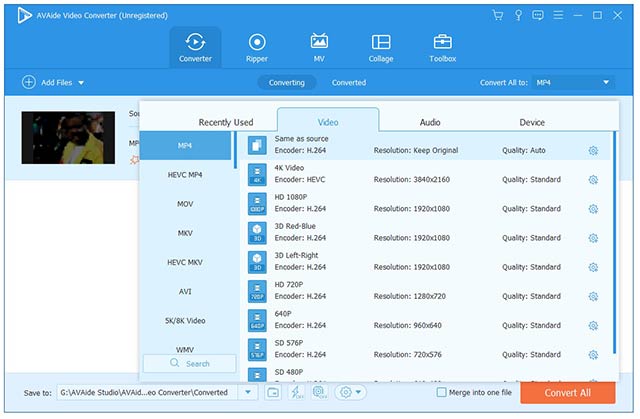 Step 4Convert the finalized videos
Start the process by clicking the Convert All button. Choose the file holder to store them after the conversion.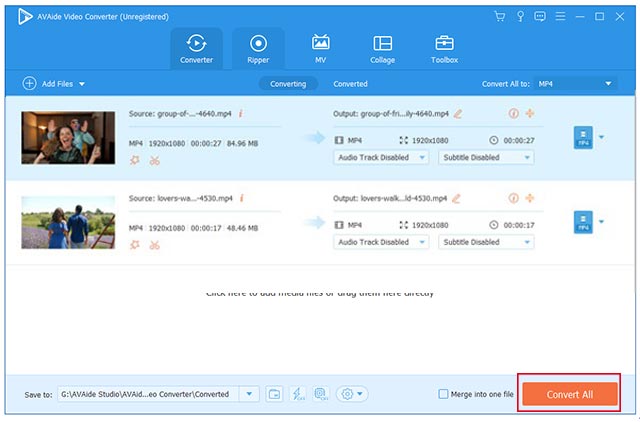 Step 5Check the file destination
Check your new MKV videos by clicking the folder icon that can rapidly open the destined storage.
Part 2. Simple Procedures to Convert VOB to MKV on Windows
Make Use of the VLC Media Player
VLC Media Player is not just limited in its capacity to play different audio and video files. It's totally known for its versatility. It can also act as a VOB to MKV freeware. This media player can convert almost the hugely popular video formats. It's completely free and built-in on Windows systems. For Mac users, there's a need to download it on your Apple device. Know how to use it by following these quick procedures.
Step 1Open the VLC Media Player
From your Windows desktop, open the VLC Media Player. Look for the Media tab and click the Convert button. The interface will always be the same as the media player feature.
Step 2Add the VOB videos
Add your local VOB files by clicking the Add button. Group selection is also accepted on this video converter.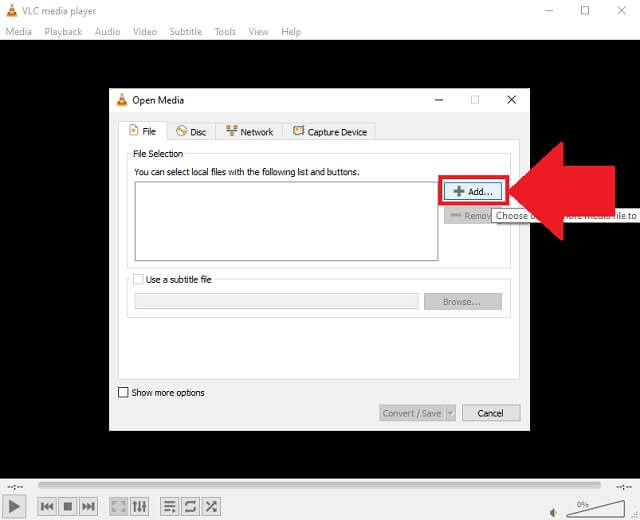 Step 3Set up to MKV format
Change the output format to MKV container. Once clicked, you can now start the process of conversion. VOB to MKV for lossless outputs.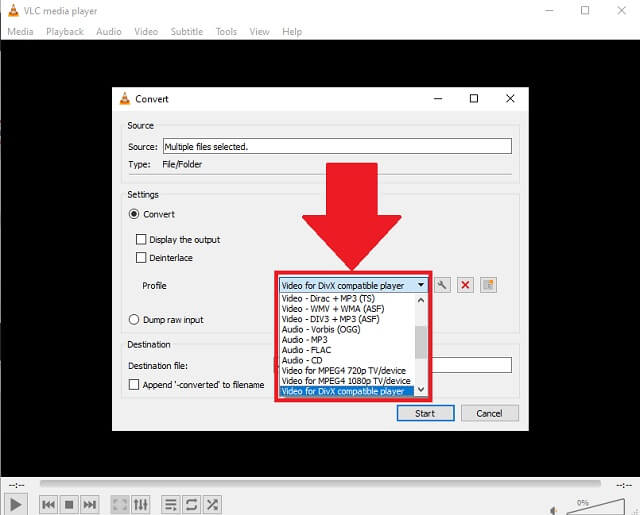 PROS:
It can play and convert videos without quality loss.
Open source and built-in tool for Windows.
Chargeless because it's freeware.
CONS:
You might experience Blu-ray playback compatibility issues.
Video formats are limited to a few lists.
The tool's interface is quite confusing and incomprehensive.
Part 3. VOB Vs. MKV
How does VOB differ from MKV file format? Here is a simple comparison on how we can differentiate the two video file formats.
What is VOB format?
VOB which stands for Video Object is a video file holder in DVD-Video media or from DVD disc. This format is derived from the MPEG stream format. File with this format contains digital audio, video, and subtitles. It was developed by DVD Forum and can be burned on DVD. However, these files can be encrypted. Plus, it holds a large-sized content. For instance, a video or film with 2 hours consumes at least 4.7 gigabytes.
What is MKV format?
MKV or Matroska Video file is a file holder that supports an unlimited number of videos, audio, motion pictures, and caption tracks. It's a sure carrier for excellent resolution web videos and compatibility to devices. It has menu, chapter, metadata, and subtitle support. Videos with this file format can efficiently store video clips, movies or films, and TV shows.
Therefore, Matroska Video file is completely advantageous in terms of compatibility, size, and adjustable settings. With that, you need to look for a downloadable VOB file to MKV converter for free like the AVAide Video Converter.
Part 4. FAQs of VOB and MKV
Are VOB videos supported by Windows 10 Media Player?
If you want to play your VOB files on your Windows 10 Media Player, it is necessary to download and install a software with VOB codecs. Because this Windows version doesn't support the said format.
Are iOS devices compatible with VOB format?
There's no way to play VOB videos on iOS devices. Better to convert DVD VOB to MKV using the AVAide Free Video Converter or if you would like to experience enormous features, use the software version AVAide Free Video Converter.
Is the VOB format widely used?
VOB file container is the most flexible and universal type of holder. It can store different file contents in a single file with the support of different devices and operating platforms.
Conclusion
As a summary, you can convert VOB to MKV with VLC Media Player and AVAide Free Video Converter. There are many useful methods to reuse and manage our media files. Between the two video converters, AVAide Free Video Converter evidently surpassed all the standards and features to excellently produce quality outputs. Try it now without any expertise needed.
Your complete video toolbox that supports 350+ formats for conversion in lossless quality.