Most of us, probably, want to enjoy the entertainment and purpose of our media files. Thus, files with VOB format support limited operating systems and devices. For us not to waste these videos, it is greatly recommended to change VOB to AVI container. If we apply this implication, we can maximize the purpose of our video files. Accessible to our devices commonly used today. Here is the list of video converters you can flawlessly use.
Part 1. The Best Tool to Convert VOB to AVI on Windows & Mac
The Excellence Work of AVAide Video Converter
Explore the limitless editing and enhancing capacity of AVAide Video Converter. It's a powerful and downloadable VOB to AVI converter. It offers us applauded features we can depend on. In particular, this converter possesses a video converter, DVD ripper, editor, compressor, movie maker, video collage editor, and a toolbox with plenty of services for your audio-video and images demands. It's the simplest among the top-rated solutions. Learn to use this tool by following this quick instruction.
Step 1Downloading the software
On your accessible device, proceed to the browser and visit AVAide Video Converter. Smoothly download the tool, then install it on your computer.
Step 2Add your videos
Click the Add button to attach all the VOB files Take note that the software can do simultaneous conversion service.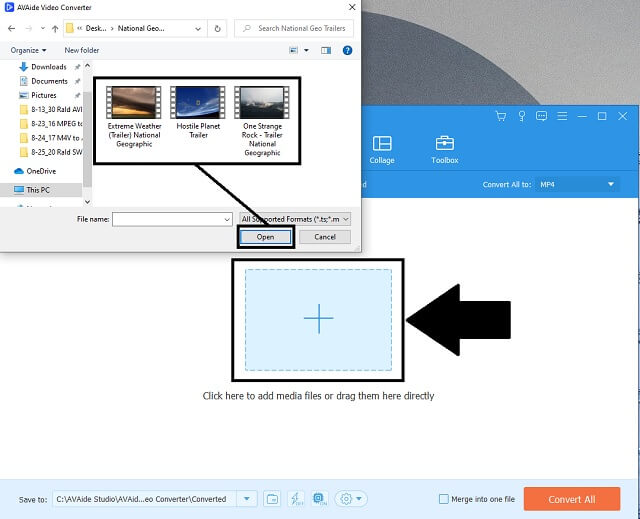 Step 3Select your format
VOB, you need to reset the format into AVI by clicking the appropriate button and setting for it.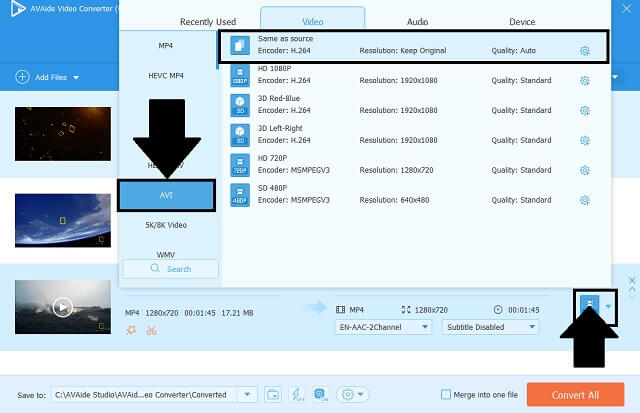 Step 4Convert your files
Click the Convert All button accordingly. Make sure that the format is well-examined in each file.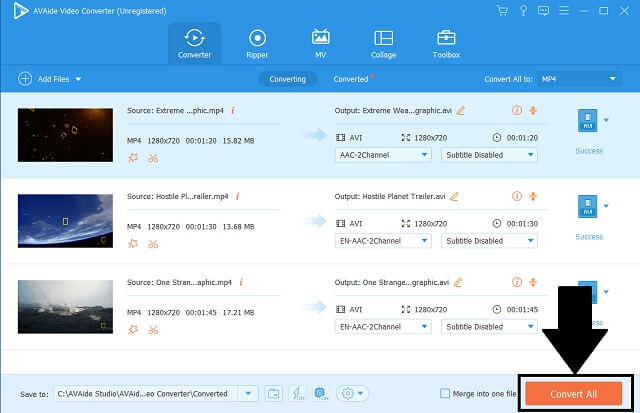 Step 5Check your outputs
When done, you can access all the files on your local storage you had converted.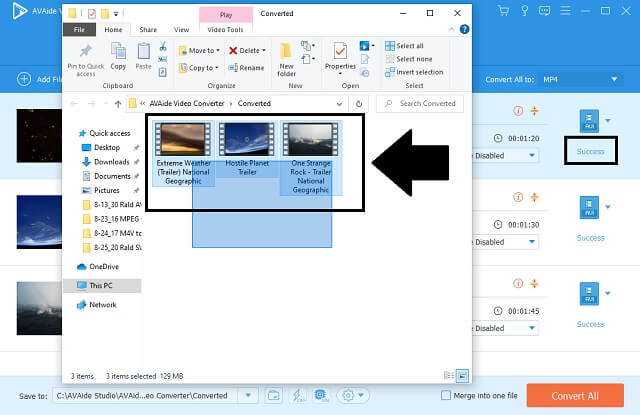 PROS:
It contains more than 300 audio, video, and DVD formats.
Output's excellent quality, viewing up to 8K resolution.
It has a 30x conversion speed.
Built-in movie maker for content creation.
Plus, a collection of GIF, ID3, and 3D movies tools.
Part 2. 3 Convenient Ways to Change VOB to AVI Format for Free
1. Have Access to AVAide Free Online Video Converter
If you're seeking an instant way on how to convert VOB to AVI online for free, we have the best answer for that query. Introducing the AVAide Free Online Video Converter. This converter is completely chargeless. Anytime and anywhere, all the functions are available online. All you need is your internet connection, whether in phone or computer devices. Below are ordered directions to follow.
Step 1Entering the browser
To access the official webpage of AVAide Free Online Video Converter, open your browser.
Step 2Uploading the videos
Secondly, click the ADD YOUR FILES button to import your VOB files.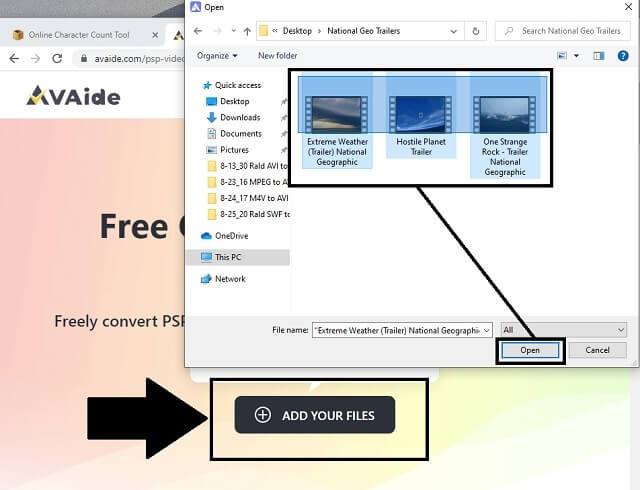 Step 3Adjusting the format
Search for the AVI button and click it.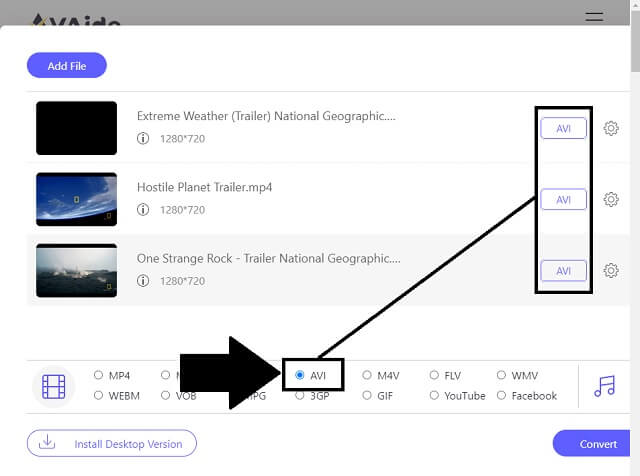 Step 4Choosing the location and start converting
Once the Convert button is clicked, select a folder from your local storage to place your saved output after the process.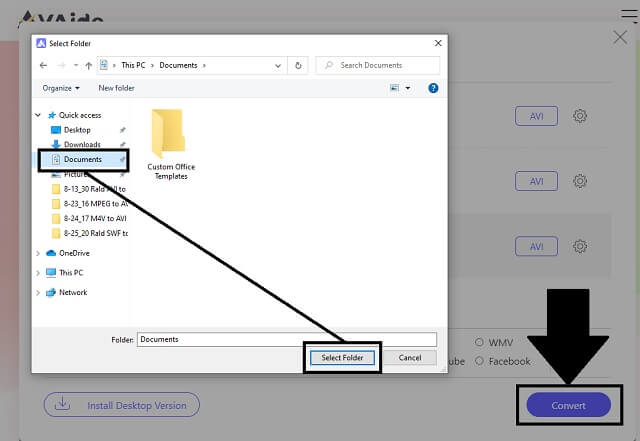 Step 5Checking the saved files
To look for and test your videos, click the folder icon located on the leftmost side of the interface.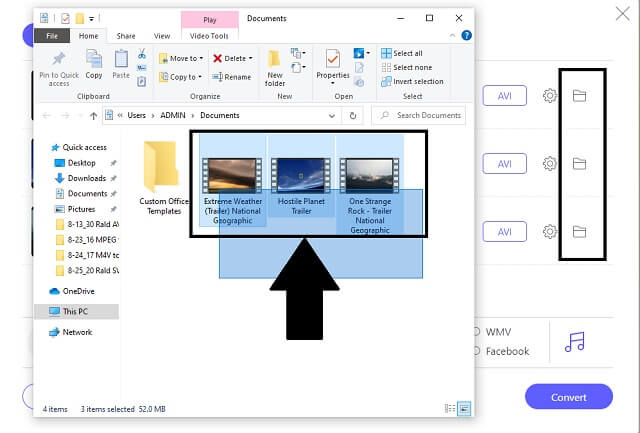 PROS:
Free online tool.
Fast conversion speed.
Multi-format output.
No watermark.
2. The Good Service of Zamzar
Zamzar can easily change VOB files to AVI formats without any charge. Since it is web-based, it only requires a browser to work. By simply visiting their official webpage, you can enjoy the tool's undoubtable media features.
Step 1Transfer your VOB
First, you need to transfer your files by clicking the Add Files button.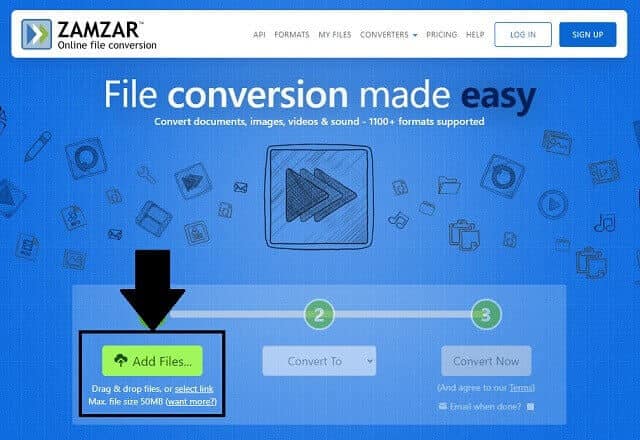 Step 2Reset your format and convert
After that, click the Convert To button and find the appropriate format. Then, click the Convert Now.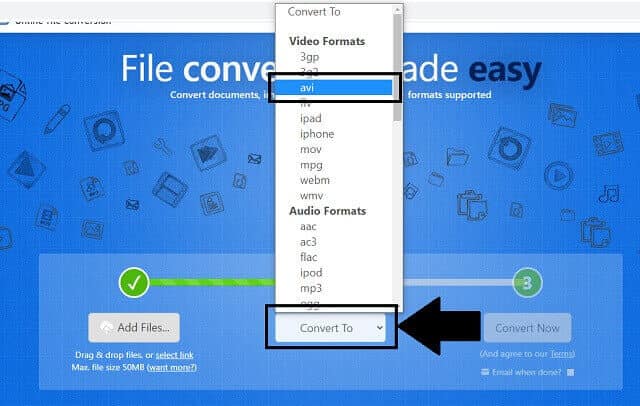 PROS:
Completely web-based. No installation needed.
Simple and no user account required.
CONS:
The maximum 50 MB size makes it limited for videos.
You may find the conversion time pretty slow.
3. Find Help in CloudConvert
CloudCovert is an online conversion tool with advanced API. It offers its users more than 200 supported formats. It can also work with your images and documents. Suitably, it serves you well on how to convert VOB to AVI online with no charge required.
Step 1Add your files
Go directly to the official website of the tool. Look for the Select File button and click it to allow files selection.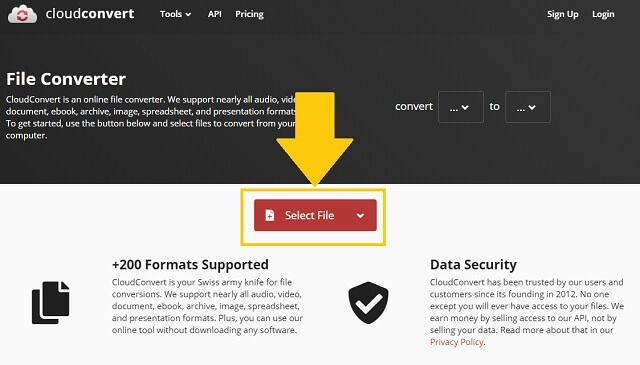 Step 2Reset your format
Then, located on the upper right, click the arrow down icon on the Convert panel. Lastly, start to convert.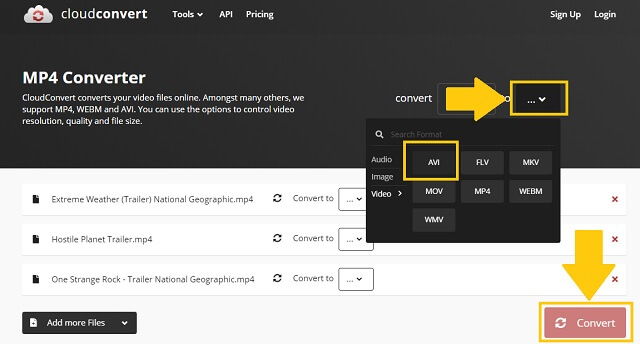 PROS:
The webpage is comprehensive.
Multiple and versatile formats.
CONS:
Converting large-sized files lessens the speed of the tool.
Sometimes, it needs to be restarted or refreshed for another batch of files.
Part 3. VOB vs AVI
To clearly understand the entire difference and uses of the two formats. Given below is an illustration for comparison.
| | | |
| --- | --- | --- |
| File Extension | AVI | VOB |
| Type | Audio Video Interleave File. | DVD Video Object File. |
| Description | AVI is a multimedia container format as part of video for Windows technology. Contains both audio and video data. | VOB is a container format in DVD-Video media. Contains video, audio, subtitle, menu and navigation contents. |
| Developer | Microsoft. | DVD Forum. |
| Advantages | High quality video by using DivX, XviD or MJPEG compression. | Supported by various video playback programs if it is end with .mpg extension; |
| Drawbacks | Uncompressed. | Not recognized by most players and devices when it ends with .vob extension. Not as widely-used as AVI. |
| Suggestions | If you want to play the videos on your computer, mobile devices, etc. AVI is the best. | Best for burning videos, movies, to DVD. |
Part 4. FAQs of VOB vs AVI
Is VOB playable in Windows 10 Media Player?
VOB video files can't be played directly in Windows 10 Media Player. It's imperative to install the VOB codec or you convert it into another format using trusted tools like the AVAide Video Converter.
Can an iPhone play VOB video files?
Unfortunately, the default video player of the iPhone doesn't support VOB format files.
Why do I need to change the format of my VOB files?
The reason why you need to convert your VOB files is because it is not well supported by popular media players most people use now. Therefore, conversion is necessarily needed. You can use freeware tools to convert VOB to AVI on Windows.
Does HandBrake convert VOB format?
Yes. Using HandBrake for VOB to AVI conversion is a possible solution. However, it features a complicated interface.
Conclusion
To sum up, it boils down to finding the right solutions. That's why we cater to you the best tools to change your VOB files to AVI. Don't let those video files go to waste without using and enjoying them. Try and seize the opportunity to use Zamzar and CloudConvert, and most importantly, the top-listed converter which is the AVAide Video Converter.