M4V is the iTunes Video File, a container format used by Apple's iTunes application. It's also a useful type of format but it is protected by Digital Rights Management or DRM. Unfortunately, we need to make some adjustments to make this type compatible with other devices. In response to this, here are the best free M4V to AVI converters available online.
Part 1. How to Convert M4V to AVI for Free
1. Access the AVAide Free Online AVI Converter
If you are wondering how to convert M4V to AVI for free, the AVAide Free Online AVI Converter will absolutely cater you. The performance of this unique tool is widely attested by both first-time and common users. It will never require you prior knowledge and skills. With all the comfort and simplicity, it allows you to see high quality output files. To get started, seamlessly follow these basic steps.
Step 1Access your browser
To enter the tool, directly open your browser and search for AVAide Free Online AVI Converter.
Step 2Import your M4V files
Then, next is to import your files by clicking the ADD YOUR FILES button. Once clicked, the tool immediately shows up your local file storage to help you drag files.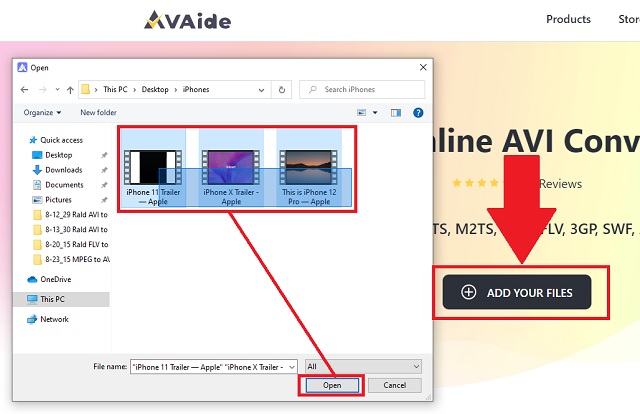 Step 3Choose the AVI format
Look for the AVI button from the roster of available containers and click it to freely convert M4V to AVI.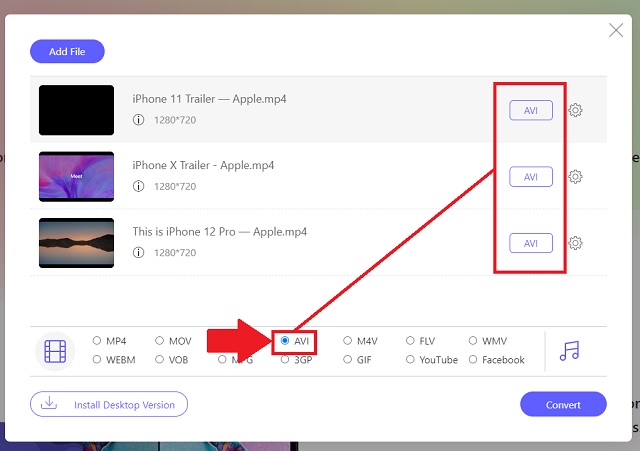 Step 4Select output storage and start converting
Click the Convert button then a folder shows up to assist you where you would like to save your files after completion.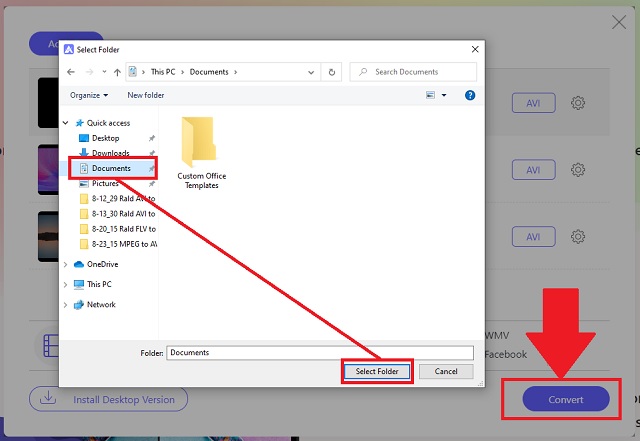 Step 5Check your AVI files
To check your saved files, simply click the folder icon. By doing this, you can freely examine your files.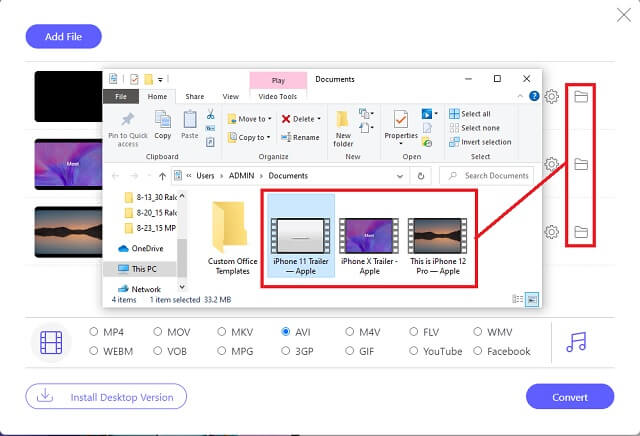 PROS:
This tool has an advanced technological acceleration. Whether single or by group attachment.
It supports a long list of audio and video formats.
It is compatible with most devices. Also, M4V to AVI on Mac is acceptable.
The converter has limitless additional features like editing and enhancing attributes.
CONS:
Every file needs to reset the format individually.
2. Try the Tested CloudConvert Tool
Another tool that matches your needs is the CloudConvert. It allows us to change our files to different file containers. It also supports group conversion happening at once.
Step 1Upload your files
Once you're on the official webpage. Click the Select File button to attach your M4V files.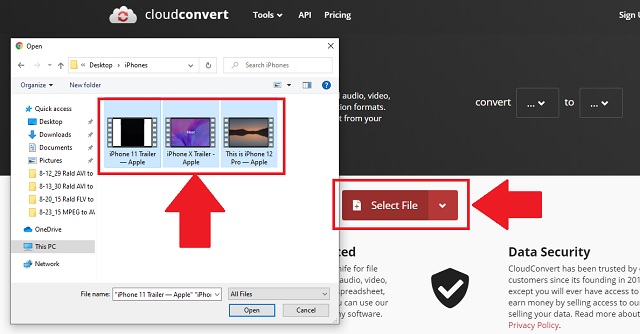 Step 2Change to AVI and convert
On the interface, look for the arrow down icon and click it. This icon is located beside the Convert panel.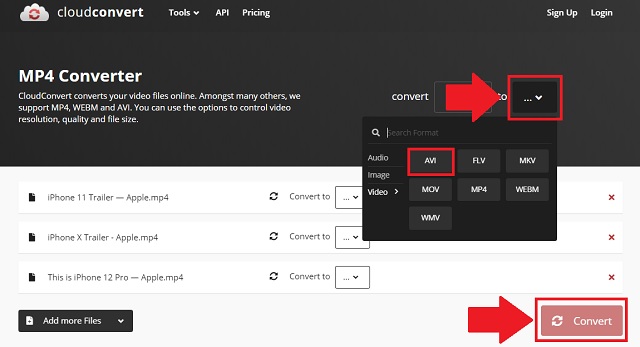 PROS:
It is easy for users to follow the procedures.
It has an all-inclusive interface.
CONS:
It requires you to refresh the page to start converting again.
3. Make Use of the QuickTime Player on Your Mac
On the other hand, if you're an iOS user, M4V to AVI converter on Mac is possible. QuickTime Player is more than a media player, but also acts as a converter. Let us know how to use this built-in tool on your Mac.
Step 1Open the software
Look for the QuickTime Player on your device. Have access to the software.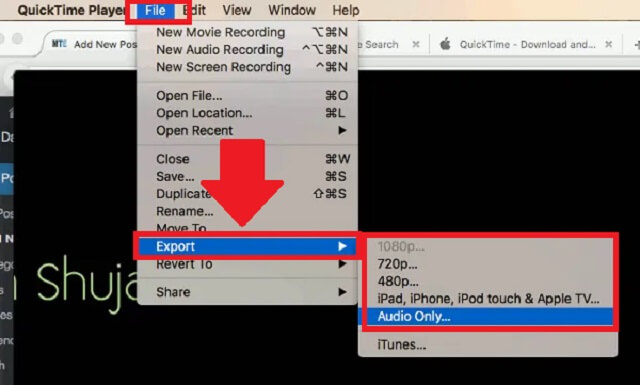 Step 2Export the file
On the tab, click the File button and find the Export to start the conversion.
PROS:
It's built-in for Mac devices.
CONS:
Limited converting formats.
Only useful for iOS users.
4. Utilize the HandBrake Tool
Similarly, Handbrake is an excellent free M4V to AVI converter. This converter is also a trusted solution for your media files. Plus, it doesn't require you any professional knowledge to utilize it.
Step 1Install and import media
Look for the Source button located on the left upper side of the interface.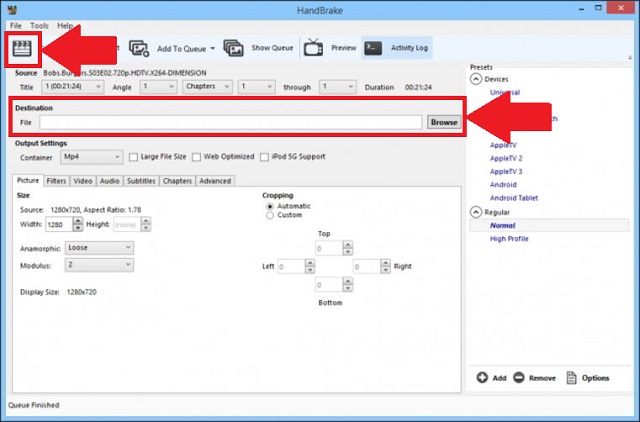 Step 2Load local files and change format
Set the container to AVI File. Finally, click the Start button.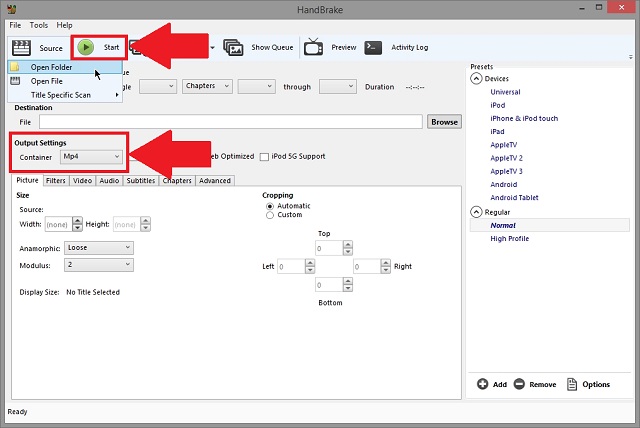 PROS:
Handbrake suits your video files.
CONS:
It's limited in converting videos, but not audio files.
Batch conversion decreases the acceleration speed.
You may find the interface outdated.
Part 2. Quickest Way to Convert M4V to AVI Video Files
How to Easily Use AVAide Video Converter
The fastest way to change your M4V format is to make use of the AVAide Video Converter. This incredible tool performs an extra mile from others. With its plentiful features that will surely meet your standard and demands. Here are the basic guidelines on how you can navigate this downloadable M4V to AVI converter.
Step 1Download and install
First, you need to visit your browser and have access to AVAide Video Converter. Nextly, proceed to downloading and installing the tool.
Step 2Drag the M4V videos
Attach your files by clicking the Add Files button. The tool seamlessly accepts batch conversion.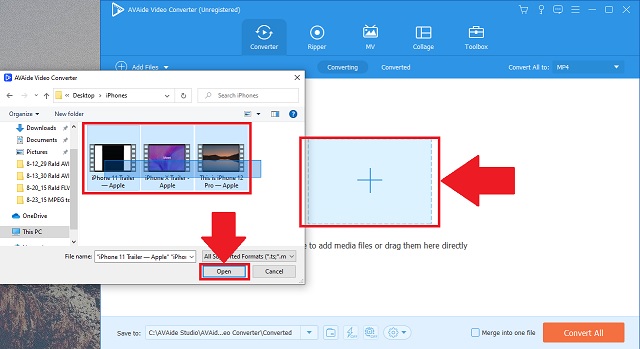 Step 3Select the AVI format
As listed from the list, look for the AVI button and select it as the converting format.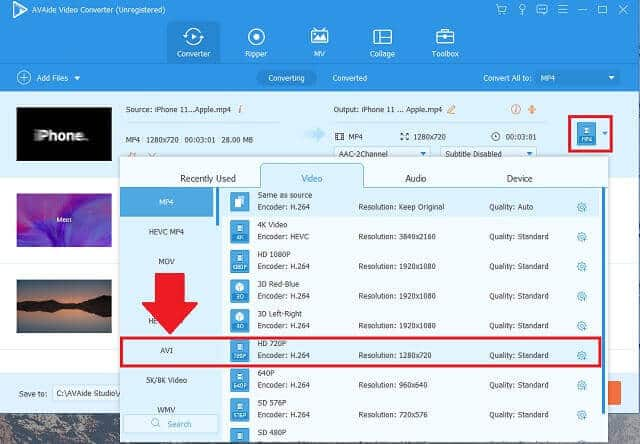 Step 4Start the conversion and set file folder
Then, to convert your protected M4V to AVI, click the Convert All button. By doing this, the tool starts operating.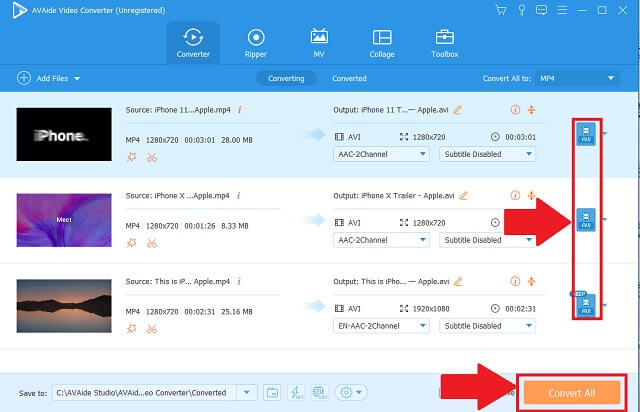 Step 5Check the saved AVI files
To assure your completed AVI files, the software will immediately open the folder location to check your AVI files.
To check your finished video files, upon completion, the tool will automatically open the output destination.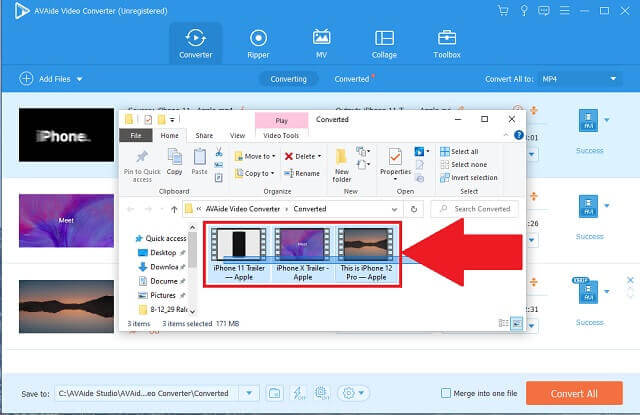 PROS:
The converter can be downloaded and installed in most mobiles, Windows computers, and Mac.
It has features for enhancing and editing purposes.
The speed is faster than other similar solutions.
It provides multiple-format preferences.
It permits group conversion happening at once without speed and quality loss.
Part 3. FAQs of M4V and AVI
Why should I convert my M4V?
This type of media container was developed by Apple. Since it is DRM-protected, unauthorized reproduction prevents you from using the files to other unsupported devices.
Is AVI format playable on iPad?
Yes. By using a default player, the iPad plays various audio and video files.
How can I check I have a DRM-protected file?
Simply, select the media file. Then, access the Properties menu. Look for the tab Details and find Protected. You will see 'Yes' or 'Not'.
Conclusion
There are tons of simplest ways to find and use M4V to AVI converters online. The AVAide Video Converter, CloudConvert, QuickTime Player, and Handbrake will solidly assist you. There are no reasons not to play our video files to the available devices we have. You can download the recommended tools and have a try.