FLV or Flash Video has been a useful format to deliver content for web-based streaming videos. This container was created by Adobe Systems and only playable via the Adobe Flash Player. Almost all mobile devices and even iOS devices don't support FLV. But you can still enjoy your existing FLV videos by using FLV to AVI video converter. AVI or Audio Video Interleave is an amazing media container that is supported by many devices and media players.
Part 1. Recommended FLV to AVI Video Converter
If you're looking for a tool that supports almost all audio and video formats, AVAide Video Converter is the top-performing solution for you. This would be an excellent choice for changing your file format. This tool is a competent and the best FLV to AVI converter you can come across. This tool suffices the gap of having prior practices with comfort. Additionally, it gives the users a fulfilling first-hand experience. With its fast-speed operation, everyone can save their effort and time. Rest assured, the following steps will help you navigate the converter.
Step 1Install the software
First, go to your available browser from your device and enter the official website of AVAide Video Converter. Click the download button and install it from your computer.
Step 2Import the FLV videos
Secondly, attach your FLV videos by clicking the Add Files button. You don't need to wait for the completion before adding another. This tool allows you to work on bulk attachments and doesn't reduce the speed of the process.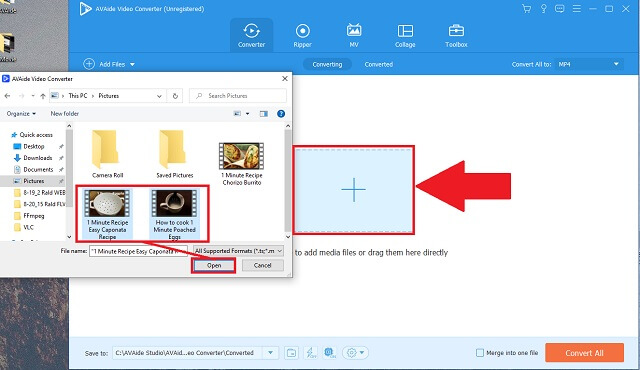 Step 3Select the AVI container
From the list of formats provided, look for the AVI button and simply click it.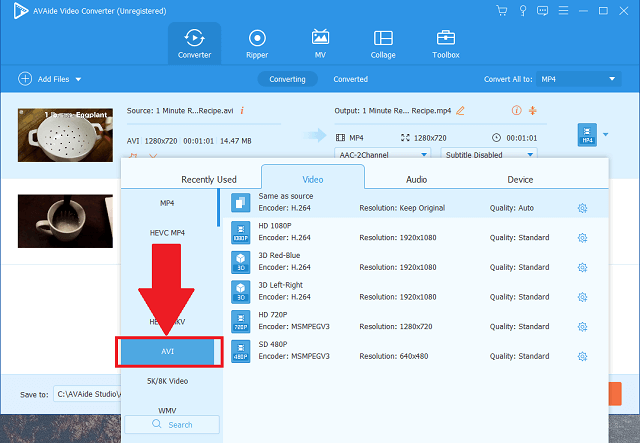 Step 4Convert the files
Then, click the Convert All button to change your raw video files.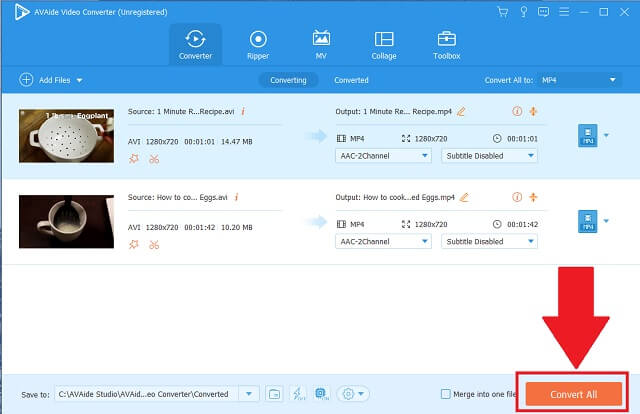 Step 5Check the saved files
Your files are now done and readily available.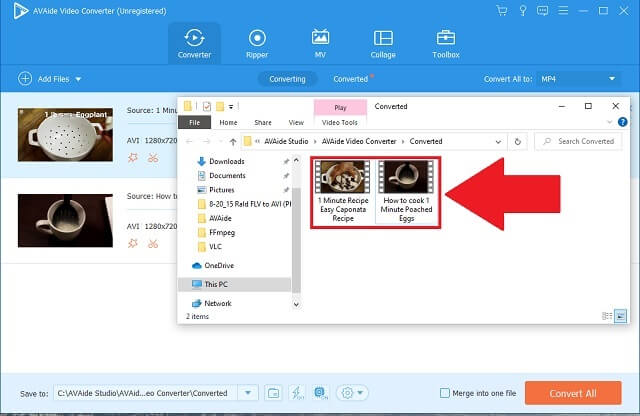 PROS:
Fast-speed acceleration.
Multi-format preferences.
Batch conversion without quality loss.
Additional media features.
Compatibility.
2. Ways to Use CloudConvert
CloudConvert is also an online FLV to AVI video converter for free. This tool serves us in different video formats as well. It lets you import files simultaneously. Furthermore, you can directly import your FLV files from tools supported by cloud storage.
Step 1Import files
Upon going to the official website of the tool from the browser, click the Select File button to upload your FLV files.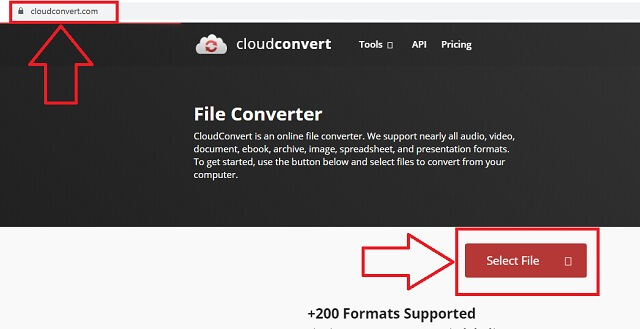 Step 2Select format and begin the conversion
Beside the Convert panel, look for the small arrow icon and click it. After that, click the Convert button to convert your files.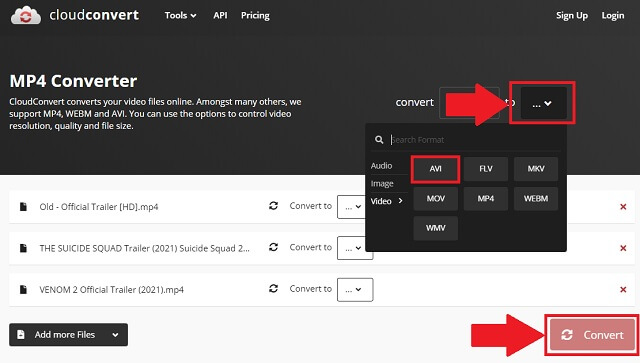 PROS:
Comprehensive and intuitive interface.
Easiness of the procedures.
CONS:
It has a hard time converting files in a batch.
It needs to restart when we upload additional files.
Part 2. The Top-Performing FLV to AVI Converter to Use
Use AVAide Free Online AVI Converter Excellent Converter
The AVAide Free Online AVI Converter is a top-graded tool intended to help us compress our media files, whether audio or video. It is widely attested by many around the globe. Why is it being trusted? This tool can cover almost everything that we need from an editing and enhancing media service. To find out, we provided you basic instructions to get access.
Step 1Visit the tool's website
The first thing that you need to do is to get access to your browser. Go visit the AVAide Free Online AVI Converter

Step 2Upload the FLV videos
Click the ADD YOUR FILES button to upload all the FLV files needed for conversion. You may work in a batch without losing the speed and quality.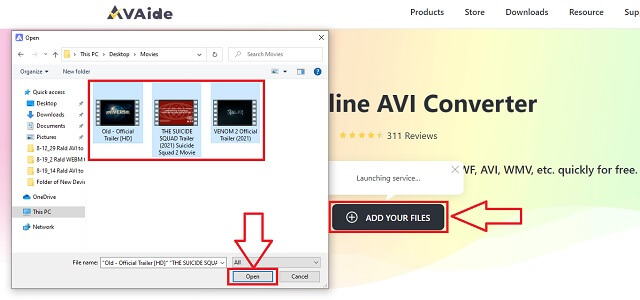 Step 3Change to AVI format
From the tool's offer of the list of formats, find the AVI button and click it.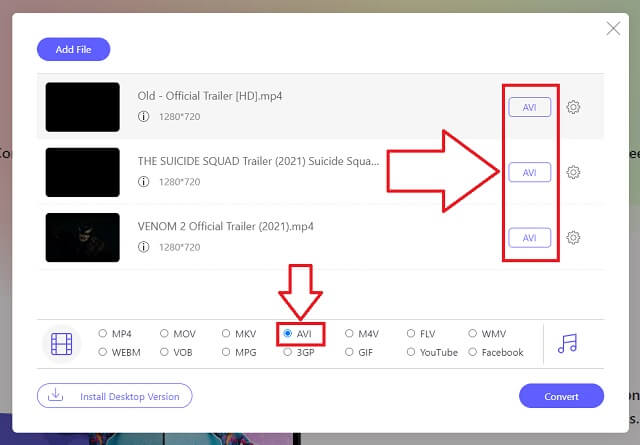 Step 4Convert and set the storage
Before the tool lets you choose the local folder storage to save your files, click the Convert button and you're good to go.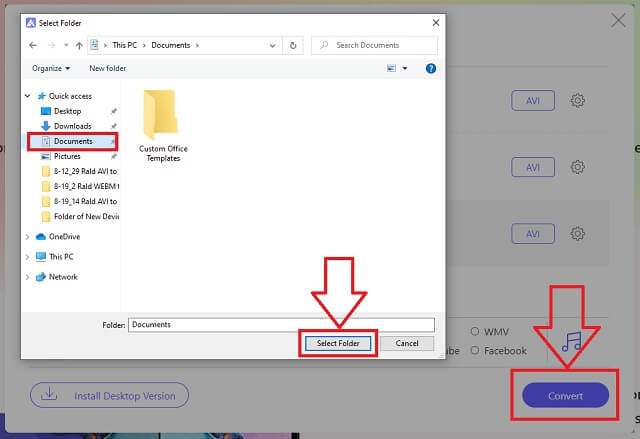 Step 5Saved and check
To check your newly converted files from their set local destination, click the folder icon from the conversion panel.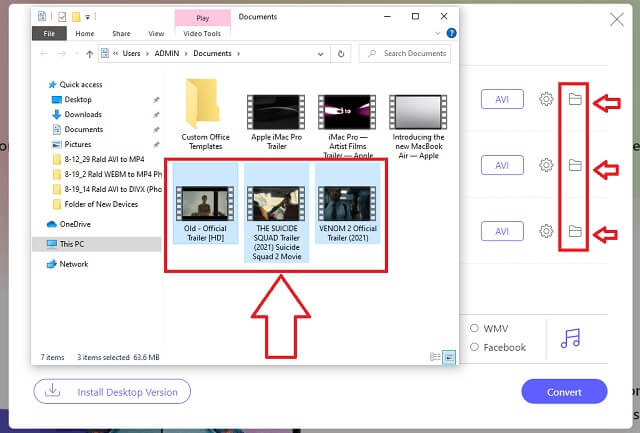 PROS:
Exceptional acceleration speed compared to other similar working tools. Plus, it doesn't decrease its quality output.
It is compatible with most of our devices like phones, PSP, computers, and others.
You can import as many files as you want and not worry about the speed.
It provides us multiple formats we can choose from.
It's not limited to a converter for audio and video. It has amazing editing and enhancing features as well.
CONS:
However, it doesn't have a DVD burning feature.
Part 3. Free FLV to AVI Converters
1. Use VLC Services
Another converter that we are not aware of using is the VLC. Most of us know that this tool only operates as a media player, but it's more than that. This can also change FLV to AVI video files. Let's start to understand how this tool converts our files.
Step 1Open and upload files
On your device, access the app by clicking the icon. Find the Media tab and click the Convert button. Once clicked, you can browse and import your files.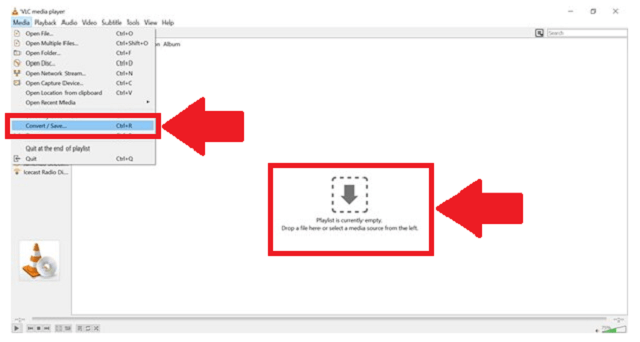 Step 2Set format and file designation
Choose AVI from the list of formats. Lastly, select where storage or folder where your files will automatically be saved.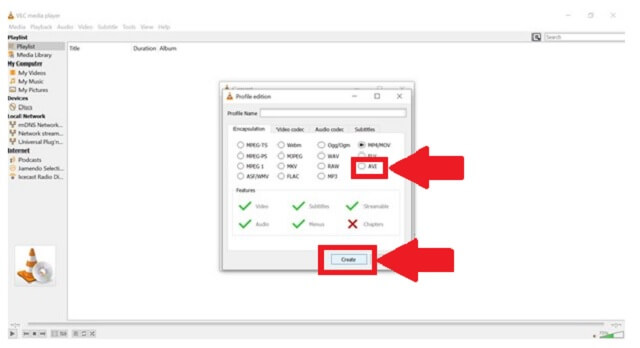 PROS:
It has additional media features.
It offers us various format preferences.
CONS:
Others find it incomprehensive and not user-friendly.
It has a small interface.
2. Use HandBrake
Using Handbrake as a FLV to AVI converter is a possible effective choice. This tool helps you to do your conversion work seamlessly. No expertise is needed because of its usual program interface. To utilize it, follow these effortless steps.
Step 1Open and upload media
Click the Source button on the left upper side to upload your FLV files.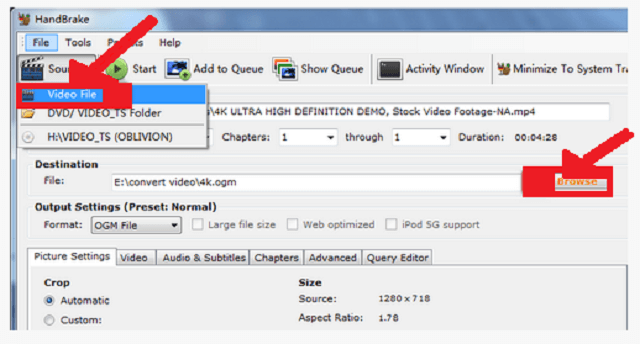 Step 2Browse file location and choose format
Change the format to AVI File and simply click the Start button.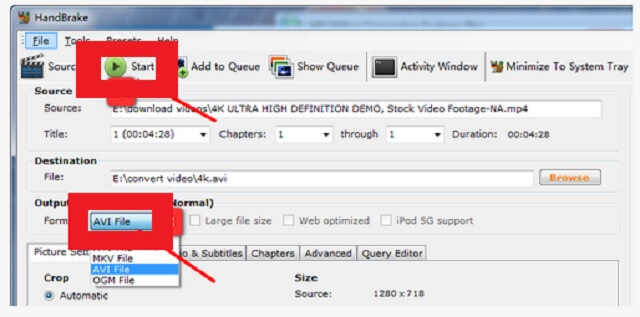 PROS:
It's a good converter, especially for video files.
CONS:
The interface looks unfamiliar and it's not comprehensive.
The number of files being converted can reduce the speed.
It doesn't convert audio files.
Part 4. FAQs
What are the best AVI players for Android?
Some of the AVI players available for androids are the VLC, Dice Player, BS Player, Feather, and the Gplayer. But you can also play these types of files through different video and audio converters like the AVAide Video Converter.
Does Mac support FLV formats?
Sadly, iOS doesn't recognize and play FLV media files. However, there are converters for FLV to AVI on Mac that you can rely on from which your file can be more playable to many devices.
Are AVI files playable on Samsung phones?
Samsung phones absolutely support AVI files.
Conclusion
There are a lot of ways to use our video files extensively. Format conversion made it possible to use our FLV files by changing their container preference to AVI. Through AVAide Video Converter. VLC Media Player, CloudConvert, and Handbrake, with the assistance and effectiveness of these reachable free FLV to AVI video converters on the browser, we can actively engage ourselves by simple means.