Are you having a hard time uploading your AVI video files to your favorite video streaming like Youtube? FLV file is the video format that suits the best and most acceptable video format by most of the video streaming sites. Therefore, you need an AVI to FLV converter. This article will present you with the most powerful converter tools that will help you with your files.
Part 1.What Are AVI and FLV
Audio Video Interleave also known as AVI, is a product of Microsoft in 1992. It is a video and audio file container with an extension of .avi as the filename. AVI is one of the most popular video formats, for it contains an evident high quality with the compressed file of both audio and video data. It uses various codecs such as XviD and DivX. However, unfortunately, Apple products such as the iPhone, can't playback an AVI video file unless you use a third-party media player or convert it directly to a file supported by the device.
On the other hand, an FLV file is a flash video developed by Adobe and is used by Adobe Flash Player. It is known to be one of the most flexible video formats supported by most operating systems via Adobe flash player and web plug-in. Additionally, It works great with HTML5 supported websites and online platforms such as YouTube.
Part 2. No Quality Loss Way to Convert AVI to FLV on Mac/Windows
AVI to FLV converter needs to be accurate in producing an output video without losing any bit of quality. Instead, it will help you achieve a higher class. We have tried and tested software converters that will give an exceptional output, and later came up with this magnificent software that brought us in awe.
How AVAide Video Converter Works in AVI to FLV Conversion
AVAide Video Converter is a prime software tool that will give you an amazing conversion experience. In addition, this tool has been offering its users so much satisfaction with its facile interface. Moreover, you will also enjoy using its generous features such as the Toolbox, Collage, MV, and Ripper. In addition, the toolbox consists of the following GIF Maker, 3D Maker, Media Metadata Editor, Video Compressor, and a Video Enhancer that will transform your videos to perfection. Therefore, without prolonging your excitement, here are the steps to transcode AVI to FLV files using this tool.
Step 1Download The Tool
Download and install the tool to your computer. To do so, click the button.
Step 2Import You File(s)
Drag your files directly to the interface. Otherwise, click the Add Files button located at the left upper part, and import as many files as you want.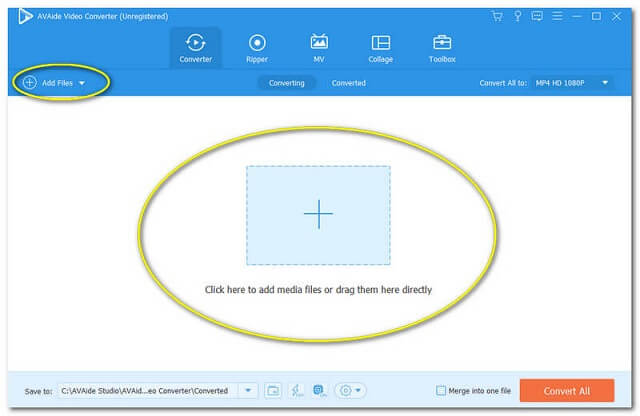 Step 3Set to Your Format
Set the uploaded files to your preferred output format. To do so, click on the Convert All to button on the upper right part of the interface. Otherwise, click Arrow on the tail part of each file to adjust the files individually.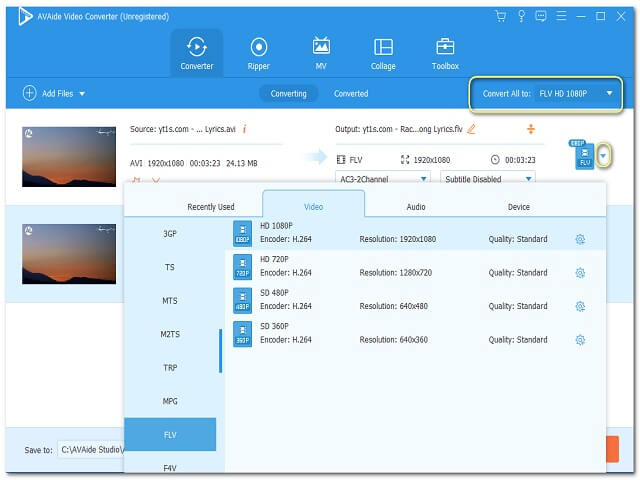 Step 4Start the Conversion
After the configuration, you may start to convert the files. Click the Convert All button at the lower right part of the interface, then wait for the conversion process to finish.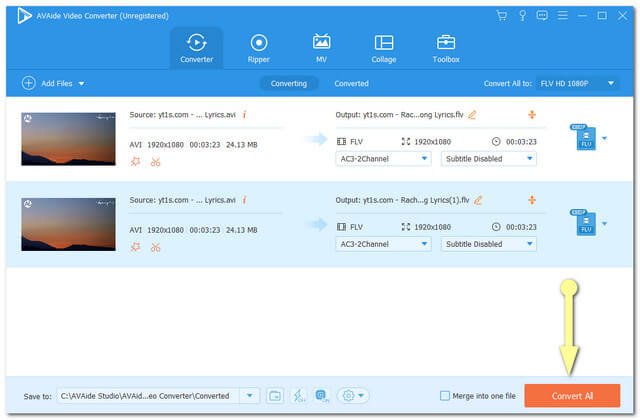 Step 5Check the Completed Files
Check into the Converted which is located at the upper center part of the interface, for the completed files. Otherwise, the converted files are automatically saved in your computer. To locate the files, you may click the Folder Image.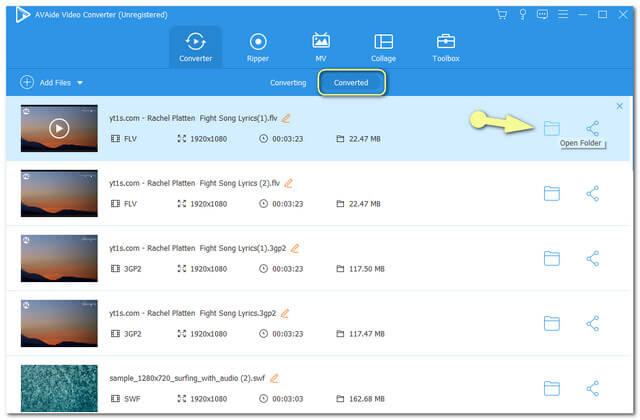 Part 3. Most Helpful and Free AVI to FLV Converter
If you are looking for a chargeless and most helpful tool on the web, AVAide Free Online AVI Converter is always accessible. This AVI to FLV converter is a free tool that can transform your files and meet your fulfillment. Moreover, its ads and watermark-free features make your work swiftly done. Like its software version, it also allows the users to enhance and compress their video files by its Frame Rate, Resolution, and Bitrate settings. Furthermore, you don't need to worry about the security of your files, for it has security encryption that secures your data 100 percent. And so without any further adieu, let's try the AVAide Free Online AVI Converter, by the steps provided below.
Step 1Get the Launcher at Once.
Acquire the launcher to your computer at once by clicking the ADD YOUR FILES button. A window will appear, where you need to hit the Download button, then Open.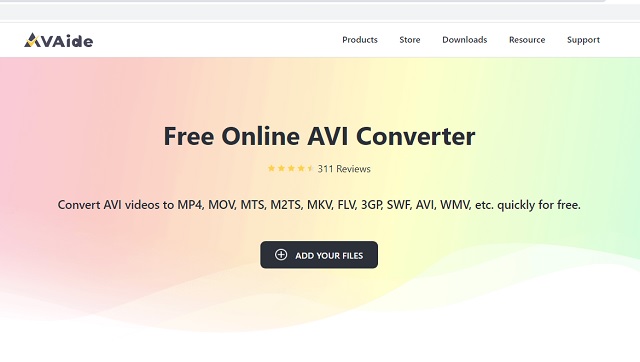 Step 2Upload Your Files
To convert AVI to FLV on Mac or Windows, upload your AVI file by once more clicking the ADD YOUR FILES button. To bring in more files, click the Add File button on the top left part of the interface.
Step 3Set The File To FLV
Set your AVI file to FLV. For bulk conversion, you may set each file to your preferred format, from the choices at the bottom part on the interface.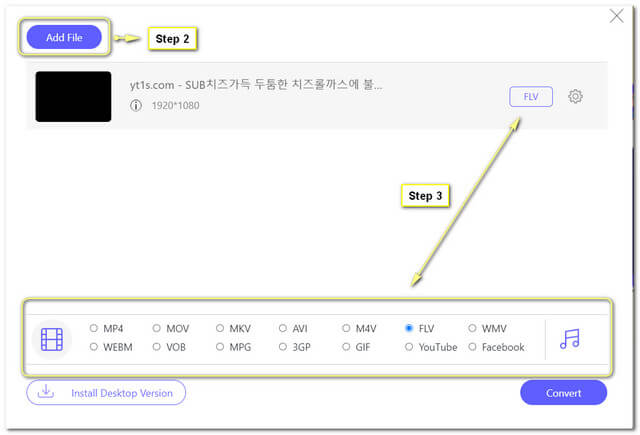 Step 4Start the Conversion
Hit the Convert button on the right bottom part of the interface, and select your preferred destination storage for your converted files. Wait for the conversion process to finish, then check your file destination after.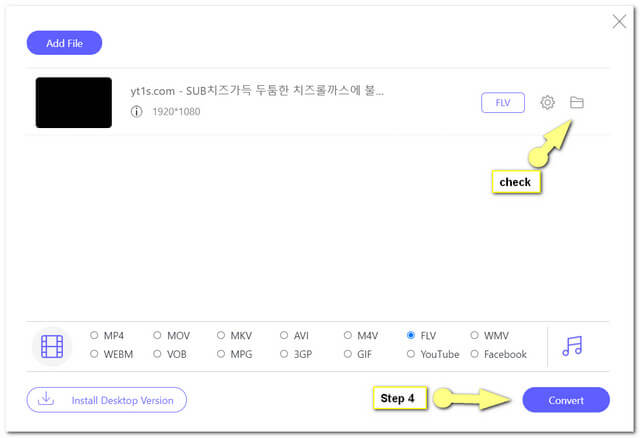 PROS:
Super handy procedure.
Unlimited service.
Fast conversion process.
With built in settings.
CONS:
AVAide has no tool to burn DVDs.
How to Convert AVI to FLV With ConvertFiles
Convertfiles is another free AVI to FLV converter. Aside from converting video files, this online tool also allows you to use the other categories of transforming such as eBook, archive, document, drawing, etc. However, ConvertFiles currently caters up to 250 MB files only. Otherwise, if you wish to convert large files, you will need to sign up first. In the meantime, please see the simple steps below for its video conversion procedure.
Step 1Click the Browse button and upload your AVI file.
Step 2Select Flash Video File(.flv), on the dropdown choices beside the Output Format.
Step 3Hit the Convert button to start the conversion, and wait until the process finishes. Then, download and save the converted file.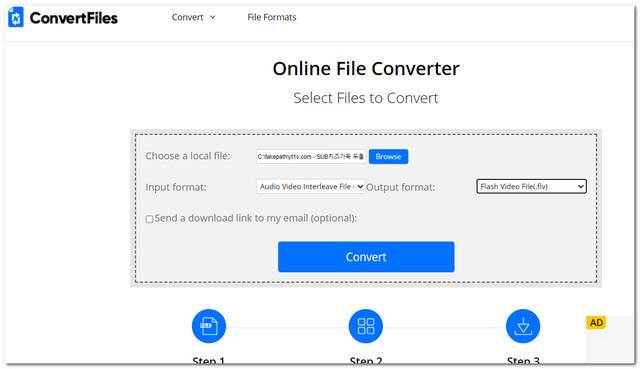 PROS:
With multiple document converters.
CONS:
The webpage is not Advertisement free.
Some errors occurred during the conversion process.
It takes time to convert, compared to the previous tools.
How to Convert AVI to FLV With HandBrake
HandBrake is an open free source software that is also reliable to convert AVI to FLV and download it for free. This software was primarily made for ripping DVD files to easily transfer them into a storage device. However, HandBrake has proved its ideal capability to convert video files. Below are the steps to transcode an AVI to an FLV file using this tool.
Step 1Upload your AVI file by clicking the Open Source button.
Step 2Select FLV as the preset output. Then Click the Start button.
Step 3Wait for the conversion process to complete, then check for the output.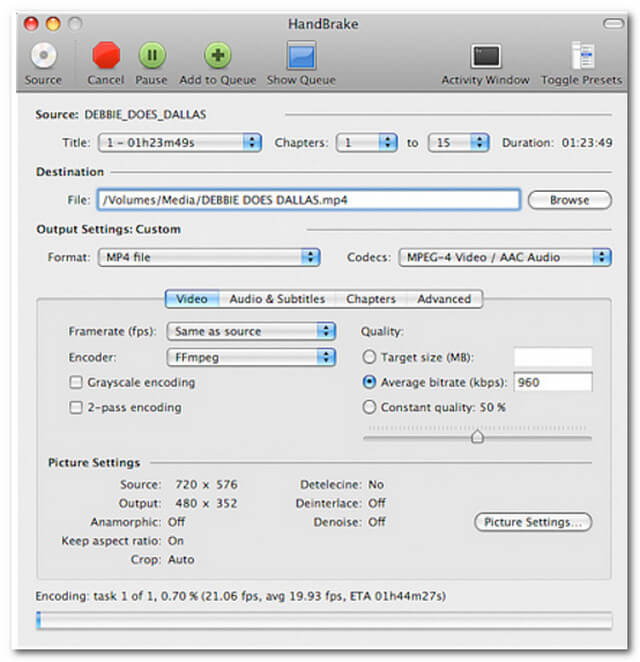 PROS:
Flexible.
With editing tools.
CONS:
With a confusing interface.
Takes time to acquire the tool.
The conversion process takes time to finish compared with the other tools.
Part 4. FAQs About AVI and FLV
Can AVAide Video Converter transform AVI to MP3?
Surely. AVAide Video Converter can convert your video file to any audio file in your mind, for it supports numerous formats to choose from.
Is FLV better than AVI?
There are still many things to take in consideration to say that FLV is better than AVI. As we all know, AVI still plays as one of the best video quality formats in various situations. However, when it comes to versatility, FLV achieves more votes.
Does the iPhone support an FLV file?
Even Though FLV was labeled as a versatile format, the iPhone doesn't support it. Not unless you convert it to a format that suits your iPhone lille MP4 and MOV.
Conclusion
To summarize this article, there are a lot of converters already that have shown idealistic navigation. However, the featured tools in this article have apparently shown remarkable conversion accomplishment. By no means of partiality, AVAide Video Converter has achieved the highest score in the analysis. You can download and have a try.
Your complete video toolbox that supports 350+ formats for conversion in lossless quality.