Maybe you are thinking about acquiring a video conversion tool. You might also be contemplating having one. If you are the type of person who loves watching videos on Youtube, and planning to share your video on the said site or to other video streaming sites, then you will need to produce an FLV video file for you to make it happen. Moreover, if you are using a device that is not compatible with WMV, you will need to have a converter that will change WMV to FLV. This article will make you realize the importance of having a crony tool that will make your techy life easier in this modern society.
Part 1. What is WMV File
Windows Media Video, also known as WMV, is prospered by Microsoft with an MS proprietary codec that does not fit all devices. WMV is typically used on computers with Windows as their operating system. Furthermore, WMV video files are the most appropriate marketing or selling video content via HD DVD, Blu-ray Discs, or online. Moreover, WMV can save videos with high quality in a tiny disc space. However, non-Windows devices do not support WMV. This article will introduce you to the remarkable tool that can help you transform your WMV to FLV or other formats you need.
Part 2. Best Way to Convert WMV to FLV Easily
AVAide Video Converter is a substantial tool that works remarkably well in converting videos to different formats, for it obtains more than 300+ formats that you can choose from. For example, you can also convert WMV to AVI with it. Its 18 million-plus downloads and 8 million happy users prove how proficient this tool is. Additionally, it gives importance to the privacy of the users, for it has advanced encryption that protects users' information. This conversion tool also promotes other editing features like video editing, converting DVD, toolbox, creating video collage, and more. For further knowledge about AVAide Video Converter and the way it works, please see the steps on how to convert WMV to FLV.
Step 1Access the Web Page
Click the download button down below. Download and install AVAide Video Converter on your computer.
Step 2Upload the Files
You will be directed to its main interface accordingly, where you can start adding video files that need to be transformed. To upload files, just click the Plus sign located at the center or the Add Files on the upper left part of the interface. You can add as many video files as you want.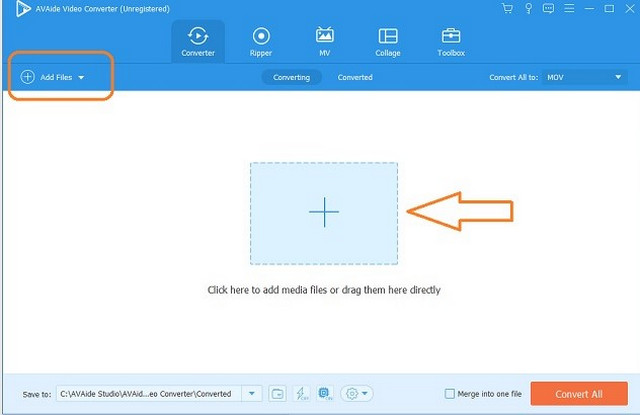 Step 3Configuration
Set the configuration that will convert the WMV file to FLV. You can go to Convert All to, then select FLV or your preferred format. Individual adjustment is also available.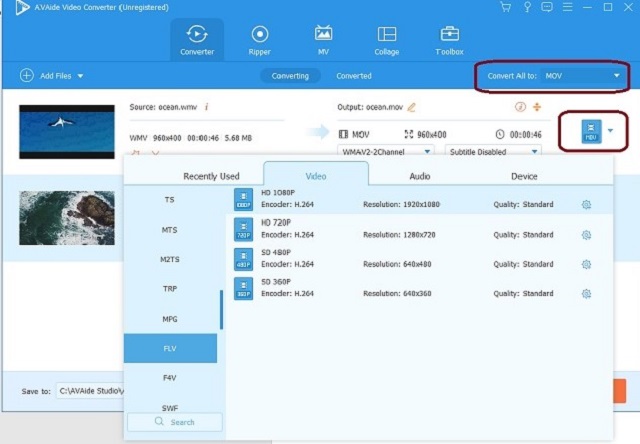 Step 4Start the Conversion
Click Convert All and wait for the conversion process to finish. Every successful conversion will be saved in Converted located at the upper center part of the interface.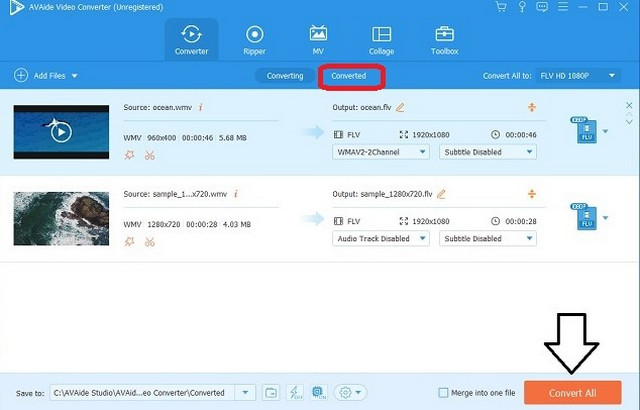 Part 3. How to Transform a Video from WMV to FLV Online
AVAide Free Online Video Converter can convert the files real-time online. Most of us frequently think that converting files online could shatter the security program of the computer. In contrast, this tool gives the users assurance of maximum security when desiring to convert FLV to WMV free online. In addition, this tool has no watermark, which gives you the freedom to completely own the modified files. Although as an online converter, it supports many video and audio formats. For example, you can convert WMV to 3GP with it. Below are the steps on how to convert a video from WMV file to FLV online.
Step 1Enter this link from your browser, https://www.avaide.com/free-online-video-converter/. Go to Products then choose Free Online Video Converter.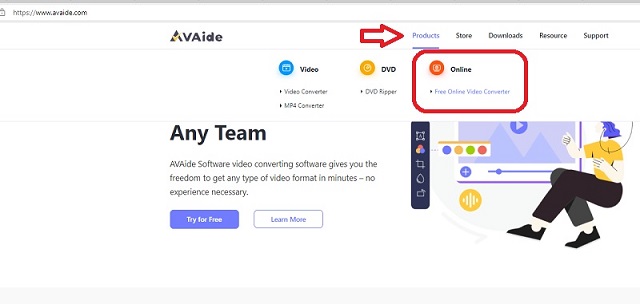 Step 2Upload the files by clicking ADD YOUR FILES. You can add multiple files to convert.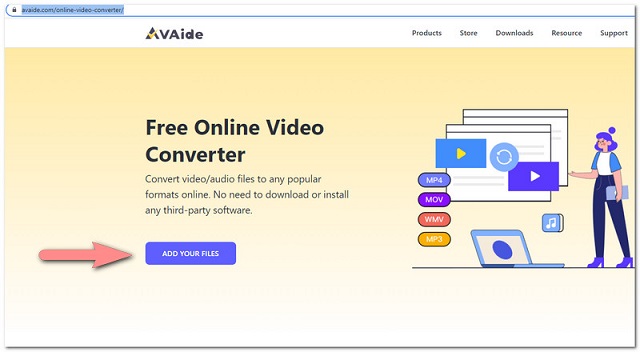 Step 3Click the uploaded file and discern to convert WMV to FLV online.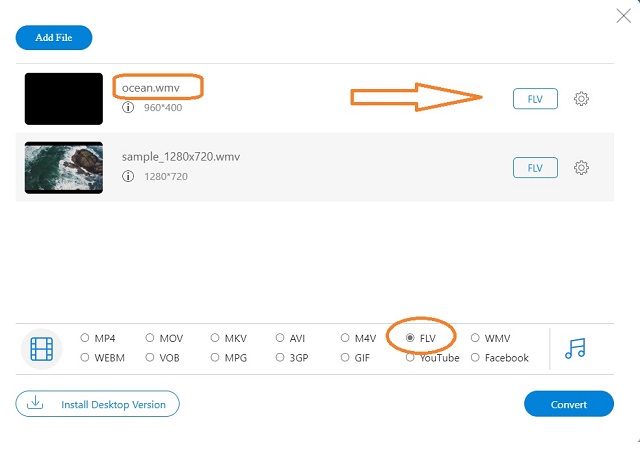 Step 4Transform the adjust files by clicking Convert, which is found at the lowest part of the interface. After clicking the Convert button, a pop-up window will appear. Administer where the converted files need to be saved.
Step 5Wait for the conversion process. After all, you will be notified as soon as it is done.
Part 4. How to Convert WMV to FLV Using VLC for Free
Another tool that can help you is VLC. This Media Player can be utilized in converting a wide range of video files. Although this software is great at working with codecs and formats, its conversion feature is not considered the best because of some issues encountered when using it. However, it still works fine with others. Here are the steps that will help you navigate VLC to convert WMV to FLV.
Step 1Click Media, then Convert / Save. Under File, click the Add button to upload the video file. It allows you to upload a batch for conversion.
Step 2Go to the bottom part of the interface, then click Convert/Save. Find Profile in the window. Across from it, click the third button indicating Create a new profile.
Step 3Under Encapsulation, choose FLV then make a profile name for it. For example, WMV-FLV or even convert FLV files to WMV. You will be brought back to a previous window afterward. Then click the arrow pointing down beside the tool button, and search for the profile name you created.
Step 4Choose your destination file then click Start, and wait for the conversion to finish.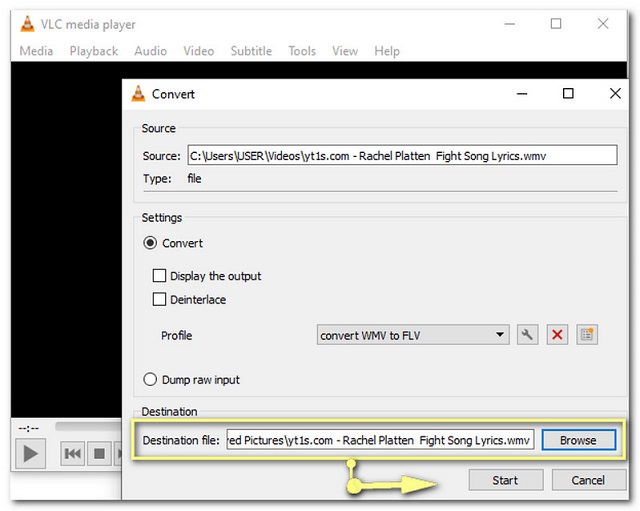 Part 5. Comparing WMV vs FLV
Windows Media Video, or WMV as stated in this article, is not supported by Apple products. WMV is a compressed file of Microsoft video format. It is the usual file format used in Windows-based computers to keep videos. In addition, this file can contain a huge quantity of video and audio within a minimal storage file. While Flash Video or FLV, is a file commonly used by HTML5 supported websites and some video streaming platforms. FLV works on most of the operating systems through Web browser plug-in and Adobe flash player. These two files provide good video quality. You can choose one according to your needs.
Part 6. FAQs of WMV to FLV Conversion
1. How long does it take to convert a WMV to FLV file?
Converting a WMV File to FLV depends on the tool you will use. For a quick and uncomplicated conversion, you can use AVAide Video Converter and convert your videos in less than a minute. Try to believe it.
2. Do I really need to download a tool for me to convert my files to WMV/FLV?
There are 2 options for you to convert file formats. You could try to convert the files online. This method is good if you want to convert your files immediately. However, downloading a tool is more ideal. For it grants conversion offline.
3. Do FLV files work on an iPhone?
FLV video files can't be played with iPhones. You will need a converter like AVAide Video Converter for it to work. This kind of tool will allow you to convert FLV files to WMV, MP4, AVI, MOV, and many more.
Conclusion
Most of the time, we find conversion procedures overwhelming. Especially to those who do not have high receptive skills, are aged, and non-technical. This article will help them understand how important it is to know about converting WMV to FLV and doing it in the simplest ways. Please download and try it yourself.
Your complete video toolbox that supports 350+ formats for conversion in lossless quality.