The Moving Picture Experts Group (MPRG) defines the MPG video file format. MPG files typically contain high-quality video and audio compression in a compact and efficient format. It is a famous video file format on the internet. MPG is a widely used format for downloading and streaming video content over the internet. However, this tool is incompatible with other media players. That is why play an MPG file on different devices. It may be needed to convert it to a universal format such as FLV. This post will help you convert MPG to FLV with the converter tools utilized around the web.
Part 1. Short Overview of MPG and FLV Video Formats
Quick Summary of MPG
MPG is a MPEG video file developed by Moving Pictures Experts Group. MPG and MPEG are synonymous terms. Since some older versions of Windows demand a three-letter file extension, the MPEG was simplified to MPG. It is a widely known digital video format on the web. Additionally, movie creators use MPG video format to produce videos over the internet. MPG offers quality video with smaller file size. The only limitation of this tool is its compatibility. It has a limited supported media player. Yet, if you're looking for a smaller file size with satisfactory video quality, MPG may be the way to go.
Quick Summary of FLV
Adobe Systems developed FLV or Flash Video File. This file format is the ultimate display for videos uploaded to the different streaming sites on the web. It is a well-known video format compatible with most media players and browsers, but not with mobile browsers. A noteworthy and progressively critiqued aspect of FLV is that they require the Flash Player connector to play, which is why they are incompatible with mobile devices.
Part 2. The Professional Manner to Convert MPG to FLV Offline on Desktop
1. The High-Profile AVAide Video Converter
The professional way to convert your MPG to FLV offline is to use the AVAide Video Converter. It will give you the lossless quality conversion with additional features. It is a desktop application that works well with Mac, Windows, and Linux. Whether you're working with MPG or any of the dozens of other popular video and audio file formats, AVAide offers more than 300+ video and audio file formats such as MP4, MP3, MOV, AVI, AIFF, MKV, MPG, JPG, GIF, and a plethora of other output formats. Moreover, it also includes other functionalities such as rotating, flipping, transfer, editing, and a comprehensive toolbox for various purposes. It is more than just conversion software; it includes many outstanding features that make every work more accessible. Take a glance at the guide below on how to convert MPG to FLV instantly.
The Best MPG to FLV Video Converter
Enjoy 30X fast conversion using the acceleration technology.
Convert multiple video and audio files without quality loss.
Offers more than 300+ input/output video and audio formats.
Provide 1080/4K/5K/8K with high-quality output.
Step 1Launch the FLV offline converter
Visit the website and navigate to the AVAide Video Converter. Download and launch the program. You may install the software right away by clicking on the download icons above.
Step 2Import the MPG files
Set your target files by clicking the Add Files button at the top left corner. Likewise, you can drop your files in the center of the interface.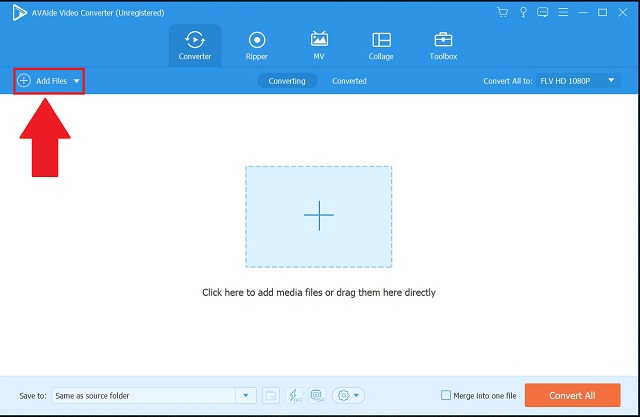 Step 3Change the video format
Then, select Convert All to > hit Video, and locate FLV from the formats lists as your output formats.
Step 4Customize the video output
To modify the setting of your FLV video, click the Custom Profile icon. By selecting Custom Profile, you can change the settings for your video output. You can customize the frame rate, resolution, audio, video quality, and bitrate.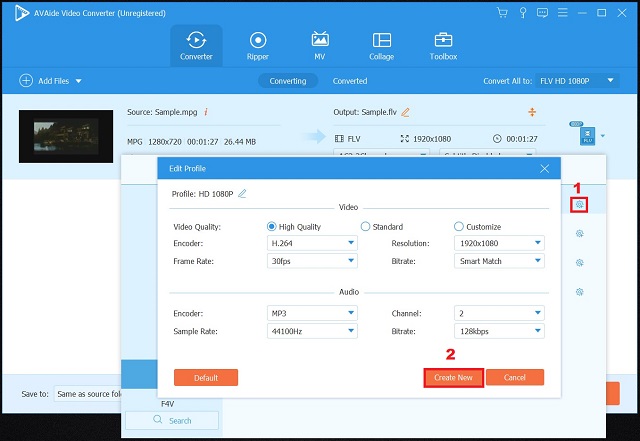 Step 5Choose file destination
Before converting, hit the file location from the Save to the drop-down menu in the lower-left corner of the interface. Click Browse and Select Folder.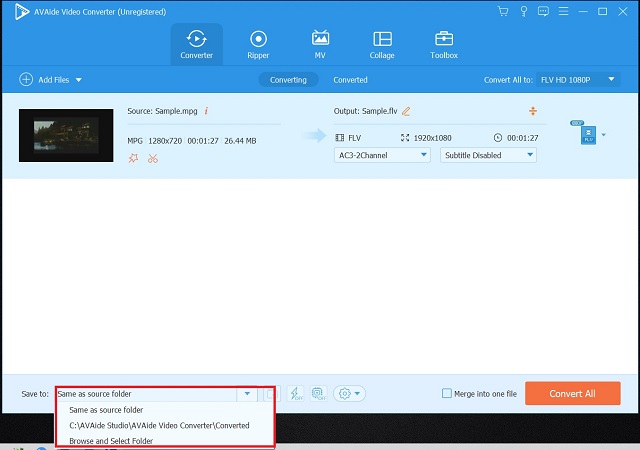 Step 6Begin the conversion instantly
Finally, begin the conversion by tapping the Convert All button in the bottom corner of the interface.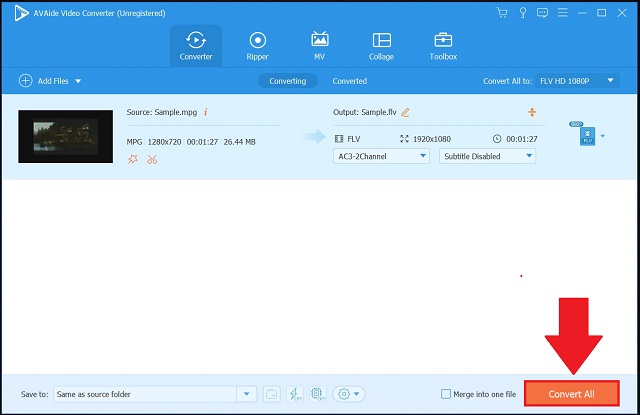 2. The Exceptional FFmpeg
FFmpeg is only one of many offline media software platforms available today. Users can transform, modify, restore, and format any video format with the help of the software's ever-expanding library of effects and filters. Because of its innovative features, it can support a wide range of video and audio codecs. It is a tool that comes in handy with professionals since it has a command-line interface that can work with audio and video file types by issuing commands. To know more, convert MPG to FLV with FFmpeg now!
Step 1Install FFmpeg on your desktop
Run FFmpeg on your computer. Then, select Terminal To from the drop-down menu and navigate to the files on your computer by typing cd desktop.
Step 2Enter the code
Next, for FFmpeg to initiate, you must enter the necessary code. ffmpeg -i music.mpg music.flv
Step 3Convert your MPG files now
You can save all of the videos by selecting the correct file format, which varies depending on the type of file.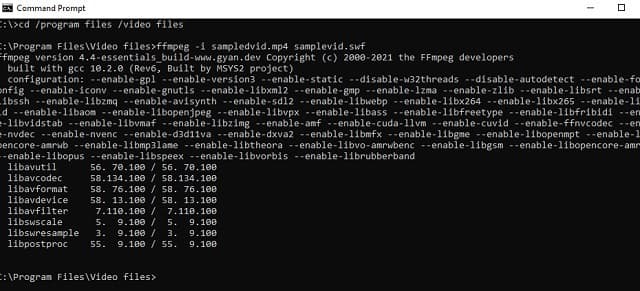 Part 3. The Great Method on How to Convert MPG to FLV Online for Free
The Ultimate AVAide Free FLV Converter Online
The said converters above work well even without an internet connection. But with AVAide Free FLV Converter Online it is 100 % free on any internet browser. This converter can convert your MPG video content without reducing the quality, resulting in a more pleasing visual experience. Not just that, it has additional settings to improve your video, such as bitrate, frame rate, resolution, and so on. Convert hassle-free as you can add multiple files to a single folder, and the tool will convert them all simultaneously. The interface is user-friendly and uncomplicated for users of all skill levels. Meanwhile, if you want to convert MPG to FLV, try this tool by following the simple steps below.
Step 1Run the FLV converter
Launch the AVAide Free FLV Converter Online on your browser.
Step 2Upload the target files
Click the ADD YOUR FILES to import the MPG files. Tap and upload all the videos you wish to convert.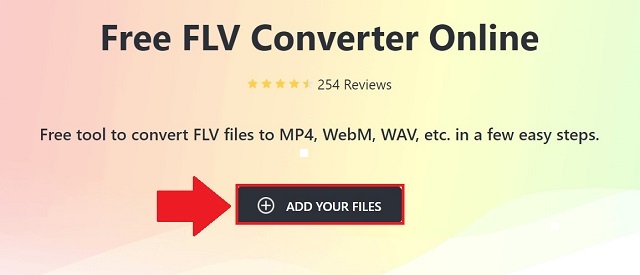 Step 3Select the output format
Once your target files are uploaded, hit the Video icon on the right bottom corner. Choose FLV from the list of video outputs given.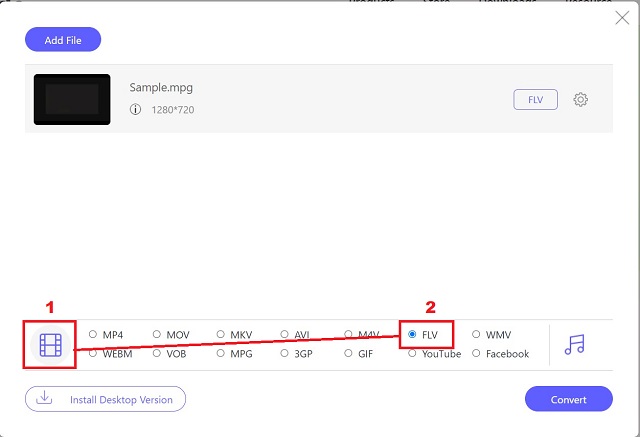 Step 4Maximize the output settings
Before finally converting, you can modify your video output by hitting the Settings icon. Change the resolution, video codec, aspect ratio, frame rate, and bitrate.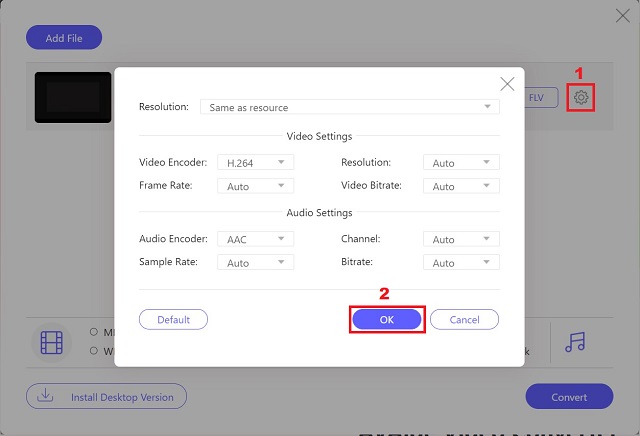 Step 5Initialize the conversion process
At last, when everything is ready, tap the Convert button. Wait for the conversion to finish.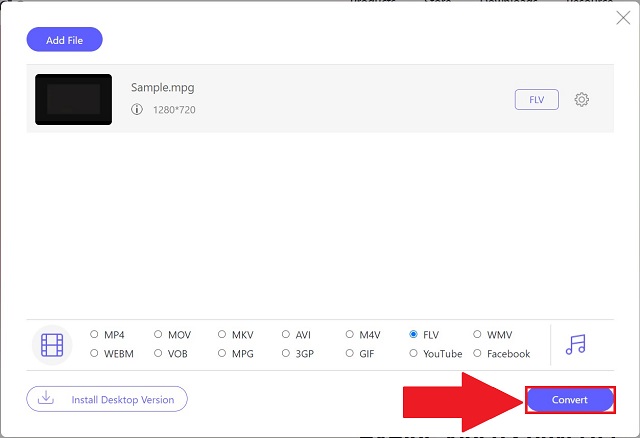 Part 4. FAQs about MPG and FLV Video Formats
Is FLV more compatible than MPG?
FLV is a popular video file format for online video streaming. Currently, it is the recommended playback format for most multimedia and portable devices. While several famous media players accept the MPG format, the .mpg file extension is not accepted by all.
Which is larger in file size, FLV or MPG?
FLV files are less in size while maintaining the same video quality as videos in MPG files.
In which situations may I make use of the MPG video format?
If you intend to burn a DVD or VCD, you should use MPEG-1 or MPEG-2 instead, as they're considered best practices for Video CD, SVCD, DVD, and other optical discs, respectively.
Conclusion
We have compiled the complete overview of MPG to FLV converters. You can choose any tools for your demands unless you want a sophisticated and simple tool to meet your conversion needs as quickly as possible and without compromising quality. All of the software mentioned shown is suitable with both Windows and Mac, so you can quickly access it on either of them. Get a remarkable converter that will provide you with a comprehensive set of tools while remaining convenient and straightforward to use.
Your complete video toolbox that supports 350+ formats for conversion in lossless quality.