With limited compatibility of our videos in FLV format, it is suggested for us to convert FLV to MOV online for free. This only causes us seamless efforts but without any charge. Let us engage ourselves with this list of excellent video converters.
Part 1. FLV or MOV? Which is better?
Let's have a closer look at these two video formats to see which works best for our needs.
What is FLV?
FLV which stands for Flash-compatible video file. It was developed by Adobe Systems that contains a short header, video, interleaved audio, and metadata packets. This type of format is popular for video streaming. However, this holder requires Flash plug-in in order to play the file. With this being said, search engine spiders don't add to a site's optimization. As tested, it also consumes time to access a web page with Flash. Therefore, it is not as good as other formats in terms of compatibility.
What is MOV?
On the other side, we have the MOV or Apple QuickTime Movie. The developer of this format is Apple. What's exceptional about this is that it can store a particular type of data such as the audio, video, effects, and even subtitles compiled in one. Plus, it supports both Windows platforms and Macintosh. Given the multiple tracks in a package, you can edit these elements separately. Unfortunately, this holder carries a larger size due to its high-quality resolution.
Therefore, MOV is the widely used file format for our videos. With its flexible attributes, it can be more useful for different specific scenarios. But, don't worry if you have FLV files. Because you can still transfer FLV videos to MOV file format.
Part 2. 4 Quickest Tools to Convert FLV to MOV via Desktop
The Excellent Service of AVAide Video Converter
AVAide Video Converter is an easy all-round video solution that supports most devices and provides numerous formats for both audio and video media files. Thus, it can serve you the most efficient way to change FLV to MOV video format. The tool gained a lot of engagement for common and professional media users. To add, first timers are also impressed by how it works. This popular tool will absolutely help you out in managing and maximizing your videos. Learn the most convenient procedures for this tool.
Step 1Download the software and install
Access the web browser from your device. Go straight to AVAide Video Converter webpage. Look for the Download button and then install it.
Step 2Add the intended files
After the software has been installed, open it and add your FLV files by clicking the Add Files button or seamlessly drag them.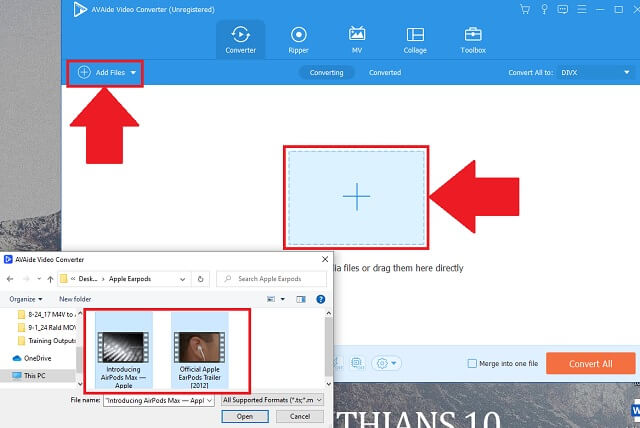 Step 3Choose the MOV format
From the roster of video formats, click the MOV button.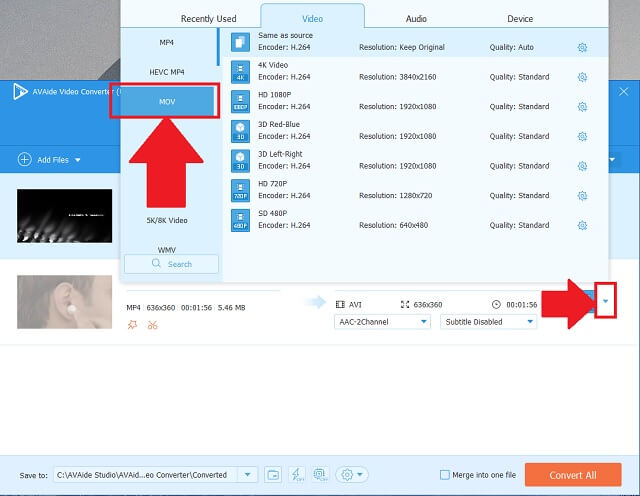 Step 4Convert the files
Proceed to clicking the Convert All button on the bottom part of the tool.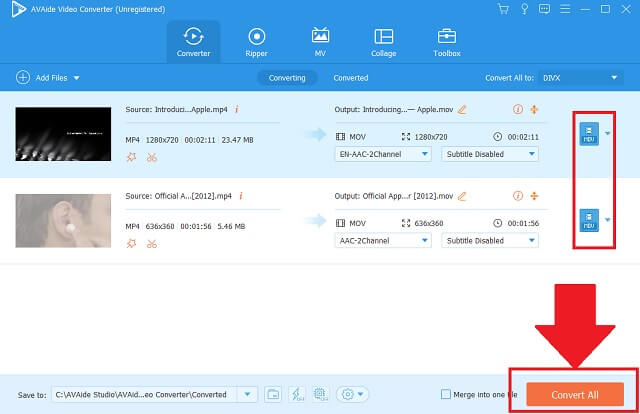 Step 5Complete and saved
When the process is complete, your new MOV video files are automatically saved from your local storage.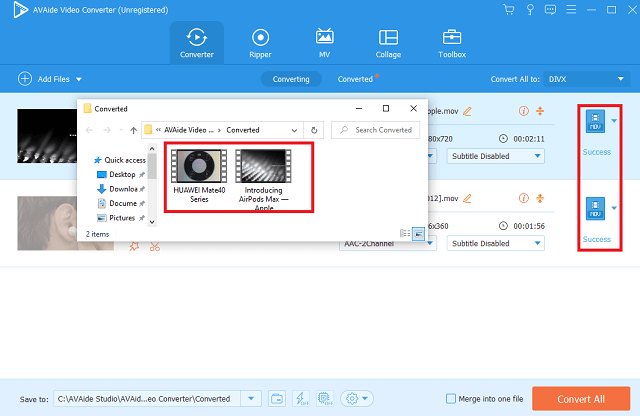 PROS:
Fast-speed operation without quality reduction.
Available list of media formats.
Compatible to most operating systems such as Windows and iOS.
It has additional functions including Media Editor and Enhancer, Video Compressor, GIF maker, and 3D Maker.
CONS:
The free trial version is limited for a period of time.
Part 3. Make Use of Free FLV to MOV Online Converters
1. AVAide Free FLV Converter is the Go-To Tool
AVAide Free FLV Converter is the appropriate free FLV to MOV converter for you. This is available anytime by simply reaching it to your browser, this tool will surely amaze you. It has the essential tools you're looking for to aid and solve your media concerns. Additionally, your files are kept secured. The tool automatically deletes your files' history. Consider these easy steps that will help you use the converter.
Step 1Visit the web browser
On your device, simply access AVAide Free FLV Video Converter to your web browser.
Step 2Transfer the MOV videos
Secondly, click the ADD YOUR FILES button to transfer all the files. The tool ultimately supports conversion in batches.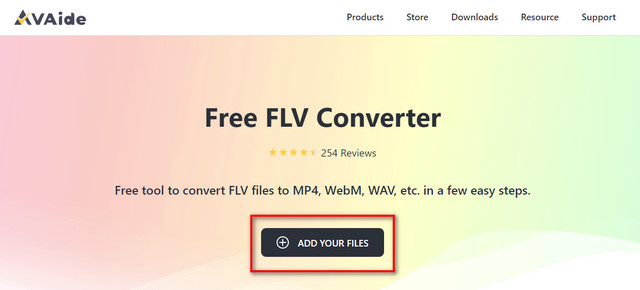 Step 3Replace the format
Look for the MOV button from the list of formats to replace the existing one.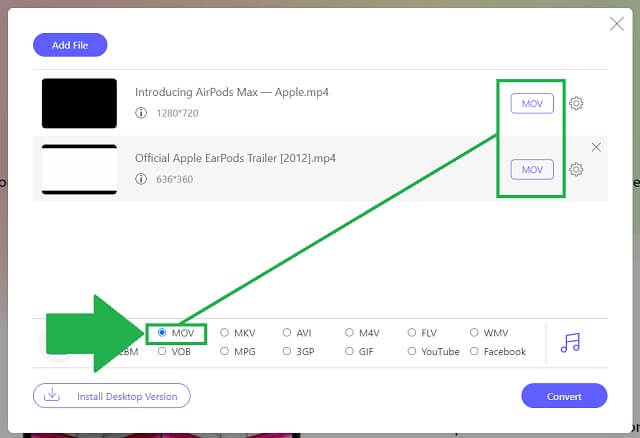 Step 4Convert and pick a local storage
Then, by clicking the Convert button, the tool will immediately require you to choose a local storage where it can place your output.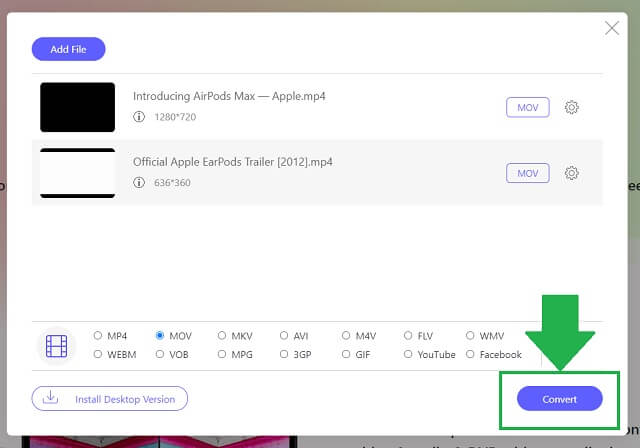 Step 5Done and available
Upon completion, your videos can be accessed readily. To locate them faster, click the folder icon on the rightmost side of the interface.
PROS:
Web-based converter. Totally free from charges.
All you need is a stable internet connection to experience its services.
It has a speed faster than other tools without quality loss.
More than 300 formats await you.
CONS:
There's no available setting to change the existing format in the group. It should be done individually.
2. Try the Tested Online-Convert
Another online tool that can convert FLV to MOV file format is the Online-Convert. This converter possesses all you want to see in a tool. With its limitless service for us, many were already impressed how this solution works!
Step 1Choose your video format
From the interface, look for the Video converter and form the list of the video formats, click the Convert to MOV button.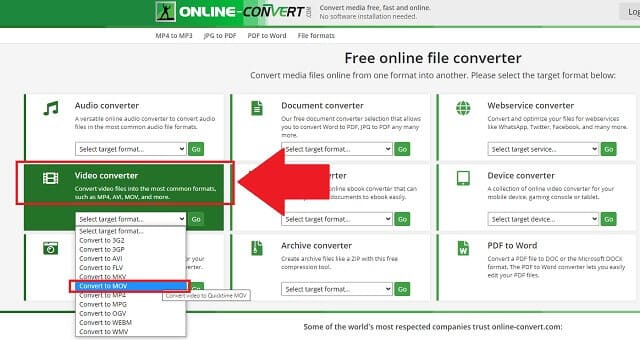 Step 2Drop your files
Once format is selected, proceed to adding your FLV videos by clicking the Choose Files button or simply drop them on the panel.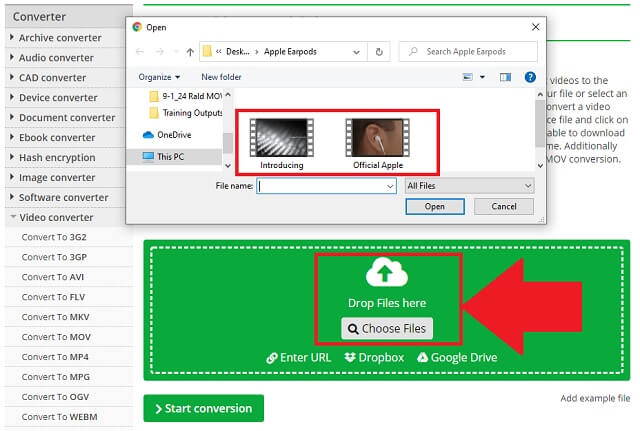 PROS:
It's web-based. It is beyond a video converter.
Multi-format.
CONS:
Conversion from video-sharing websites is not allowed.
Interface has so many panels and buttons.
3. Zamzar is the Applicable Solution
Another FLV to MOV online converter is the Zamzar. If you are seeking easy and good service, this tool works for you! Comprehensive procedure and interface are really evident. Learn to use this one by putting into action these very simple steps.
Step 1Transfer the FLV files
You can transfer your FLV files by clicking the Add Files button on the tool's interface.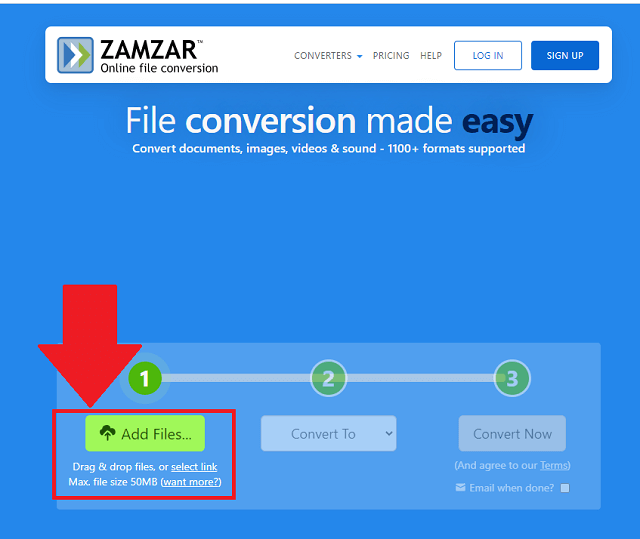 Step 2Select the format and convert
Finally, click the Convert To button and choose the MOV. Then, click the Convert Now.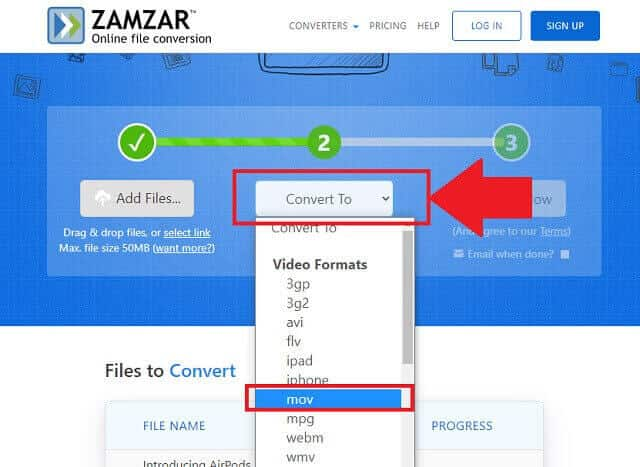 PROS:
It's a comprehensive online converter that offers audio-video formats.
CONS:
Doesn't support cloud services for cloud.
Limited to 50 MB file size.
4. Easily Utilize the CloudConvert
One of the most well-known tools for converting video files is the CloudConvert. It offers us preset properties that you can adjust. With its simplicity, it is not covered with ads or different fancy banners. Truly, this can surely convert FLV to MOV files. All you need is to follow these guidelines.
Step 1Import your local files
Once the official website is visited, click the Select File button to import all your FLV videos.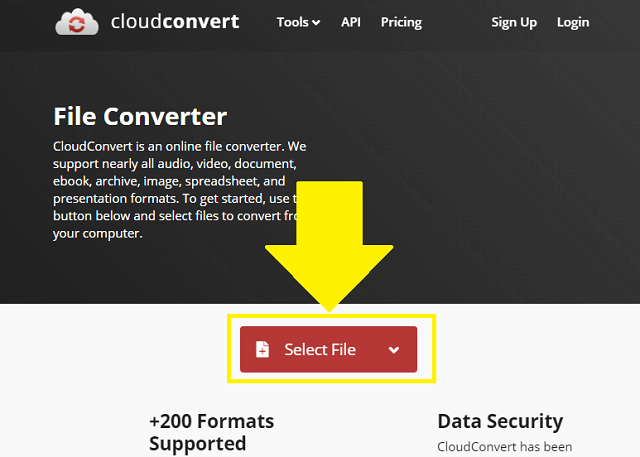 Step 2Set your file format
By clicking the arrow down button, you'll see the different available video formats. Choose the MOV button as your option.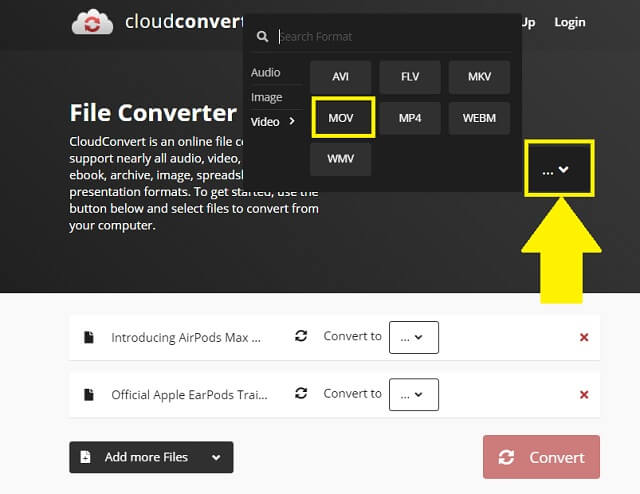 PROS:
It has preset properties for file conversion.
No ads and product banners.
CONS:
You may experience a timeout error when converting big files.
It needs restarting to convert again to another set of files.
Part 4. FAQs of FLV and MOV
Can I use Windows Media Player to play FLV videos?
Codecs for FLV in Windows Media Player are not inbuilt. In short, you cannot play those files. It's a need to download and install those required codecs first before the player can play the videos.
How safe is the use of FLV players?
It is safe, actually. However, the player should be built-in to your device. Once rejected, you need to install a third-party software. Sounds laborious, right? Many suggest that you can use AVAide Free FLV Converter to transfer your FLV to MOV comfortably.
Can I play MOV videos on my Mac?
Of course, it's a yes. This type of format is compatible with both Windows and Mac devices.
Conclusion
In conclusion, there are other simple ways to play your FLV videos without the need of installing other supported software. Let's solve that difficulty by using the AVAide Free FLV Converter, Online-Convert, Zamzar, and CLoudConvert. But, among these superb converters, AVAide Free FLV Converter is the most used for its top-rated outputs and its easiest ways on how to convert FLV to MOV.
Your complete video toolbox that supports 350+ formats for conversion in lossless quality.