FLV or Flash Video is used for video and animation online. FLV files can be viewed in a web browser or by using a separate media player. Despite its popularity, users find it hard to play FLV files to download because of the animations and advertisements that slow down the loading process. Moreover, downloading such files may take a long time. It is strongly advised to convert FLV to WAV online. Because the WAV format is supported by the majority of the devices and platforms we use. They can certainly work successfully whether they are offline or online tools. What is more surprising is that they convert fast and hassle-free.
Part 1. Comparison of FLV and WAV
FLV stands for Flash Video. It should be recalled that Flash Video is a patented file developed by Macromedia, which Adobe currently owns. More so, flash files are widely used on the Internet and are particularly prevalent in all the popular websites we use today. However, a flash player is required to view flash files. One of the drawbacks of FLV is limited compatibility. With that said, it is needed to convert FLV to WAV format.
WAV is a shortened form for Waveform Audio file format. One of the most basic file formats for storing audio data that can play uncompressed digital audio. This was invented by IBM and Microsoft. Furthermore, with its lossless format, you can perfectly duplicate recordings without sacrificing audio quality. Thus, WAV files are relatively simple to process and edit. This has resulted in the availability of user-friendly editor software at all levels and its compatibility with the many operating systems.
Part 2. Optimum Online FLV and WAV Converters
High Performing AVAide Free FLV Converter
If you want to convert FLV to WAV online, AVAide Free FLV Converter is the best option for you. This FLV to WAV online converter is free to use and supports numerous formats. Despite this, AVAide Free FLV Converter gives a seamless experience without unwanted watermarks and advertising. This online utility also works with any browser, including Mac, Windows, and Linux. AVAide Free FLV Converter allows you to convert FLV files effortlessly. Come on, let's test this online tool's ease of use!
Step 1Acquire the Launcher
Get the AVAide Free FLV Converter launcher to your PC at once. Tap the ADD YOUR FILES button, and from the window that will appear, click Download, then Open.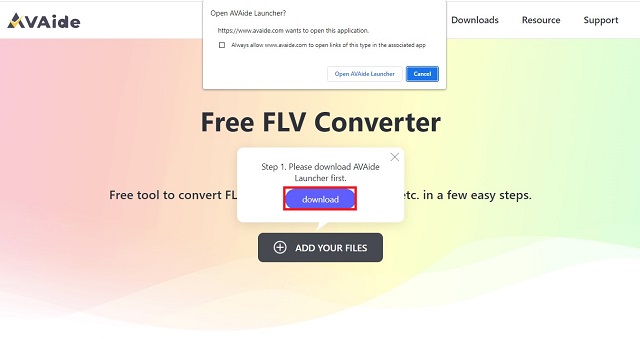 Step 2Download Your Files
To convert FLV to WAV, upload FLV files by clicking the Add File button on the right upper left part of the interface.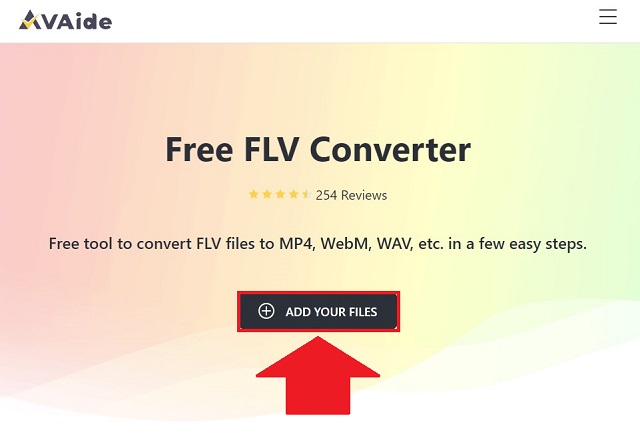 Step 3Set Your File to WAV Format
Set the uploaded files to WAV from the portion located at the lower part of the interface. After that, click the Convert button to start the conversion.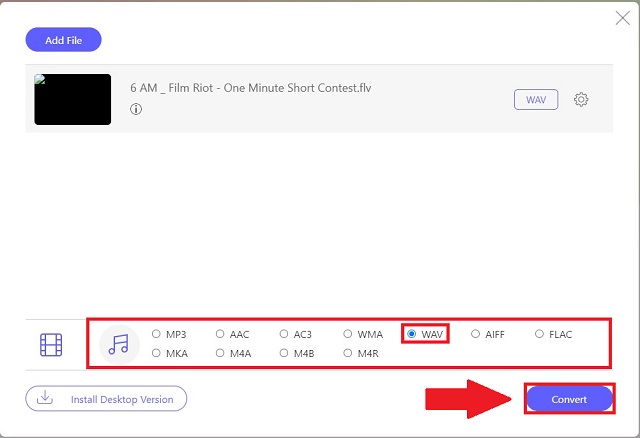 Step 4Choose a Storage for WAV Files
After clicking the Convert button, your file storage window will appear. Before the conversion process, you must choose storage where the converted files are saved.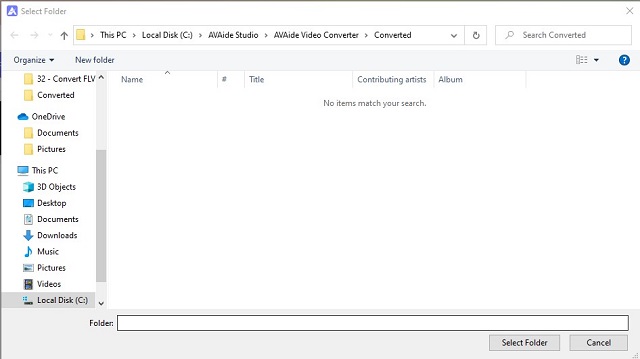 Step 5Wait For the Newly Converted WAV Files
It takes less than a minute to convert. So, you will be notified once the FLV file has been converted to WAV.
2. Utilizing Convertio
Convertio is a web-based application that converts files between different formats. Along with common audio and video conversions that this tool offers, it also allows you to convert documents, images, eBooks, audio, and even slideshows that can be converted in different formats such as SNB, EPUB, AZW3, PDB, TCR, FB2, RB, and MOBI formats. The input file size for this tool is only 100MB. Below are steps on how to convert your FLV to WAV for free.
Step 1Upload your file
Choose files from your computer, Google Drive, Dropbox, a URL, or by dragging them on the page.
Step 2Set the Desired Format
Click the Arrow Down beside to. Then, tap WAV on Audio.
Step 3Start the Conversion
Begin the conversion by clicking Convert. After that, you can download your WAV file right away.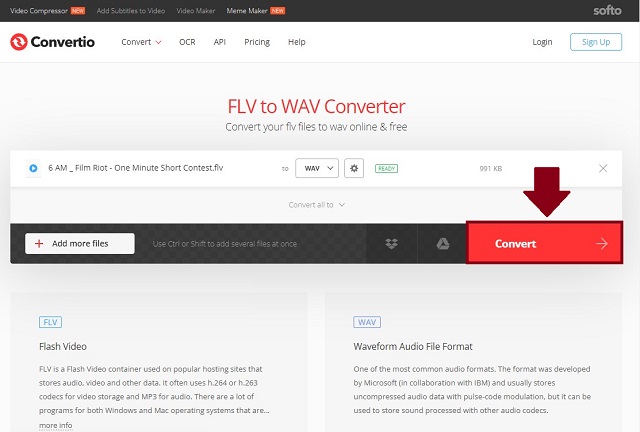 3. Making Use of Zamzar
Zamzar is an online file converter that simplifies the process of converting many types of files, including videos, music, documents, and photos. It has only a 50MB file size limit. Despite the file size restriction, your conversion may be delayed by approximately an hour if the site is receiving excessive traffic. Without further ado, the instructions below are provided to help you convert FLV to WAV for free.
Step 1Import FLV file
Select the FLV file you wish to convert.
Step 2Choose Your Preferred Format
Click WAV as the format you want to convert your FLV file.
Step 3Download Your WAV File
Click Convert Now to convert your FLV file. Wait for the conversion to complete.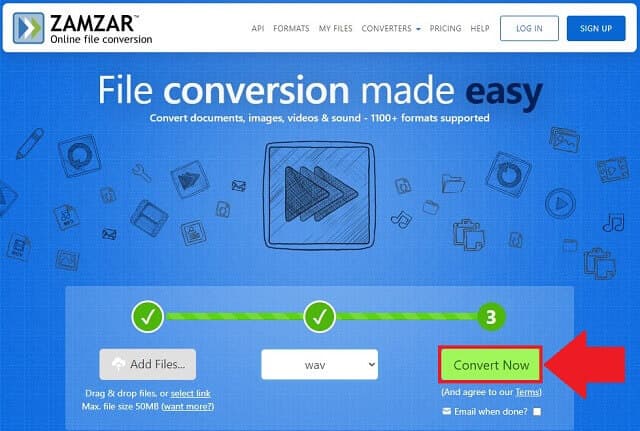 Part 3. Professional Way to Convert FLV to WAV on Mac and Windows Offline
High Performing AVAide Video Converter
AVAide Video Converter is a preeminent converter that works well in transforming your audio file into other formats while preserving its quality. It has acceleration technology that will give you a 30x faster conversion. Your files can be edited, rotated, cropped, trimmed, divided, merged, enhanced, and compressed before even converting them. Additionally, the interface of the AVAide Video Converter is so simple that even non-techies can use it. As a result, if you're looking for a tool to help you convert files quickly, this AVAide Video Converter is an excellent choice. With that said, here are the steps for free FLV to WAV conversion on your device.
Step 1Install the app desktop version
To start, go to the AVAide Video Converter official website. Download and install the app on your device.
Step 2Import your FLV files
Then, upload all your original files from your local storage by clicking the Add Files button.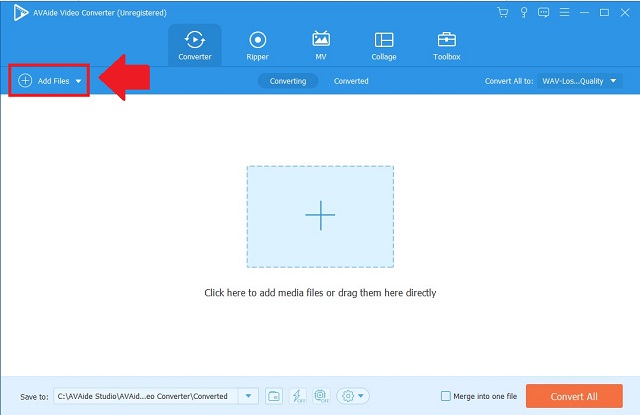 Step 3Set Your Preferred Format
After that, click the Convert All to button and select WAV as the output format.
Tips:
If you want to make some changes, keep in mind that the format preferences can be changed.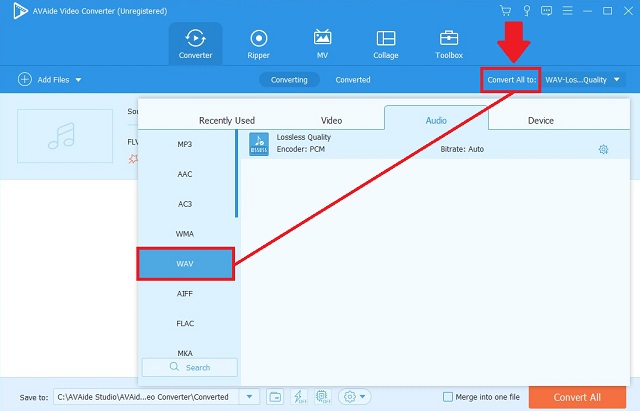 Step 4Begin the conversion
Upon choosing the desired format, click the Convert All button to start the conversion.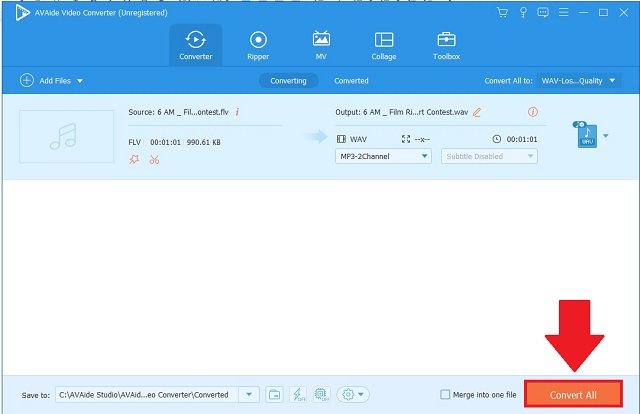 Step 5Check the new WAV files
Finally, when the process is complete, you can now check your files on their file designation.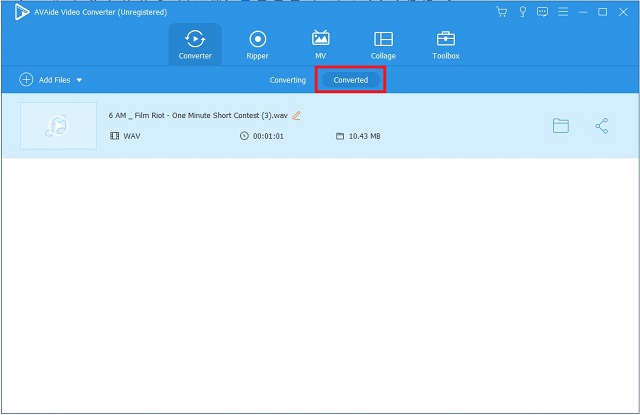 Part 4. FAQs about FLV and WAV
Why can't I open an FLV file on my Mac?
To playback an FLV file, you opt to install a compatible media player or convert your FLV file on AVAide Video Converter immediately.
How do I convert a WAV file to an MP4?
The simplest way to convert WAV to MP4 is to use an online file converter such as AVAide Video Converter. It will provide you with a simple option for converting your file 30x faster than standard converters.
Can I use VLC to convert FLV to WAV?
Yes, VLC allows you to convert FLV to WAV. But, if you are looking for a hassle-free and easy-to-use converter, you may use AVAide Video Converter.
Conclusion
To summarize the article, the converter tools mentioned are the best option for quickly converting your file. AVAide Free FLV Converter, Convertio, and Zamzar all convert our files well. However, I believe that AVAide Video Converter is the best of all of these converters. It is a reliable tool. So don't be afraid to give it a shot.
Your complete video toolbox that supports 350+ formats for conversion in lossless quality.