You might not be totally aware of the audio quality differences among various types of audio format. You won't be able to choose between FLAC and WAV without recognizing their distinct attributes. FLAC or short for Free Lossless Audio Codec is a coding format for compressed and lossless digital audio. It has hardware and streaming support with fast-speed decoding. Also, it supports high-resolution streams. This format can retain full CD-sound quality. However, because of its lossless quality, files are inclined in terms of sizes which are not compatible and convenient with other devices. Fortunately, there are other audio formats that can also retain the good quality of your FLAC files. Like the Wav or Waveform Audio File which will be explained further in this article. As we discover how we can easily change FLAC to WAV using different trusted tools offline and online.
Part 1. A Clear Comparison of FLAC and WAV
To clearly understand the existing differences and similarities of FLAC and WAV, we will transparently discuss an overview in terms of various standards for a high-quality and suitable audio format.
What is FLAC?
FLAC or which stands for Free Lossless Audio Codec is an audio file holder that stores a CD-typed audio quality. It's also lossless and compressed in nature. However, this isn't an assurance of getting the file-size smaller since it is natively high in quality. Moreover, it doesn't support a wide variety of devices.
What is WAV?
On the other hand, WAV or acronym for Waveform Audio File which was originally developed by Microsoft and IBM. It's an accurate and lossless format. This simply means that the WAV format can reproduce or duplicate media recordings accurately without decreasing the sound quality. Also, with its simplicity, it's relatively effortless to edit and process. In short, this can be easily used by editor software available at all levels. In terms of its size, since it is high in quality, it contains large-sized storage consumption.
Web-based and software

Windows and Mac

Sound Quality

File Size
| | |
| --- | --- |
| FLAC | WAV |
| Not supports others | Wide devices |
| High Quality | High Quality |
| Large-sized | Large-sized |
In this case, for the sake of compatibility, it's an ideal option to convert FLAC to WAV. This possible action can spare you to any media troubles. WAV provides wide compatibility among numerous audio players and devices.
Part 2. 5 Most-Used Tools to Convert FLAC to WAV
1. AVAide Video Converter
If you're searching for a tool that can solve your concern is the AVAide Video Converter. This solution is significantly dedicated to reformatting different audio and video files. This is absolutely an excellent tool to use. The fast-speed process can run the operation within just a few minutes. Also, it has customizable settings for enhancing and editing outputs. By utilizing this tool, you can also trim and merge sound clips with effortless actions. Check out the steps given below on how to decompress FLAC to WAV through this app.
Step 1Start with going to your web browser and open the official website of the tool. Find the download button and click it. Followed by installing it on your device.
Step 2Afterwards, upload your files each or in group by clicking the Add Files button on the left side of the tool. To import them conveniently, just simply drag them on the center panel.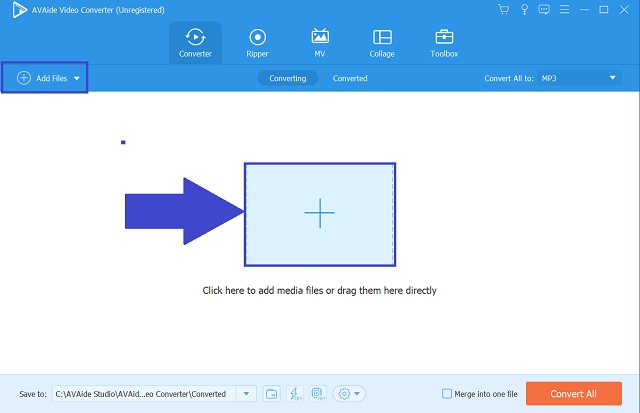 Step 3Then, click the Audio button located on the menu bar. From the list of the offered audio formats, choose the WAV button and click it right away.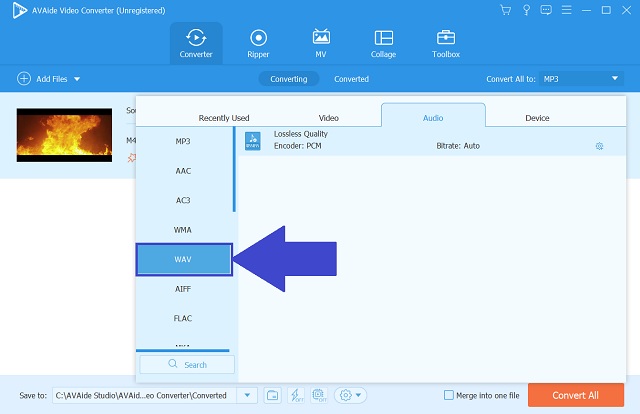 Step 4Finally, start the quick procedure by clicking the Convert All button on the leftmost bottom of the interface.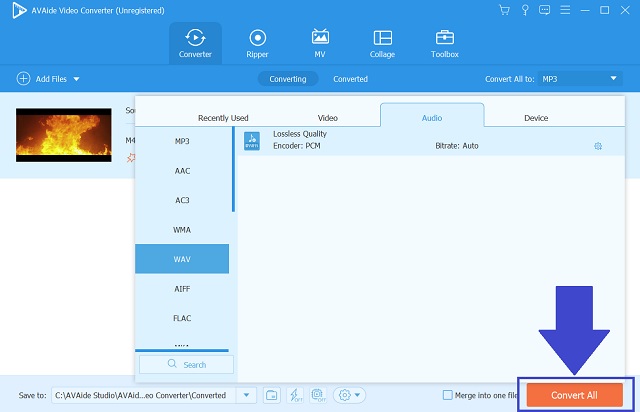 PROS:
Supported by different popular operating systems such as Linux, Mac, and Windows.
It has a long list of video and audio formats.
The process is fast-speed without quality loss.
It can simultaneously convert in group or batch.
Operate with editing and enhancing tool.
CONS:
The free trial version is limited within a period of time.
2. AVAide Free Video Converter
There are surely various ways that you can take on changing your files from their old and original format. AVAide Free Video Converter is the best FLAC to WAV converter with its web-based services. This is effectively practical if you don't want to consume your device's local storage. Plus, this is absolutely free of charge. It accepts a long range of formats, especially the most used and popular ones. Most importantly, you can reformat in a group at the same time without any corresponding limitation or restriction. Experience this tool first-hand by taking a look and undertaking the following guidelines.
Step 1From your device's default web browser, go straight to the official webpage of AVAide Free Video Converter.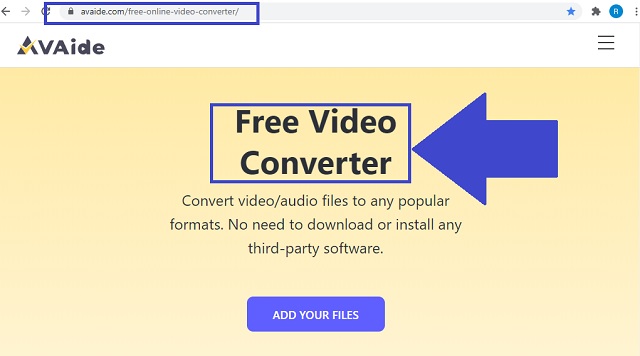 Step 2Second to that, click the ADD YOUR FILES button to transfer your local FLAC files. You can freely choose whether to add them individually and in batches.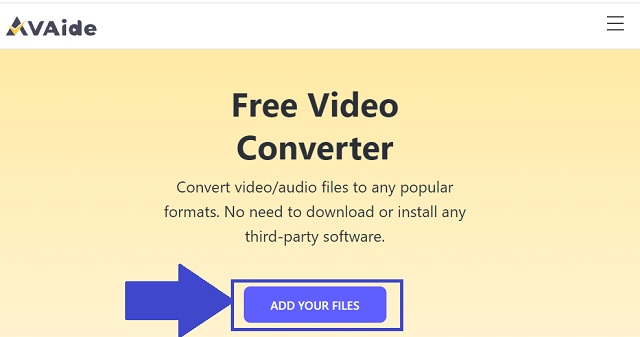 Step 3Next, click the audio icon to generate all the available audio formats on the container preferences. Find and click the WAV button as your output file format.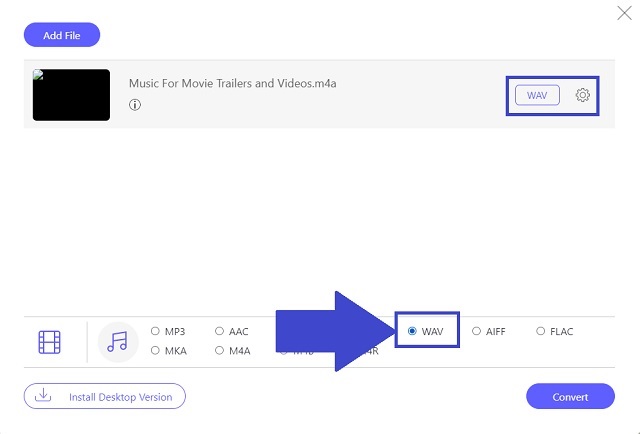 Step 4Click the Convert button to commence the fast-speed operation.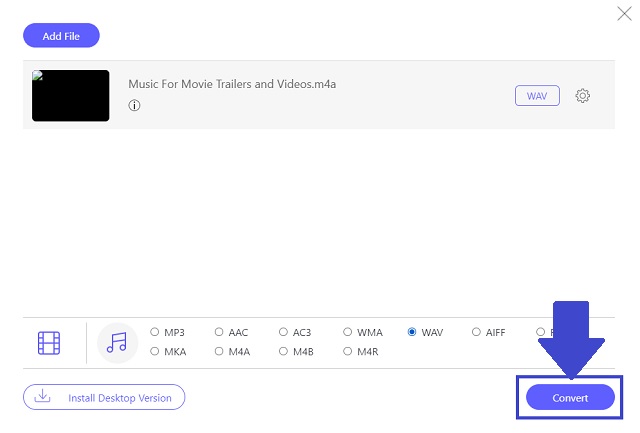 Step 5You can check your newly converted files by clicking the folder icon located on the right side of each file. Once clicked, the file holder of your file will automatically appear and open.
PROS:
Web-based services.
Fast-speed process.
No ads included.
Group conversion.
Secured history.
CONS:
Operates through internet only.
3. iTunes
Supposedly, you're looking for an audio converter suitable for your Mac, then, convert FLAC to WAV on iTunes. This is one of the default tools a Mac has. You download any third-party tool and add so much space on your gadget by installing it. Additionally, it offers the formats with their specific type of codecs. To discover the hidden converting feature of the tool, just follow the simplified steps below.
Step 1Open the app on your device. Click the File button on the menu bar followed by clicking the Convert button to view the converting feature of the media player.
Step 2To change the existing format, look for the MP3 Encoder format and click its button. Then, you can now start the quick operation.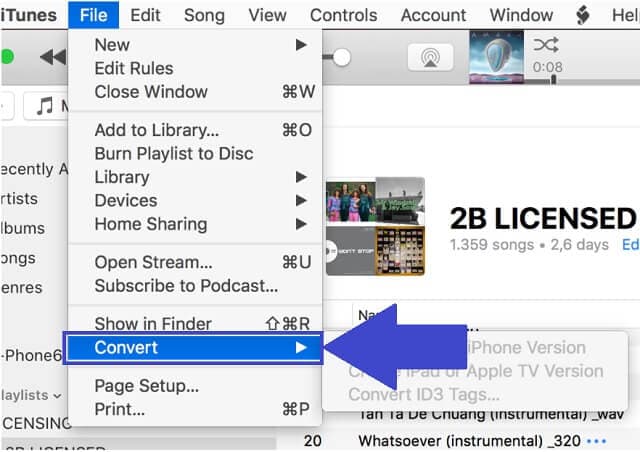 PROS:
Default media player for Apple gadgets.
It contains several formats with encoder types.
CONS:
The interface is not intuitive especially for first-time users..
4. Utilize the Zamzar Tool with Quality Outputs
Zamzar is an amazingly useful web-based program in aiding different types of users in the audio conversion they need. It supplies different file containers for conversion such as the MP3, MTS, WAV, and many more on the long list. Not just that, video formats are also available. You just need a stable internet connection and you are ready to go. Try this online FLAC to WAV converter on Windows, now!
Step 1Search and open the tool on your web browser. Find the Audio converter panel. On the Select target format… button, simply click the Convert to MP3 as your new format preference.
Step 2After that, you need to click the Go button and import the FLAC files.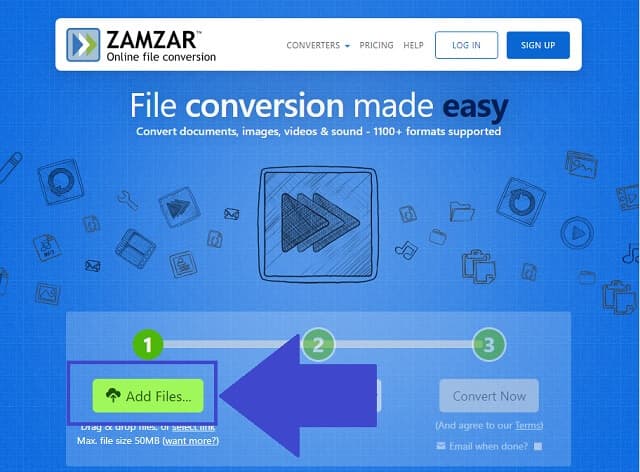 5. Using Foobar as an Option
Last on the list, another option is to convert FLAC to WAV on Foobar. The primary function of this tool is for media management. Its specialization is to rip and convert CDs. This tool can probably do pretty much of what you could expect. Undeniably, this was incredibly made and designed as an adaptably software.
Step 1Download the app on your device and install it. Select the files you want to convert. Right-click on them then choose the Convert button.
Step 2Choose the three dots and change the output format into WAV. Afterwards, click the Destination button and start to convert.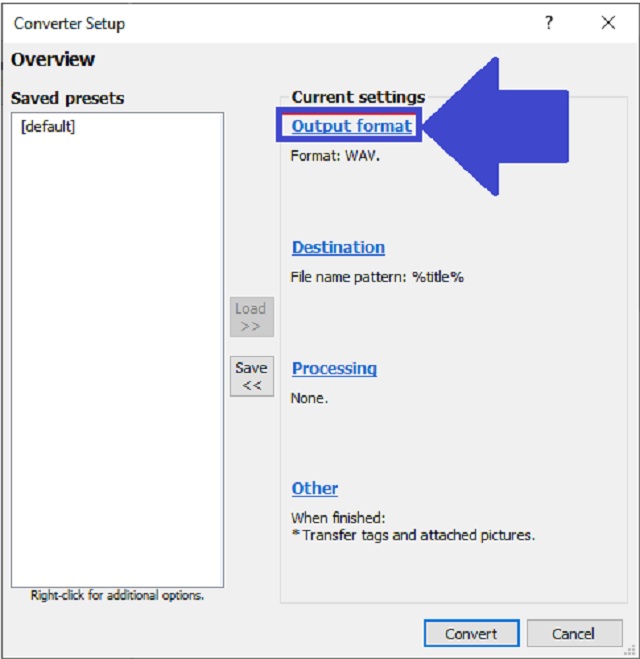 Part 3. FAQs of FLAC to WAV
How do I convert FLAC to WAV on Mac?
Audio conversion using different tolls has similar concepts. The good thing is, there are downloadable and reliable programs for both Mac and Windows users. One of which is the assistance of AVAide Video Converter. This tool is the best FLAC to WAV converter you can ever try.
Is it safe to convert using online tools?
It depends relatively to the program you use on the web. You need to check and read different trusted reviews to ensure the safety of your personal media files. The history of conversion must be secured and automatically deleted after the process.
Can Linux platform convert FLAC to WAV files?
This is regardless of the operating system you are utilizing. Software that best converts your files is the AVAide Video Converter. This powerful tool is supported by Mac, Windows, and Linux operating systems.
Conclusion
It is needless to say that AVAide Video Converter, AVAide Free Video Converter, iTunes, Zamzar, and Foobar are our helping partners when it comes to conversion demands and concerns. Amongst them, AVAide Video Converter is simply the all-around audio converter that can change FLAC to WAV with sound quality outputs.
Your complete video toolbox that supports 350+ formats for conversion in lossless quality.