Have you ever wanted to edit your audio files but they are in M4A format? Apparently, M4A formats are not accepted by many portable players and audio editors like Audacity. M4A is a filename extension that stands for MPEG 4 Audio. It was developed by Apple and is, therefore, a friendly audio format with Apple applications and devices only.
This is the reason why not most portable or device players accept this audio format. You have a better choice nevertheless. You may convert M4A to WAV instead to edit your M4A files and play them on your chosen media players. Luckily, there are a lot of programs that enable you to change your M4A files to WAV. Read on to get the information you need.
Part 1. M4A VS WAV
Both M4A and WAV files are popular audio formats with their own demerits and merits you should look for. That means that will suit your needs will depend on your use case. Here we enumerated some of their differences according to categories: descriptions, format type, pros, and cons. In this way, you will be able to determine which really is suitable for your requirements.
Description
Format Type
Pros
Cons
| | |
| --- | --- |
| M4A | WAV |
| Filename extension generalized by Apple as a response to MP3 | Developed by IBM and Microsoft for storing an audio bitstream on PCs |
| Compressed Lossy | Uncompressed Lossless |
| 1. Low file size2. High quality even with low bitrates | 1. Studio audio quality2. Can be edited without losing its quality |
| 1. Poor compatibility | 1. Large file size2. Not practical for portable devices |
Part 2. How to Convert M4A to WAV for free
Now that you know the difference between the two audio formats, let's move on to how to change M4A to WAV with the best programs that we will discuss in the following parts.
1. AVAide Free Video Converter
One of the great M4A to WAV converters free to help you convert M4A to WAV on Mac or Windows PC right from your browser is AVAide Free Video Converter. It does not require you to do any registration before you can start your conversion task. There's also no restriction on the number of audio files that you wish to download. You can convert as many files as you want without limitation. Aside from that, you can also extract audio from a video using this program. The best part is you can process multiple files at the same time and get your converted audio files in no time. Now here's how you can use this program to convert M4A to WAV online.
Step 1Visit the official website of Free Video Converter by AVAide using any browser on your computer.
Step 2Download and install the launcher on your system to activate the program.
Step 3Upload your selected M4A file by clicking the Add Your Files.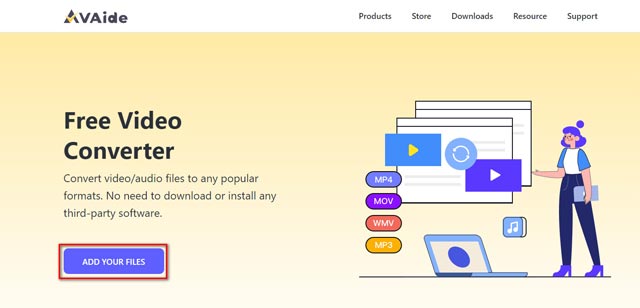 Step 4Next, tick on the WAV radio button from the selection of audio formats and hit the Convert button. Set an output folder for the converted file and hit Convert once more.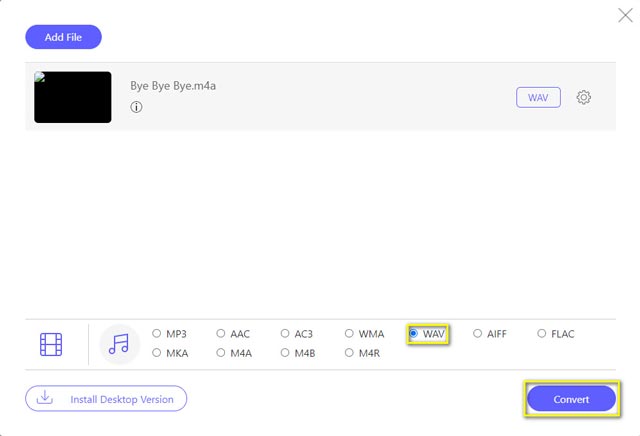 2. Audacity
Audacity is a popular audio editing app that you may also use to convert M4A to WAV. However, you need to install FFmpeg library on the app in order to convert a wide range of formats like WMA and M4A. On top of that, this works on Windows and Mac computers. That being said, if you want to learn how to convert M4A to WAV on Windows 10 or Mac, follow the guide below.
Step 1Install Audacity on your PC or Mac and launch the program.
Step 2Import the M4A that you wish to convert to WAV. Just go to File > Import > Audio. Then select your M4A file.
Step 3To start converting, go to File > Export > Export as WAV.
Step 4Set the file location where you want the file to be saved and click the OK button.
3. iTunes
Another great program that you can use for converting audio files is iTunes. Not only does it allow you to play multimedia files, but it also supports the conversion of audio files including M4A. Similarly, this app comes with Windows and Mac versions. So, whatever system you are running, you will be able to get your converting task done in a breeze. If you have the same question "How do I convert an M4A file to WAV in iTunes," take a look at the below steps.
Step 1Run the iTunes app on your computer and click on Edit from the menu bar.
Step 2Select Preferences and open the Import Settings option.
Step 3From here, open the Import Using menu and choose WAV Encoder. Once done, hit OK to save the changes.
Step 4Load your M4A file in the iTunes library. Now select your target M4A file and open the menu for the file. Point your mouse cursor to Convert and choose Create WAV Version.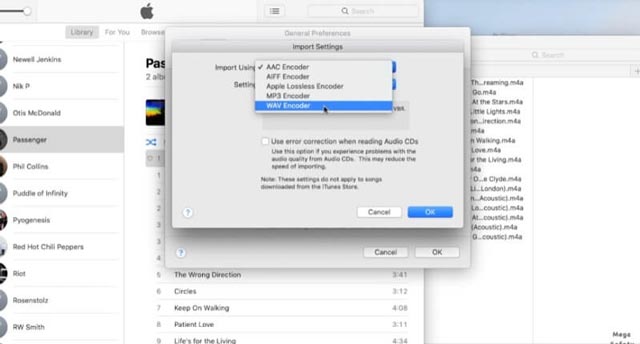 Part 3. Professional Software to Convert M4A to WAV
It is also best to get professional software for your converting needs. AVAide Video Converter is developed to help both professionals and green-hand users because of its user-friendly interface. The tool comes in handy not only for converting files but also for editing video and audio. Furthermore, it is available on Windows and Mac allowing you to convert M4A to WAV on Windows 10 with ease. Above all, it makes it easier for users who are in a hurry to convert multiple files as it enables fast conversion even in the absence of internet connectivity. Here's a step-by-step procedure to navigate the tool.
Step 1Get the M4A to WAV Converter
First off, you need to install the app on your computer by clicking one of the Free Download buttons presented underneath. Launch it afterward.
Step 2Import M4A file
Once the app is installed, import an M4A file. You may drag and drop the file or click the Plus icon in the middle of the interface. Either way works well in uploading video/audio files.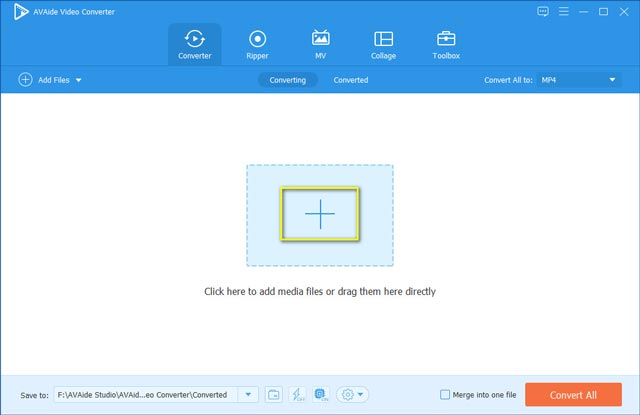 Step 3Select WAV format
Before converting, select WAV format as the output format. Just open the Convert All to menu and click on the Audio tab. From there, select WAV.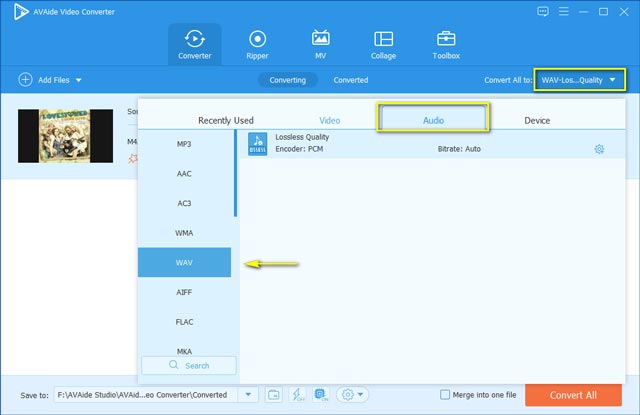 Step 4Commence the conversion process
To begin converting M4A to WAV, click the Convert All button. After a short while, you should be able to get the audio playback and enjoy playing or editing your WAV file.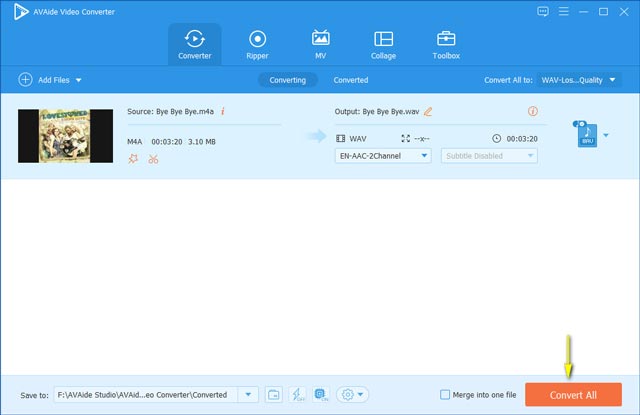 You also can use the same way to convert MP4 to M4A format.
Part 4. FAQs M4A to WAV
Can I open M4A files on Windows PC?
There are default M4A players on Windows PC that will help you play M4A files specifically Windows Media Player. We've tested on a PC running the latest Windows 10. If it does not work on your end, you may try installing third-party programs like VLC.
Is it safe to convert online?
There's nothing to worry about converting files online. As long as the website does not ask for your personal details it's safe to convert. As a rule of thumb, try not to upload confidential files or better yet use an offline tool.
How to merge M4A files together?
You can use the tool we mentioned above which is AVAide Video Converter as it enables you to stitch M4A files in one file. This is especially helpful if you want to combine a list of songs and play them according to your own arrangement or order.
Conclusion
This post lists the programs that will help you convert M4A to WAV. You should be able to finish this task in a matter of seconds through all these 4 methods. Just select the one that you prefer.
Your complete video toolbox that supports 350+ formats for conversion in lossless quality.