If you own a Windows device, you might have a problem playing AIFF files. AIFF or Audio Interchangeable File Format is a lossless audio file format known for its best sound quality. Even so, there will be times when playing this file on your device will be troublesome. As a result, you'll have to convert AIFF to WAV files on your Mac or Windows-based device right away. There is good news: the tools provided here will help you complete your conversion task quickly.
Part 1. Best Way to Convert AIFF to WAV Quickly without Quality Loss
AVAide Video Converter
If you are an Apple fan and experiencing the same problem mentioned above, you may need this versatile software. AVAide Video Converter is a top-notch software that provides users with conversion satisfaction. It also has a lot of unique features that you will love. This tool lets you edit videos, create collages, and even compress them. When speed is a priority, AVAide Video Converter is a wonderful solution. If you are looking for a fast AIFF to WAV converter, look no further. No sacrifice of quality is required when converting your file across 300+ various file formats. The steps below will help you through the conversion process.
Step 1Download to Your PC
Download and install the software to your PC. To do so, you can click on the download button below.
Step 2Upload your AIFF Files
Import your files by dragging them into the interface at once. You can click on the Add Files button located on the left top part of the interface. For faster uploading, you may upload the whole folder where your files for conversion are saved. Just hit on the Add Files, then choose Add Folder.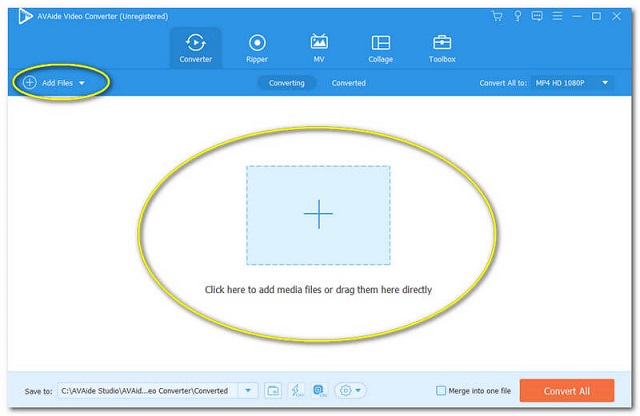 Step 3Presets to WAV files
To convert AIFF to WAV. Set your files to WAV, click the Convert All to button, then choose your preferred audio format. It will determine how high the quality of your output will be. Individual setups are also available by hitting the Arrow button on each file.
Step 4Begin the Conversion
To start the conversion, you may hit the Convert All button located at the right bottom part of the interface. Wait for its rapid conversion process, then check for the completed files.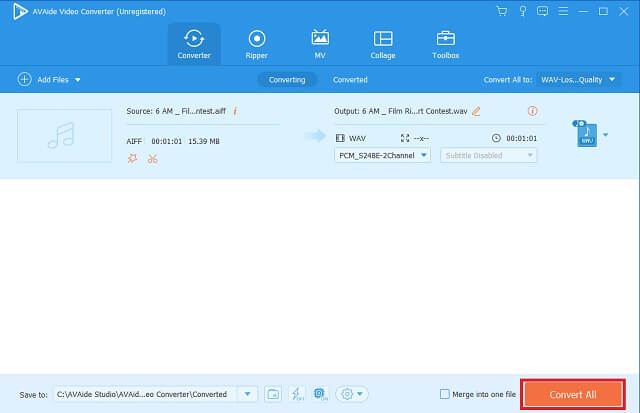 Step 5Check the Completed Files
Proceed to the Converted tab to check the completed files. The converted files are also stored on your PC. Click on the folder besides the converted files to directly locate the file's destination on your PC.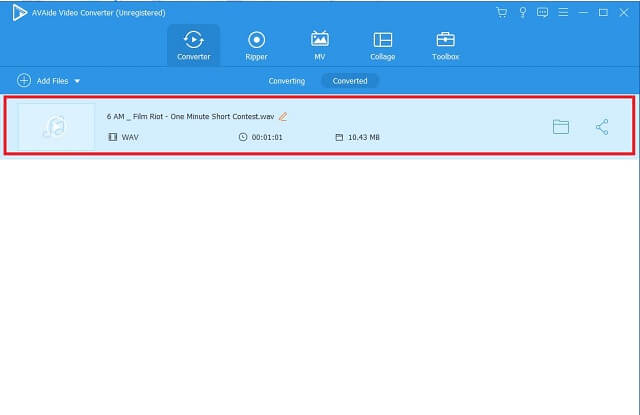 Part 2. 2 Common Solutions to Convert AIFF to WAV on Mac for Free
1. iTunes
iTunes is the second-best option to convert AIFF to WAV on Mac for free. Aside from audio conversion, it has an inbuilt iTunes Store where you can access podcasts, music videos, audiobooks, and so on. With iTunes, you may convert various file types, including unprotected WMA files, to AAC, AIFF, Apple Lossless, MP3, WAV, or any aforementioned audio codecs. Here are the steps to follow if you want to convert AIFF to WAV on iTunes.
Step 1Open iTunes on your device
First off, find the File setting on the menu bar located on the leftmost part of the tool. Click the Convert button.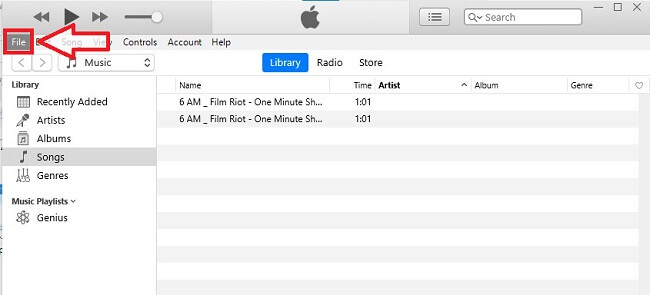 Step 2Change into audio format
On the shortlist of formats, click the Create in WAV version button.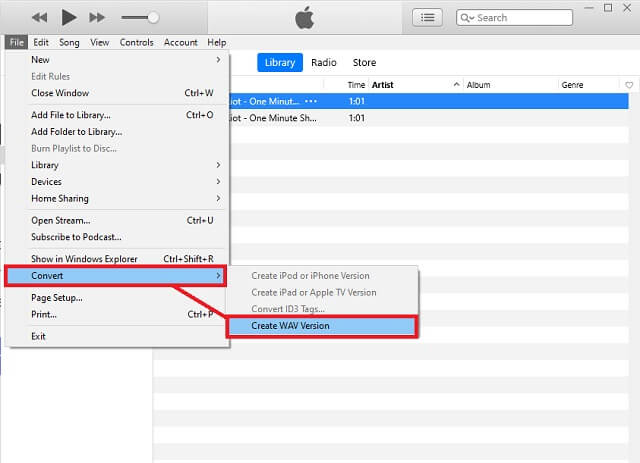 2. Audacity
Another popular tool that is also ideal in conversion is Audacity. It is a digital audio editor and recording application software. It is a downloadable AIFF to WAV converter for free that will undoubtedly be of assistance to you. This editor makes it simple to convert and create audio files such as music, podcasts, and other audio projects. Furthermore, it is compatible with both Windows and Mac operating systems. Try this one out by following the steps given below.
Step 1Install the application
On the menu bar presented above, click theFile button. Proceed by clicking the Export button to convert.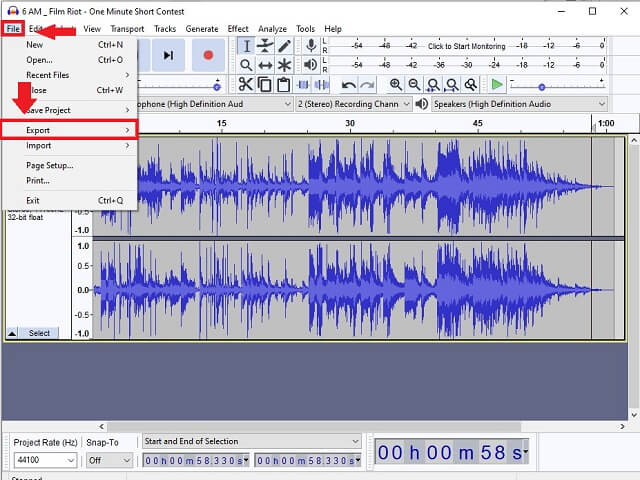 Step 2Adjusting the format
Once clicked, look for the Export as WAV button and click it.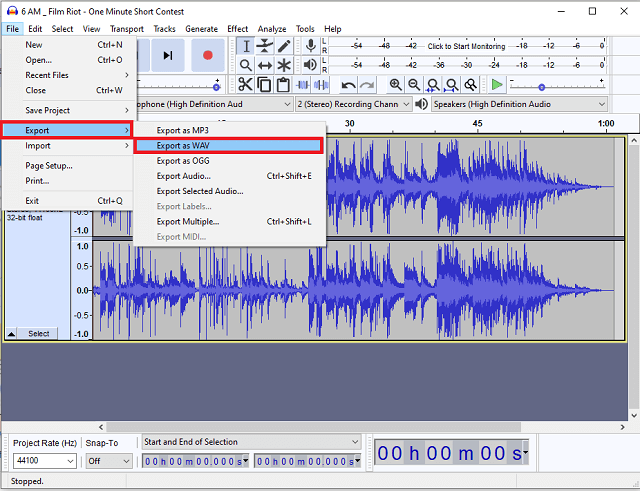 Part 3. Simplest Ways to Convert AIFF to WAV Online
AVAide Free Video Converter
Using an online AIFF to WAV converter without quality loss is a practical solution to convert your files. When it comes to converting, AVAide Free Video Converter reigns supreme. It is also completely free, and it consistently delivers high-quality results. There are no watermarks included in this excellent tool, unlike any other online tool. The fact that even non-technical people can use it is also a huge plus.
AVAide Free Video Converter is also a crowd favorite because it offers a variety of file formats to pick from. AVAide's commands ensure a quick converting process with maximum file and information security, so you won't have to worry about bugs. Without any further, the instructions for converting AIFF to WAV online are listed below for your convenience.
Step 1Acquire the Launcher to Your PC
Hit the ADD YOUR FILES button, then download the launcher at once. From the window that will appear, click the Download button, then Open.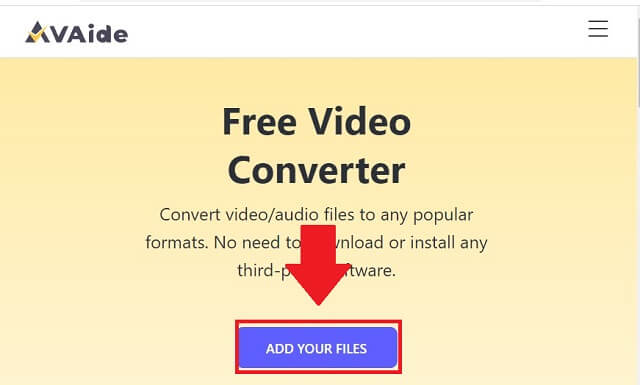 Step 2Import Your AIFF File
Upload your AIFF files thereafter acquiring the launcher. Hit the ADD YOUR FILES button again to upload your initial file, then click the Add File button on the interface to add more files.
Step 3Set the Files into WAV
Select the WAV file format from the audio formats at the bottom of the interface.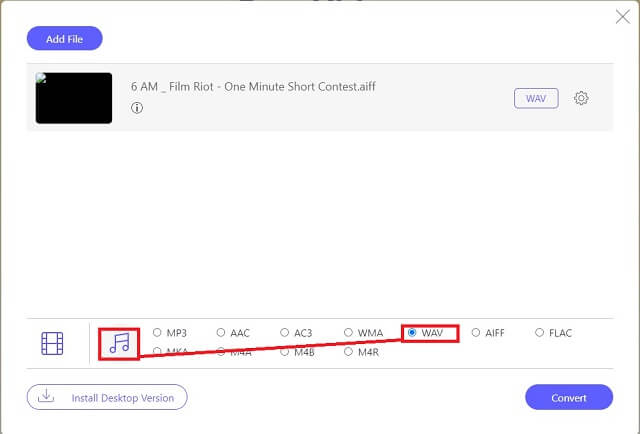 Step 4Begin the Conversion
You may start the conversion right after the setup. Click the Convert button on the right bottom part of the interface, then wait for an instant conversion process to finish.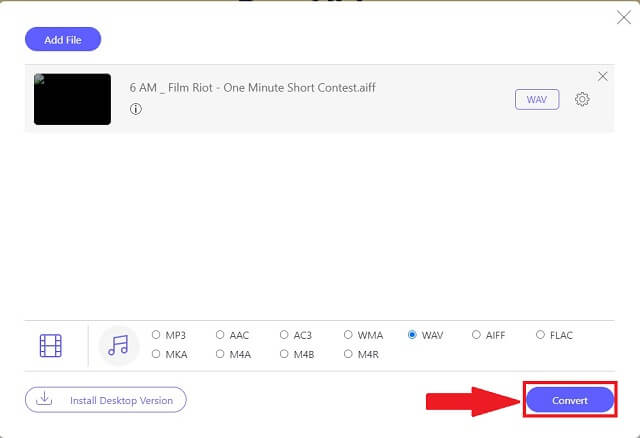 Note: The converted files are ready saved to your computer. To locate still, click on the Folder Image of the file.
Part 4. Comparing AIFF vs. WAV
Having enough knowledge about the two file formats will help you to decide to do the transfiguration. In this part, you will see how the AIFF and WAV differ from each other. A comparison chart is provided below for your reference.
Details

Extension

Category

Developed by

Description

Advantage

Disadvantage
| | |
| --- | --- |
| AIFF | WAV |
| .aiff | .wav |
| audio file | audio file |
| Apple Inc. | IBM & Microsoft |
| ◆ Lossless and uncompressed ◆ Takes up about 10MB per minute of audio | ◆ In a lossless format ◆ Incredibly flexible and simple to edit |
| High-resolution | Can be played on almost any device, including Macs and Windows PCs |
| Payed on Apple devices like the iPhone and Macs running OS X | Takes up about 10MB per minute of audio |
Part 5. FAQs about AIFF and WAV
Is WAV better than MP3?
Yes, WAV offers better sound quality, while MP3 does not contain all the original audio data.
What are the disadvantages of AIFF?
AIFF files will take up much more storage space than any other format. For every minute of a song, 10MB of storage space is needed.
Will I consume time to convert AIFF to WAV?
It is determined by the tool you are using. Many users recommend AVAide Video Converter as the best tool for converting AIFF to WAV file format 30x quicker than other tools.
Conclusion
To sum up this article, it is very important to choose a reliable AIFF to WAV converter tool. Choose wisely which solution provides you with a quick and easy conversion experience. The AVAide Video Converter is the most convenient and practical software to acquire, as demonstrated in this article. It has genuinely shown and created an exceptional output when compared to iTunes and Audacity. Please feel free to download it, try it out, and be pleasantly surprised.
Your complete video toolbox that supports 350+ formats for conversion in lossless quality.