One of the most used and suggested video formats is MP4. Undeniably, this gained a lot of trust from many users. Also, this is relevantly used as a format for different video files. For instance, different official music videos of known artists. For this reason, you may find yourself collecting piles of MP4 videos on your Windows PC and Mac. However, because these files are in video format, they can consume a very large space on your local storage. To prevent this, file conversion is an ideal action for you. Instead of having all those videos, why not use excellent tools on how to convert MP4 to WAV. This article offers programs to aid your media concern.
Part 1. A Simplified Description of MP4 and WAV
This is an overview of how MP4 and WAV work distinctively. Below are useful descriptions to dig into their functions, advantages, and even drawbacks.
What is MP4?
MP4 or MPEG-4 is a file container format for storing video and audio. Plus, other data like the images and subtitles. One of the key advantages of this format is, it is supported by a wide list of multiple platforms. Thus, it makes it simpler to use and reproduce. However, given these capacities, it's also having its drawbacks. One of which is the dependence of the tool of not handling any involvement in coding.
What is WAV?
On the other hand, we have the WAV or the acronym of Waveform audio file format. This is an audio format with no compression except with several manipulations to hold and store the quality of the digital sound. This audio format was developed by Microsoft and IBM for storing an audio bitstream on PCs.
Thus, it would be better to reformat your MP4 to WAV. You can absolutely enjoy different musical videos without worrying about your storage consumption.
Part 2. 3 Reliable Methods on How to Convert MP4 to WAV
1. Use a Full-featured Desktop Converter
AVAide MP4 Converter
For an easy and fast-speed way to convert through your desktop, you should look and use the AVAide MP4 Converter. Convert MP4 to WAV excellently with its simplified steps. This tool makes the hardware acceleration speed faster to convert multiple files all to be converted. This simply means that it has no limitation or restriction when it comes to the quantity of the files added. True as it is, this already claimed so much applause by its high-quality output and products. Here are the simplified steps for you to undertake to run this desktop service.
Step 1To download and install the software on your device, firstly, go to the official website of the tool on your available web browser. Find the download button and install it right away.
Step 2Secondly, you can import old files by clicking the Add Files button. You can either upload them individually or in batch for your convenience.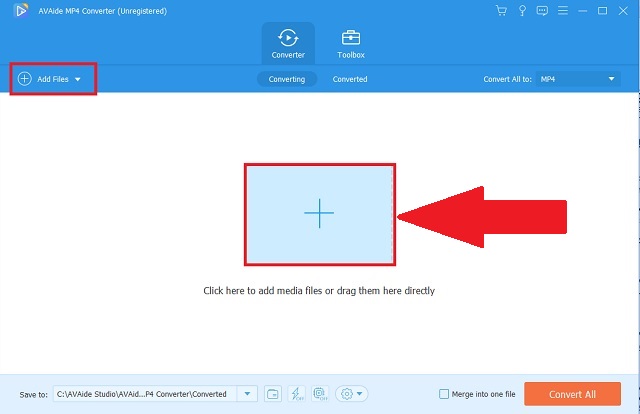 Step 3Select the audio format
In choosing the appropriate format, click the Audio button placed on the menu bar. From the list, click the Convert All button and select the WAV button as your final output format.
Step 4Afterwards. To start the quick batch conversion. Click the Convert All button and you're good to go.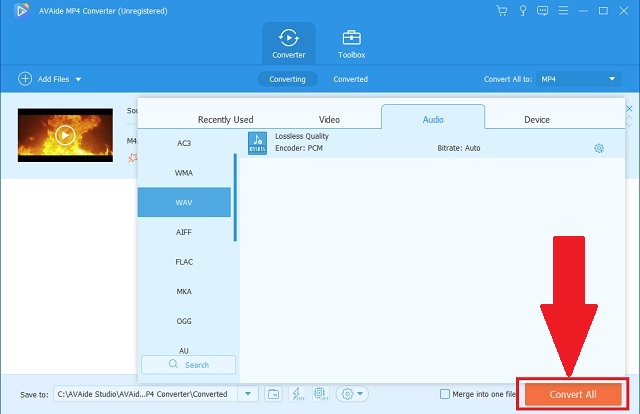 Step 5Lastly, check your newly converted files' local destination.
PROS:
Offers a long list of audio and video file containers.
Runs through advanced acceleration technology.
Can convert files in batch happening at once.
Additional editing and enhancing toolbox.
CONS:
With usage prescription for trial version.
2. Use Online Conversion Tools
AVAide Free Video Converter
AVAide has also a free online converter of MP4 to WAV. This free version is simply the right solution to reformat your video files into audio ones. This web-based program can be easily navigated given it has a comprehensive interface and easy-to-follow procedure. Needless to mention, it also works well using the batch conversion feature. Additionally, these features are all accessible. Nonetheless, here is the comprehensive instructional guideline of AVAide Free Video Converter on how you can utilize this tool.
Step 1To visit the main webpage of AVAide Free Video Converter, simply go to your web browser, search and open it.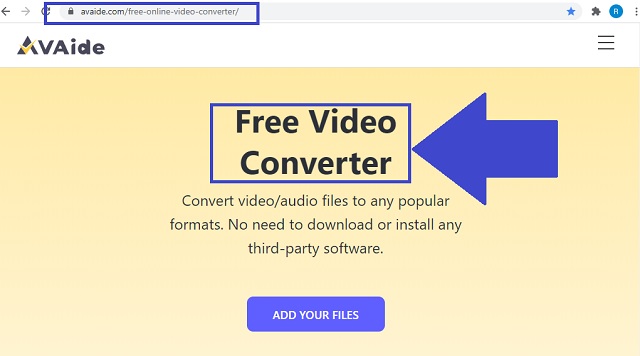 Step 2Secondly, to easily transfer your files on the tool, click the ADD YOUR FILES button. Worry less when adding files in a batch.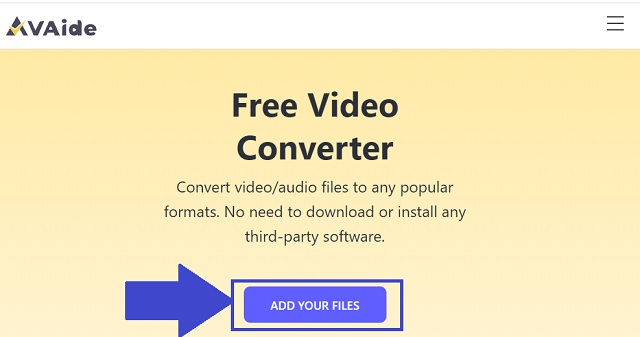 Step 3After adding the old files, you can view all the audio formats by clicking the audio icon on the format panel. Then, choose and click the WAV button.
Step 4Begin the fast-speed conversion by clicking the Convert button.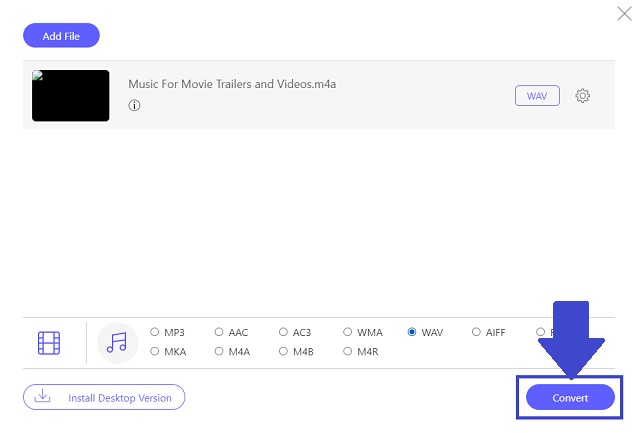 Step 5Lastly, click the folder icon to complete the procedure. Once clicked, the file holder in your local storage will automatically be opened to check your saved files.
PROS:
Supported by major files extension.
Comprehensive and fast-speed conversion.
Accessible to Mac, Linux, and Windows.
Adjustable format settings.
CONS:
Can only be used through the internet.
Zamzar
Next on the list is the greatness of Zamzar. This can operate easily on how to convert MP4 to WAV on Windows 10. This is a web-based program that allows you to change files into different containers supported by a wide list of operating systems and devices. With its simple operation, it doesn't compromise anything from the quality of the original media content. Moreover, you may consider trying these given steps of this particular tool.
Step 1From your default browser, open the tool effortlessly. Upon opening it, upload the local files by clicking the Add Files button.
Step 2Then, change the format of your files by clicking the Convert To button. From the given list, click the WAV button. Finally, click the Convert Now button to start the seamless conversion.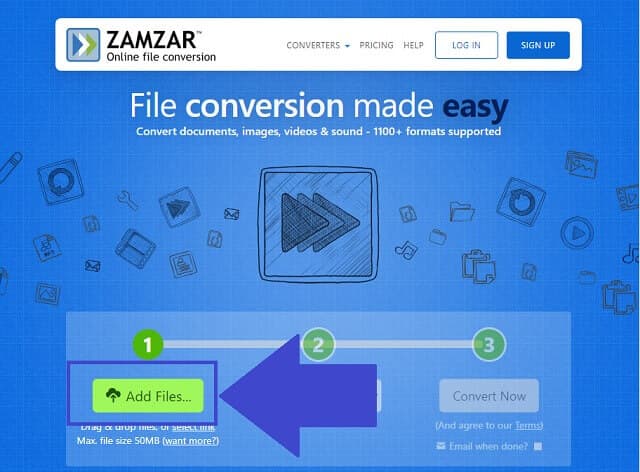 3. Use Freeware to Change MP4 to WAV Audio Format
iTunes
The first freeware to use is iTunes. This is specifically made and designed for listening to music streams and watching different videos or movies. What is more, it already provided various codecs that will enable its users to convert. How you can convert MP4 to WAV in iTunes is way possible by simply undertaking the following steps.
Step 1On your desktop, open the freeware. Placed on the menu bar, click the Convert button to unlock the converting feature of the tool itself.
Step 2Look and click the MP3 Encoder button as your output option. Then, you can start converting your files on their new audio container.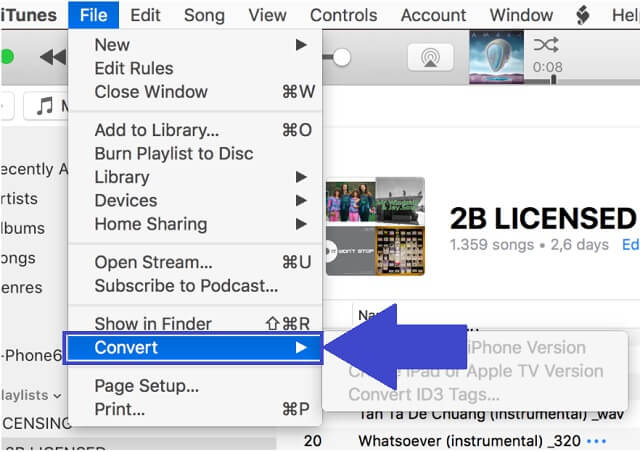 Audacity
For a functional and free of charge converting program, easily convert MP4 to WAV using Audacity. Though this tool is mainly for editing media files like videos and audio content, this works totally for file conversion. Just simply follow the simplified procedure to discover the powerful feature of how Audacity can convert.
Step 1The first thing you need to do is to install the freeware on your device. Located on the menu bar, click the File button. Secondly, click the Export button for conversion.
Step 2From the roster of audio format, simply click the Export as MP3 button as your finalized output format.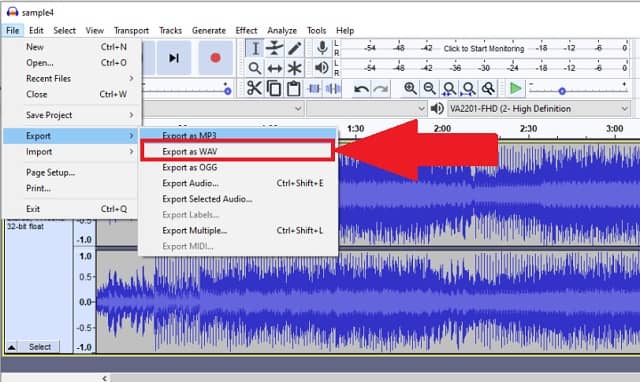 Windows Media Player
Last on the roster is the Windows Media Player. By seamlessly utilizing this tool you can absolutely change MP4 to WAV file. This can be best used on Windows PC because it's a built-in app no it. Check-out this simple-to-use tool by counting on the given instructions below.
Step 1First off, open the freeware on your device. Click the Organize button followed by clicking the Options button.
Step 2From the menu of options, click the Rip Music button. Then, browse the files and change to audio format by clicking the WAV (lossless) button.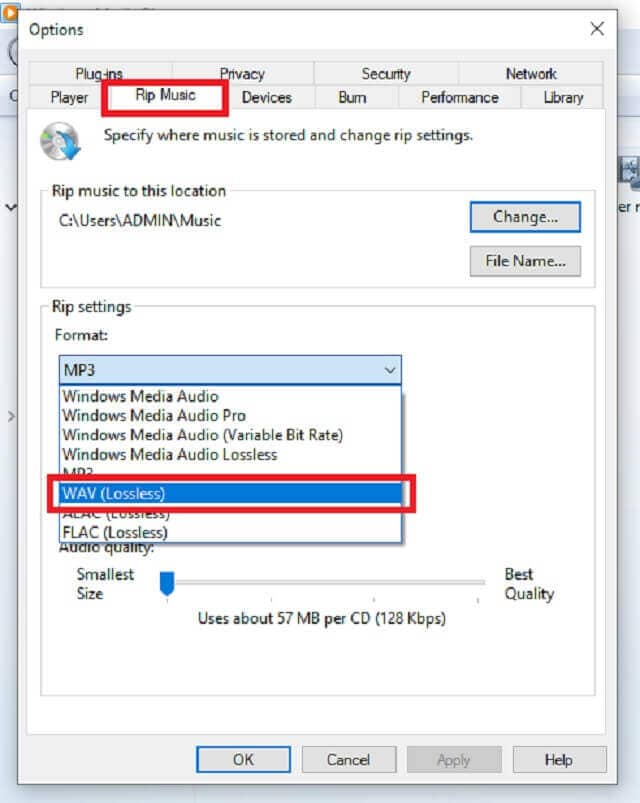 Part 3. FAQs of MP4 and WAV
What is the maximum size MP4 contains?
MP4 can save file content with a maximum file-size of 4 GB.
Why is MP4 a known video format?
MP4 is hugely utilized and its universal video format operating systems can easily read. Hence, it's a lossy format.
Is MP4 the same as WAV format?
Both MP4 and WAV are file formats. But, MP4 contains both audio and video. If you're looking for an excellent audio format, choose WAV. AVAide MP4 Converter is an incredible MP4 to WAV converter software.
Conclusion
As a summary of the write-up, these amazing tools can effectively produce high-quality outputs done from the simplest methods on how to use them. AVAide MP4 Converter, AVAide Free Video Converter, Zamzar, iTunes, Audacity, and Windows Media Player are tools to experience first-hand on how to convert MP4 to WAV. Hence, above all the mentioned solutions, AVAide MP4 Converter possesses all the features users need to produce quality converted outputs.
A multifunctional MP4 converter to convert any video format to MP4 with high output quality.