APE is known as Monkey's Audio. This format is offered as freeware. However, it's not fully accessible. Conversely, the hardware support for this format is quite limited. APE audio files can be played back directly by only a small number of media players. In most instances, your Mac audio or music player will be unable to playback an APE file directly. There will be a need to convert it to a WAV file format in order to enjoy your music-listening experience. Thankfully, there are a lot of available converters to help you convert APE files to WAV for free. Thus, this article introduces simple and efficient methods to help you convert your file better and easier!
Part 1. What are APE and WAV
Monkey's Audio (APE) is a popular lossless audio compression standard due to its high compression rate. If you convert a CD to an APE audio file, no audio data is lost during compression. APE's only flaw is that it lacks a good platform, device, hardware, and software compatibility. On the other hand, WAV or Waveform Audio File Format is a simple but effective format for storing and playing uncompressed digital audio. More so, as they are stored in an uncompressed format, they can be easily edited and manipulated.
WAV files are also compatible with various operating systems. In some ways, this format surpasses APE. APE is a lossless audio format. Regrettably, it is incompatible with many media players. WAV is a lossless audio format with better compatibility than APE. In such cases, converting APE to WAV on Mac is advised. Continue reading to find out how to convert files quickly and efficiently!
Part 2. Efficient APE to WAV Converter Freeware to Use on Mac
1. Top-Ranked AVAide Video Converter
Introducing the finest tool to convert APE files to WAV. AVAide Video Converter is a comprehensive converter that can convert APE to WAV audio files with a few clicks, cut and split your audio to the desired length, and change audio parameters to export flawless WAV files. Furthermore, you can use it to convert a group of APE files to WAV at the same time without compromising quality. This tool also simplifies converting. See the instructions below to try them out.
Step 1Download and Install
Acquire the software on your Mac device from the website below.
Step 2Import your files
Drag and drop files on the interface. To add multiple files, click the Add Files button.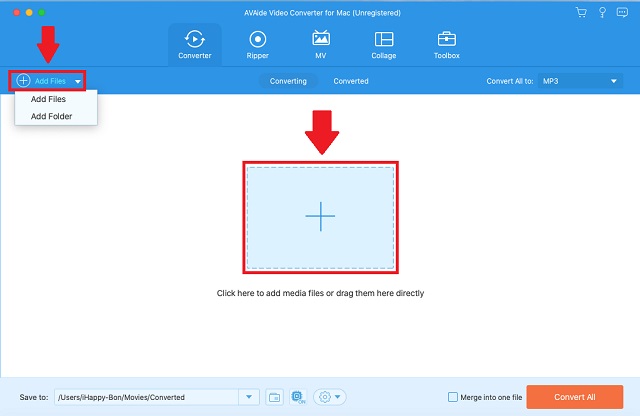 Step 3Setup Your Format
Then, on the menu bar, click the Audio button. Now you may see the vast audio formats list. Select WAV as the output format.
Tips:
Remember that the format options can be changed if needed.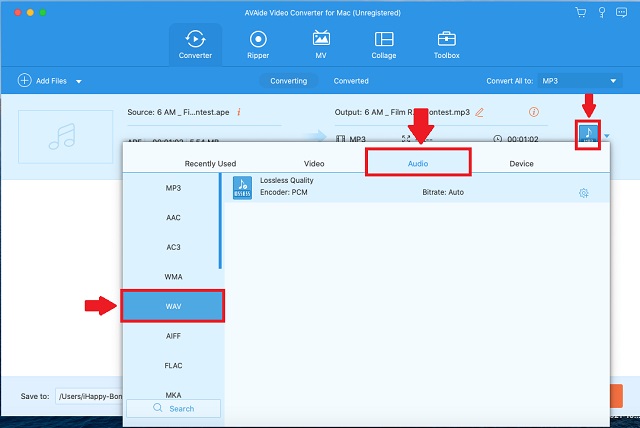 Step 4Begin the conversion
After that, click the Convert All button to convert.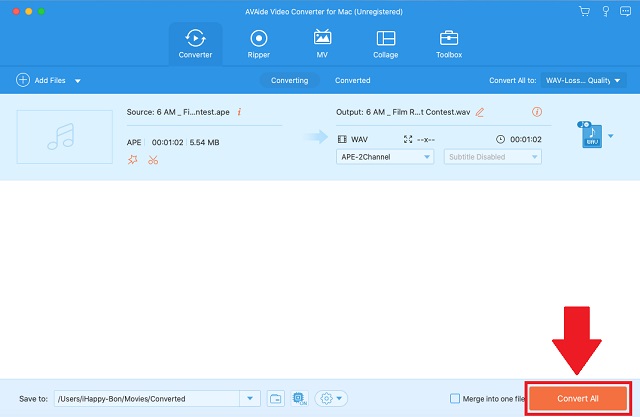 Step 5Check the Completed Files
Finally, check your files on their file designation.
2. Ways to Use Audacity as a WAV Converter
Audacity is well-known as a popular digital recording and editing tool, but it also supports a variety of additional purposes, including audio file conversion. Therefore, if you already have Audacity installed on your Mac, you may convert your APE files to WAV by following these easy steps.
Step 1Install the software
On the menu bar presented above, click the File button. Proceed by clicking the Export button to convert.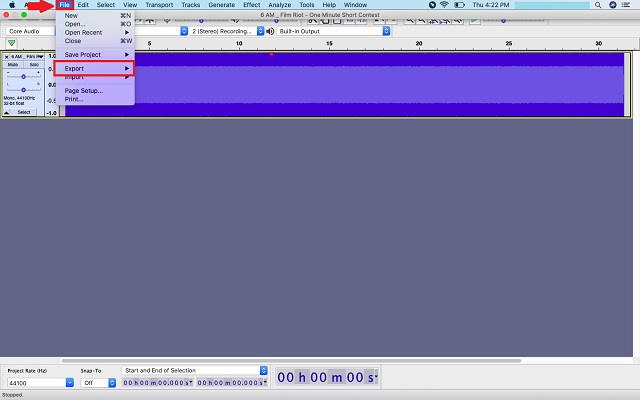 Step 2Adjusting the format
Once clicked, look for the Export as WAV button and click it.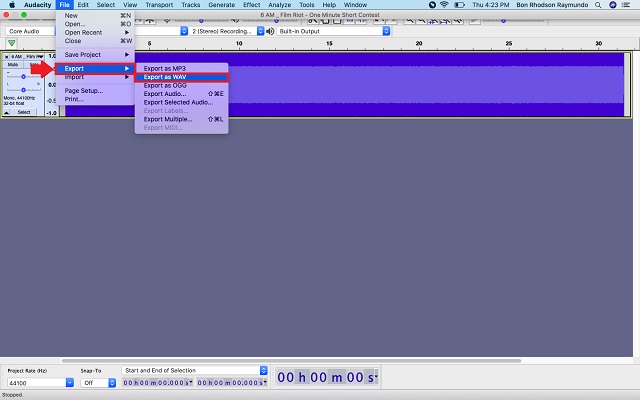 3. Simple Procedures to Use VLC
The VLC media player is a free and open-source, portable, cross-platform media player software and streaming media server developed by the VideoLAN project. It is more than just a handy tool for watching videos; it can also convert audio between multiple formats. VLC allows you to convert between a variety of supported audio files. You can follow these easy ways on how to convert APE to WAV on Mac.
Step 1Import APE file
Click File, choose Convert/Stream in the drop-down button. Upon clicking, you can drop your APE file in the Arrow icon or just simply import by clicking Open Media.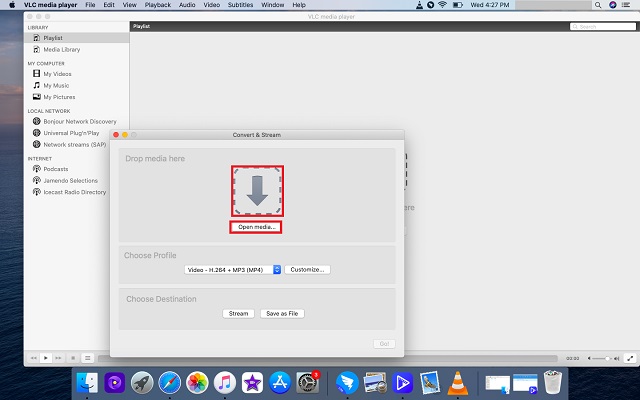 Step 2Set the output to WAV
After importing the APE file, choose the file format WAV in the Choose Profile option.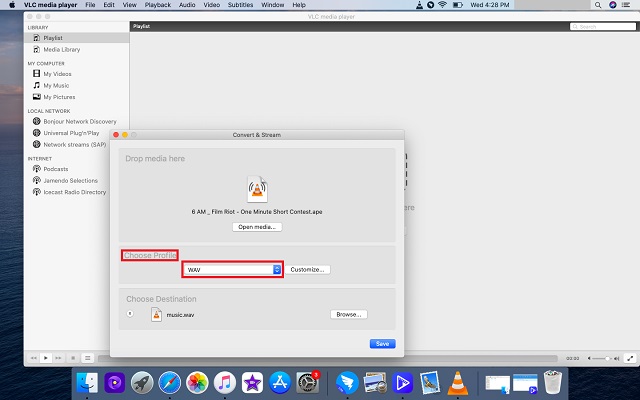 Step 3Set the file destination
In the Choose Destination option, click on Save as File. Using the browse option, select the output location and enter the name of the audio file you wish to save. Finally, click on Save.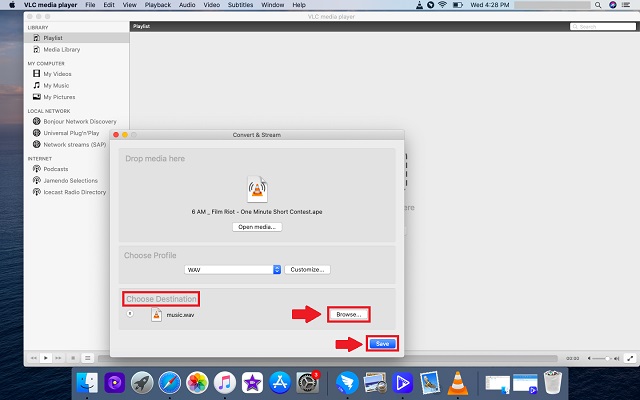 Part 3. Best Online APE to WAV Converters
How to Utilize AVAide Free Video Converter
AVAide Free Video Converter is an online tool that can also convert APE files to WAV format. This tool is easy to use and does not require any program download or installation because it operates directly from the web browser. This tool, which is free to use, is a cost-effective solution when you only need to convert a few files. It is supported with multiple formats that are widely used. Thus, you can convert your files fast with just the tip of your finger. More so, the interface is simple which makes the program apt for all types of users.
Step 1Acquire the Launcher
To get started, download the AVAide Free Video Converter launcher on your Mac. Then, click the ADD YOUR FILES button. From the popped-up window, click Download then Open.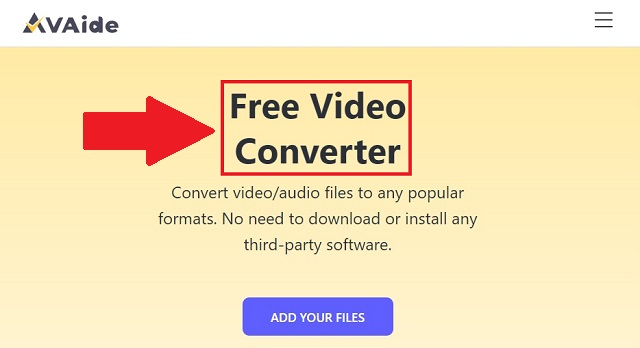 Step 2Upload Your Files
After that, click the ADD YOUR FILES button again. Upload all your APE files on the tool.
Step 3Choose Your Desired Output
Click the audio icon to generate all the hidden audio formats. Look for the WAV button and click it as your output format.
Step 4Start the Conversion Process
Afterward, you need to click the Convert button to start the process. For some reason, you can also pause and stop the procedure.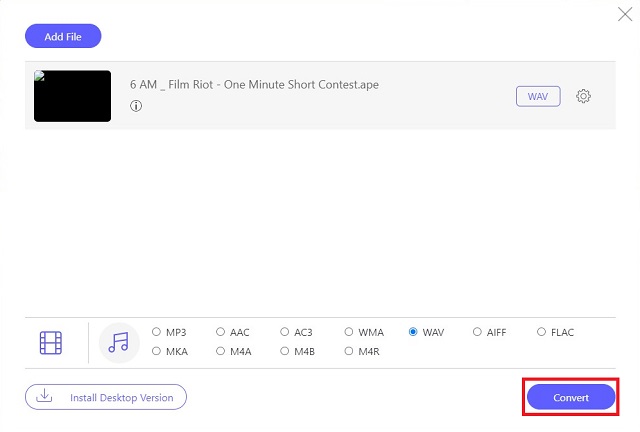 Step 5Check the new files
Click the folder icons beside each file to see if it has been converted to the new format. Your files' local holder will appear and be accessible once you click it.
Part 4. Comparison of Different APE to WAV Converters
All of the tools that have been included are unquestionably reliable. You might have also selected one of them based on your personal preferences. Please see the comparative chart below for additional information on the many options available to you.
Features

Platform

Format Support

Editing

Internet Dependence

Conversion Speed

Price
| | | | |
| --- | --- | --- | --- |
| AVAide Video Converter | Audacity | VLC | AVAide Free Video Converter |
| Windows/Mac | Windows/Mac/Linux/Others | Windows/Mac | Windows/Mac |
| 300+ | Popular ones | Widely used ones | Commonly used ones |
| includes a built-in editor with a range of features | comes with a multi-track audio editor | performs limited audio editor | comes with multiple audio settings |
| | | | |
| Super-fast | Decent | Decent | Fast |
| Paid but with a free trial | Free | Free | Free |
Part 5. FAQs on Converting APE to WAV
Do WAV files lose quality?
No, because WAV files are lossless and uncompressed, the original recording's quality is preserved.
Can I convert APE to WAV on Windows?
Yes, you can convert your WAV files on Windows using AVAide Video Converter.
Is there a file size limit while converting with AVAide Video Converter?
No, the input file size of AVAide Video Converter is unlimited. You're allowed to convert multiple files at any size.
Conclusion
All of the powerful tools listed above are handy for our distinct needs and desires. The AVAide Video Converter, Audacity, VLC, and AVAide Free Video Converter will undoubtedly step up to the plate. To summarize this post, it is necessary to choose the right APE to WAV converter that is hassle-free, simple, and efficient. Without a doubt, the top-rated AVAide Video Converter received the highest score in converting APE to WAV. As a result, we offer AVAide Video Converter as a trustworthy solution.
Your complete video toolbox that supports 350+ formats for conversion in lossless quality.