The.m4v file extension or M4V is associated with Apple's M4V video format. M4V files are notoriously difficult to convert, requiring additional applications, and are exclusively available for Apple devices. The Apple M4V file type is similar to the MP4 format. However, some devices do not support the M4V file format. Easily convert M4V to WAV files in a more device-friendly format using a desktop tool or an online converter to avoid compatibility issues using these powerful file converters.
Part 1. Most Recommended Way to Convert Your M4V to WAV Files
AVAide Video Converter
Using this excellent tool will make converting much easier. It is easy to use the AVAide Video Converter on both a Mac and a Windows computer. It utilizes acceleration technology to boost conversion rates by 30 times. In addition, AVAide Video Converter allows users to convert between over 300 various video formats. Convert many files of any size without losing quality. Before converting, you can make changes to, edit, and manage your files. Video enhancer, 3D Maker, and a built-in audio editor are just a few of the great features you'll find in this program. Convert unlimited files in a matter of seconds. With that, these are the procedures you should take on how to convert your M4V to WAV files offline.
Step 1Download and Install
Visit AVAide's official website and download the tool on your PC. Otherwise, you can click on the download button below to acquire it easily.
Step 2Import M4V Files
Upload your files by dragging them into the interface at once. You can click on the Add Files button located on the left top part of the interface. For faster uploading, you may upload the whole folder where your files for conversion are saved. Just hit on the Add Files, then choose Add Folder.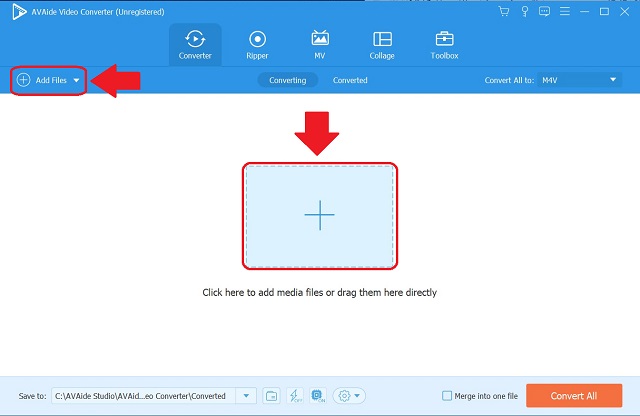 Step 3Presets to WAV files
To convert M4V to WAV. Set your files to WAV, click the Convert All to button, then choose your preferred audio format. It will determine how high the quality of your output will be.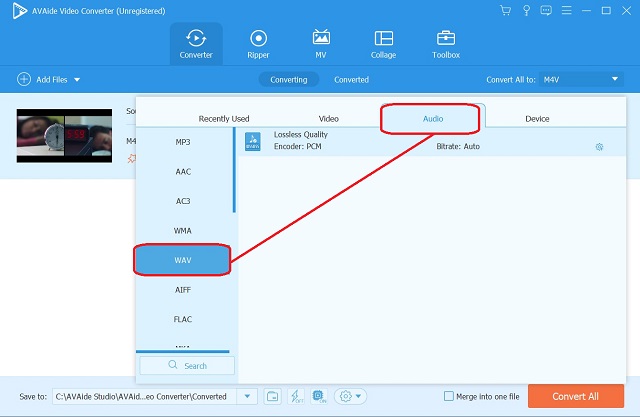 Step 4Start the Conversion
To begin the conversion, tap the Convert All button located at the right bottom part of the interface. Wait for the completion process.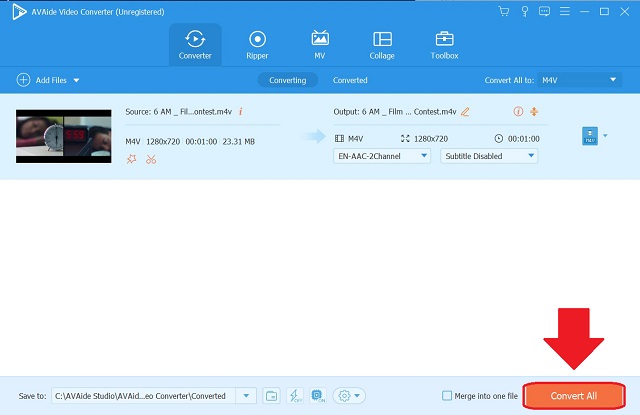 Step 5Check the Converted Files
Finally, check the completed files by going to the Converted tab. The converted files are also kept on your computer. To directly locate the file's destination on your PC, click on the folder beside the converted files.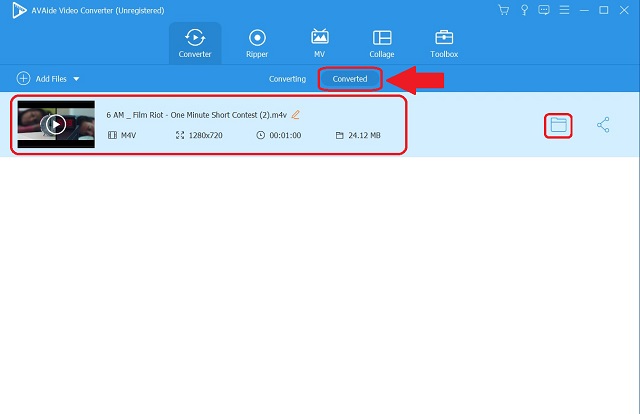 Part 2. How to Convert Your M4V to WAV Files Without Quality Loss on Mac
1. iTunes
Converting M4V to WAV files on Mac can be done with iTunes. iTunes is a free app that manages your music library, music purchase, music video playback, and more. Moreover, video to audio conversion is only one feature of this app; you can also download podcasts, music videos, and audiobooks from the iTunes Store. To convert between different audio formats like MP3, WAV, and AAC, you can use iTunes. If you wish to convert M4V files to WAV files using this tool, follow these steps.
Step 1Open iTunes on Mac
First off, find the File setting on the menu bar located on the leftmost part of the tool. Click the Convert button.
Step 2Set the Desired Format
On the shortlist of formats, click the Create in WAV version button.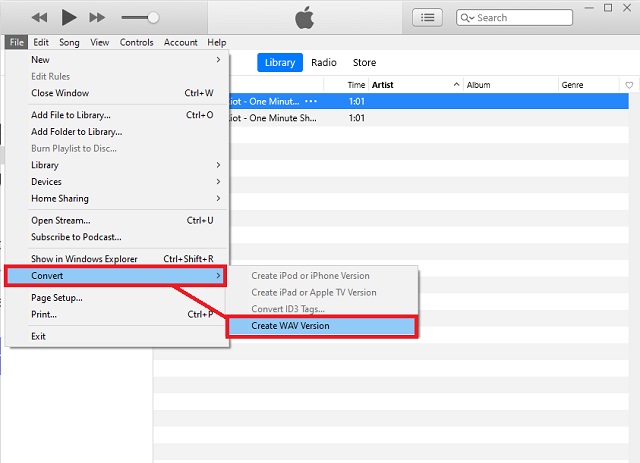 2. Audacity
Another popular tool that is also ideal in conversion is Audacity. It is a digital audio editor and recording application software. It is a downloadable AIFF to WAV converter for free that will undoubtedly be of assistance to you. This editor makes it simple to convert and create audio files such as music, podcasts, and other audio projects. Furthermore, it is compatible with both Windows and Mac operating systems. Try this one out by following the steps given below.
Step 1Install the application
On the menu bar presented above, click the File button. Proceed by clicking the Export button to convert.
Step 2Adjusting the format
Once clicked, look for the Export as WAV button and click it.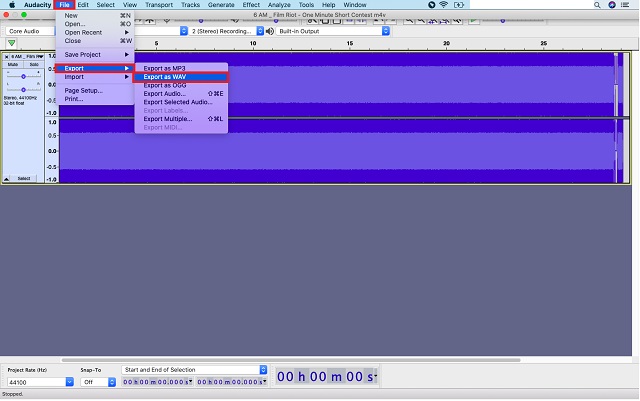 Part 3. Free Online Tool to Convert M4V to WAV Files Swiftly
AVAide Free Video Converter
If you are looking for an online converter of M4V files to WAV files online, you are just on the right page. AVAide Free Video Converter is free to use and supports a wide range of file formats. There are no watermarks when you use AVAide Free Video Converter. Moreover, this online converter works with any browser on any of these platforms: Windows, Mac OS X, or Linux. You can convert as many M4V files as you like with this. Follow these simple steps to convert M4V to WAV in no time!
Step 1Get the Launcher
Hit the ADD YOUR FILES button, then download the launcher at once. From the window that will appear, click the Download button, then Open.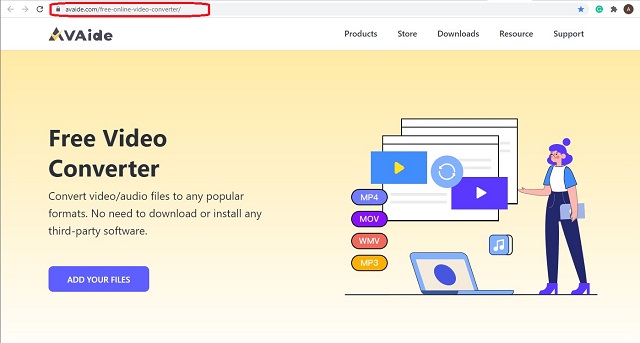 Step 2Import Your Files
After acquiring the launcher, upload your M4V files. Hit the ADD YOUR FILES button again to upload your initial file, then tap the Add File button on the interface to add more files.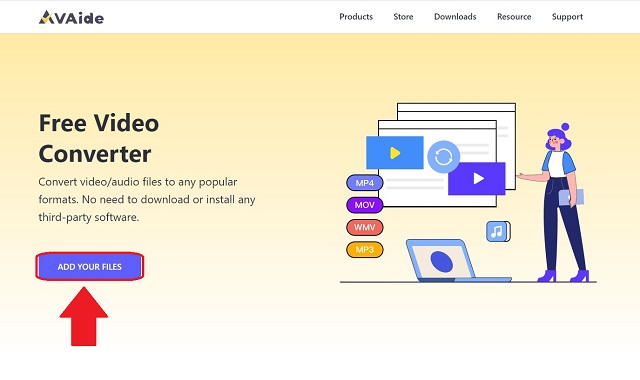 Step 3Set Up Your Format Preference
Select the WAV file format from the audio formats at the bottom of the interface.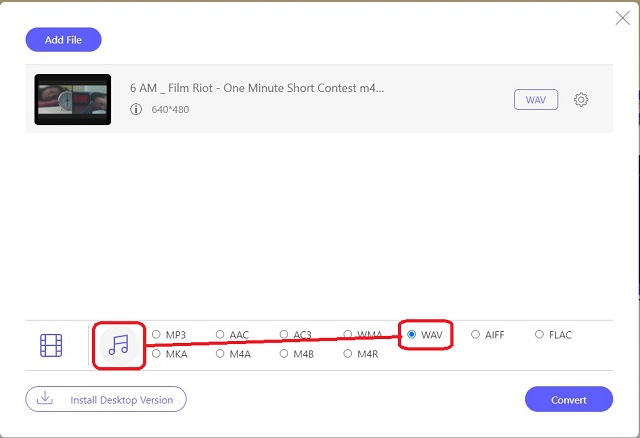 Step 4Select a Storage for Completed Files
You may start the conversion right after the setup. Click the Convert button on the right bottom part of the interface, then wait for an instant conversion process to finish.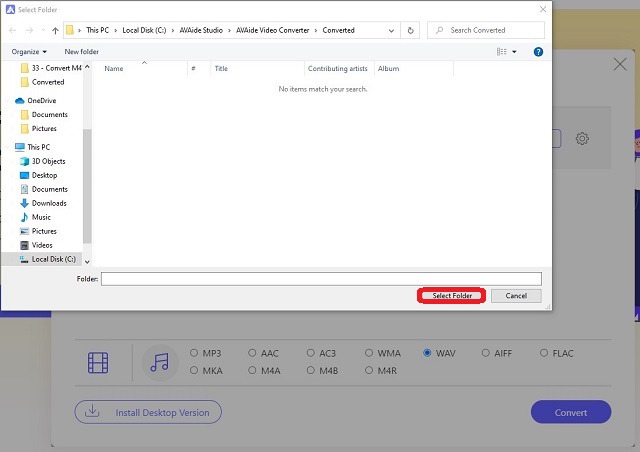 Step 5Wait for the Conversion
The completion will only take less than a minute. You will be notified right away after completing the M4V file to WAV.
Part 4. FAQs about M4V and WAV
Can LG Smart TVs play M4V?
No, they can't. M4V can only be played on Apple devices.
Can M4V play on my Android phone?
M4V is suitable for users with Apple products such as the iPhone. To playback an M4V on your Android phone, you must first convert it to a format compatible with your device. You can use AVAide Video Converter to convert your file as quickly as possible.
Why can't I open an M4V file on Mac?
Regrettably, M4V files are not always playable in Apple Music or QuickTime Player. M4V files must adhere to the specified requirements in order to be played on Apple Music.
Your complete video toolbox that supports 350+ formats for conversion in lossless quality.