Discover the right solutions that serve us seamless ways to change M4V to MOV video files. Written below are online converters and software that can assuredly aid you. Their popularity, features, distinctions, and their services. Experience all of these first-hand!
Part 1. The Differences Between M4V and MOV
To ensure you choose the file container that matches your needs, we need to understand the uses of the two formats.
What is the M4V format?
On the other hand, M4V is linked to MOV. The main users of this file format are those who use iTunes platform. This format is also responsible for sharing video files across the platform. However, the advantage of the other is that M4V may contain the Apple's DRM's protection. Plus, this format supports only a limited number of codecs. While the MOV supports various codecs that are useful for compatibility.
What is MOV format?
Natively, this type of video format was developed by Apple. It is created to support the QuickTime music player. Users from this type of format opt to this to save videos and different movies. But what is impressive about MOV is its compatibility with the different operating systems we commonly use such as the Windows and the Mac Operating System. Plus, this format supports various codecs. Another edge is its portability, it works well for your smartphones.
Based on the information said above, it is highly advised to convert M4V to MOV file format for portability and compatibility purposes.
Part 2. Excellent M4V to MOV Converter for Windows and Mac
1. The Most-Used AVAide Video Converter for M4V to MOV
Undeniably, there are tons of video converters in our digital community today. As users, we need to get exactly the tool that is best for us. Thus, ranking at first is the AVAide Video Converter. This tool allows you to transfer the output on different devices. To comfortably change your M4V to MOV. It has distinctive features clearly advanced from other video tools. Better try it out.
Step 1Download to install the converter
Open your browser and visit the official website of AVAide Video Converter webpage. Locate the Download button and click it. When done, install the tool.
Step 2Drag your M4V videos
Once installed, you can now open the tool. Upload your videos by dragging them on the interface or by clicking the Add Files button.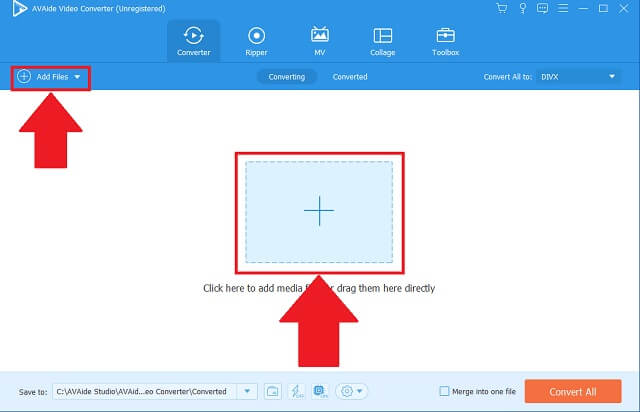 Step 3Select your desired format
Proceed to clicking the MOV button from the available list of file formats.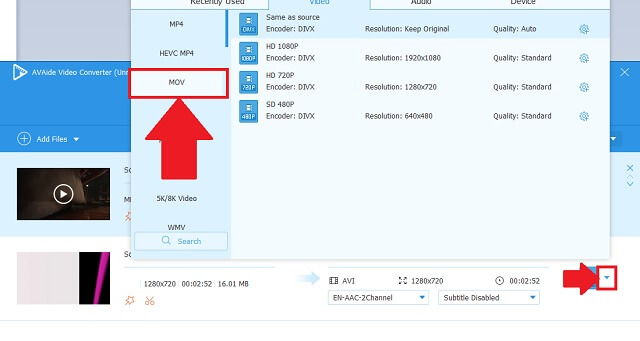 Step 4Start to convert your files
Proceed to clicking the Convert All button on the bottom part of the tool.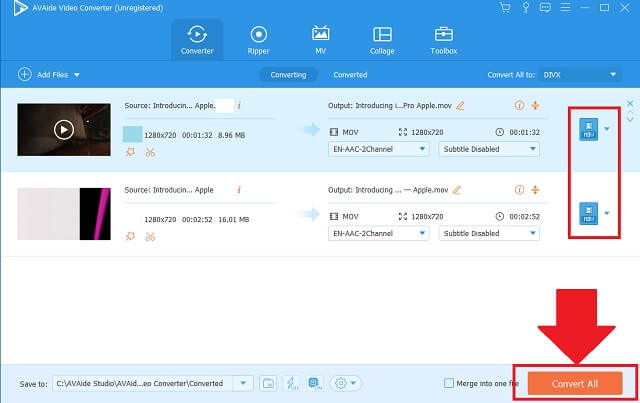 Step 5Saved and check
When the process is done, you can look for your MOV files on your local file storage.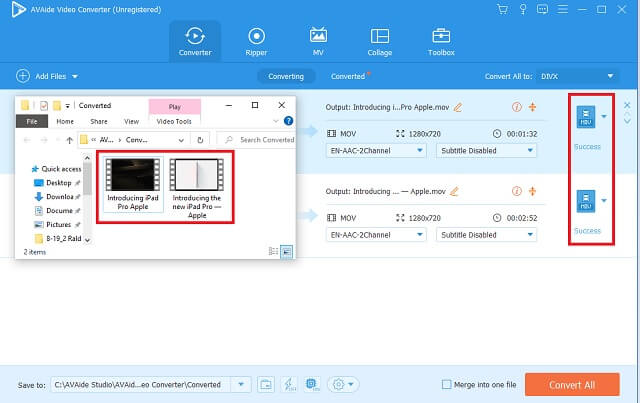 PROS:
It allows us to choose from a long list of formats.
The speed is exceptionally faster.
Batch conversion is allowed.
It has a media toolbox for editing and enhancing files.
CONS:
It only allows a certain period of time for free trial.
2. Use the Converter of VLC Media Player
VLC Media Player has also a video converting feature. Undeniably, this tool is widely used by many people, especially its media player. Learn its notable conversion process by simply following these procedures on how to convert M4V to MOV.
Step 1Upload your files to the software
Have access to the VLC Media Player on your device. Click the Media button and look for the Convert option. Then, import your M4V videos.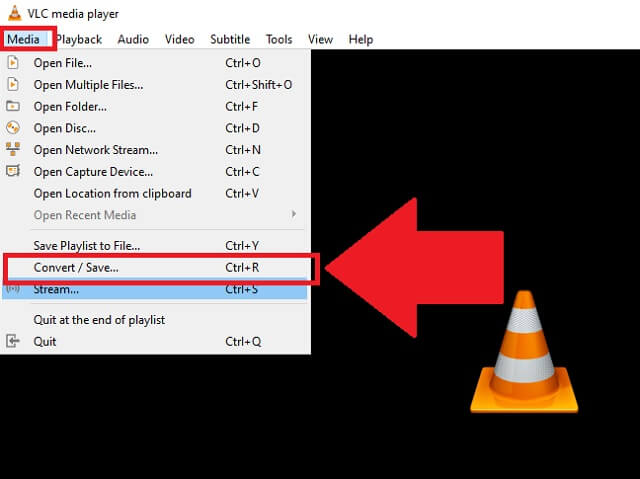 Step 2Choose a format and file location
Click the MOV button for your format choice. Then, you can select to what file holder your files will be saved.
PROS:
This tool is already installed for Windows.
Also, it's a well-known media player.
CONS:
You may find the interface incomprehensive.
Not so many formats to offer.
Part 3. Using Online Tools to Convert M4V to MOV Files
1. Make Use of AVAide Free Online Video Converter
AVAide Free Online Video Converter is a trusted tool but not complicated to use. With its comprehensive interface and service, everyone can get use of it easily. The outputs are remarkable. The fast process won't affect the quality and definition of the files. And also, since it's a web-based tool, you will not charge any centavo for utilization. Stick on these steps on how to convert M4V to MOV for free.
Step 1Go to the web browser
Open the available browser on your device and go to AVAide Free Online Video Converter.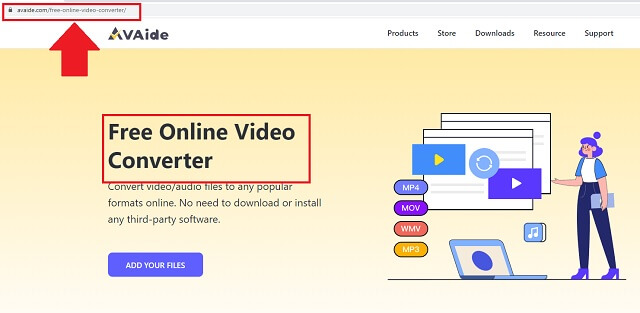 Step 2Choose the M4V videos
Once visited, click the ADD YOUR FILES button and choose all the videos that need to be converted.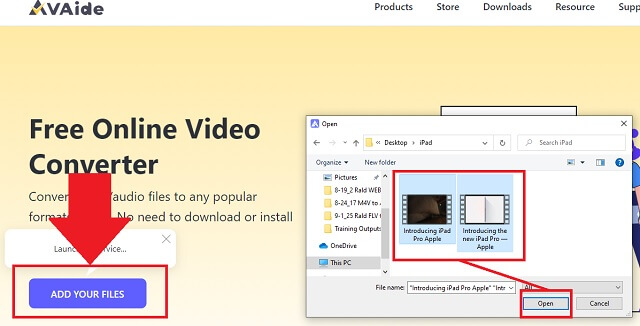 Step 3Select the appropriate format
As formats presented on the interface, click the MOV button. Change the format to each video file.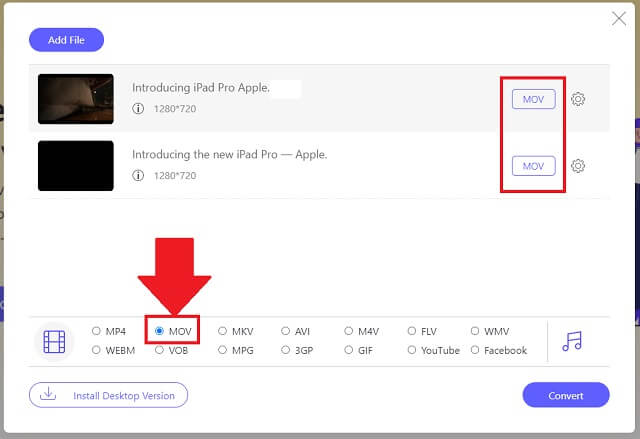 Step 4Start the conversion
After adjusting the format preferences, start the process by clicking the Convert button. Upon clicking, a local file folder will show up for you to choose the file destination for your completed videos.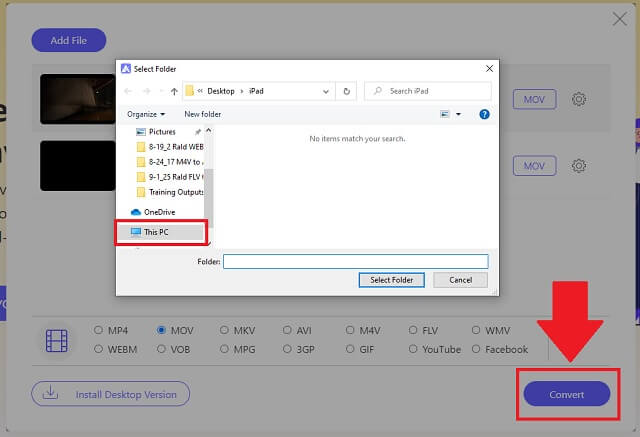 Step 5Check the converted files
When the process is done, have access to your converted videos by simply clicking the folder icon.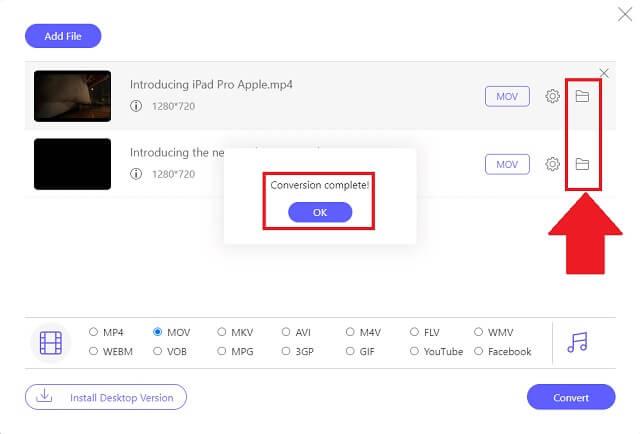 PROS:
This online tool has no charge at all.
It is accessible for most devices like androids and iOS gadgets.
Advanced in terms of speed standard.
It provides numerous supported formats.
CONS:
The tool requires you to adjust the format of the files individually.
2. Helpful Ways to Maneuver the Online-Convert
If you don't like to download software on your device, better to use Online-Convert to convert M4V files to MOV on your Mac. This tool supports our common devices. The offers this converter has been evidently essential for our file works.
Step 1Select the MOV video format
See the Video converter panel, scroll down the options and click the Convert to MOV button.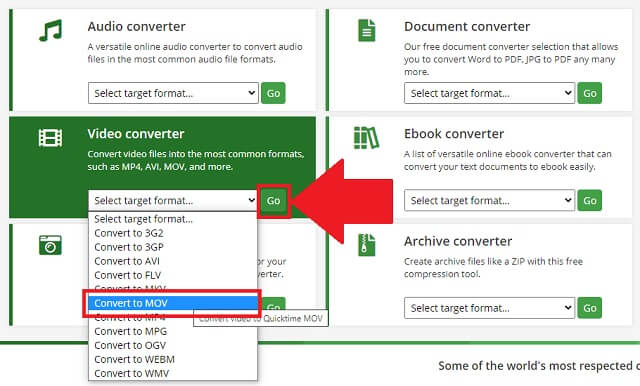 Step 2Import the video files
Proceed to importing your files through clicking the Choose Files button or simply drag them on the space provided.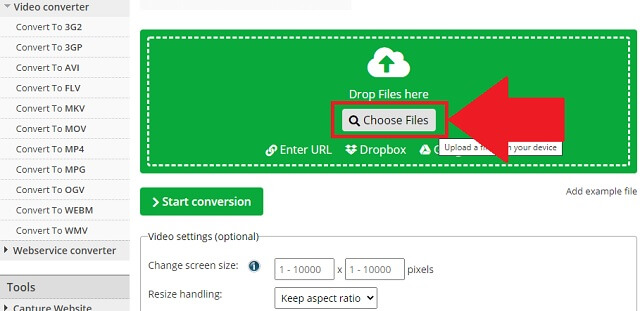 PROS:
It's available online since it's a web-based tool.
List of formats for audio, video, images, and documents.
CONS:
The interface is not comprehensive.
So many ads on the web page.
Part 4. FAQs of M4V and MOV
Is there a MOV converter mainly for iOS devices?
Absolutely, there is. AVAide Video Converter is the most-used tool on how to change M4V to MOV on Mac gadgets. Thus, it is portably excellent.
Why is there a need to change M4V?
The prime reason why we need to change them is because the files having this format are DRM-protected. Therefore, it doesn't allow us to share and reproduce the videos.
Can Samsung Smart TVs play M4V?
No, they can't. You need to get rid of the DRM-protection to access the file on TV. One right way is to convert your M4V videos.
Conclusion
Consequently, these go-to video converters are significant factors to maximize your files. Incorporate VLC Media Player, Online-Convert, and most especially the top-listed on the rank list, AVAide Video Converter. Grab the chance to change M4V to MOV seamlessly!
Your complete video toolbox that supports 350+ formats for conversion in lossless quality.