you love taking pictures or even videos of your loved ones? A lot of us love to keep happy memories by recording the scenes through our phones and most of the time with our camcorders. On the other hand, we tend to be very busy without realizing how time flies so fast, and you just keep on checking your camcorder to watch a happy memory that happened years back. Fortunately, as part of the digital innovation, you can now watch and reminisce anytime anywhere by watching your precious video on your Mac or other media player devices easily. All you need to do is to convert MTS to MOV on Mac. As files from digital cameras use MTS, and MOV is the practical file to retain the files' high quality.
Part 1. MTS and MOV Comparison
MTS is well known associated with the AVCHD file format. As progressed by Panasonic and Sony Corporation, it is a file extension popularly with an Advanced Audio Coding File. MTS is commonly saved in the HD M2TS or MPEG Transport Stream video format and which supports 1080i and 720p resolution compatible with Blu-ray. Aside from the video and audio, it also contains subtitles and slideshows. Furthermore, it is used for saving videos produced by different types of camera recorders. An MTS video file format however can be stored on your Mac with restrictions, and not unless you use the right media player or a tool to convert MTS files to MOV for free, you won't be able to play them.
While an MOV file is a multimedia container produced by Apple well known as the Quicktime file format. It is a file that is very popular in having excellent video quality designed for video editing on Mac specifically on QuickTime. Even though this file was Apple developed, it is still compatible with Windows-based devices. It is commonly known as extended to MPEG-4 Part 12 and makes it evident how fine this file is.
Part 2. How to Convert MTS to MOV on Windows & Mac
How to Convert MTS to MOV with AVAide Free Online Video Converter
This article will give you the guidelines on perfectly transforming your files. This initially talks about the best MTS to MOV converter free online on the web. AVAide Free Online MOV Converter has been very popular in transforming files rapidly. This online tool has been recorded as 30x faster when it comes to the conversion process. Furthermore, it has a built-in setting that you can use in customizing the bitrate, frame rate, and resolution on both of your audio and video files.
In addition, AVAide Free Online MOV Converter also offers unlimited service which makes it so ideal and practical. Moreover, aside from its built-in features, the users are also delighted when using it for it has no ads bugging and no watermark on the outputs. You may convert your files freely with this amazing online tool. So without any further adieu, see below steps to guide you in converting MTS to MOV file on Mac.
Step 1Download and Install the Launcher at Once
Visit the official website then click the ADD YOUR FILES button. A window will appear and from there, click the Download button then the Open button right after.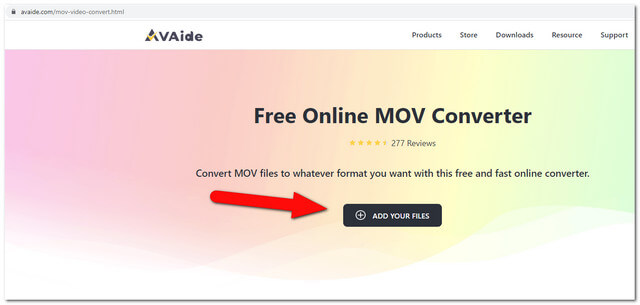 Step 2Import Your MTS File(s)
Hit the ADD YOUR FILES button again and import an MTS file. To add more files, you may click on the Add Files button located on the left topmost part of the interface.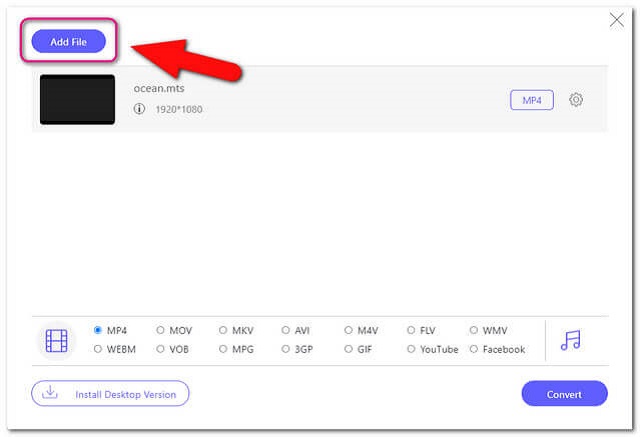 Step 3Configure the File Into MOV
Set the uploaded into MOV, choose from the video formats below. You may also see the audio formats by clicking the note image on the side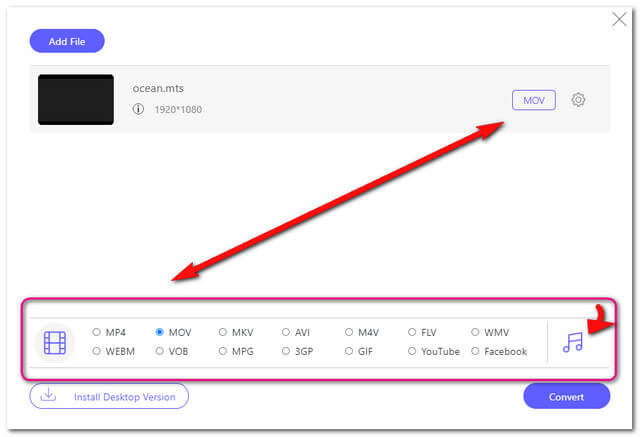 Step 4Begin To Convert
Hit the Convert button located at the right bottom part of the interface to convert MTS to MOV for free.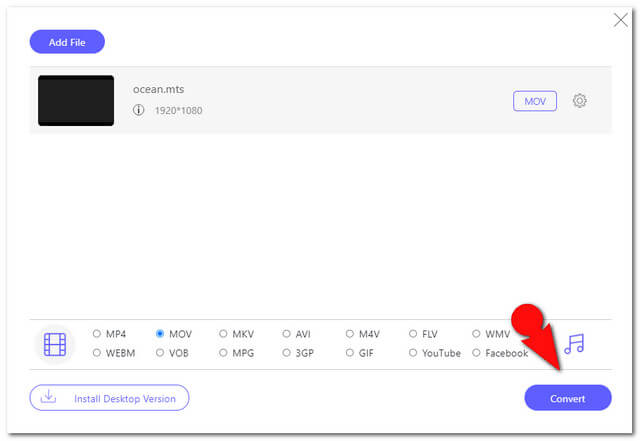 Step 5Choose File Storage
Right after you click the Convert button, your computer file storage will appear, and from there you have to choose a destination file. The conversion process will start immediately after choosing the storage. Wait for the process to finish then check the converted files.
PROS:
It has a rapid conversion process.
The interface is very handy and simple.
Settings are available.
Unlimited file size.
Can convert multiple files at the same time.
CONS:
You can't use it without the internet.
Only offers Video and Audio conversion, no other categories.
How to Convert MTS to MOV with AVAide Video Converter
And of course, speaking of the best, AVAide Video Converter ranks on top. This chart-topping software works perfectly in converting files without quality loss. In fact, it has these features to enhance the video files more vibrantly. Aside from transforming videos, you can also rip DVDs using this tool, in which you can still continue to watch old DVD movies on your phone.
Step 1Upload MTS File(s)
After downloading the software, launch it then upload your MTS file by simply dragging them on the interface. Or otherwise, click the Add Files button then choose either to upload more files or upload the entire folder.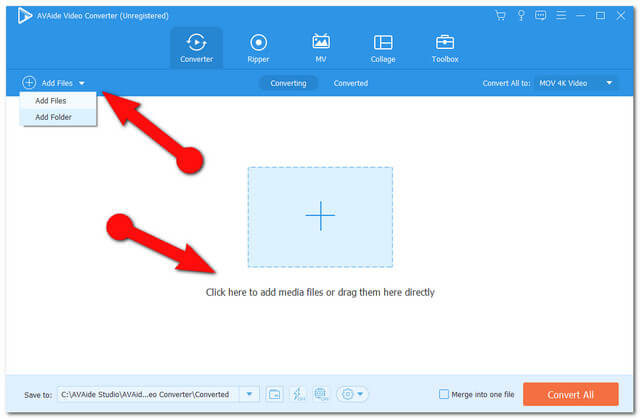 Step 2Set the Files to MOV
Click the Convert All to button on the right upper part, then choose MOV under the Video files then choose your preferred resolution. For individual setup, you may click the Arrow button on each file then preset it.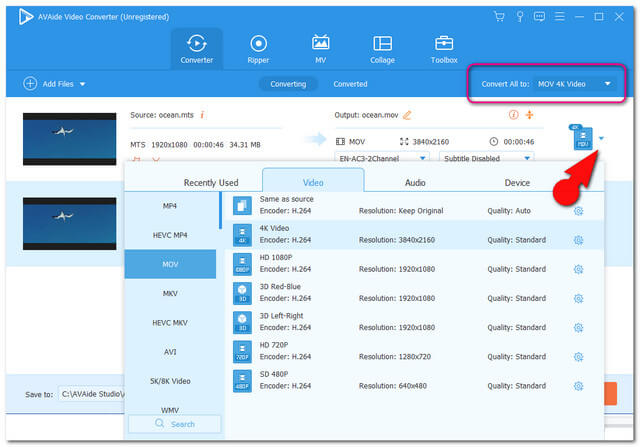 Step 3Start Converting the MTS Files
Hit the Convert All button at the bottom right part of the interface to start the conversion process.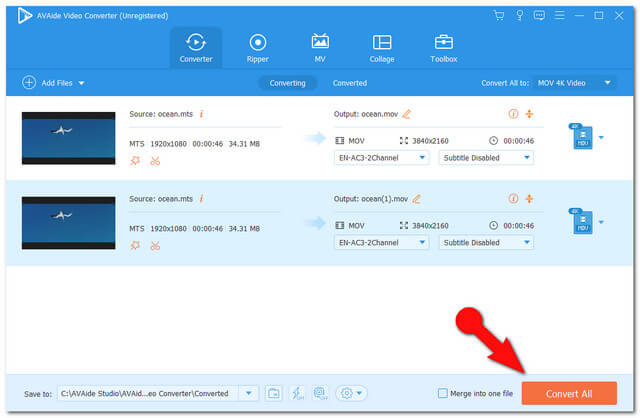 Step 4Check the Completed MOV Files
After the conversion process, you may directly check the Converted tab, and from there, click the Folder Image in one of the files to locate the converted files on your PC.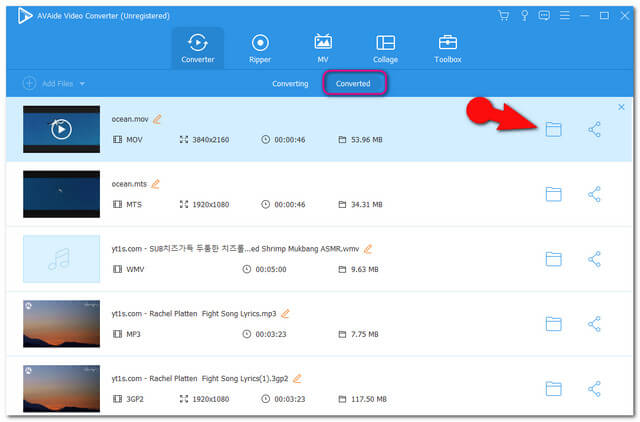 Part 3. FAQs About MTS and MOV Conversion
Can I convert using FFMPEG the MTS to MOV files?
Yes. However, converting with FFMPEG is not advisable with non-technical users. To lessen the load, you may use AVAide Video Converter instead.
I want to convert my MOV to MTS instead, can I do that?
Yes you can. AVAide Video Converter is very flexible in any format you want to produce.
What cameras support the MOV file?
This is the list of the camera brands that support MOV. ● Nikon, Canon, Olympus
Conclusion
Surely there are many converter tools that you think best fit you. On the other hand, this article has divulged the better choice of your best tool. As millions of users attested its eminence in conversion, AVAide Video Converter remains to be their number 1 tool. Be encouraged to try it yourself, and be amazed at how this software works at the finest.
Your complete video toolbox that supports 350+ formats for conversion in lossless quality.