If you own an Apple device, you might have a problem playing MPEG files. A MPEG file is a compressed file of audio and video with high quality. However, there will be an instance where you will encounter trouble in playing this file on your device. On this note, you will need to urgently transform MPEG to MOV on Mac or through your Windows-based device. Luckily, this article is made to give you the best and swift tools to use in your conversion mission.
Part 1. Why Convert MPEG to MOV
A QuickTime Video Format or also known as MOV is a file container of video, audio, and text. This file was initiated for a QuickTime Framework dependent device, for it was developed by Apple Inc. Furthermore, it is an extension for MPEG-4 Part 12 in which the Windows platform is also supported. With this being said, it is also being supported by several media players, which makes it suitable for many devices as well. On the other hand, an MPEG file which is a renowned extension of MPEG-1 and MPEG -2, is a compressed file of audio and video. Similar to MOV, it contains a very high-quality video. However, MPEG has reportedly been neglected by the Mac platform such as the pre-installed Apple's Media players. On this note, to enjoy such videos on your Mac device, you will need a video converter of MPEG to MOV.
Part 2. How to Convert MPEG to MOV on Windows & Mac
If you are an Apple devotee, and you are experiencing the same problem as mentioned above, then you may need the help of this most versatile software. AVAide Video Converter is a top-of-the-line software that gives the users fulfillment on their conversion solution. Moreover, it is the kind of software that you will love due to its lots of amazing features. This tool allows you to make your own movies from your videos, create collages, and even compress your videos.
AVAide Video Converter is also a great choice if you want your work done in no time. This MPEG to MOV converter tool converts 30x faster than an ordinary tool. Transform your file into 300+ different file formats without a fleet of quality. You can rely on the steps below to guide you on your conversion.
Step 1Download To Your PC
Download and install the software to your PC. To do so, you can click on the download button below.
Step 2Upload Your MPEG Files
Import your files by dragging them into the interface at once. Alternatively, you can click on the Add Files button located on the left top part of the interface.
Tip: For faster uploading, you may upload the whole folder where your files for conversion are saved. Just hit on the Add Files then choose Add Folder.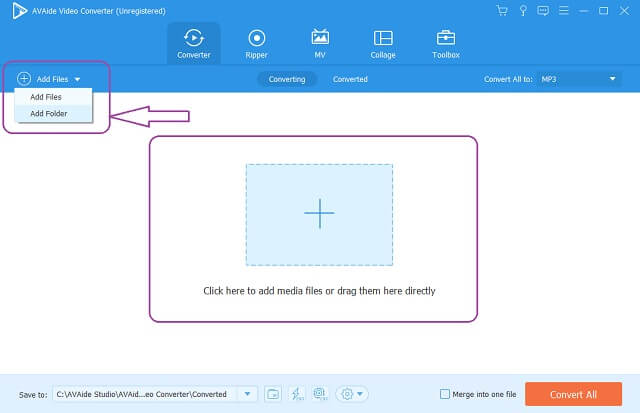 Step 3Presets To MOV Files
To convert MPEG to MOV. Set your files to MOV, click the Convert All to button, then choose your preferred resolution, this will determine how high the video quality your output will be. Individual setups are also available by hitting the Arrow button on each file.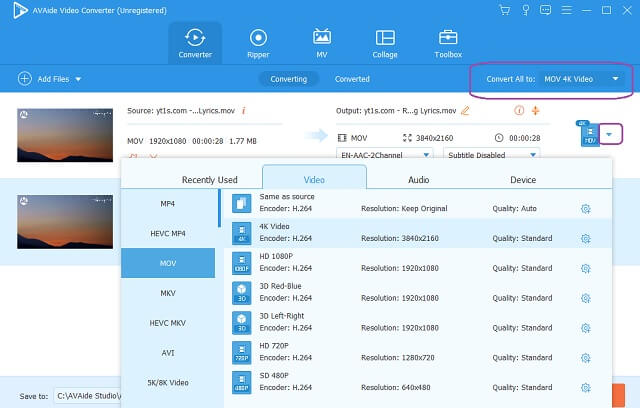 Step 4Begin the Conversion
To start the conversion you may hit the Convert All button located at the right bottom part of the interface. Wait for its rapid conversion process, then check for the completed files.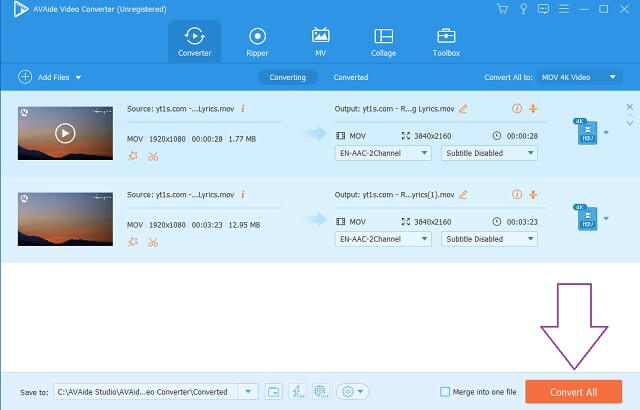 Step 5Check The Completed Files
Proceed to the Converted tab to check the completed files. The converted files are also stored on your PC.
Tip: Click on the Folder beside the converted files to directly locate the destination of the file on your PC.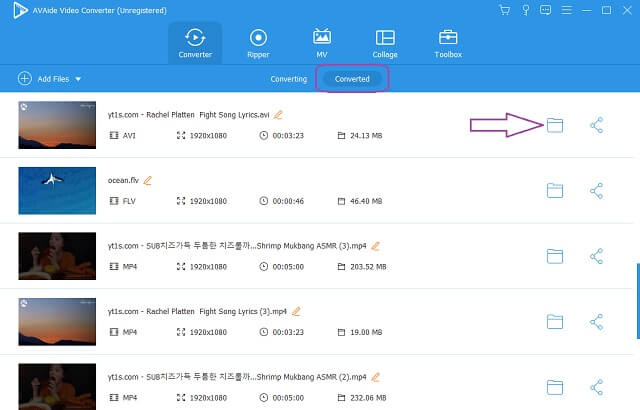 Part 3. How to Change MPEG to MOV Online
Transforming your files online is also a good and practical way, as long as you use the ideal MPEG to MOV converter online. AVAide Free Online MOV Converter is the supreme tool when it comes to conversion. Furthermore, this tool gives a totally free service and consistently produces high-quality outputs. Unlike any other online tool, this amazing AVAide allows you to transform the video files without any watermark added. In addition, it is very handy that even a non-technical person could navigate. Do your conversion job in an easy-peasy way without any ads bothering you.
AVAide Free Online MOV Converter has been also the crowd's favorite for it gives various file formats to choose from. Swift conversion process with a maximum file and information security are AVAide's commands, so you do not need to worry about glitches. Without any further ado, steps on how to convert MPEG to MOV online are provided below for your reference.
Step 1Acquire the Launcher to Your PC
Hit the ADD YOUR FILES button, then download the launcher at once. From the window that will appear, click the Download button then Open.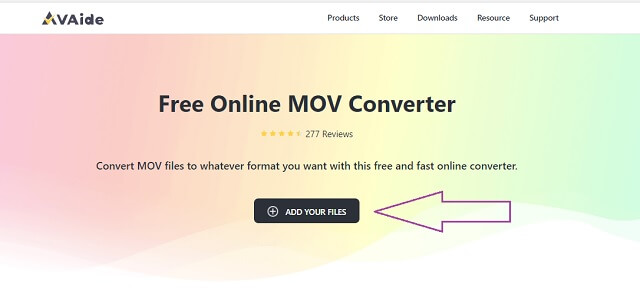 Step 2Import Your MPEG File
Upload your MPEG files thereafter acquiring the launcher. Hit the ADD YOUR FILES button again to upload your initial file, then click the Add File button on the interface to add more files.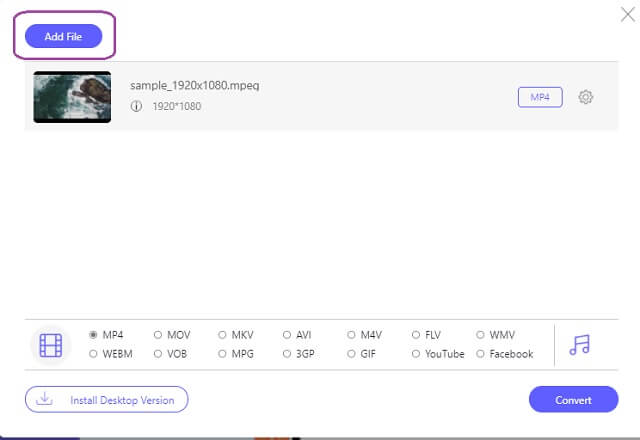 Step 3Set The Files Into MOV
Select the MOV file format from the video formats at the bottom of the interface.
Step 4Start The Conversion
You may start the conversion right after the setup. Click the Convert button on the right bottom part of the interface, then wait for an instant conversion process to finish.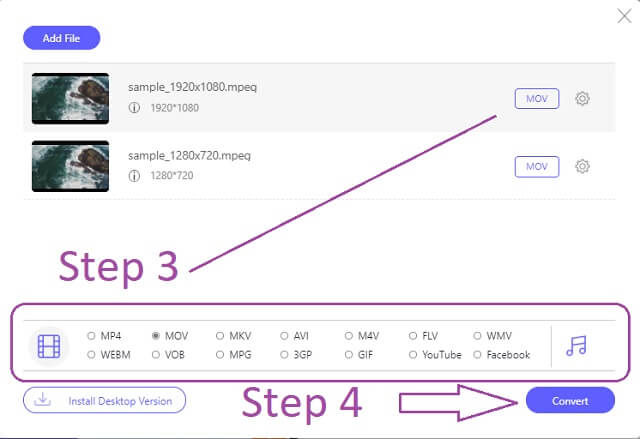 Tip: The converted files are already saved to your computer. To locate still, click on the Folder Image of the file.
PROS:
Offers unlimited file size conversion.
Super Fast conversion process.
No Ads on the web page, unlike others.
No watermark on the output, unlike others.
With built-in editing tools.
CONS:
Can't do bulk presets, unlike its software version.
Internet contingent.
Cloudconvert
Cloudconvert is the second recommended online tool to convert MPEG to MOV free on mac. Aside from its video conversion feature, it is also equipped with other conversion categories like document, eBook, font, image, etc. This amenable online tool supports up to 200+ video file formats with high quality. Below are the guidelines for using this tool in transforming MPEG video files to MOV.
Step 1Upload your MPEG file upon clicking the Select File button.
Step 2Select MOV file from the format options beside the To dropdown button.
Step 3Hit the Convert red button to start the conversion, wait for the process to finish then download the converted file.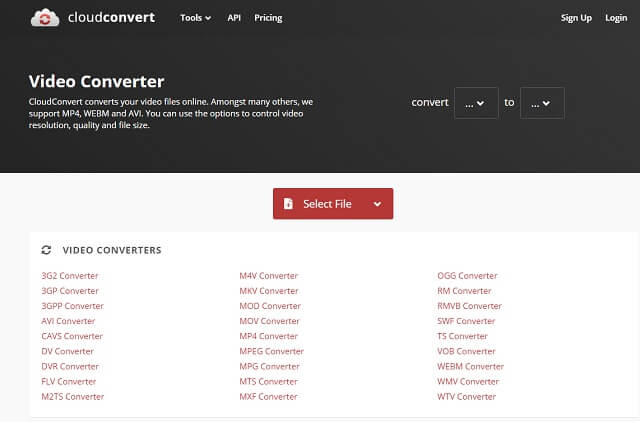 ZamZar
Another popular online tool that is also ideal in conversion is Zamzar. This tool also offers document, image, and other categories apart from video conversion. However, when it comes to a free service, Zamzar limits its free conversion up to 50MB file size only. Anyways, below are the steps on how to change MPEG to MOV using this tool.
Step 1Click the Add Files button, then upload an MPEG file.
Step 2Preset your output into MOV by clicking the Convert To button.
Step 3Finally, hit the Convert Now button to start the conversion, wait for the process to finish, then download the converted file.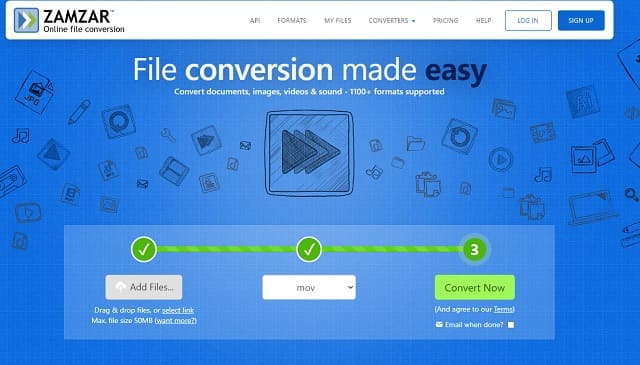 Part 4. FAQs Regarding MPEG and MOV
MOV or MPEG which is the ideal format for my iPad?
MOV is the perfect choice between an MOV and MPEG file.
Are MPEG and MPEG-4 the same? Which is better?
They are identical when it comes to containing a high-quality video file, but not in the file size. However, in general, MPEG4 is better in size and quality.
Can I convert MPEG to an audio file like OGG?
Yes, with the AVAide Video Converter, you will perfectly convert your MPEG 4 into an OGG file.
Conclusion
Hopefully, this article made you decide how the AVAide Video Converter excels among any other converter tools. Truly it has shown and produced an excellent output compared to others. Feel free to download it, try it yourself, and be amazed.
Your complete video toolbox that supports 350+ formats for conversion in lossless quality.