All file containers are certainly purposeful. They were created mainly to store our media files. Despite this, we might encounter some issues regarding compatibility. This article provides the best ways to convert MKV to MOV on Windows and iOS platforms.
Part 1. What are MKV and MOV Formats?
Both MKV and MOV are containers that can hold our video files. However, these two are somehow different in some aspects.
The MKV Format
This specific container was developed by Matroska. This is a format that holds up several different media files such as audio, video, and text. It is good mainly for storing HD videos as well as movies. Unfortunately, this one is not widely supported and accepted as MOV format. You may find it in poor compatibility with most mobile devices. Plus, it is larger than most video formats.
The MOV Format
The other one is the MOV which was created by Apple. Similarly, it stores multiple files in a single file. iOS products are known for their high-quality standard inventions. Moreover, it is widely-used for its compatibility to devices.
To sum up, we're not suggesting you delete your MKV files. But we greatly suggest converting your MKV to MOV format for the benefits you can experience.
Part 2. Excellent Tools to Convert MKV to MOV on Windows and Mac
1. Top-Ranked AVAide Video Converter
If we are talking about all the factors needed in checking the standards and features for a video converter, AVAide Video Converter is the exact solution to use. This tool itself built up its name as the best converter for videos. It produces high-quality outputs from simple procedures. It is well-known for its advanced speed technology. The process is extremely seamless even in group file conversion. Furthermore, it gives us excellent outputs by using the toolbox for other media files. Let's all learn how to convert MKV to MOV files through this tool's service.
Step 1Download and install the app
Go to your device's web browser and enter the AVAide Video Converter official page. Simply download the software. When done loading, install it immediately.
Step 2Add the raw files
Open the software and import your videos by clicking the Add Files button. You can freely add in a group for simultaneous conversion.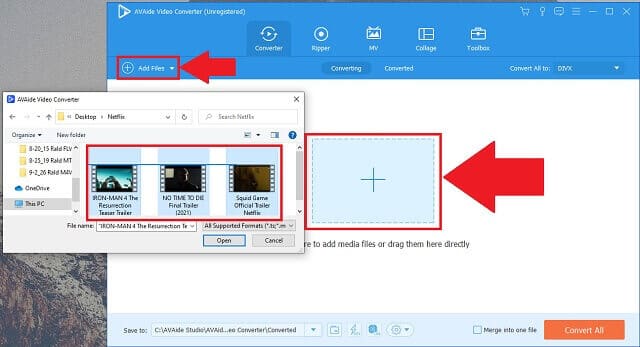 Step 3Pick the file format
Once performed, choose the format by clicking the MOV button among the formats.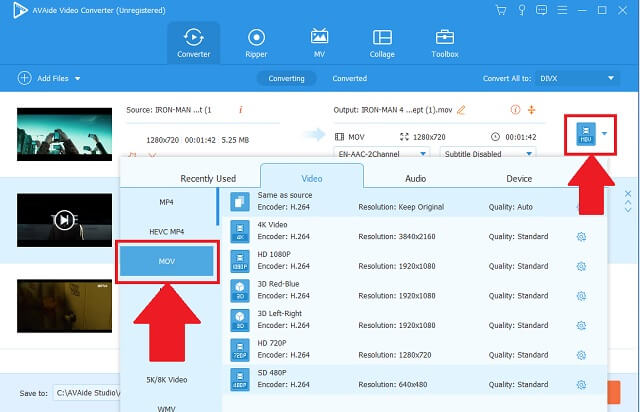 Step 4Start the conversion
Click the Convert All button on the bottom part of the interface. Wait till the tool finishes the conversion. Upon completion, see your MOV files from your local storage.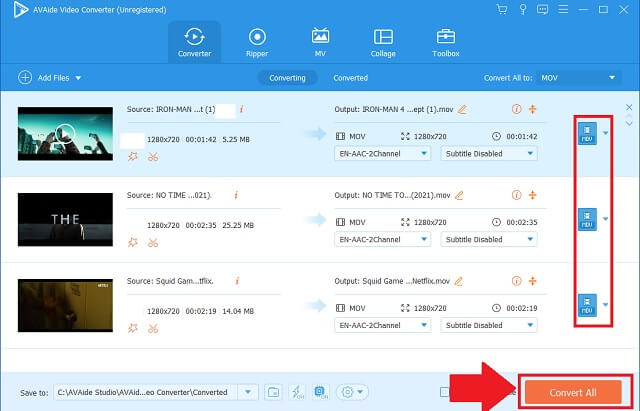 PROS:
It serves the users numerous options of video file formats.
It can convert group files simultaneously.
It has an advanced acceleration speed.
It will never compromise high-quality outputs during the process.
CONS:
It only offers a limited trial version.
2. Make Use of the VLC
How to convert MKV to MOV using VLC is also possible aside from its media player feature. It's a hundred percent safe video converter to utilize. It is a built-in tool for Windows and can also be used on Mac devices. Visit and use the software by following these simple steps.
Step 1Access the converter
You can open the VLC converter by going to the Media tab and find the Convert button from the options.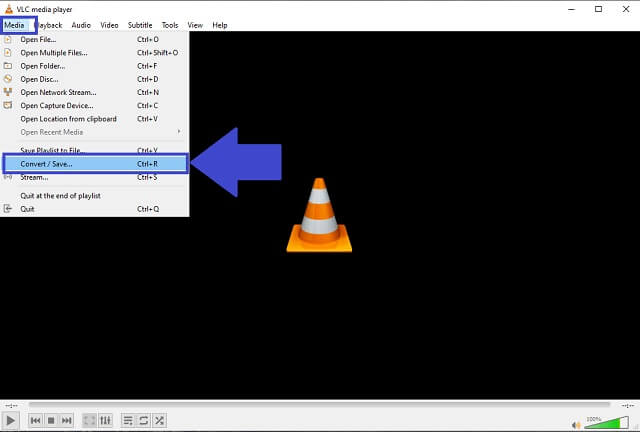 Step 2Upload the files
Upload the video files by clicking the Add button.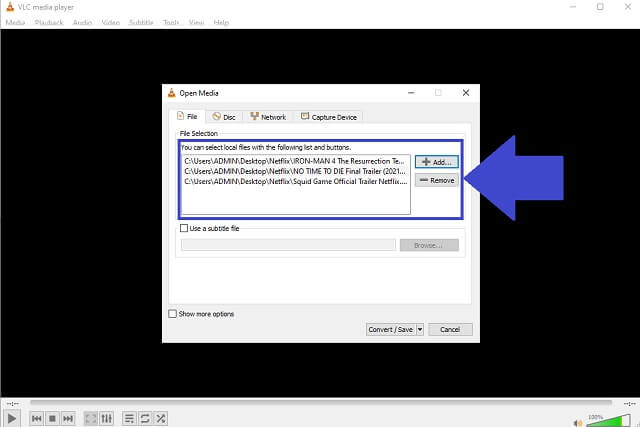 Step 3Choose the format
From the roster of available formats, click the MOV button. After that, your files are ready to convert.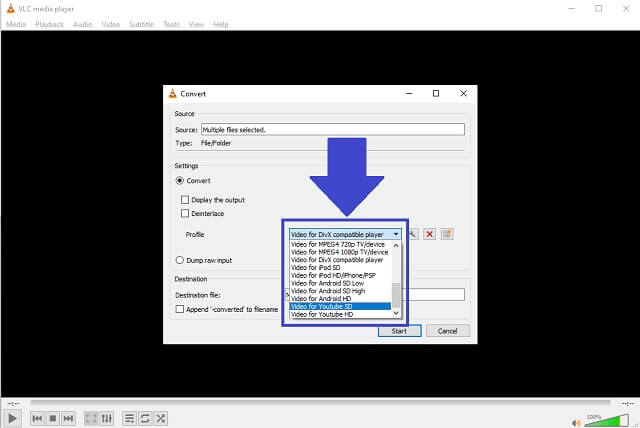 PROS:
Built-in for Windows users.
CONS:
Limited audio and video formats.
Not user-friendly interface for a converter.
Part 3. Online Solutions to Change MKV to MOV Videos
1. Use AVAide Free Online Video Converter as the Best Tool
This might sound overrated, but AVAide Free Online Video Converter is an overall-packaged video converter. The website will really amaze you. As you get accessed, you can immediately start the quick work to convert MKV to MOV. If you're searching for an online tool that values seamlessness and simplicity, this one is made for you. Beginners will also enjoy the distinctive features this converter offers. Let's go and better try this one!
Step 1Web visitation
Visit the web to enter the site of AVAide Free Online Video Converter.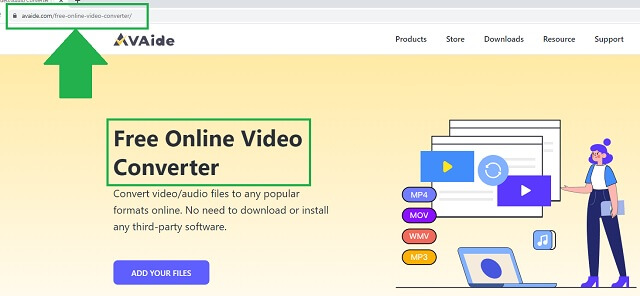 Step 2Video importation
After entering, you will see the ADD YOUR FILES button. Click it and your local file folder will appear instantly for you to select files.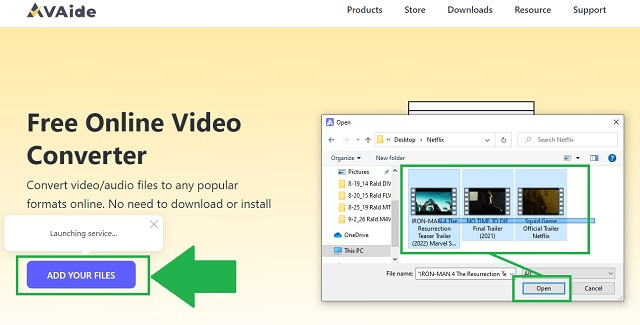 Step 3Format selection
From the format available on the tool, look for the MOV button and pick it as your output's container.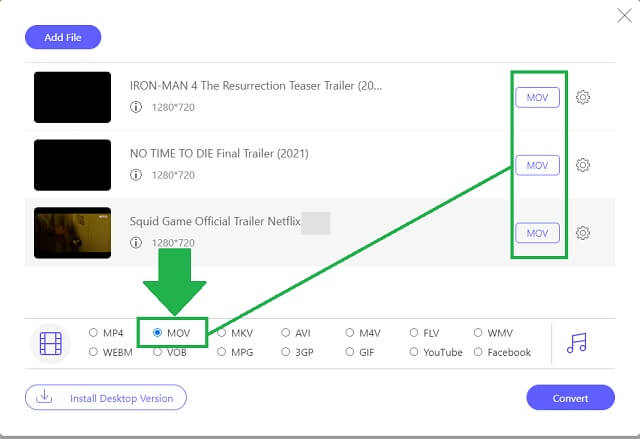 Step 4Begin the conversion
As settings are finalized, click the Convert button. When clicked, you need to select a local folder that will hold your outputs after.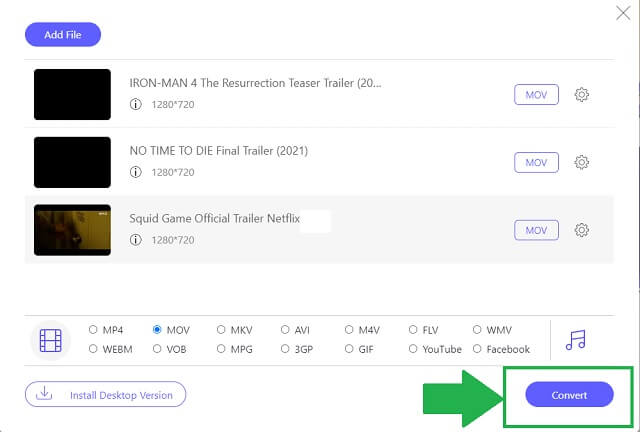 Step 5Process completion
Look for the folder icon on each file, when you click them, each will lead you to the completed files.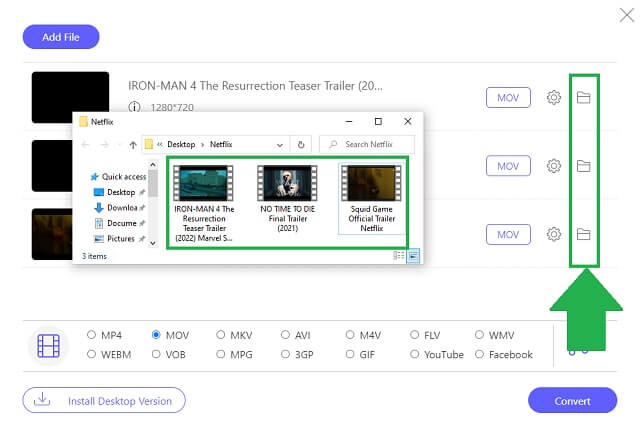 PROS:
This is a web-based tool without charge involved.
The speed of the process doesn't reduce the resolution.
It's a multi-formatted video converter.
The service extends to editing and enhancing files.
CONS:
There's no button responsible for a single click group format.
2. Utilization of CloudConvert
In the first-hand experience of many, generally speaking, CloudConvert is a potential video converter for MKV to MOV files. This tool is convenient and supports a large list of file extensions to convert. Know how to use it by being informed with these instructions.
Step 1Upload the MKV videos
Go straight to the tool from the browser and click the Select File button to add your local videos.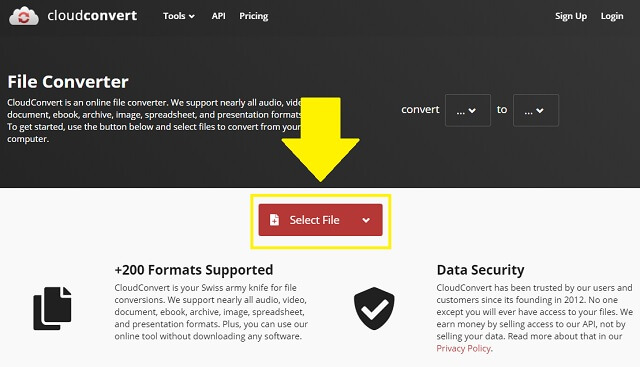 Step 2Select the new format
From the arrow down button are a list of formats available. Choose the MOV button as your new container.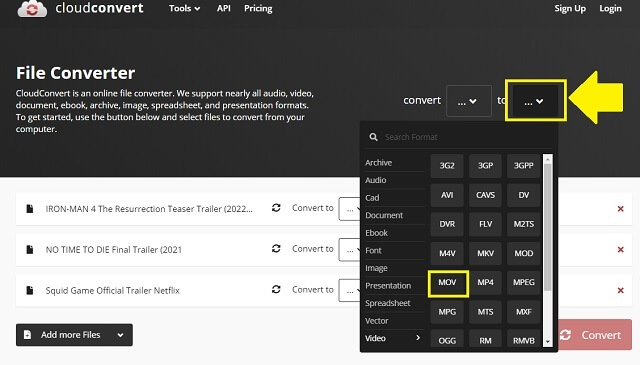 PROS:
Simple yet still comprehensive.
CONS:
Restart the tool for next file conversion.
Limited number of formats.
3. How to Use Zamzar as a Video Converter
Zamzar is also a solution for your converting demands. It's a free online MKV to MOV converter. With all assurance, this is a handy tool that will keep you on track. The website works as you expected it to be, nice and smooth. Better to try it, now!
Step 1Attach your video files
Click the Add Files button or simply drag the videos on the attachment area.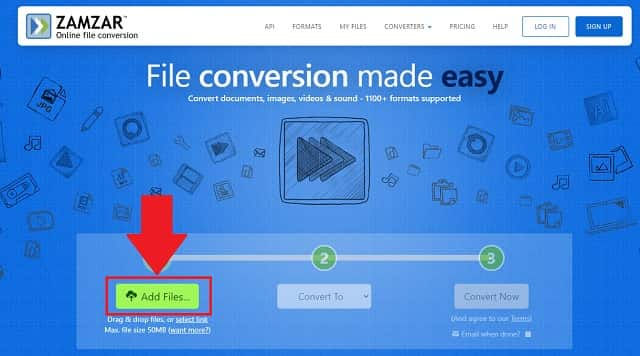 Step 2Choose the output format
Secondly, click the Convert To button and select the MOV video format. Finally, click the Convert Now.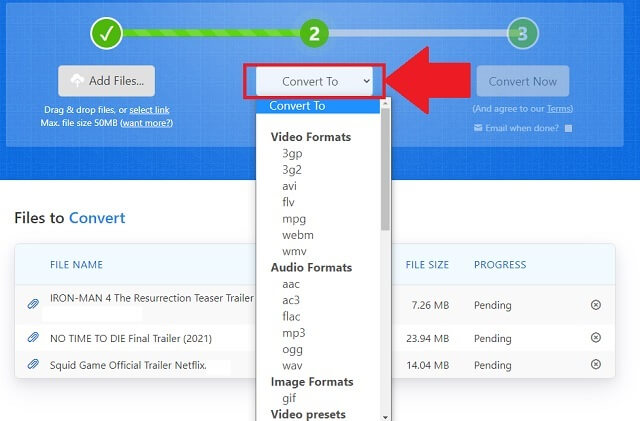 PROS:
Free to use through accessing the web browser.
CONS:
The maximum size is only 50 MB.
The tool doesn't allow files from the cloud.
4. Experience the Service of Online-Convert
Online-Convert offers us an all-in-one online tool for our converting works. It can excellently change your MKV to MOV for free without any payment. Experience this once and you will make it your habit! Follow these steps for utilization.
Step 1Selection of format
From the list of different file converters, go to the Video converter panel. Select the format by clicking the Convert to MOV button.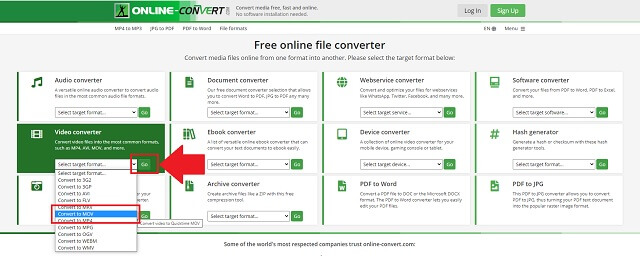 Step 2Collection of files
Begin to collect your files and drag them on the intended area or simply click the Choose Files button.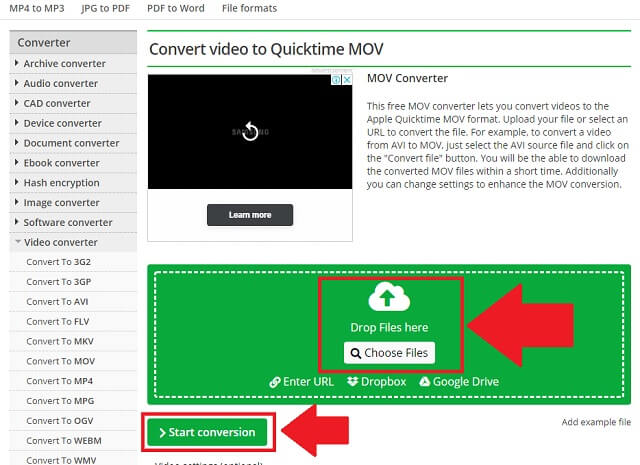 PROS:
Multi-converter features for video, audio, and paperworks.
The service is completely free.
CONS:
Unwanted ads automatically appear.
You may find the interface confusing because of the numerous buttons.
Part 4. Comparison Chart for the Video Converters
Use this simple yet informative chart to compare the different attributes of the given video converters. This gives us a clear understanding of what converters we should opt to choose.
TOOLS

Avaide Video Converter

VLC

CloudConvert

Zamzar

Online-Convert
| | | | | |
| --- | --- | --- | --- | --- |
| Web-based and software | Windows and Mac | Batch Conversion | Tool Box | Fast-Speed |
| | | | | |
| | | | | |
| | | | | |
| | | | | |
| | | | | |
Part 5. FAQs and MKV to MOV
What media players can open MKV videos?
There are many media players that support and are compatible in playing MKV file videos such as, VLC media player, DivX Player, Windows Media Player, and the AVAide Video Converter.
Can MKV files be played on iPhones?
Unfortunately, this Apple gadget doesn't natively support files with MKV format. All iPhones only play M4V, MP4, and MOV. This is the main reason why it is greatly encouraged to use your phone or Mac for MKV to MOV conversion. AVAide Video Converter will aid you with top-graded outputs. Don't waste your MKV files, convert them by using this attested converter.
Can Windows enhance a MOV video?
Assuredly, it can. You just need a tool to adjust the file's preferences for better quality. Partner with appropriate video enhancers.
Conclusion
As a summary, there are tons of ways we can convert our MKV to MOV videos. With all the given tools we mentioned above such as the AVAide Video Converter, VLC, CloudConvert, Zamzar, and Online-Convert. These are helpful tools you need to look for and use. Above all, AVAide Video Converter is the most popular in terms of overall assessment.
Your complete video toolbox that supports 350+ formats for conversion in lossless quality.