M4V to MP4 conversion is a process to produce a video file format to suit your device. Both M4V and MP4 formats are known to be identical. However, other devices couldn't support an M4V file. With that being said, for you to enjoy the M4V video, you might need to convert it into an MP4 video format. This post is made to introduce to you the best and fastest ways in converting your files into perfection.
Part 1.What are M4V and MP4
Both M4V and MP4 are multimedia containers, and are known to be similar. M4V is a creation of Apple that is used to save videos to the iTunes Store. In Addition, M4V is popularly used by Apple users and is not supported by non-Apple devices. With this being said, non-apple devices are having trouble playing M4V files, unless they have a media player that will help them playback the said file. In addition, an M4V file is an open file unless encrypted by DRM.
On the other hand, MP4 is the file format of not only video and audio but as well as subtitles and still images data. This format is labeled as a universal format, for it is supported by most devices and media players. In addition, this file format is also being used in modern days with live streaming, which also proves how flexible this format is, with that reason it gained so much favor from the users.
Part 2. How to Convert M4V to MP4 and Contrariwise on Mac
If you are using a Mac-based device, and would like to convert M4V to MP4, AVAide Video Converter is highly recommended. This prime software is known as one of the handy tools nowadays. It has multiple features that could help you transform the video file into perfection. It has a built-in toolbox, which makes your videos compressed, enhanced, 3D transformed, etc. Moreover, this tool was tagged as an award-winning tool, for it really is. Its millions of users have been positively reviewing the tool in greatness, for they have experience producing high-quality video and audio files. Hence, without any further adieu, please see below steps in converting with AVAide.
How to Use AVAide Video Converter on Mac
Step 1Download and Install
Acquire the tool on your Mac device from the website below.
Step 2Upload Your M4V File(s)
Drag your files on the interface. Otherwise, click the Add File button and upload as many files as you want.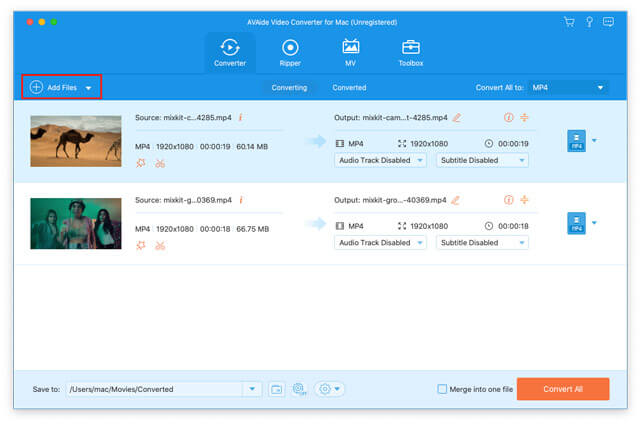 Step 3Setup your Output
Configure the uploaded files to MP4 by clicking Convert All to. If you want to have a different format for other files, click the tail part of each file and configure.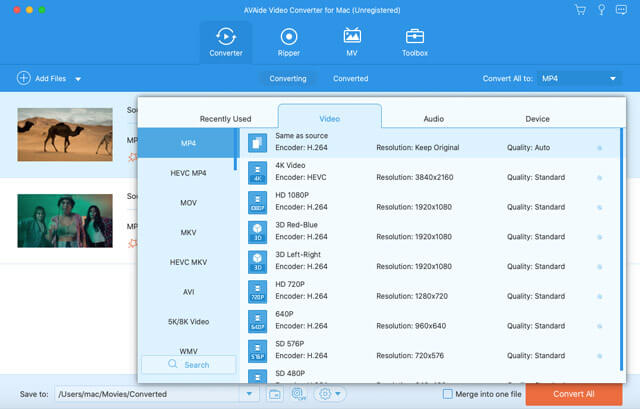 Step 4Start the Conversion
Begin the conversion, click Convert All, and wait for it to finish. You would notice that the conversion process finishes in no time, for It is 30x faster than what you expect. See Converted for the completed files afterward.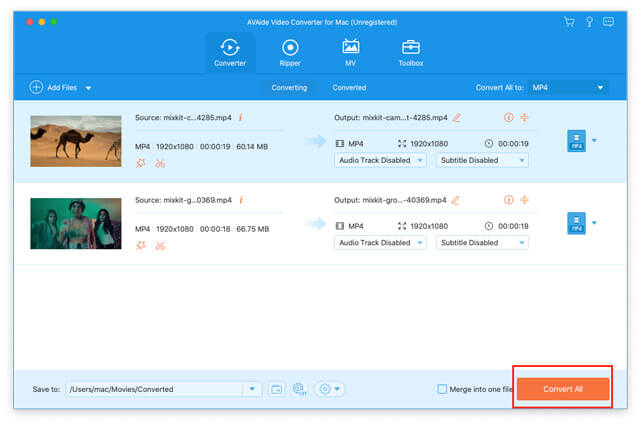 Part 3. How to Convert M4V to MP4 on Windows
For the Windows-based device, HandBrake is one of the known free M4V to MP4 converters for windows. This is a free open source tool, which was initially intended to rip a film from DVD to a storage file easier. Moreover, it is also intended to transform video-supported formats to MP4 and MKV. To give you insights on how to convert using this tool, please take a look at the steps below.
How to Use HandBrake in Converting M4V to MP4
Step 1Launch the Handbrake tool, then click Open Source to upload your M4V file
Step 2Customize your output to MP4, then click the Browse button to choose the destination of your output.
Step 3Start the conversion, click the Start Encode button then wait for the process to complete.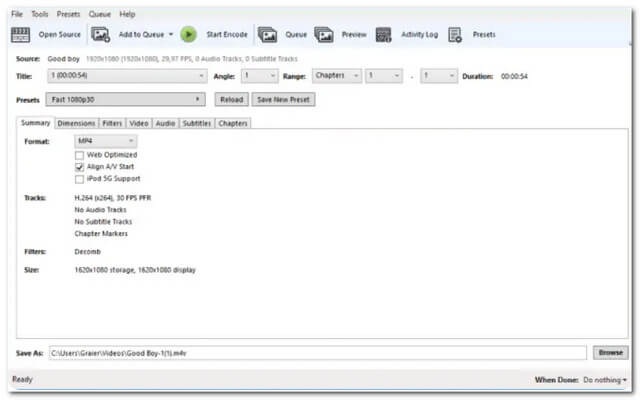 PROS:
It has a video editing tool.
CONS:
The downloading process might be intimidating to others.
Not that feasible. The interface might be confusing to others, especially to non-tech people.
HandBrake convert M4V to MP4 file process is not as fast as other tools.
Part 4. How to Convert M4V to MP4 Online
If you opted to use online tools rather than the software introduced above, AVAide Free Online Video Converter is still on top of the lists. This amazing tool will never disappoint you in producing quality converted files. Moreover, It will give you bugging ads and watermark free, and let you enjoy your conversion task hassle-free in the quickest way. In spite of its attractive interface, it has been very generous in offering other built-in tools that will be very useful to convert your videos to greatness. To experience the same vibe on this amazing tool, please see the steps below and try them yourself.
Step 1Acquire the Launcher
Download AVAide Free Online Video Converter launcher to your computer once. Click the ADD YOUR FILES button. From the popped-up window, click Download, then Open.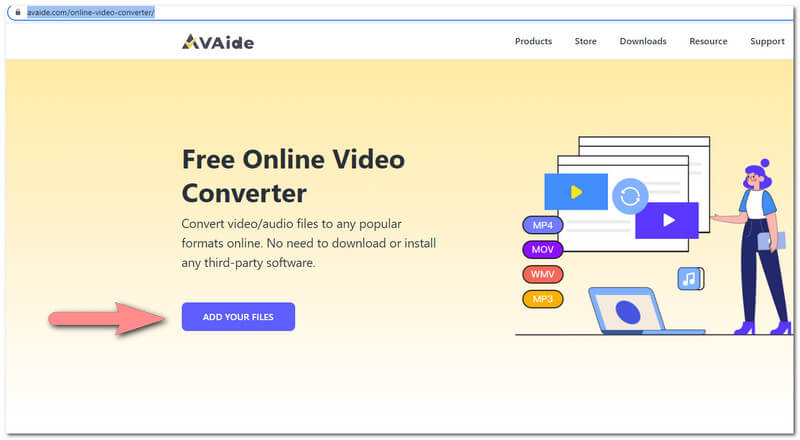 Step 2Upload your Files
Import your file by clicking again the ADD YOUR FILES button. To add more files, click the Add File button on the upper left part of the interface.
Step 3Customize Your Output
To convert DRM protected M4V to MP4 for free, set your files to MP4 from the video format choices below.
Step 4Start the Conversion
Hit the Convert button, then choose the destination of your file. Thereafter, the conversion will start, wait then check the storage after.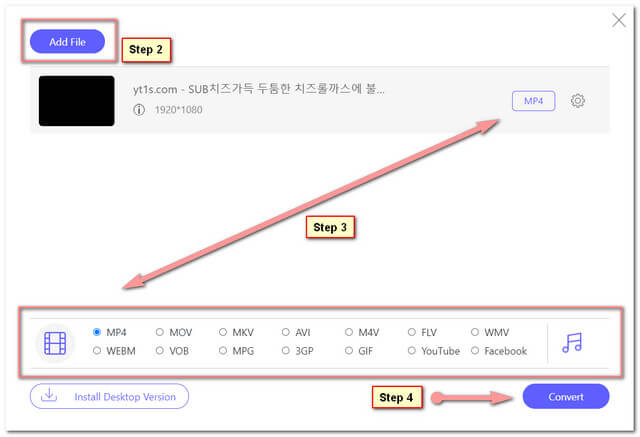 PROS:
Totally free of charge. Gives unlimited conversion.
Smooth and friendly interface, that even young ones can operate.
With built-in editing tools.
Fast uploading and conversion process. Will give you the outcome in real-time.
CONS:
Since it's online, you won't be able to use it if you have a Net problem.
How to Convert M4V to MP4 With ConvertFiles
Next on the list is ConvertFiles. This online tool offers multiple file converter categories on its page as well such as eBook, drawing, archive, document, etc. One of the known online converter tools on the web for its flexibility. Below are the steps on how to convert M4V to MP4 on Mac and Windows.
Step 1Click the Browse button, and start to import your M4V file.
Step 2On the Output format select MP4 among the video formats on the list.
Step 3Start the conversion, by clicking the Convert button. Wait for the conversion process to complete, then download the converted file.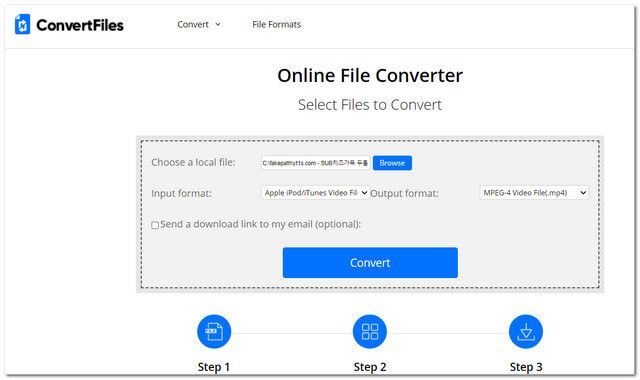 How to Convert M4V to MP4 Using ZamZar
We also have Zamzar, just like the other tools, ZamZar supplies secured, free, and fast conversion. However, this online tool can only cater to files up to 50MB in size limit for its free service, and up to 2GB for the period of service. Anyways, let's look at the steps below in converting an M4V to MP4 on Mac and Windows.
Step 1Upload your M4V file by clicking the Add Files button.
Step 2To set your output to MP4, select iPhone by clicking the Convert To button.
Step 3Start converting by hitting the Convert Now button. Wait for the process to finish, then download in afterwards.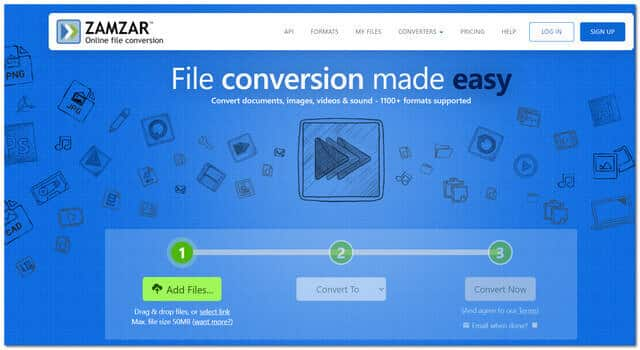 Part 5. Comparison of Different M4V to MP4 Converters
All the featured tools in this post are surely reliable. You might also have chosen among them which suits you and your preference the most. For your additional information about the tools, please see the comparison chart below.
Features

AVAide Video Converter

HandBrake

ConvertFiles

ZamZar
| | | |
| --- | --- | --- |
| Platform Device | Video and Audio Setting | Convert to Any Video Format |
| Web-Based,Downloadable | | |
| Downloadable | | |
| Web-Based | | |
| Web-Based | | |
Part 6. FAQs
Can M4V play on my android phone?
M4V is designed for Apple products like the iPhone. For you to play an M4V file on your android phone, you must first convert it to a format that is suitable on your phone. You may use AVAide Video Converter to experience the quickest way to do so.
Can I convert a file to M4V with VLC?
VLC doesn't have an M4V format presented on its choices output. However, you can convert M4V to MP4 using this tool. You may want to use a multipurpose converter like AVAide Video Converter, to convert your file into M4V.
Is M4V encrypted?
It depends on your file, there are some M4V encrypted by DRM.
Conclusion
There are many tools available out there, as the featured tools in this article gave better experiences when converting M4V to MP4. To sum it up, the featured tools especially the AVAide Video Converter showed excellence and so much satisfaction upon trying it out. You might also want to consider acquiring it and see the difference from the others.
Your complete video toolbox that supports 350+ formats for conversion in lossless quality.