Videos are a part of our digital growth in this modern generation. Relatively, in adaptation to the change of time, we should know how these media matters work. Their purposes and how we can use them in the smartest way possible. Videos need format conversion to reduce large-sized attributes for a compatible way of storing, playing, and sharing. Likewise, your WebM file to MP4 conversion concerns need to have appropriate solutions without consuming much of your time. Conversion is a lot easier with the readily available tools online.
Part 1. What are WebM and MP4
What is WebM?
WebM or Web Media format is a video file container specifically made for web streaming and is developed by Google. Files having this type of format are supported by most web browsers including Youtube, WikiMedia, Opera, Firefox, and Skype, since they are supported by HTML5. If you opt to use your audio-video media files for streaming services, WebM suits your formatting preference.
What is MP4?
MP4 or known as MPEG4, a video file container as well, is used more extensively for its compatibility characteristics than other similar filing formats. Video, audio, still images and subtitles can be accommodated or stored in a single MP4 file. As mentioned, it's more user-friendly and universal to working devices. Nowadays, it is the most advisable video format for all devices.
Part 2. How to Convert WebM to MP4 on Windows with High Quality
Use Trusted Converter Like AVAide Video Converter
This converting tool can be accessed seamlessly to work on changing the format of your WebM to MP4. AVAide Video Converter will effortlessly do the service for you. You don't need any expertise about editing or converting. The tool has an amazing set of features such as, a roster of video and audio formats, tested fast-speed processing characteristic without compromising the quality, compatibility to most devices like phones, laptops, televisions, and play stations, and it can simultaneously operate on multiple file conversion. Assuredly, the number of files in the process will not affect the tool's speed. Furthermore, it also caters to us a GIF maker, DVD ripping feature, 3D maker, movie creator, and video collage maker. As attested by many, it's your chance to start the conversion with these simple steps on how to convert WebM to MP4 on Windows 10 and other versions.
Step 1Download and install the software
On your device, simply visit your browser and have access to the AVAide Video Converter. Afterward, as you get accessed, you need to download the tool or software and install it on your device.
Step 2Upload your WebM files
Attach your WebM files after they are properly selected from your device's local file holder. Click the Add files button to make this happen. The selection can be made by video file or in batch. This won't affect the acceleration process since the tool is advanced.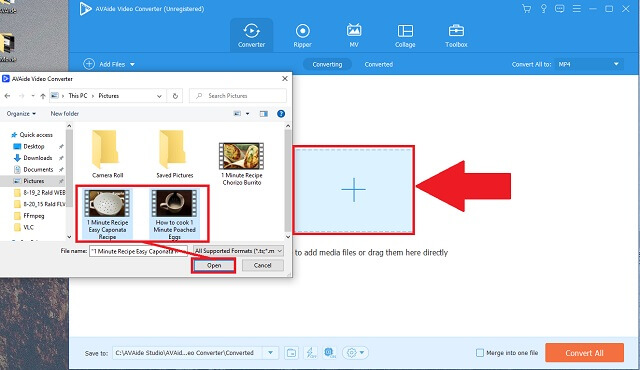 Step 3Select MP4 as your file format
Then, locate the format panel and choose the desired format by clicking the MP4 button. You can also adjust the format settings for quality output.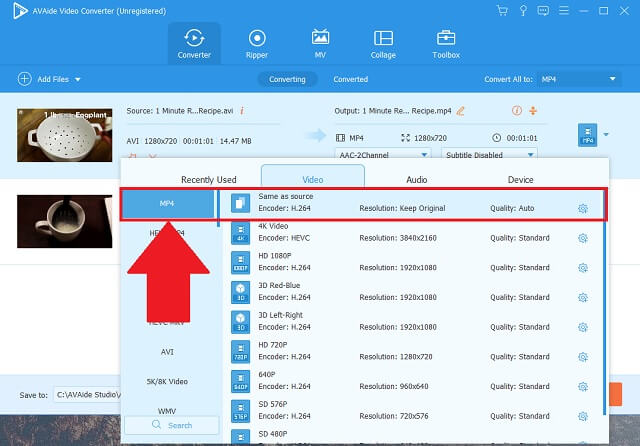 Step 4Start converting
At the bottom part of the tool, you will see the Convert All button, just simply click it directly. Once clicked, a folder will instantly appear and require you to choose the storage where you would want your file to be saved. After that, the tool will start to convert.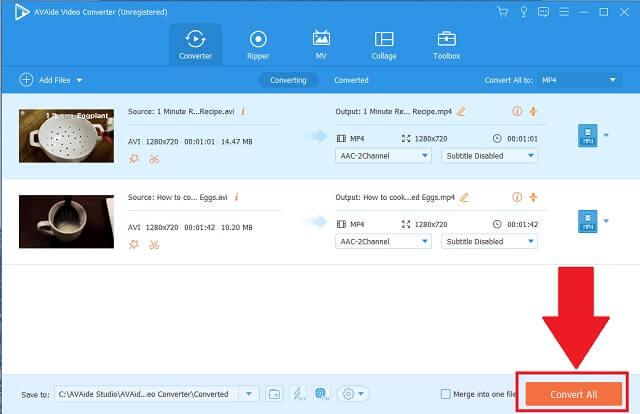 Step 5Check your MP4 video files
When it is finished, check your converted MP4 video files from your file destination. Now, you can enjoy them without minding the compatibility issues.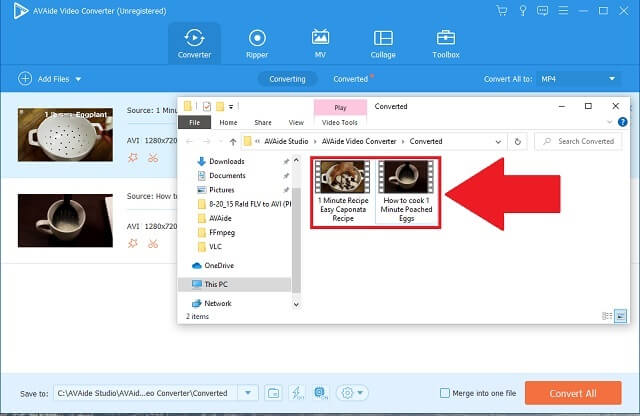 PROS:
It provides us with a list of video and audio formats suitable for most devices.
It has an awesome speed without decreasing the quality.
It supports multiple conversions that happen at the same time.
Additionally, it also offers collage making, DVD ripping, and more.
You can also create animated GIFs.
It can merge clips into one file.
CONS:
It has no feature for DVD burning.
Part 3. How to Convert WebM to MP4 on Mac Easily
How to Use VLC to Convert WebM to MP4 Files
This converter is also an effective solution on how to convert WebM to MP4. You can comfortably navigate this using your Mac device. Needless to say, this tool will certainly aid the needs of the iOS users. Following these few steps will help you be guided in the process.
Step 1Open VLC, choose Convert/Stream and Drop Media
First of all, open the VLC tool on your Mac. Once opened, locate and click the File button on the upper leftmost corner of your device. The interface will appear and click the Open Media button to add your WebM files.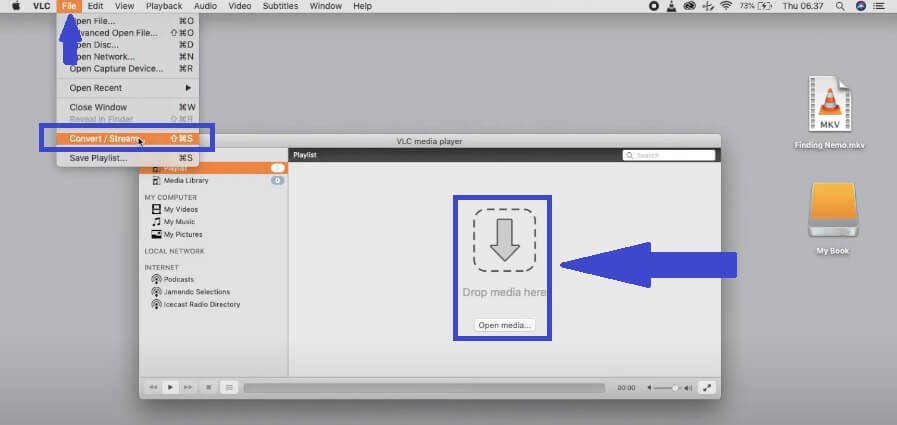 Step 2Choose MP4 format and set the file destination
Select the format by clicking the Video – H.264 + MP3 (MP4) button since your prime issue is to convert WebM to MP4. Choose the file destination and check your MP4 files.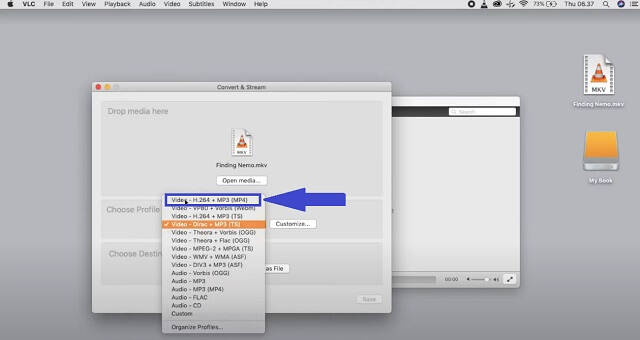 PROS:
Provides various video formats.
It has simple procedures to follow. Plus, you can download it freely.
CONS:
It doesn't allow you to play music directly from a folder.
Its program's interface is less pleasant. Others find it a bit outdated.
Part 4. Free Online WebM to MP4 Converters
1. Use AVAide Free Online Video Converter
AVAide Free Online Video Converter is the exact solution made for your needs. It offers convenient methods that meet the demands of your media work. This tool is a multi-format converter. You can choose the right format intended for your conversion. It provides high-quality video output resolutions. It is built with acceleration technology that speeds up the conversion process. More so, it can simultaneously add files ready to change your WebM file to MP4. Experience all these excellent features without necessary practices. Below are helpful procedures to utilize the converter.
Step 1Visit the official page from your browser
Proceed to your browser and enter in the official website of AVAide Free Online Video Converter. Once accessed, it will lead you to the page and you will see the tool's interface as it automatically appears.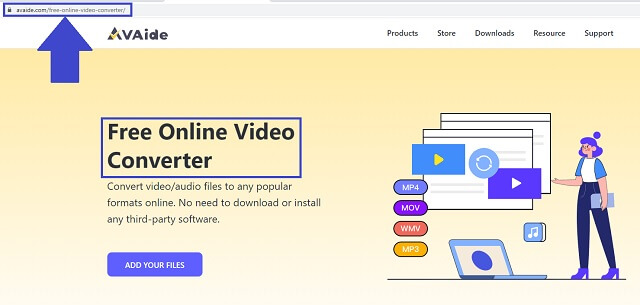 Step 2Import the WebM files
On the interface, locate and click the ADD YOUR FILES button. Select all the WebM files you think need to change format. Don't hesitate to add in a batch. The tool can effortlessly work on it regardless of the number. Furthermore, it won't affect its speed and quality.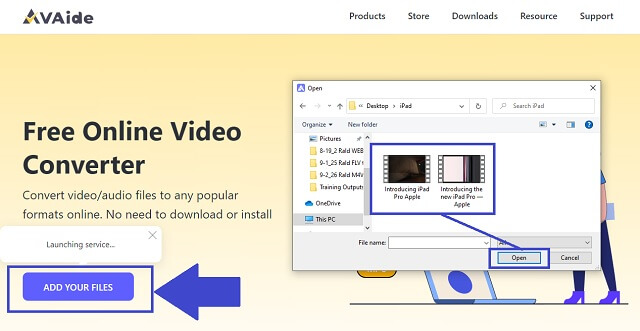 Step 3Change WebM to MP4 format
Nextly, change the format by clicking the MP4 button located on the Select Format panel. Additionally, you can set different formats for each file.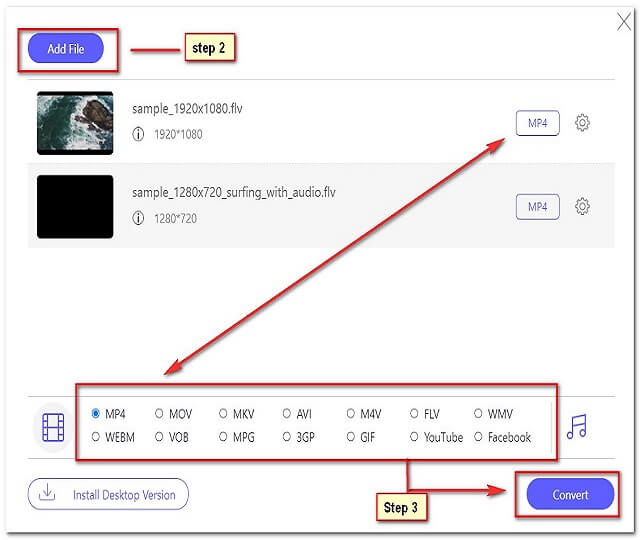 Step 4Select the file destination and start converting
Look for the Convert button placed on the bottom part of the interface and click it. When done, you are opting to choose the destination of your converted files. Once selected, the conversion starts to work.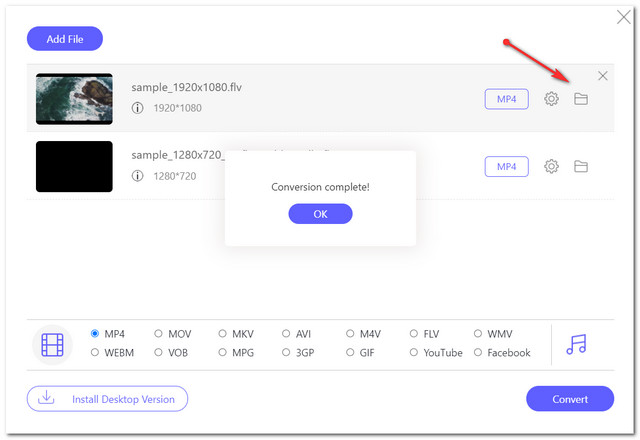 Step 5Check your files after being saved
Lastly, when it is completely done, click the folder icon and you can now check your files from your file destination.
PROS:
This tool meets our needs for multi-format conversion. The converter has a roster of video and audio formats compatible for different devices.
Also, it has an amazing speed that takes the process only for minutes. Additionally, it doesn't decrease the quality of the file.
It supports batch conversion happening at once.
Other features include professional-graded movie maker, video and photo collages, video editing, and DVD ripping.
CONS:
No DVD burning attribute available.
2. How to Use ConvertFiles as a MP4 Converter
Another helpful tool which happens to be a free WebM to MP4 converter is ConvertFiles. This works nice in converting video files from your media. It has a common interface that is intuitive. More so, it's a multi-format converter. Let's lessen your storage consumption using these basic steps. First, select a WebM file from your device. Secondly, select a destination format. Lastly, simply download the converted file.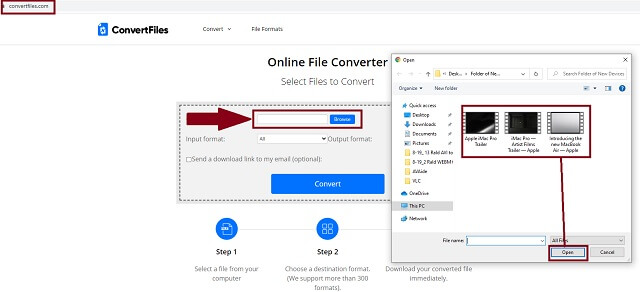 3. How to Utilize Zamzar as a Video Converter of WebM to MP4
There are many tools that can assist us to easily find solutions for our media conversion necessities. One among these solutions is to use the Zamzar converter. With its simple and convenient interface, you can easily work on it. This video converter has only three basic step-by-step procedures. To start, click the Add Files button. Next, beside step 1, click the Convert To button to choose the type of format. Finally, click the Convert Now button to start the process.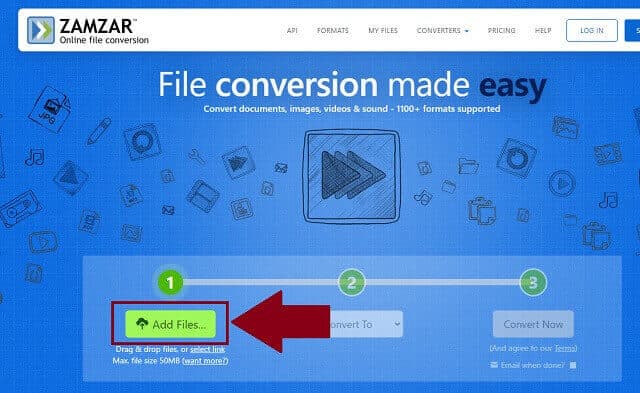 Part 5. The Comparison of Different WebM to MP4 Converters
Tool

AVAide Online Video Converter

ConvertFiles

ZamZar

VLC
| | | |
| --- | --- | --- |
| Device Platform | With Video Enhancer | Malware Safety |
| Desktop, Web-based | | |
| Desktop, Web-based | | |
| Desktop, Web-based | | |
| Desktop, Web-based | | |
Part 6. FAQs of WebM and MP4
Is MP4 better than WebM?
Both types of format come in high quality. However, since WebM is commonly used for online streaming and mainly designed for the Internet, MP4 would be a better option for compatibility purposes among different gadgets.
Does MP4 contain high quality?
Nowadays, media users tend to compress their files for the reason of not consuming so much of their storage's spaces. MP4, as a preference, is a good choice because this format can contain or store audio files, text or subtitles, still images and of course video files in a single file.
Is WebM compatible with Safari?
Apple finally added WebM video format to Safari with MacOS Big Sur 11.3. It is currently available for users and developers in the Apple Beta Software Program. Suggestively, you can convert WebM to MP4 on Mac devices.
Conclusion
We can always adapt and work in the smartest way possible in coping with the demands of media and technology. We don't need to put the burden on ourselves of not knowing so many things about how to convert WebM files to MP4. These amazing tools are available anytime. You can utilize them with all comfort and ease. With all the descriptions and procedures mentioned, all of us can enjoy using AVAide Video Converter, ConvertFiles, Zarsam, and VLC. But most people recommend the AVAide Video Converter. Its bountiful capacity to convert, enhance, and edit your media files with ease and comfort.
Your complete video toolbox that supports 350+ formats for conversion in lossless quality.