If you were born in the 90s you must probably get addicted to Animes and games as many 90' babies were in the 2000s. Before cellular phones and tablets were invented, computer games and Anime cartoons had been the companion of many people. However, this scenario changed as time went by. Most of the videos and audio before were created on the SWF file. Therefore, if you miss your favorite Anime and wish to watch it on your device, you will need to transform them into a format that will suit your device. Luckily, reliable converters are here to the rescue. This article will introduce you to the best tools to convert SWF to MP4.
Part 1. Why Do You Need to Convert SWF and MP4
SWF which originated by FutureWave Software and is now taken over by Adobe Systems is an Adobe Flash file format that is used for ActionScript, multimedia, and vector graphics. Since the 21st century began, it has become the standard way of exhibiting videos and audios most especially in games. However, because of its security and functions, many browsers then and now ceased to support Flash. Therefore, for you to still retain an SWF-originated video file or Anime, you need to convert it to a file format supported by most devices, and that is MP4.
Part 2. How to Convert SWF and MP4 and Vice Versa on Mac & Windows
On top of the list to convert an SWF file to MP4 is AVAide Video Converter. This top-of-the-line software will give you a smooth and swift conversion job. AVAide Video Converter has gained great feedback from users. In addition, its features such as Video Enhancer, 3D Maker, GIF Maker, and Video Compressor will make your output incredibly great. Moreover, this tool also gives you the chance to customize your video, with its MV and Collage tabs. With this being said, let us try to convert your SWF to MP4 or vice versa using the steps below.
Step 1Download the Tool
Download and install the tool. Click the download button below to do so.
Step 2Import Your File(s)
To change a SWF file to MP4, upload your SWF files by dragging them into the interface. As an alternative, you could just click the Add Files button on the upper left part on it.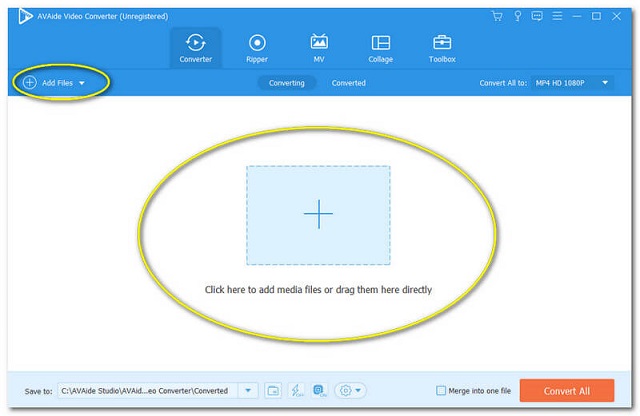 Step 3Setup Your Files
Set your files to your MP4 by clicking the Convert All To button located at the upper right part. Otherwise, if you want other formats for the other files, click the tail part of each file, then set to your preference.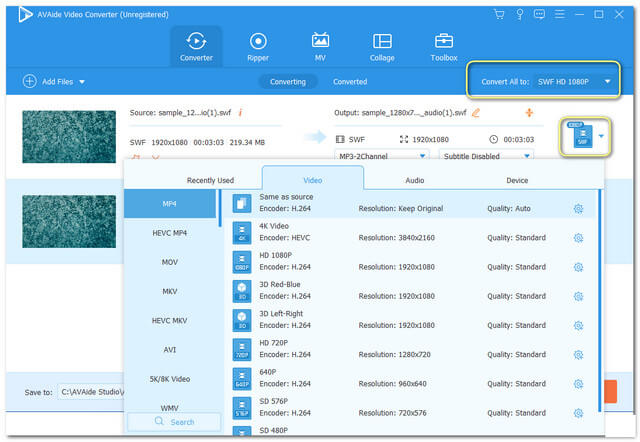 Step 4Start the Conversion
You may begin the conversion right after the configuration. Click the red button on the lower part which says Convert All.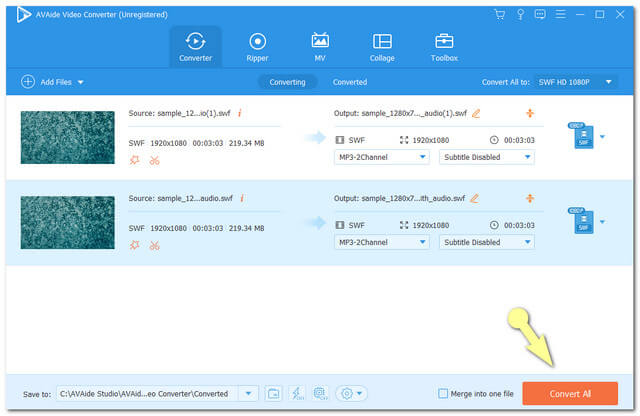 Step 5Check the Converted files
In no time after clicking Convert All, you may check in the Converted for the completed files. They are also automatically saved to your PC, to locate them click the folder image on the side of the files.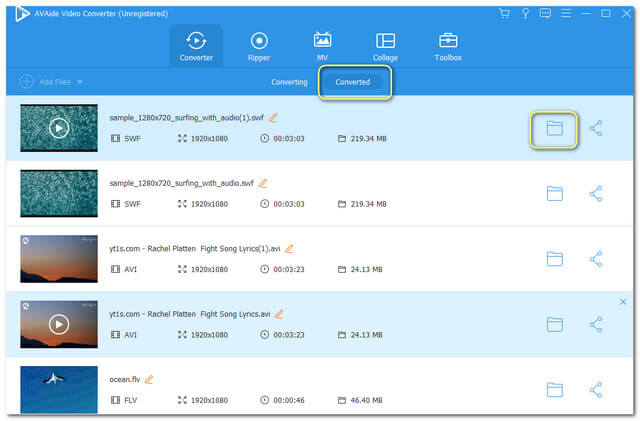 Part 3. SWF To MP4 Freeware Converters
HandBrake SWF to MP4 Conversion
Another SWF file to MP4 converter free of download is HandBrake. This freeware is also known when it comes to MP4 and MOV as well, for it was developed primarily for the said formats. In addition, it was also created intently to easily store a video or movie file from a ripped DVD. Hence, you may rely on the steps below on how to convert your file using this tool.
Step 1Upon launching the tool, upload your file by clicking the Open Source button.
Step 2Set your file to MP4 on the Format section. Then click the Browse button to designate the storage of your output.
Step 3Click the Start Encode button located at the upper part, to begin the conversion. Then wait for the process to complete.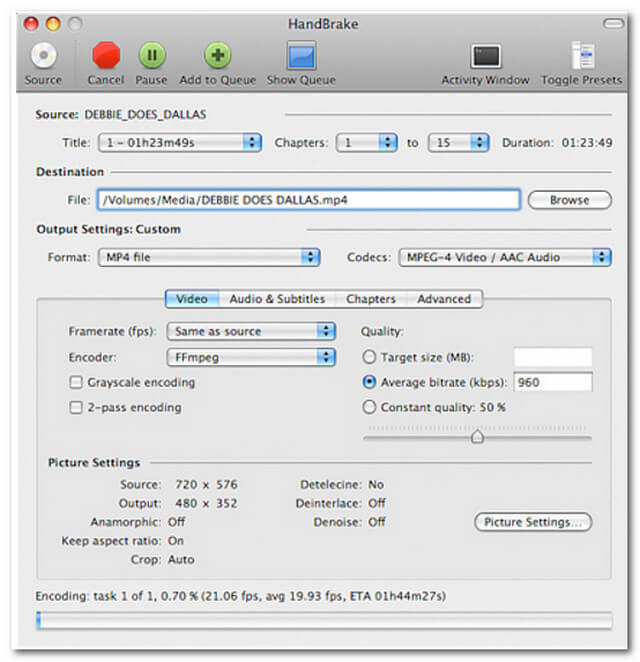 PROS:
With the built-in editing tool.
CONS:
The conversion of SWF to MP4 with HandBrake took more time unlike with other tools.
The interface is intimidating, which means a non-tech person might have confusion.
Some errors encountered while uploading the files.
FFmpeg SWF to MP4 Conversion
Next is FFmpeg, this tool is command-line-based in transforming audio and video files. This means this application tool uses a prompt command in transforming files. Besides, decoding and encoding of multiple media formats are one of the expertise of this tool. FFmpeg can also be used in instant encoding and capturing from software and hardware sources. Below are the steps in converting SWF to MP4 with FFmpeg.
Step 1Launch the FFmpeg once downloaded. Type ffmpeg and enter.
Step 2Type in the file name where your video file is stored, when doing this you have to use the cd command then the file path then click enter.
Step 3To convert your file, type ffmpeg -i input.swf to output.mp4, then hit enter. Check your file storage after.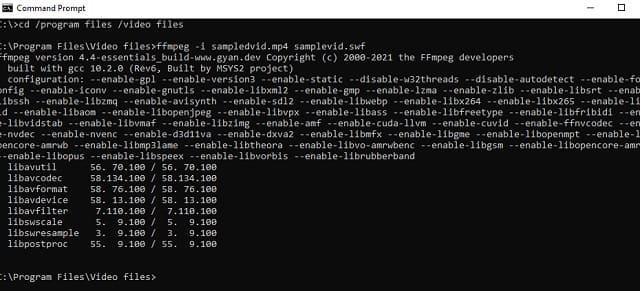 PROS:
Instant encoding of software and hardware sources.
CONS:
FFmpeg is not advisable for non-tech people
Complicated set-up before using the application.
Other prompt commands are having errors.
Part 4. Best SWF and MP4 Online Converters
AVAide Free Online Video Converter
For your online options, AVAide Free Online Video Converter is the first on the list. This online tool, same as its downloadable tool, also gave the perfect output during our trial. Furthermore, this free online video converter SWF to MP4 gave us a smooth experience. It offers limitless conversion without ads and watermarks on the page. You will surely enjoy using its built-in video setting tool as well. Furthermore, it will also allow you to convert your files to multiple devices and formats, for it supports 300+ file formats to choose from. So without any further ado, the steps below are provided, and experience them yourself.
Step 1Get the Launcher at once
Click the ADD YOUR FILES button, and acquire the Launcher. Don't you worry this is 100 percent sake to your computer. From the popped-up window, click Download, the Open.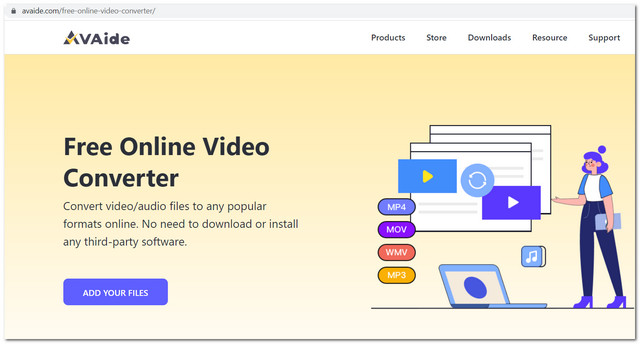 Step 2Upload Your File(s)
To export SWF to MP4 file, upload your SWF file by clicking ADD YOUR FILES again. Then click the Add Files button to add on the upper left part of the interface to add more files.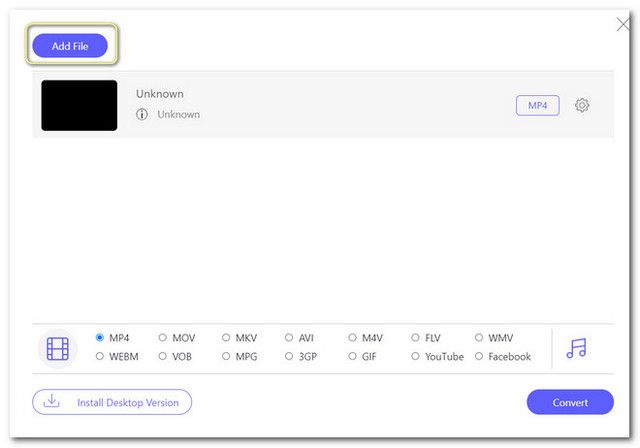 Step 3Configure the Files
Set the files to MP4 or others from the format choices that are located on the lower part of the interface.
Step 4Start the Conversion
Click the Convert button to begin the conversion. However, prior to the conversion process, you will need to select a storage from your local drive where the converted files be saved.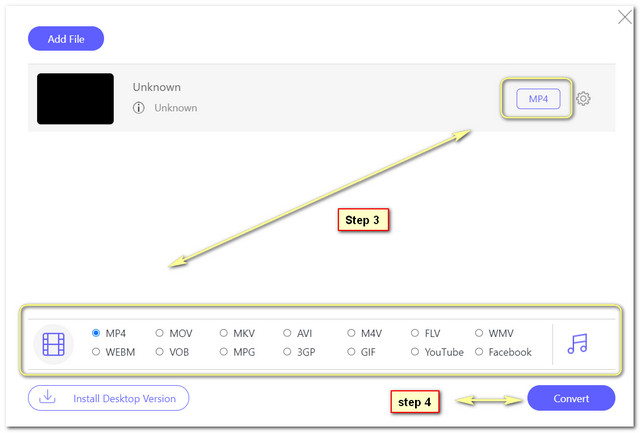 Step 5Wait and Check
Wait for less than a minute for the conversion process to finish, then check your chosen storage.
PROS:
Super easy to navigate.
Super fast conversion process.
With a built-in editor.
Free unlimited service.
CONS:
Like its software version, it also doesn't have a DVD burner.
ZamZar
ZamZar is our second reliable online video converter tool. This online tool, as shown by its main page, is one of the handiest and easy to use. However, for its free service, ZamZar limits the conversion to 50MB file size, wherein if you upload multiple files to convert, they must not exceed 50MB. Otherwise, with a paid service, you could upload up to 2GB which still depends on your sign-up plan. How to turn SWF into MP4 for free using this tool? Please see the steps below.
Step 1Click the Add Files button to upload your SWF file. The files must not be more than 50MB
Step 2To set the file into MP4, select iPhone from the choices given after clicking the Convert To button.
Step 3Hit the Convert Now button to start the conversion process. When the conversion process has completed, download the converted file.
Part 5. Comparison Chart of SWF and MP4 Converters
If you are still undecided in choosing among the featured tools above. Although, there is one of them that showed exceptional features, and during the trials has exceeded the expectations. The comparison chart below is made to give you a strong idea of what tool is for you.
Features

Device Platform

Adjustable Bitrate

With Built-in Video and Audio Setting
| | | | |
| --- | --- | --- | --- |
| AVAide Video Converter | HandBrake | FFMPEG | ZamZar |
| Web-Based,Downloadable | Downloadable | Downloadable | Web-based |
| | | | |
| | | | |
Part 6. FAQs
Is SWF file safe to download?
SWF file can have malicious code that can harm your hardware.
How can I convert an SWF video file to MP3?
Yes, You may convert an SWF file to an MP3 audio file with AVAide Video Converter. You can also check into the conversion tool the other 300+ formats for your conversion needs.
How can I convert MP4 to SWF safely?
To convert your MP4 to SWF safely, you must download AVAide Video Converter first. Upload your MP4 file then set it to SWF, convert in real time and also convert SWF to MP4 on mac free of charge with AVAide Free Online Video Converter.
Conclusion
This article is basically for the people who are undecided, or do know what converter tool can give the maximum security in transforming SWF files. Based on the featured tools, AVAide Video Converter surely mostly gained great feedback from the trial.
Your complete video toolbox that supports 350+ formats for conversion in lossless quality.