MPEG has always been known for containing excellent quality video. With this being said, it has been one of the favorite files of many. However, having an excellent quality is also the main reason for it being a huge file in size. On that note, many urge to convert MPEG to MP4 for free, Because of the fact that an MP4 file is undeniably great too despite it being compressed.
Maybe others have found contentment on the tool they are using now, on the other hand, many are still looking for a better converter as a replacement for their old ones. Luckily, this article is giving credit insights into the best converter tools today.
Part 1. How to Convert MPEG to MP4 on Windows
AVAide Video Converter is on the lead when it comes to producing maintained quality output. This software has a facile interface that makes it ideal even for non-technical people. This amazing software also allows you to do a bulk conversion, and produce them in real-time, without losing the quality. Moreover, it has many great features and tools that will help you attain perfect output.
Step 1Upload Your MPEG files
Open the tool after installing it on your PC. It has 3 generous ways to upload your files, Drag them all at once, click the Plus button, or hit the Add Files button located at the top left part of the interface.
Step 2Preset the Files Into MP4
Click the Convert All to button at the right part of the interface, and set all files to MP4. For individual settings, you may click on the Arrow button at the tail of each file.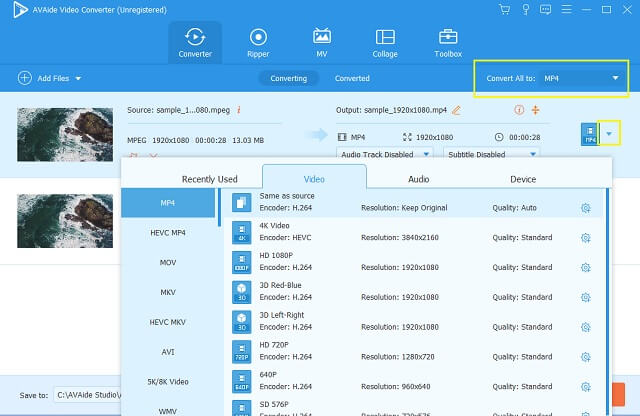 Step 3Start Converting
Click the Convert All button from the bottom right of the interface. And experience the power of this flash software tool.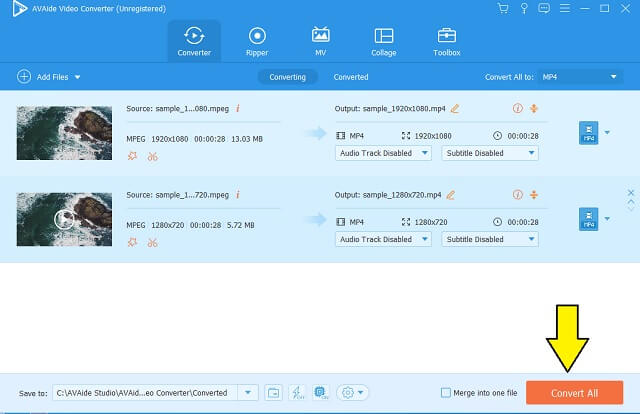 Step 4Check For the Converted Files
After the rapid conversion, check the completed files in Converted. Locate them by clicking the folder image.
Part 2. How to Convert MPEG to MP4 on Mac For Free
VLC is a free video converter for MPEG to MP4, it is also an ideal tool in transforming files. This open-source media player doesn't just work best for Mac as a media player, for it also plays a great role in the conversion industry. Below are the simplified steps on how to convert your MPEG file to MP4 using this tool.
Step 1Open the tool. Click Media on the top part, then click the Convert / Save button.
Step 2Hit the Add button to import your MPEG file. Then click Convert / Save at the bottom.
Step 3Preset your file to MP4, and select your destination file upon clicking the Browse button. Then hit the Start button and wait for the process to finish.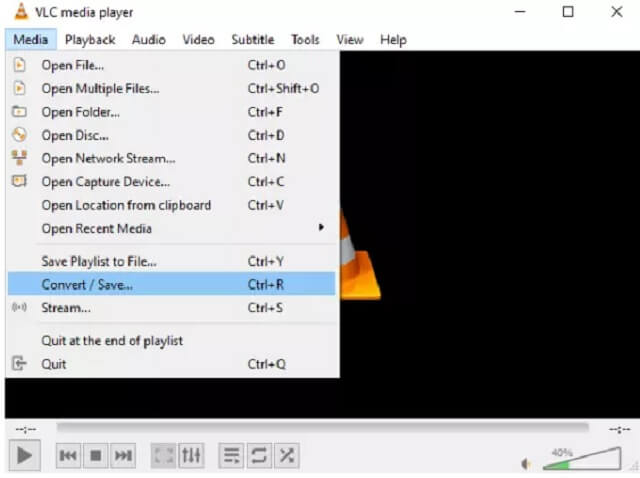 PROS:
It can also be used for playing videos aside from converting files.
Convert MPEG to MP4 free of charge.
CONS:
Perplex conversion interface. It could confuse non-technical users.
A lot of buttons toggles in-between steps.
The conversion process is not as fast as others.
Part 3. Free Online MPEG to MP4 Converter
Converting online is another practical way to transform your files. On this note, you must have the most pragmatic yet amazing tool like AVAide Free Online MPEG Converter. This online converter of MPEG to MP4 is one of the top choices for conversion solutions, as it has been very abundant in giving the users security as the files and information are highly protected. Furthermore, you can utilize this online tool anytime and experience it unlimitedly, without the need for registration. Convert your numerous files simultaneously with no Ads and watermarks bugging you. Below are the steps that will guide you in using it.
Step 1Get the Launcher
To do so, hit the ADD YOUR FILES button. A window will appear where you need to click Download then the Open button.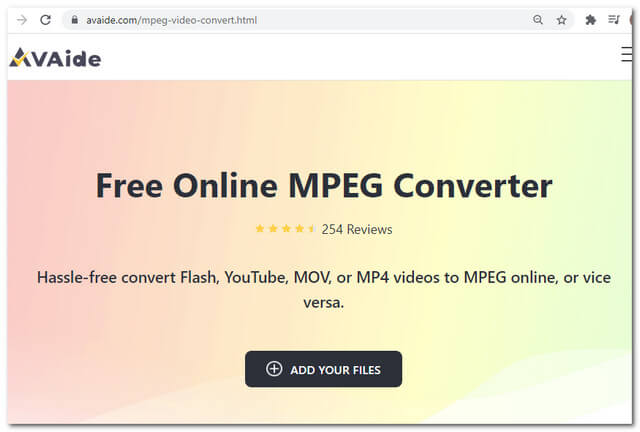 Step 2Bring in Your Files
From the choices video format at the bottom, select MP4. Then hit the Convert button.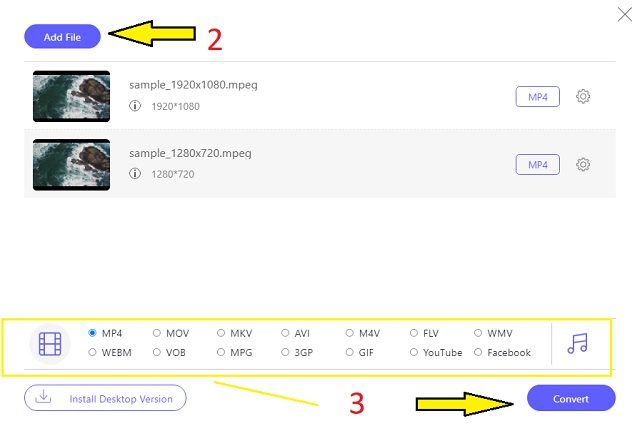 Step 3Choose The File Destination
After clicking the Convert button, a window of file storage will appear. Choose the folder for the PC, where the completed files are saved. Wait for the conversion process then check the folder afterward.
PROS:
The conversion process is very fast compared with others.
No Ads and Watermarks.
No restriction on the file size. It is unlimited.
CONS:
No video trimmer.
Internet-dependent.
How to Convert MPEG to MP4 with ZamZar
ZamZar is another online converter of MPEG to MP4 that is very ideal to use. This online tool has also been very useful in converting other files such as image audio and document. However, Zamzar has set its boundaries on the file size for it only caters up to 50MB for the free version. Anyways, below are the steps that will guide you in converting MPEG.
Step 1Upload your MPEG file by clicking the Add File button.
Step 2Click the Convert To button and select MP4 from the dropdown list.
Step 3Hit the Convert Now to start the conversion process, wait for it to finish, then download the converted file.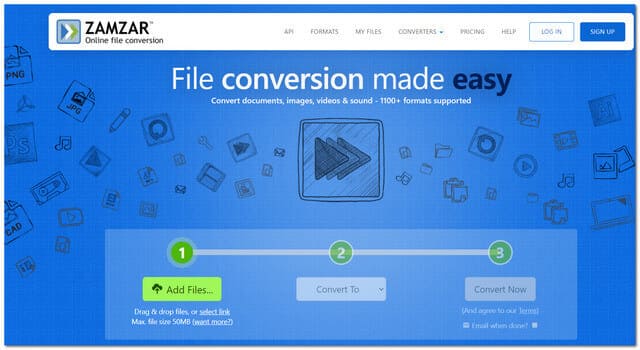 PROS:
With different categories of conversion.
With simple steps.
CONS:
The conversion process takes time.
The flow of uploading is not highly responsive.
With boundaries of file size.
Part 4. FAQs About MPEG and MP4
Can I convert MPEG ts to MP4 files?
Converting MPEG ts and MPEG 2 ts to MP4 are some of the expertise of AVAide Video Converter. Have it a try, and experience how awesome this tool is.
Is MP4 really better than MPEG?
The answer really depends on the situation, MPEG was designed to work best for DVDs and CDs, it is also often used to upload videos on the web for it has a great quality. However, MP4 is best to have a compressed yet excellent quality that fits most on your devices especially on your mobile.
Can I convert MPEG to MP4 with Quicktime on my Windows 10 PC?
Before, Windows 10 couldn't support QuickTime, but as part of innovation, it's possible now. However, there are still pre-requisite application tools to run it. To ease the difficulty, try AVAide Video Converter instead.
Conclusion
This article showed the best ways to convert MPEG to MP4. In Spite of this, AVAide Video Converter has obviously shown edges among the others. Download it, and see how reliable this software is.
Your complete video toolbox that supports 350+ formats for conversion in lossless quality.