Apple gadgets, especially smartphones, have been in demand in most countries all over the world. The security and camera features of the said smartphone attract people to acquire it. However, nobody is perfect, neither is a product. Some iPhone users might not have deep knowledge about their gadget. They might not know the right format to use on their videos. This article, however, will introduce you to a compatible tool that will help you convert WMV to iPad and other Apple gadgets.
Part 1. What is WMV File
WMV, which stands for Windows Media Video, is a video format developed by Microsoft. It is usually used with a Windows-supported computer. Unfortunately, a WMV file doesn't work with Apple products like iPhone, iPad, MacBook, etc. It is because Apple does not support the MS proprietary codecs, where MWV works.
Part 2. Best Way to Convert WMV to iPhone/iPad Easily
With the said information above, a WMV file is not supported by Apple. It gives the users errors or even can't play such videos of this kind of format. Luckily, AVAide Video Converter is here to the rescue. This amazing tool supports more than 300+ conversion formats that perform without compromising the quality of the video. For example, you can also convert MOV to iPhone easily with it. It will give you a hand in achieving facile techy life. Below are the steps on how to convert WMV to iPad or iPhone using AVAide Video Converter.
Step 1Download the Tool on your PC
Download and install AVAide Video Converter on your computer. Then launch it.
Step 2Select the File to Convert
After reaching the main interface of the tool, you may start working on it. Click the Plus sign at the center part of it, or as an alternative you can click the Add Files in the upper left part to drag the file that needs to be transformed.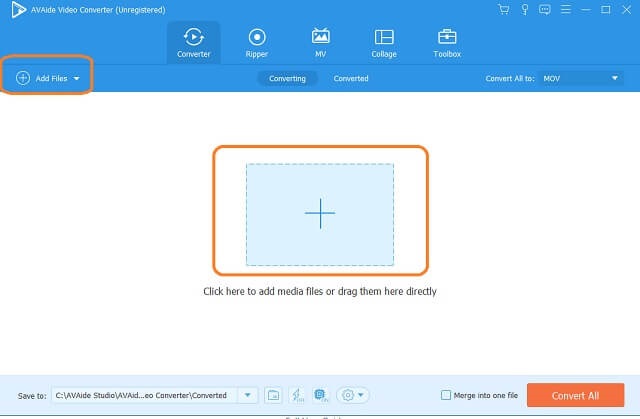 Step 3Setting the desired format
Adjust and categorize your video file into your preferred format. You can add as many videos as you want at the same time. If you wish to convert all the videos using a particular format, click on the Convert All button and discover available formats. If you happen to need a single format for each file, you can click the tail part of each, then choose one after the other under the Video setting.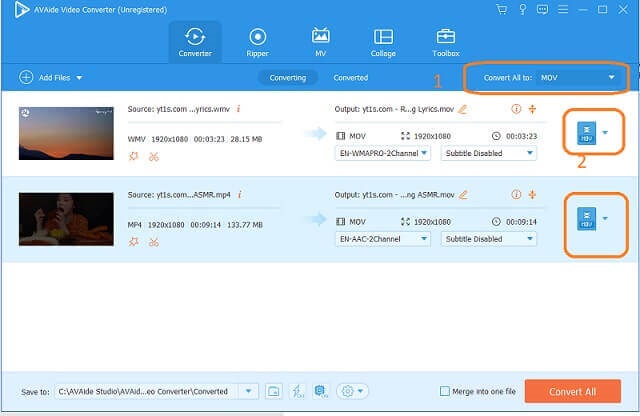 If you wish to convert WMV to MOV on iPhone or vice versa, you can do so, since other setting options like Audio and Device are also available for setting up.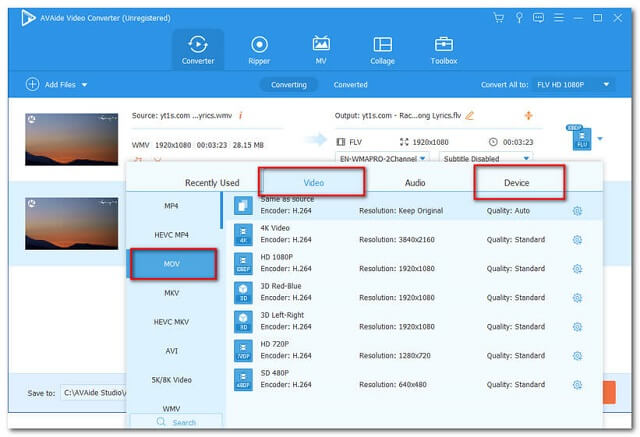 Step 4Start the conversion
After the configuration, start the conversion by clicking Convert All. This process will not take time, for it converts each video in less than a minute.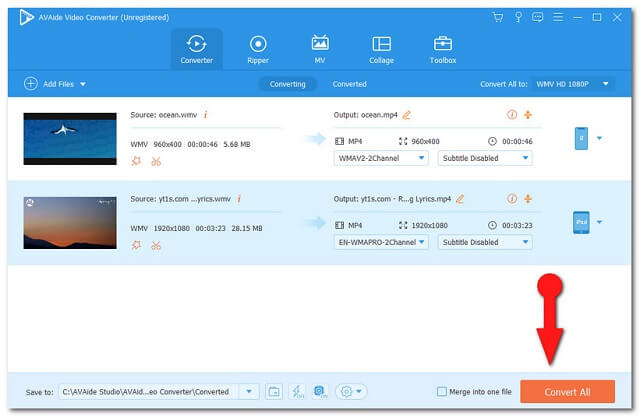 Every successful conversion will be saved in the upper middle part of the interface under Converted.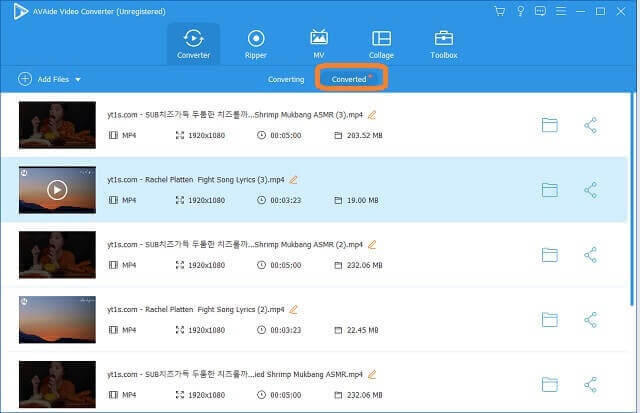 Part 3. How to Convert WMV to iPhone/iPad Online
Converting video files online is also a good idea because online conversion is more convenient. Below are the four methods that will help you Convert WMV to iPhone online.
How to convert WMV to iPhone online through AVAide Free Online Video Converter
This tool, as you can tell from the name, also offers a free conversion online that can be useful to immediately transform the files. AVAide Free Online Video Converter has an amiable atmosphere that you will enjoy while waiting for your conversion. Below are the effortless steps to follow in doing so.
Step 1Click ADD YOUR FILES. Then download the AVAide Launcher by clicking Download from the pop-up window, and click Open.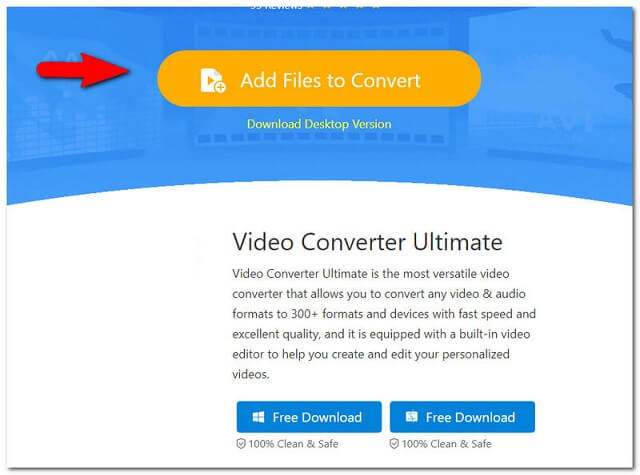 Step 2Upload your WMV file from your computer to be converted. To add additional files, click Add File.
Step 3Choose the MOV or MP4 format. Click Convert, then choose your preferred storage for the converted file.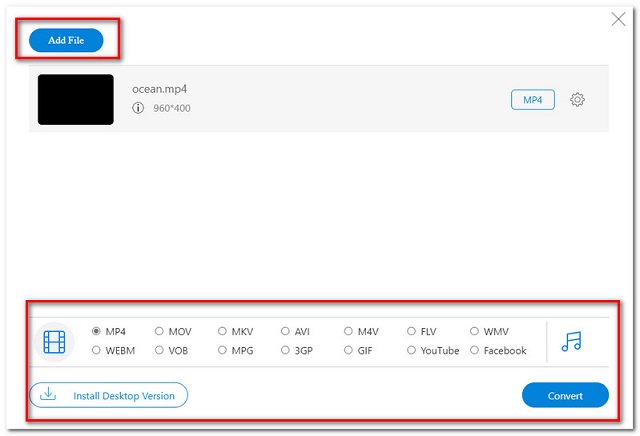 Step 4Wait for the conversion process to finish, then check your chosen storage for the converted files.
How to convert WMV to iPhone with FreeConvert
FreeConvert also helps you convert video files to formats supported by iPhone. Like the AVAide Free Online Converter, it is also practical to use. Besides converting WMV, it can also convert MP4 to M4A. The steps below show the process on how to convert WMV to MP4 on iPhone.
Step 1Click Video Converters and tick on the button to choose the file format or device.
Step 2Import the file that you need to convert with the Choose Files button. Choose among the options on the drop-down list where your file is derived from.
Step 3Select a format that you need. Then start the conversion by clicking the blue button indicating Convert to.
Step 4Wait for it to finish, then download and save the converted file.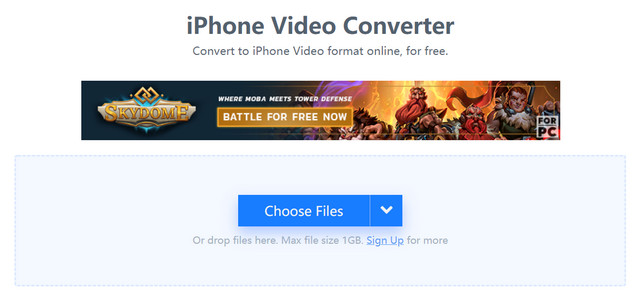 How to convert WMV to iPhone via FileZigZag
Unlike the other tools, this FileZigZag looks confusing at first glance. Hence, you will be accustomed after exploring it. Please refer to the steps below instructing ways to convert WMV to play on iPhone.
Step 1Go to the FIleZIgzag Website.
Step 2Click Browse for Files and upload your file.
Step 3Select IPHONE under Target Format.
Step 4Click Start Converting.
Step 5Wait for the conversion process then download.

How to convert WMV to iPhone using Online Converter
Another way of converting is through Online Converter. This site looks simple, but you might experience lagging. Hence, you need to retry if this happens.
Step 1Visit the Online Converter website.
Step 2Under Video converter, click the arrow down beside Convert for and choose iPhone.
Step 3Click Choose file to select the file that needs to be converted, then upload.
Step 4Choose Video to MP4 if you wish to convert WMV to MP4 iPhone.
Step 5Wait for the conversion process then download and save.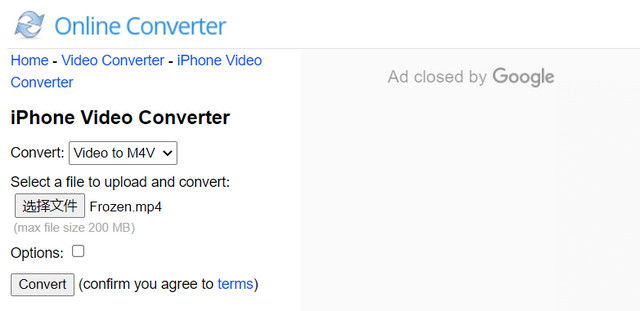 Part 4. FAQs of WMV to iPhone/iPad Conversion
1. Why should I convert WMV to iPhone?
iPhones encounter errors when playing videos with a WMV format. Therefore, for iPhone users to be able to access this kind of video, they must convert it to a format that is supported by iPhone.
2. How long does it take to convert a movie to WMV from my iPad?
The span of converting a movie depends on the converter tool to be used. You can use a handy tool like AVAide Video Converter to convert iPad video to WMV in less than 5 minutes.
3. Why Can't I play WMV on my Macbook?
WMV, which is developed by Microsoft, does not work with Apple products including MacBook. For you to play a WMV formatted video on your MacBook, you have to use a video converter first. AVAide Video Converter is a good choice.
Conclusion
We are living in an innovative world of technology. Encountering technological issues is usual. After all, there will always be a counter solution. This article exemplifies how to solve the problem of WMV with Apple products. Just by using an ideal tool like the AVAide Video Converter, at once, Apple users worry no more. They can transform their files that will be useful to their iPhone free of trouble, anytime anywhere. It can be used even as a DVD to iPhone converter. You can download and have a try yourself.
Your complete video toolbox that supports 350+ formats for conversion in lossless quality.