M4V is a video file holder created by Apple Inc. Thus, it is protected by Apple's Fairplay copy technology. Given this, files with this format can only be played using Apple devices only, these include, the use of iTunes, iPhone, iPad, and more. This is being done to prevent privacy and not supported copy. It just simply means that this type of format doesn't support various devices such as the Windows phone and Android phones. That makes this video container inflexible and has compatibility limitations. If you have the same case, playing your favorite music videos on Windows and Android, it is better to convert your M4V to MP3. MP3 or short for MPEG-1 Audio Layer 3, has become the most commonly used audio format whether offline or through web streaming. Moreover, this type of format only offers low data file size. As a result, users are able to rip, distribute, and can easily share audio files via physical and online medium.
Part 1. Top-Performing M4V to MP3 Audio Converters
AVAide Video Converter
If you want to experience a full-featured M4V to MP3 converter, try to use the AVAide Video Converter. This tool never disappoints its users. The capacities of this converter are almost limitless. Once installed, you can explore first hand all the offers you can have from this solution. The speed is undeniably fast. Multiple formats are provided. Batch conversion is supported. Plus, an extra toolbox was made to edit and enhance your files. Better try exploring this tool by simply following these procedures.
Step 1Install the full-featured version
First and foremost, you need to open your web browser on your device. Then, get access to the official web page of AVAide Video Converter. Once landed, look for the Download button and install it.
Step 2Upload the M4V videos
The next thing we need to do is to upload the M4V videos by clicking the Add Files button. Files attachment can be done in groups to lessen your time picking and adding videos.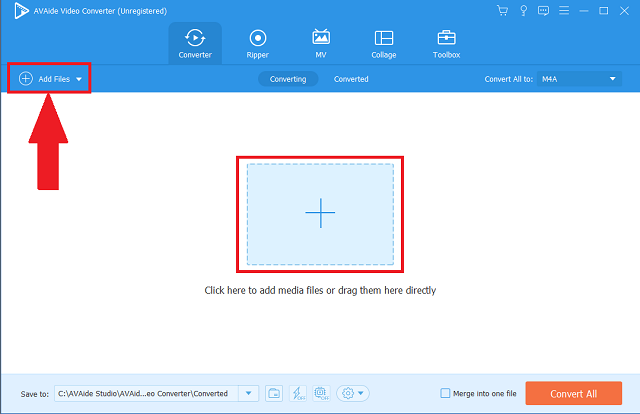 Step 3Change the file format
Thirdly, look for the menu bar and click the Audio button. Upon clicking, the available audio formats will appear right after. To instantly change all the formats to MP3, click the intended button from the Convert All panel.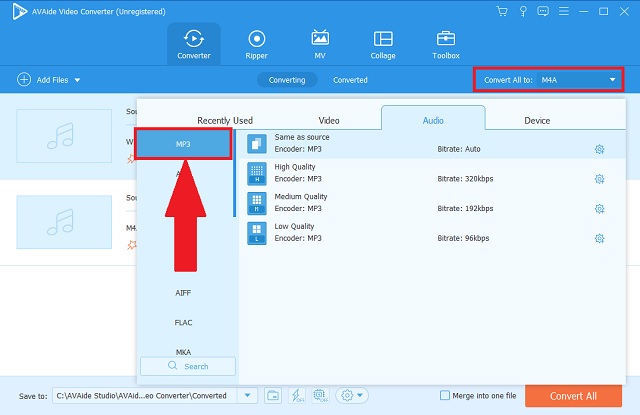 Step 4Start the quick process
Then, start the fast process by clicking the Convert All button. On the interface, there are also buttons for pausing and discontinuing the conversion.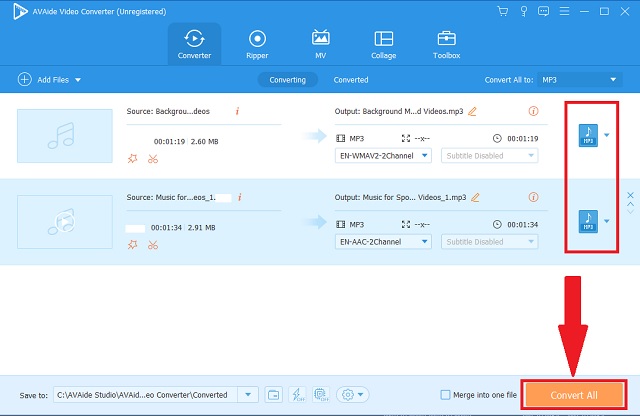 Step 5Check the file destination
Finally, to complete the procedure, double check your finished files on their local file destination.
PROS:
This tool stores different audio and video file formats.
It has an incredible speed made faster by advanced acceleration technology.
It is supported by known operating systems such as macOS, Windows, and Linux platforms.
It can work on simultaneous conversions happening at once.
The media toolbox is added for editing and enhancing options.
CONS:
Using the trial version has a limited time frame.
Part 2. How to Convert M4V to MP3 on Mac or Windows
1. iTunes
Another tool that can assist you to convert M4V to MP3 is on iTunes. This media player will absolutely assist you in changing your file formats. Its hidden converting feature will incredibly provide what you need. Go and utilize this media player by following these simple instructions.
Step 1Open the app on your device
Firstly, on the menu bar, look for the File button and simply click it. After that, click the Convert button.
Step 2Choose your output format
From the list of audio formats, click the MP3 Encoder button as your output container. Lastly, convert your raw videos.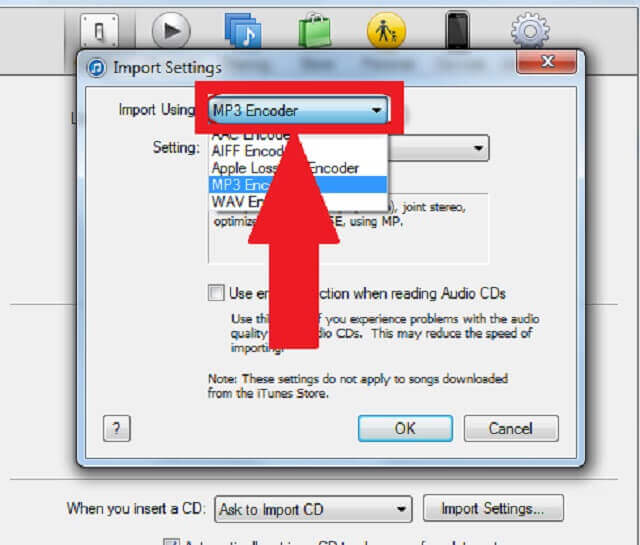 PROS:
This tool is the default media player for Mac.
File encoders were already written.
CONS:
Audio formats are few.
The interface looks outdated and not user-friendly.
2. HandBrake
HandBrake can convert M4V to MP3 on Mac or Windows operating systems. This known tool is already attested by many users, especially those who are on the media files. This works well through these basic steps to consider.
Step 1Install the HandBrake converter
Go to your web browser and download the app. Once installed, click the Source button to import your files.
Step 2Change into audio format
Afterwards, change the format setting to MP3 and click the Start button.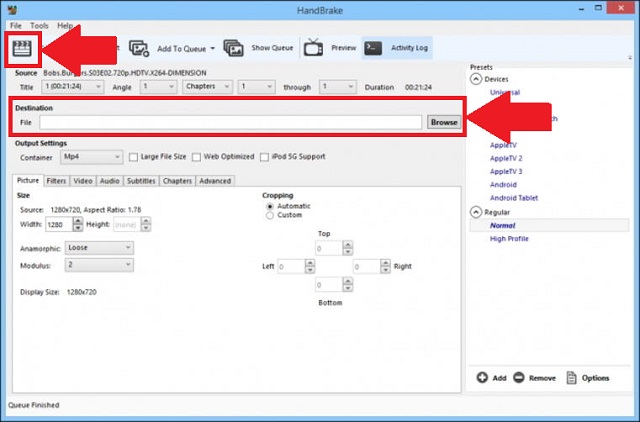 PROS:
This tool is a freeware program.
CONS:
The interface is quite incomprehensive
When converting in a group, the tool tends to experience glitches.
Part 3. How to Use an Online Tool to Convert M4V to MP3
AVAide Free Video Converter
If you are seeking a chargeless solution to convert M4V to MP3 for free, AVAide Free Video Converter is the perfect partner for you. This online tool covers almost the standard features of an excellent tool. Whether you're a first-timer of a professional, this is a total user-friendly solution. Better try this charge-free solution by seamlessly undertaking these steps.
Step 1Accessing the tool's official webpage
First off, access the tool's interface by simply visiting your platform's web browser. Go to the official website of AVAide Free Video Converter.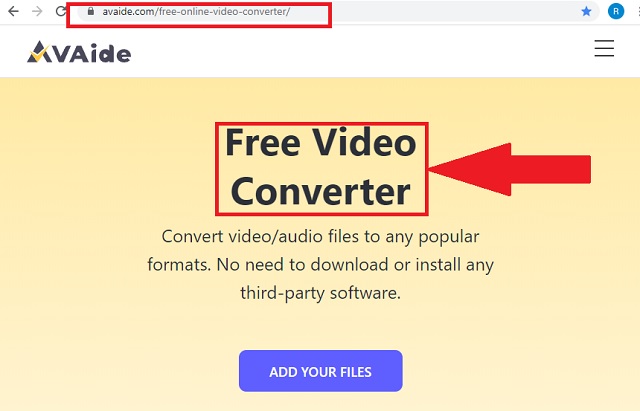 Step 2Adding the local videos
Secondly, click the ADD YOUR FILES button to import all your selected files. You may add in a group to ease your work and lessen the time consumption throughout the process.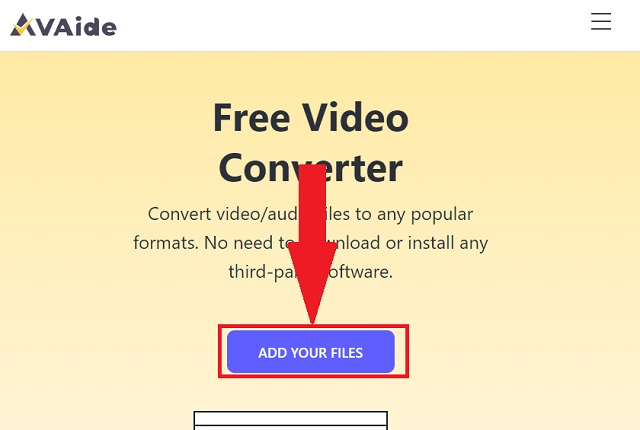 Step 3Setting up the new format
On the format panel, to generate all the unseen audio formats, click the audio icon. Among the list, choose MP3.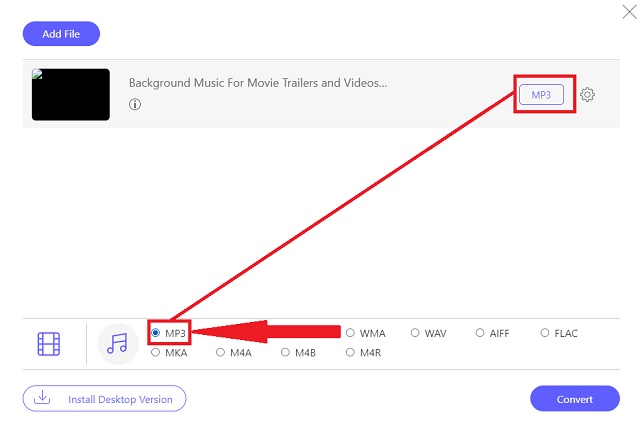 Step 4Converting the finalized files
Then click the Convert button to start the process.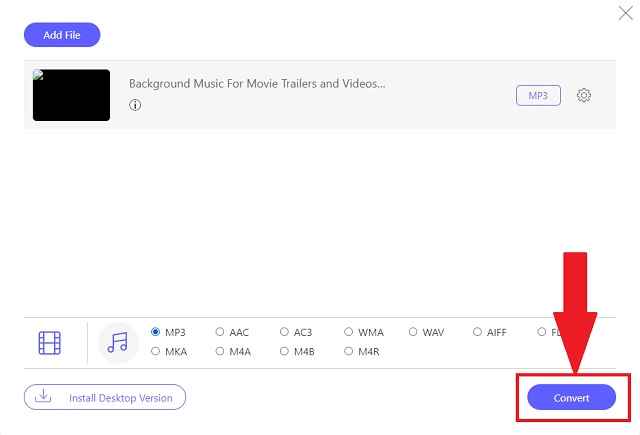 Step 5Completing the procedure
To check your newly converted files, Click the given folder icon beside each file. Once clicked, the designated folder of your files will automatically open.
PROS:
Web-based services.
Advanced speed.
Multiple audio formats.
Ads-free interface.
Synchronous conversion.
CONS:
Not full-featured as the desktop version.
Part 4. FAQs of M4V and MP3
What is the size of an MP3?
An audio file with 3.5 minutes only contains 30.73 MB.
Why do I need to convert files with M4V?
Simply because files with M4V type of format are protected by DRM. In short, we're not able to do sharing and reproduction. M4V to MP3 conversion is what you need. Use AVAide Video Converter to facilitate the process.
Can I play M4V files on Samsung TV?
There's no direct way to play videos with M4V on Samsung TV. You need to diminish the DRM-protection or convert into other formats.
Conclusion
The aforementioned various tools are all useful in our media needs, demands, and adjustment. The AVAide Video Converter, AVAide Free Video Converter, iTunes, and HandBrake will absolutely take the charge.To conclude, among all these converters, AVAide Video Converter possesses all the key capacities of a top-performing tool to convert M4V to MP3 on Windows and Mac.
Your complete video toolbox that supports 350+ formats for conversion in lossless quality.