As we engage and get used to the different changes brought by technology and media, it is necessary to make some adjustments to respond to the demands of our digital community. Similarly, we handle our device and media storage. We always find our storage consumed by different contents. As common users, not experts, are not aware that the file formats we have are not suitable on our device and media players. For instance, having VOB files that supports only limited platforms. We may be using them to play our favorite audio contents. As an answer, format conversion made it possible to switch their types into something more useful, portable, and compatible. This article encourages users to try excellent online VOB to MP3 converters for free and downloadable ones.
Part 1. The Best Desktop Tool to Convert VOB to MP3
AVAide Video Converter
The best full-featured desktop tool is the AVAide Video Converter. You can seamlessly explore the limitless capacities of this tool. The applauded features offer tons of media possibilities. In particular, it has the simplest procedures compared to other similar working tools. But its simplicity produces excellent products and quality outputs. Some of its differentiating features are, the advanced speed, batch conversion, long list formats, and most especially the added toolbox that can edit and enhance your files. Try this tool to convert VOB to MP3 on Mac, Windows, and Linux.
Step 1Go to your web browser. Visit the official web site of the converter. Once landed, you need to download and install it on your device.
Step 2Afterwards, upload your files quickly by dragging them on the interface or click the Add Files button. Add each file or in batch.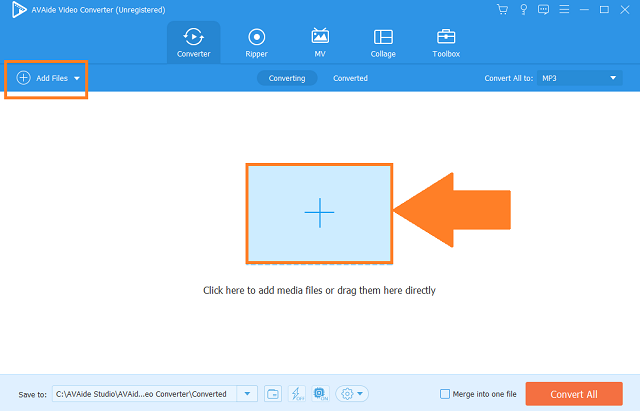 Step 3Then, click the Audio button to see all the audio formats available. Simply look for the MP3 button and click it. You can also adjust the settings or choose the original quality.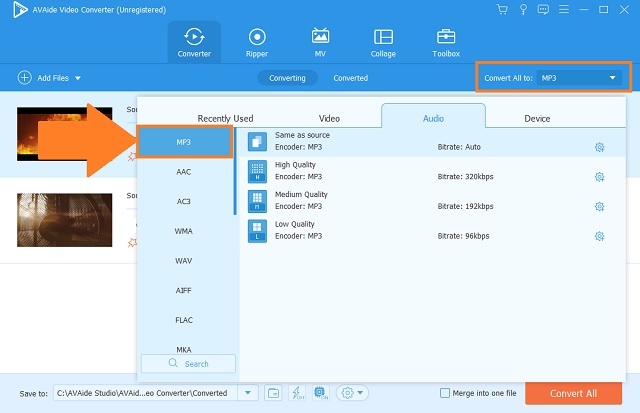 Step 4Now, click the Convert All button to start the process.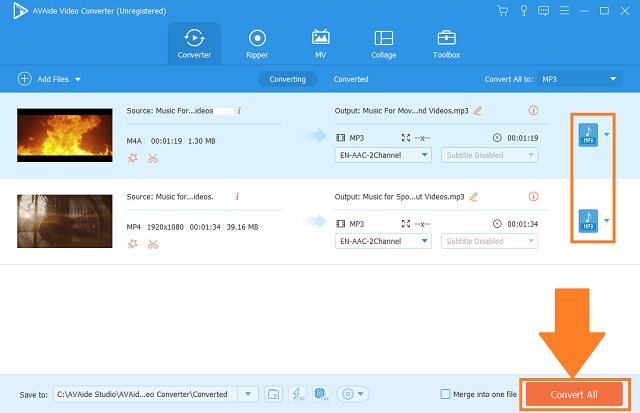 PROS:
The process run with fast-speed technology.
Multiple audio and video formats.
Aesthetic and comprehensive interface.
With high resolution and sound quality.
Made with extra toolbox.
CONS:
Limited on the trial version.
Part 2. Top 4 Attested Online VOB to MP3 Converters
1. AVAide Free Video Converter
Top on the list to change VOB to MP3 for free is the AVAide Free Video Converter. This only requires a stable internet connection and you're good to go. This is the quickest online method that can surely assist you. With its multiple formats attribute, your audio format switching will be an easy task to do. Try its reliability through these following directions.
Step 1Access your device's available web browser. Open the main website of the AVAide Free Video Converter.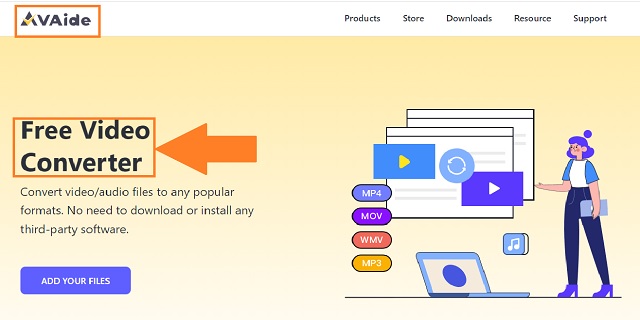 Step 2To add the local VOB videos, click the ADD YOUR FILES button. Group conversion works well in this tool without any quality loss.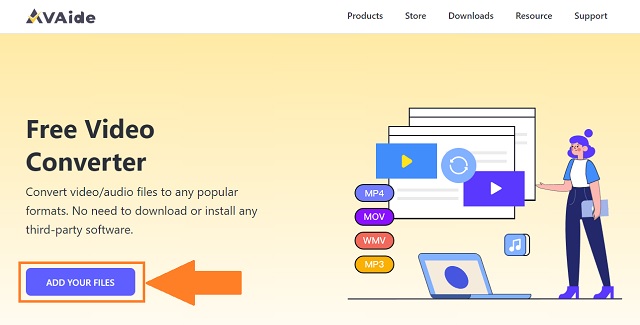 Step 3Click the audio icon to make the audio formats visible for you. Choose and click the MP3 button.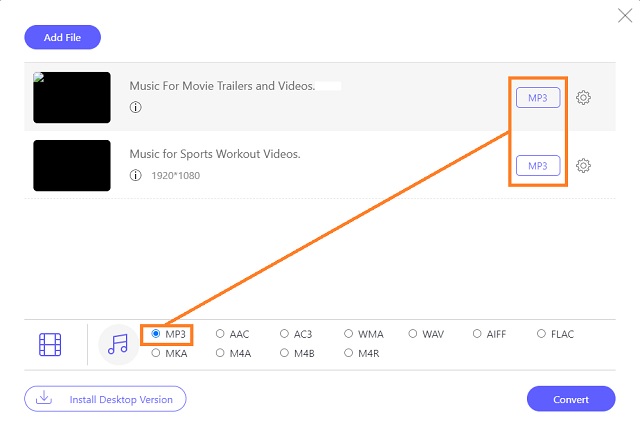 Step 4The next step is to start the file conversion by clicking the Convert button.
Step 5Lastly, to check the newly saved files, click the folder icon beside each finished converted file. This is to ensure that your audio files are saved straight to your local storage.
PROS:
Web-based application.
No advertisements included.
Long roster of formats.
Only requires a launcher.
Quick-speed procedures.
CONS:
Needs internet connection.
No extra toolbox.
2. Online-Convert
This other tool is widely famous for converting files into different formats. Online-Convert can easily convert VOB to MP3 for free. You can certainly leave the job, and put just a few efforts. What are you waiting for? Visit this tool on your browser and start using it.
Step 1On the interface, simply locate the Audio converter panel. To see the offered formats, click the Select target format… button. Find the Convert to MP3 option and click its button.
Step 2Secondly, click the Go button and upload your local files.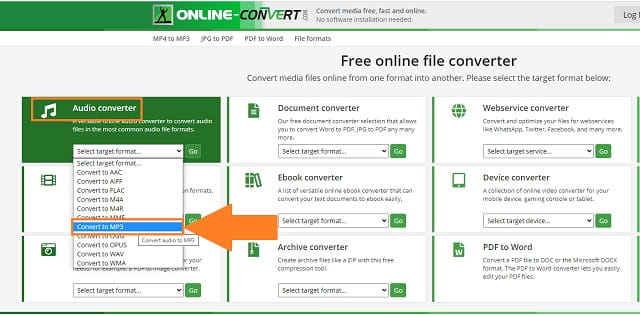 PROS:
Numerous target format preferences.
Completely free to use on your web.
CONS:
Has advertisements on the web page.
Incomprehensive graphics.
3. Convertio
Ranked number 3 among the online VOB to MP3 converters is the Convertio. It's a reliable tool that offers different audio and video file containers. This is one of your go-to media partners. Below are simple ways to follow.
Step 1Firstly, open the tool on your web browser, Then, click the Choose Files button to transfer all your old VOB videos.
Step 2Choose the MP3 format button. To be followed by clicking the Convert button to start the operation.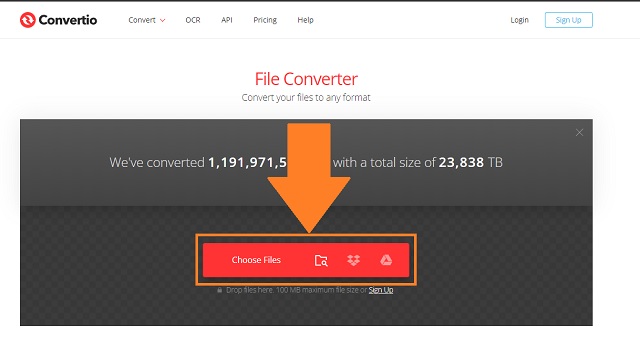 PROS:
Online program for free.
Provides multiple formats for audio and video.
CONS:
Need to be refreshed when converting another batch.
4. CloudConvert
The last solution to convert VOB to MP3 on Windows and Mac is the CloudConvert. The popularity of this tool can amazingly adjust your file formats.
Step 1On the tool's interface, you can import your selected files by clicking the Select File button.
Step 2After that, on the Convert to panel, click the arrow icon. Choose the MP3 and start converting.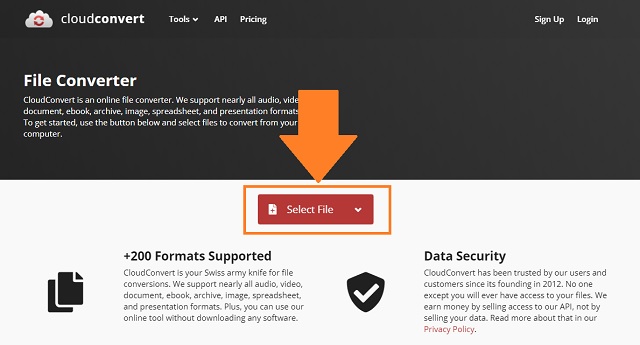 PROS:
Simple webpage and easy to use procedure.
It contains preset properties.
CONS:
Limited bandwidth.
Large files cause glitches.
Part 3. What is VOB?
VOB Video Format
VOB which stands for Video Object or Versioned Object Base was natively created specifically for DVD-Video media. It can store different file contents such as videos, audio, subtitles or text, navigations contents, and menus for DVD. As being said, a native DVD file format consumes so much space on your storage. As an example, a VOB file with 2 hours content consumes 4.7 gigabytes already.
PROS:
It can be burned on DVD and Blu-ray disc.
Universally supported and compatible in all DVD players.
CONS:
Large-sized content
Difficulties in editing clips
Encrypted
Not supported by Apple media players
Part 4. FAQs of VOB and MP3
Can I convert VOB to MP3 using VLC?
Yes, we absolutely can. How to convert VOB to MP3 using VLC Media Player is possible. Just access the hidden converting feature of the tool.
Can Windows 10 Media Player support VOB files?
Unfortunately, there's no direct way to play VOB files through Windows Players. The file format will require you to download and install a VOB codec. Or you can apply format conversion by using a software tool like the AVAide Video Converter.
Is MP3 a lossy format?
MP3 is a lossy file format. This simply means, the parts of the audio are shaved off to decrease the file size to a more compact level.
Conclusion
These aforementioned solutions have their various unique features. Undeniably, AVAide Video Converter, AVAide Free Video Converter, Online-Convert, Convertio, and CloudConvert, can completely solve your media concerns and issues with effortless actions. But the best tool that can provide all your needs is the AVAide Video Converter. With this, you can conveniently change your VOB to MP3 and you will worry no more!
Your complete video toolbox that supports 350+ formats for conversion in lossless quality.