MPEG or short for Moving Picture Experts Group is a media container that combines the MPEG-1 or MPEG-2 audiovisual formats. Videos with this type of format are ideally useful for several web streaming online applications. Moreover, this video format is natively proprietary. In short, it's not a good format for data editing. Because of its large-sized content, it will take up a bunch of space in our storage. Given these conflicts and issues, many suggested that it would be better if we'll find other formats suitable for our needs. And if you're just playing the videos mainly for listening purposes, consider changing MPEG to MP3. This write-up offers different excellent converters to meet our demands and media needs.
Part 1. The Need to Convert MPEG to MP3 Audio Files
The MPEG and MP3 are two useful media formats focusing on their utility. However, the other is better than the other in terms of their usage. There are different reasons why we should convert mpeg to mp3. Especially when our prime purpose is merely listening to various audiobooks, musical playlist, recorded radio broadcasting, and playing different official videos from bands, artists, and more. Given below are simple explanations about the similarities and differences of the two useful formats and why we need to convert MPEG to MP3.
MPEG Video Format
MPEG, which stands for Moving Picture Experts Group, was initially designed for DVD and Blu-ray disc contents. This only deals with video subjects. Files with this kind of format contain high quality attributes. As said, they store a large space on your file storage. It would be hard for someone to transfer MPEG files to others.
MP3 Audio Format
MP3 is just a portion of the bigger first version of MPEG known as MPEG-1. This is derived from the full version of MPEG-1 Audio Layer 3. This was made for the portable music players and devices. Plus, its popularity boomed for its tenth less space than other video and audio files without any discernible quality reduction.
You don't consume your battery life with the video content of your file. Converting MPEG videos to MP3 is an ideal option for playing different audio contents. Below are reliable offline and online converters we can use.
Part 2. How to Seamlessly Convert MPEG to MP3 Using Offline Tools
Use AVAide Video Converter
The best tool to experience all the key features of a high-quality audio converter is with the help of AVAide Video Converter. This tool amazingly provides almost all of our needs. It can seamlessly convert MPEG to MP3. It exemplifies on the following distinctive features, such as the advanced speed, long list of audio formats, batch conversion, high sound quality, and the added toolbox. Explore all these benefits by simply following these convenient procedures.
Step 1Download and install the software
First, visit the official website of the AVAide Video Converter on the web browser of your device. Upon visiting, look for the download button and install the app right away.
Step 2Drag the MPEG local files
Secondly, click the Add Files button. At this point, you can freely import as many files as you can. This tool totally supports batch conversion without quality loss.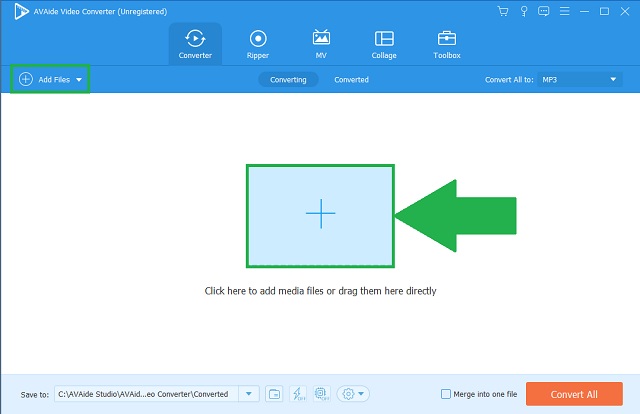 Step 3Select the MP3 as output
Afterwards, on the menu bar of the converters, click the Audio button. Once clicked, all the audio formats will automatically appear. Go on clicking the Convert All panel to change in once your files' format.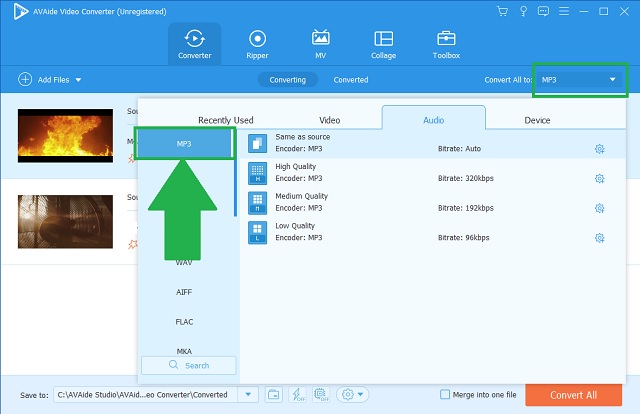 Step 4Convert the finalized files
Click the Convert All button to start the quick transformation. You can either pause or stop the process by clicking the intended buttons.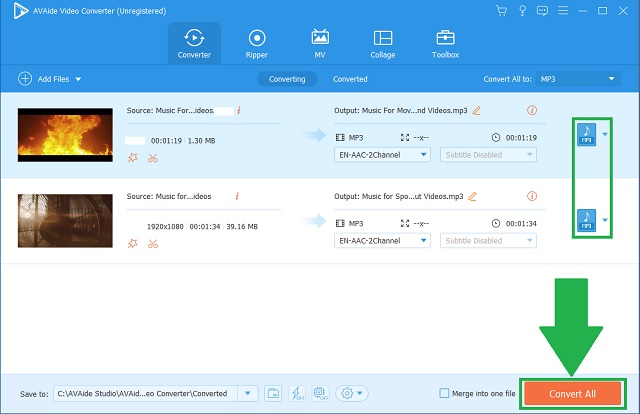 Step 5Examine the saved audios
Lastly, check your saved files on their local storage.
PROS:
This tool is a multi-format audio converter. It contains different supported containers.
It supports different operating systems such as the macOS, Windows, and Linux platforms.
The speed is advanced and 30x faster than its rival tools.
Batch conversion works well in this tool.
An additional media toolbox is given on its full-featured version.
CONS:
Upon installing the trail version, you're only allowed to use the trial version.
2. Use VLC
Another program to consider is the hidden converting feature of the VLC Media Player. This will absolutely teach you on how to change a MPEG audio to MP3. Try this tool at the comfort of your skills.
Step 1Open the freeware
Open the VLC Media Player on your device. Once accessed, look for the Media tab button and click it. Then, click the Convert button.
Step 2Upload the M4A videos
Afterwards, click the Add button to upload your old MPEG videos.
Step 3Change to MP3
From the list of audio formats, simply click the Audio–MP3 button.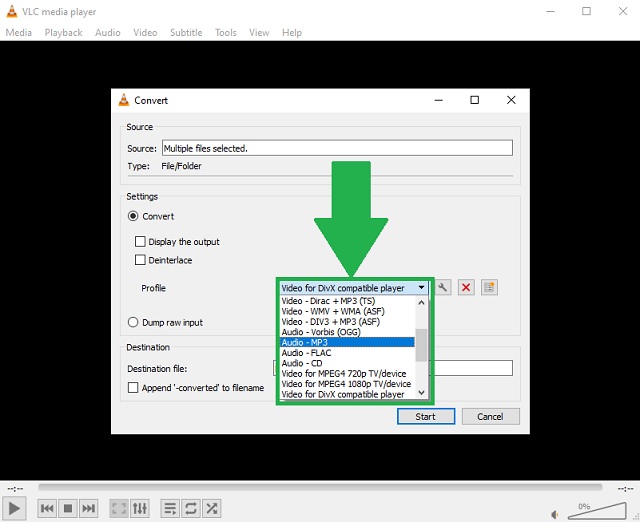 PROS:
It has a preview panel during the conversion of files.
This is a built-in tool for Windows.
It offers a screencast capacity to record your desktop screen.
CONS:
Since the tool was made specifically for playing files. Formats are very limited.
The interface looks outdated and incomprehensive.
Use iTunes
This tool fortunately accommodates your concern on how you can use your Apple for MPEG to MP3 conversion. This is also a default app for Mac but you can also download it on your Windows operating system. Make use of this solution by following these quick guidelines.
Step 1Access the program
To start the process, click the File button on the menu bar of the tool. Then, click the Convert button as your option.
Step 2Adjust the format preference
On the shortlist of audio converters, easily click the MP3 Encoder button. After that, you can now start converting.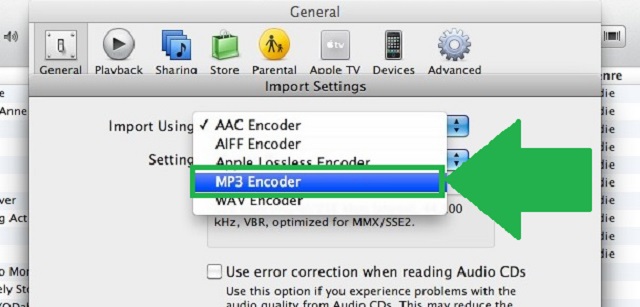 PROS:
It has a feature for audio conversion.
Formats are written with their corresponding encoder types.
CONS:
Hard to use. Listed only a few audio formats.
Part 3. Online Methods to Seamlessly Convert MPEG to MP3
1. AVAide Free MPEG Converter
The top on the list on how we can convert MPEG to MP3 online is with the aid of AVAide Free MPEG Converter. Just like the desktop version, it can also offer the same key features. The only differentiating factor is, this tool is completely a web-based program. All you need to have is a stable and strong connection to navigate all the unique attributes of the solution. Below are simple steps to follow.
Step 1Open the tool's website
To use the AVAide Free MPEG Converter, go to your gadget's web browser and search the official web site of the tool. Once accessed, the intuitive interface will appear. Make sure that you're connected with a stable internet connection.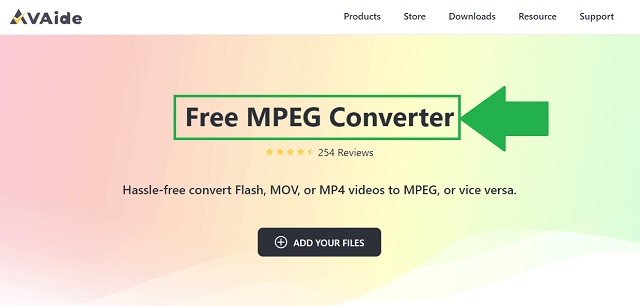 Step 2Import your old videos
To import your files, click the ADD YOUR FILES. Add your files in groups to lessen your time consumption. After all, this is a fast-speed tool.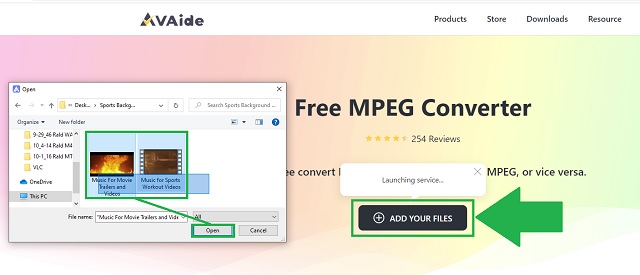 Step 3Change your output format
Click the audio icon to see the available audio formats. Click the MP3 button.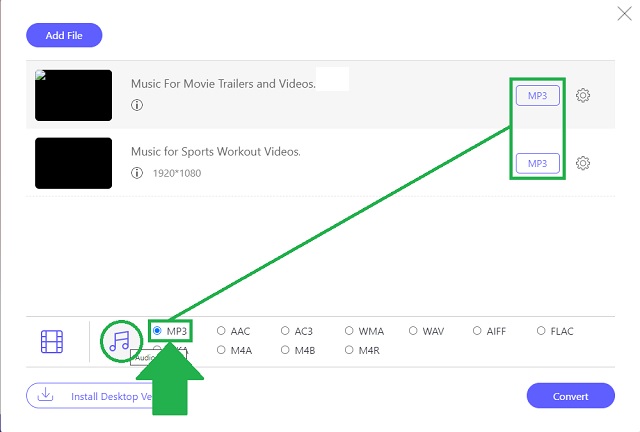 Step 4Convert your selected files
And then, you need to click the Convert button to start the procedure.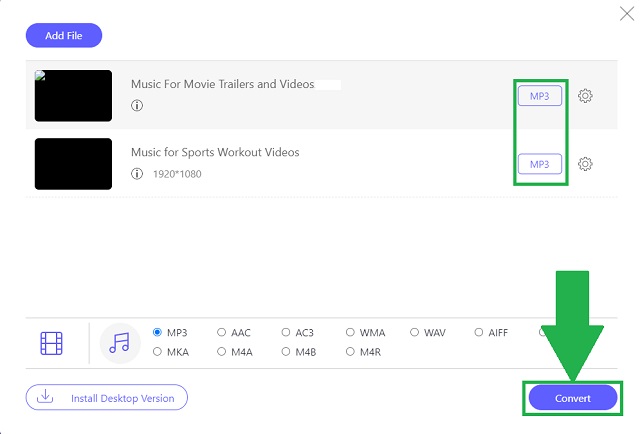 Step 5Check your converted files
The last step is clicking the folder icon beside the finished file. Once clicked, it will automatically lead you to the location of your saved files for an instant access.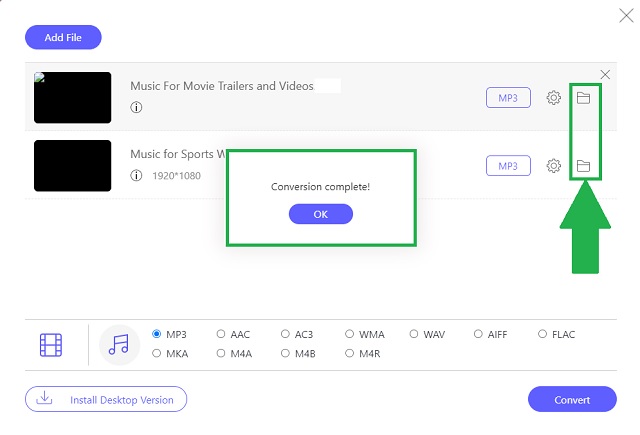 PROS:
It's a web-based program.
With advanced speed acceleration technology.
Multiple audio formats with high sound quality .
Without any ads, fancy banners, and watermark.
Group conversion that works simultaneously.
CONS:
Not a full-featured tool. This is without an extra toolbox.
2. Convertio
On the other hand, one way to convert MPEG 4 audio files to MP3 for free is by accessing Convertio. This also offers a chargeless usage. The program has a comprehensive way to use. Know more when you follow these quick steps.
Step 1Choosing the files
On the interface, click the Choose Files to upload your selected files.
Step 2Adjust the format preference
Adjust the format settings, choose the MP3. Then, click the Convert button.
PROS:
Extremely easy to use.
Up to 10 free conversions a day
CONS:
There's a need to install it on chrome or any web-browser.
Part 4. FAQs of MPEG and MP3
What limits MPEG files?
MPEG contains very large files. Due to its large-sized content, it will consume so much space in your memory. Instead of playing your files on MPEG format, convert your MPEG to MP3 on Mac or Windows using the AVAide Video Converter.
What works well with MPEG?
This format was developed for coding audio content, video, and even graphics.
How does MP4 differ from MP3?
MP4 can store both audio and video content. While MP3 is only for audio storage.
Conclusion
As a summary, these offline and web-based programs can really serve us. The AVAide Video Converter, VLC, iTunes, AVAide Free MPEG Converter, and Convertio can instantly teach us how to convert MPEG to MP3. As per different users, AVAide Video Converter outdid the expectations of both common users and professionals.
Your complete video toolbox that supports 350+ formats for conversion in lossless quality.