MPEG is a video file format that merges MPEG-1 or MPEG-2 video formats with audio formats. This format produces high quality duplications from their originals but is not efficient for your storage management. Also, it is not the advisable container for transmitting videos in several online audio and video streaming sites. Files are not flexible, which leads to poor editing videos. It means they are less editable. Unlike the FLV which is the top-choice format for works similar to these. Most video experts highly recommend finding ways on how to convert MPEG to FLV using exceptional solutions.
Part 1. 3 Best Video Converters to Convert MPEG File to FLV Format
1. Choose AVAide Video Converter for Windows and MacOS
If you're searching for a video converter for both Windows and MacOS, then you just have arrived with the right perfect solution. The AVAide Video Converter is the most-used software and with this program you can completely convert MPEG to FLV videos. No need to say, this will give you satisfying benefits for multiple exemplary features of file enhancing, compressing, and editing functions. Additionally, it's an ideal option to change the format of your videos in bulk because it has 50x acceleration speed. This one is the best, especially in terms of high-quality outputs. Learn the simplest procedures on how to maneuver this exciting tool.
Step 1Download and install the software
Get access to your web browser and open the official page of the AVAide Video Converter. Once accessed, simply download the tool and install afterwards.
Step 2Import the local files
You can seamlessly import your files, whether individual or in bulk, by clicking the Add Files button. Another option is to drag them on the center of the interface.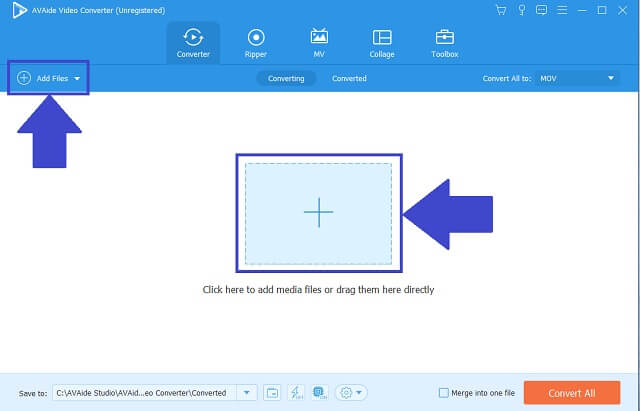 Step 3Choose the FLV format
Next, proceed to choosing your output format by looking for the FLV button and click it. Adjust the quality preferences or you can decide to keep the original settings.
Step 4Start the converting process
Now you can start the converting process by clicking the Convert All button. Upon completion, your FLV outputs will be saved straight to your local storage.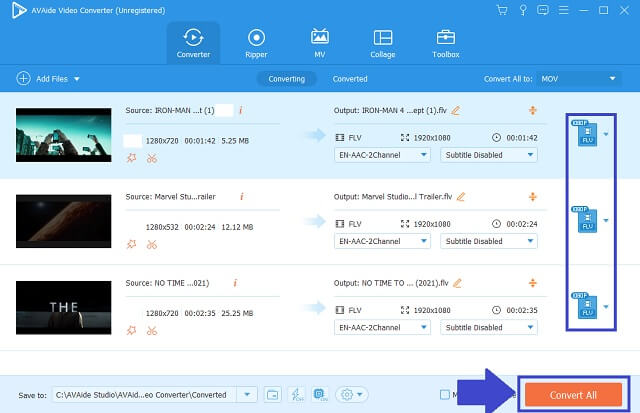 Step 5Check the saved outputs
Once done, your converted videos can now be maximized.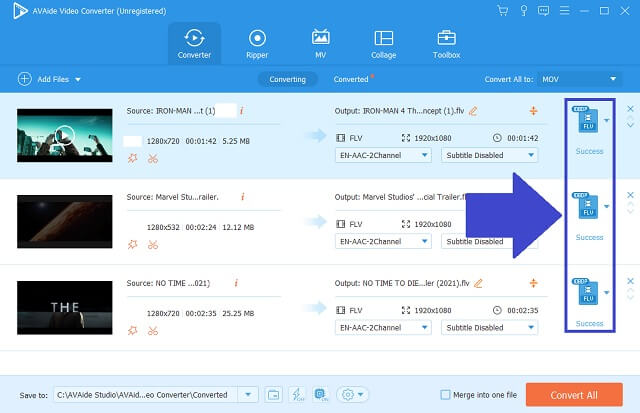 PROS:
Downloadable MPEG to FLV converter software.
Multiple formats for audio and video files.
Outputs are remarkably quality in standard.
Advanced speed technology.
Batch conversion is applicable and supported.
Media Toolbox is provided.
CONS:
Limited usage for free trial version.
DVD burner is not developed yet.
2. FFMPEG is a Tool to Utilize
Another tool that can assist you on how to convert MPEG to FLV is the FFMPEG. This freeware has many inbuilt buttons for its users to choose from. This includes screen recording, file trimming, media encoding, and even quick editing. Follow these simple steps to get engaged with this amazing tool.
Step 1Upload your MPEG videos
Open the webpage of the video converter and download it on your device. Upon installation, upload your videos by clicking the Add Files button and select the FLV format.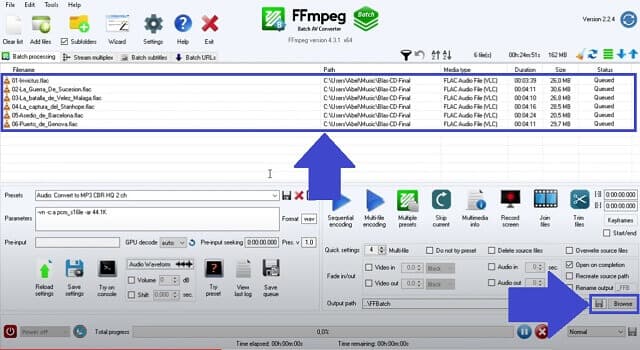 Step 2Start your work to convert
After that, you can now convert your files and browse them once the process is finished.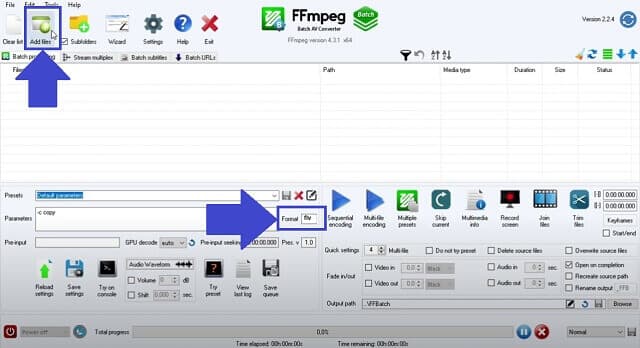 PROS:
This tool contains most used file formats.
It's freeware.
CONS:
You may experience a slow-speed when using bulk conversion.
It presents a lot of buttons that makes it incomprehensive.
3. A Web-Based Tool Like the AVAide Free Online Video Converter
AVAide Free Online Video Converter is an online tool with a unique and pleasing interface that will surely welcome you. This contains intuitive and simple buttons that will help you locate the buttons easily. Thus, it certainly promotes less-time consuming procedures. Absolutely, this video converter can convert MPEG to FLV for free! The service of this tool is also compatible for both Mac and Windows Operating System. Catch the experience by undertaking these convenient ways to use it.
Step 1Visit the official website
Open your browser and go to AVAide Free Online Video Converter. This online tool serves us a simple interface to prevent confusions and easily aid first-time users.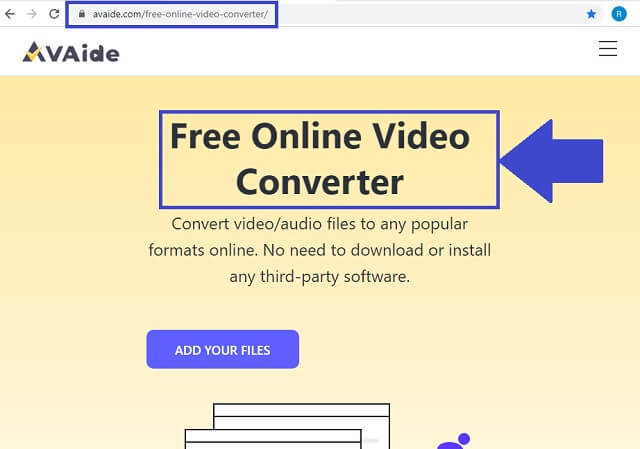 Step 2Add the local files
Then transfer your local MPEG videos by clicking the ADD YOUR FILES button. This online MPEG to FLV converter allows us to choose whether you will convert a group of videos simultaneously. This tool will never compromise the products' quality upon doing so.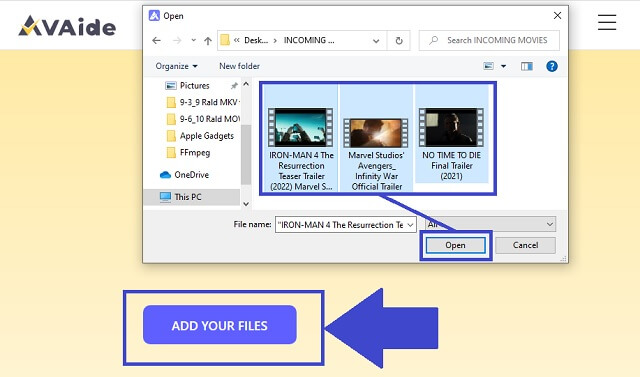 Step 3Select the output format
From the long list of formats, find the FLV and click its button as your changed container.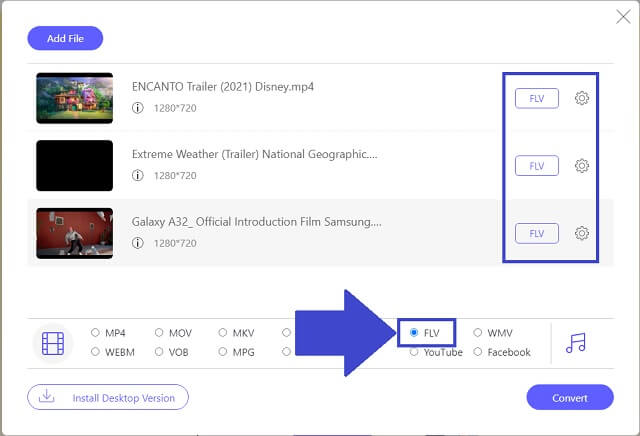 Step 4Begin the process of converting
Once format is finalized, you may begin to convert by clicking the Convert button. When clicked, the tool will automatically allow you to choose your files' designated location.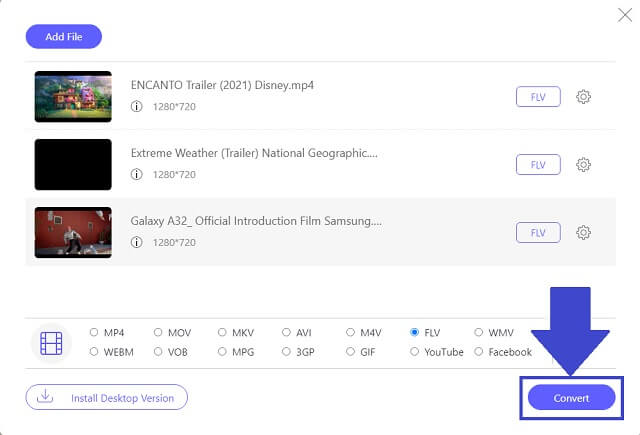 Step 5Examine the saved FLV videos
The process is completed! You can easily check your outputs once you click the folder icon on the rightmost part of the tool's interface.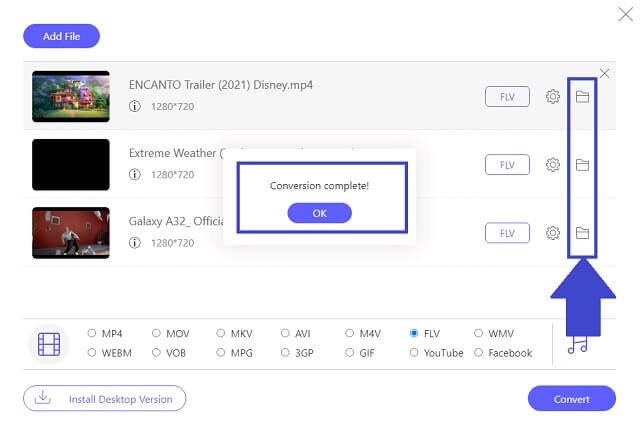 PROS:
This online MPEG to FLV tool can be used with a stable internet connection.
The interface is intuitive. User friendly for first timers.
This online platform supports most devices including smartphones and laptops.
Audio and video formats are readily available for conversion.
You can convert many files happening at once.
CONS:
You need to individually change the output format for each imported local file.
Part 2. Which MPEG to FLV Converter to Choose?
To check the distinct features of the two video converters. Here is a simple comparison chart that illustrates their similarities and differences.
TOOLS

Avaide Video Converter

FFMPEG
| | | | | |
| --- | --- | --- | --- | --- |
| Web-based and software | Windows and Mac | Batch Conversion | Tool Box | Fast-Speed |
| | | | | |
| | | | | |
As shown above, AVAide Video Converter shows exemplary in all the criteria for a top-performing video converter. The speed made faster by the advanced acceleration technology. Plus, the toolbox feature provides different panels for editing and enhancing media files. This tool is the standard for a modern quality video converter.
Part 3. FAQs of MPEG and FLV
These are the frequently asked questions regarding MPEG and FLV video formats.
What are the common drawbacks of MPEG formats?
First, MPEG files contain very high quality, and this may lead to low compression ratio or can be the file is large size. Thus, this will consume a lot from your memory space. Secondly, a large-sized file takes too long to open. Change your MPEG to FLV for better viewing and consumption.
How MPEG works?
This type of video format can achieve its standard compression rate by holding only the changes from one to another frame, not each entire frame. With this, other data is removed.
What is the meaning of FLV?
It simply means Flash Video. This format uses the Adobe Flash Player or Adobe Air to transmit to streaming websites. The file extension can be seen as .FLV.
Conclusion
To wrap up this article, FFMPEG video converter can surely offer you different services. Accordingly, AVAide Video Converter is our ideal all-in converter. Better to partner your media files with this tool for awesome results and seamless efforts. Change your MPEG to FLV, now!
Your complete video toolbox that supports 350+ formats for conversion in lossless quality.