TRP is a digital video file format with MPEG-2 video encoding specs. The .trp file extension is used for TRP files. TRP files are also referred to as MPEG-2 HD video files. It also holds digital audio encoded with the A3C codec. The TRP file type is a renowned internal format used by many available and satellite recorders. Even so, because it is not a format supported by many media players, it must usually be transformed further into a format such as FLV until it can be played. To playback TRP files, some people have renamed the extension from .trp to .flv. Besides, the .trp file format is comparable to that of .flv files. As a result, some people have been able to play them by simply changing the file extension. Nevertheless, neither of these two methods is proven. This post will illustrate how to convert TRP to FLV using some of the great converter tools below.
Part 1. How to Convert TRP to FLV Offline: The Prominent Desktop Tool
AVAide Video Converter
Convert TRP to FLV at the tips of your finger in no time with AVAide Video Converter. It is highly suitable software to convert your TRP files. It will provide you with high-definition video quality conversion with advanced features. Other than that, the speed process was 30X faster than the other converters. Furthermore, not all converters include prominent video compression, photo movie creation, and DVD ripping features. You can find the additional features in most paid apps on their own. But with this high-performing tool, everything you need in a converter comes in one. The instructions given below can be followed to use AVAide Video Converter as a trustworthy TRP converter.
Step 1Open your browser and install the converter
First and foremost, go to the AVAide Video Converter page. Download and run the application on your computer or hit the download button above for a quick download.
Step 2Import the TRP files
Afterward, click the Add Files button in the upper right corner of the interface to upload your file.
Note: By ticking Add Folder, you can import the entire folder.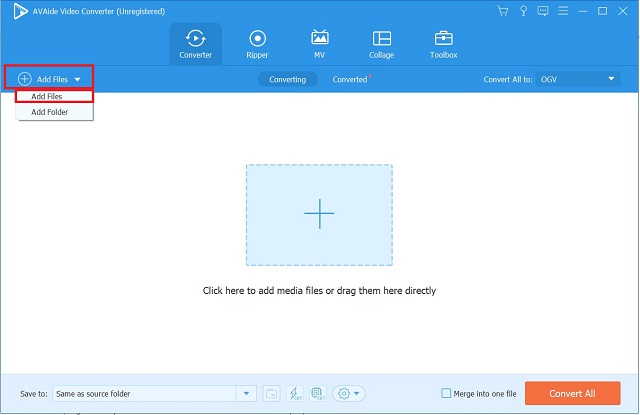 Step 3Select the preferred format
Tap Convert All to > Video Tab > FLV to choose one format.
Tips:
By selecting

Custom Profile

, you can change the settings for your video output. You can customize the audio, resolution, bitrate, frame rate, and video quality.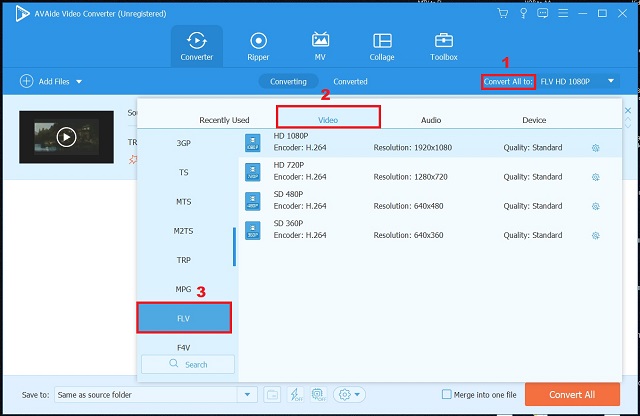 Step 4Change the subtitle and audio track
After modifying the video output settings, you will be reverted to the main interface. Using the drop-down menus below the Output box, you can change the audio track and add subtitles.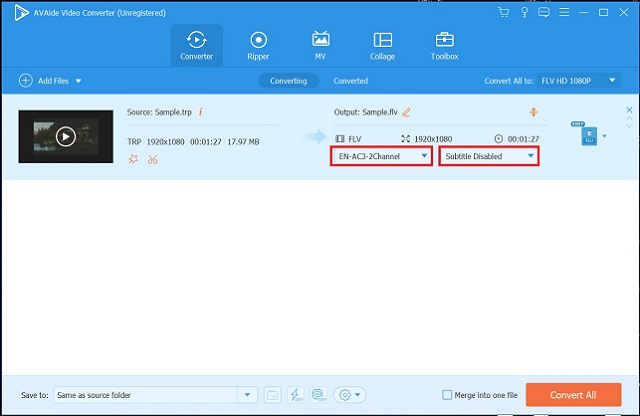 Step 5Equip the acceleration technology
Next, spot the Hardware Acceleration icon at the bottom of the interface to convert your files 30 times faster. After which, click the Enable Now button to activate it.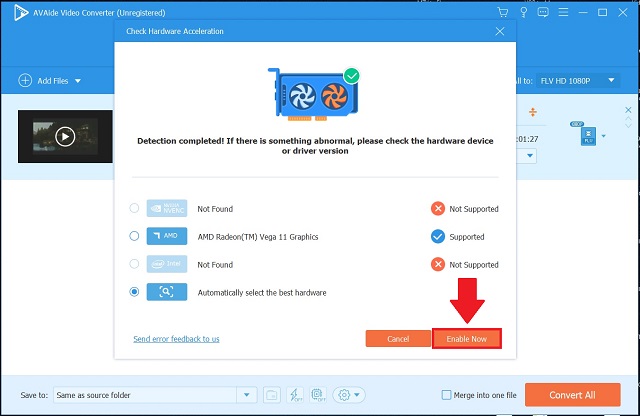 Step 6Initiate the conversion
Finally, tap the Convert All button in the lower right corner of the interface and wait for the conversion to complete once everything is ready.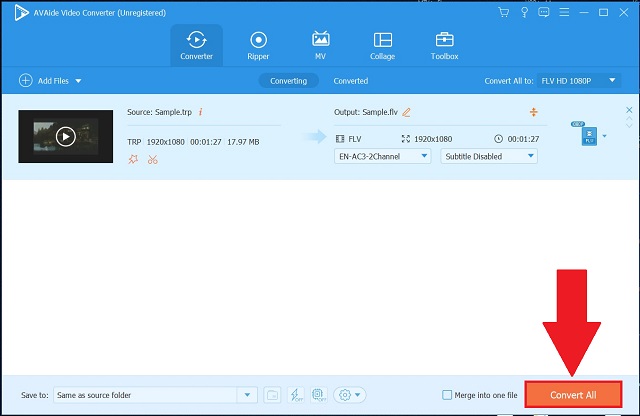 Part 2. How to Convert TRP to FLV Online: The Free Online Tool
If you want to try out an online TRP converter application before deciding on one of your options, one of the most proficient TRP file converter tools is listed below. Try it for your convenience.
Online-Convert
It is one of the most widely used online tools for transforming a variety of video formats to MP4, including MKV, AVI, MOV, FLV, and others. As a result, Online Convert is an excellent online video to MP4 converter. The program allows you to convert files from your PC, Dropbox, Google Drive, or a URL. The tool also allows you to edit your files by changing the screen size, video bitrate, audio quality, and other settings. Learn the steps below on how to convert TRP to FLV online quickly.
Step 1Run the Online-Convert
Initiate the online tool. Then, in the upper right corner of the interface, type in the file format you wish to convert.
Step 2Choose the conversion too
Hit Go to learn about the app's various conversions. You choose between image, document, audio, video, ebook, and archive converters on the main website.
Step 3Convert now
Enter your preferred format from the drop-down box in the appropriate field. You will be taken to a new page where you can search for your file, enter its URL, or save it from your storage device. To finish, select Convert File.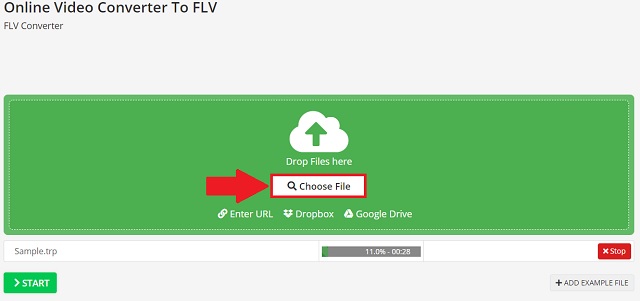 Part 3. Brief Summary of TRP and FLV Video Format Short Overview of TRP
TRP is a container extension that can store both audio and video data. The audio in the TRP file is encrypted with A3C, but still, the video is in MPEG-2 format. Once loaded in the main container, i.e., TRP, the video then uses digital transit protocol to telecast the audio-visual information over long distances. The fact that TRP provides DVD-quality images and sound to viewers is worth mentioning. TRP files are used for DVD streams by certain definite TV boxes and video recorders. These .trp files are saved and played using video players and multimedia tools. Other digital video converters and editing software can create, open, edit, and convert TRP files into other regular digital video formats.
Short Overview of FLV
Flash Video (FLV) is a prevalent video streaming format. It is ideal for network broadcasting due to its small video file size and easy encoding and playback. For a long time, early video websites used the FLV format for streaming video. Because of the close relationship between web browsers and Flash Player, it is simple to play FLV videos on websites using web browsers that support Adobe Flash Player, which contributes to the FLV video format's notoriety. FLV was created for the relatively slow internet service. Nowadays, FLV video is only favorable if your bandwidth is taken into account.
Part 4. FAQs TRP and FLV Video Formats
Why can I not open TRP files?
More than its compatibility problem, it is possible that your TRP file is corrupted or it is infected with harmful malware.
Where can I use the FLV video format?
FLV is an excellent format for online streaming platforms such as YouTube. They have a small file size, making them simple to download.
What are the upsides of FLV?
Flash can be viewed using broadband, dial-up, and even slower, older computers. A wide range of video files can be quickly converted to FLV format.
Conclusion
Even though all of the TRP converter programs aforementioned are uniquely versatile, AVAide Video Converter is the only one standing above the rest. In addition to being available for both Mac and Windows, the software includes a built-in screen capture section that provides a screencasting tool, webcam capturer, and voiceover recorder, making the software a full-fledged production and post-production app for both professionals and newbies.
Your complete video toolbox that supports 350+ formats for conversion in lossless quality.