Have you ever received a .3GP file extension but haven't been able to view it on your desktop? Or, have you ever experienced playing a 3GP file only on your mobile phone? That will not be a problem anymore. 3GP files are multimedia containers on 3G mobile phones. It implies that 3GP video formats are only intended for mobile phones. The disadvantage of this format is that it is not supported with many programs and devices, mainly Windows and Mac. If that is so, you may need to convert your 3GP file to a universally supported format like FLV to make it compatible with other devices. This post will help you convert 3GP to FLV using the highly recommended tools online and offline.
Part 1. What are 3GP and FLV?
What is 3GP?
3GP is known as the 3rd Generation Partnership Project (3GPP). It is specifically intended for mobile phones. The inestimable boon of 3GP is its small file size. It is ideal for transporting videos between mobile devices since small files gobble up relatively limited data and space. Regrettably, one of its advantages is also one of its downsides. As a result of the small file size of the video, it gets a low resolution which makes the video playback unenjoyable. One more thing, despite its portability with mobile phones, it lacks compatibility with other programs. If you want to enjoy your 3GP videos, you may need converter software to convert 3GP files to a user-friendly video file extension.
What is FLV?
On the other hand, FLV, or the Flash Video Format by Adobe Systems Incorporated, is a video format designed to provide a high-quality video when streaming on the internet. It is one of the most-used popular video formats utilized by the many different streaming platforms today. One great thing about the FLV video format, it is compatible with many operating systems and programs. For this reason, you can easily convert your 3GP to FLV and enjoy your most-loved videos using different devices.
Part 2. Effortless Way on How to Convert 3GP to FLV in Windows and Mac
Taking Advantage of AVAide Video Converter
AVAide Video Converter is a suitable solution for you if you are looking for a powerful and flexible offline tool that will help you convert 3GP files without any fuss. It supports nearly 400 video formats, including FLV, MOV, 3GP, M4V FLV, MP4, etc. It also supports video to audio conversion with well-known formats such as MP3, AAC, WAV, FLAC, etc. Plus, video clips can be rotated, edited, trimmed, split, merged, cropped, enhanced, and compressed. Imagine? You can modify your videos before even converting them. What makes it more exceptional, it has a direct and user-friendly interface. Even inexperienced users will have no trouble using the software. Without any further ado, here is the comprehensive step-by-step guide to converting 3GP to FLV.
Step 1Install and launch the software
Open a browser and visit the official page of AVAide Video Converter. Install and run the application. You can use the download buttons above to install the software immediately.
Step 2Add your 3GP files
Drop your 3GP files in the middle of the interface or you can click the Add Files located at the upper left corner to upload your files.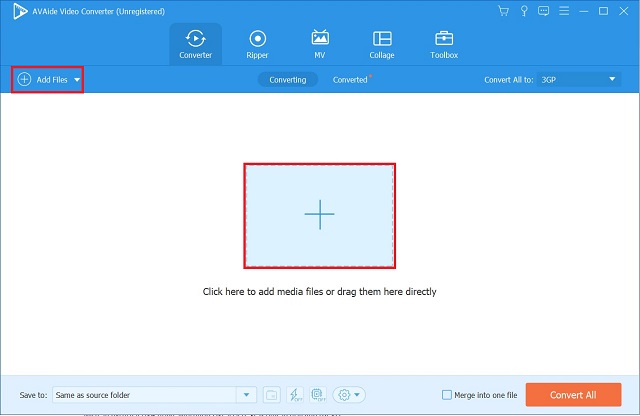 Step 3Preset your files to FLV format
After that, find the Convert All to button and click FLV from the list of video formats.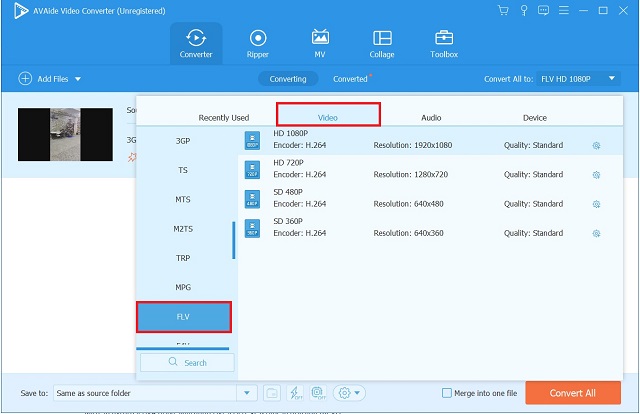 Step 4Convert 3GP to FLV video file
When everything is set, hit the Convert All. Wait for the process to finish.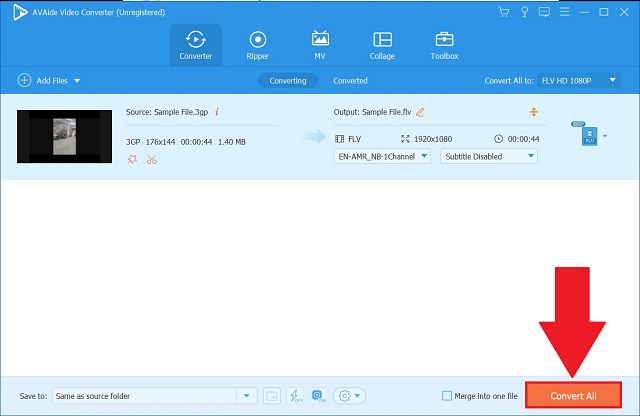 Step 5Check your converted FLV files
Finally, when the conversion is finished, tick the Converted tab to review your recently converted files. Or, you can hit the Folder Icon, and it will direct you to the file's destination folder.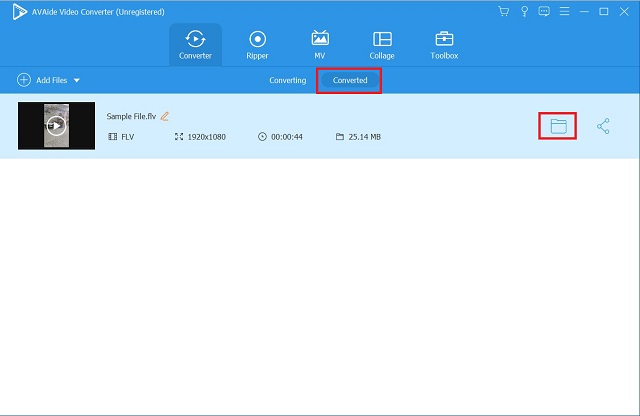 Part 3. The Practical Method to Convert 3GP to FLV Online for Free
Maximizing Convertio
Convertio is a freeware tool that converts files from one format to another format. It can transform video formats into more than five various file formats. You can use the software to import videos to other apps such as Google Drive and Dropbox. You can begin the conversion, leave the tool, and then wait for your files to be successfully uploaded to your cloud storage. Come to know the steps to convert 3GP to FLV online using Convertio.
Step 1Go to the official website of 3GP to FLV converter
First, visit the official website of Convertio
Step 2Import your 3GP files
After that, click Choose Files to upload your 3GP files. Or you can drag your files in the interface.
Note: You can upload a maximum of 100 MB file size.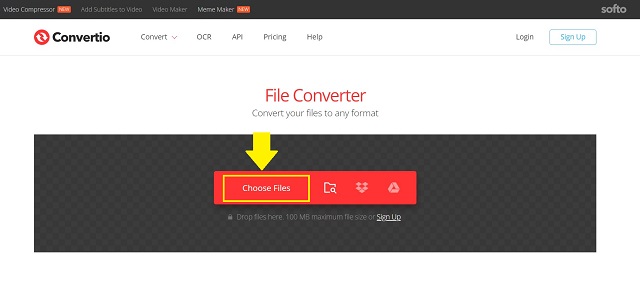 Step 3Select FLV as your new format
On the interface, click the drop-down menu. It will direct you to a list of different formats. Locate Video and click FLV as your desired format.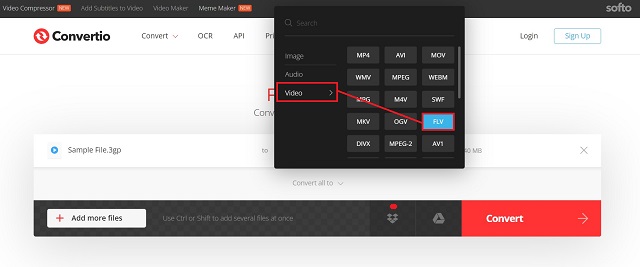 Step 4Convert your files now
After selecting the desired format, hit the Convert button located at the bottom right corner of the interface.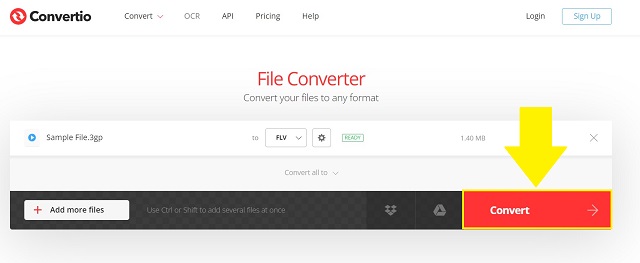 Part 4. FAQs about 3GP and FLV Video Format
Is 3GP a lossy format?
Surely, yes! 3GP is a video file type that is supported by 3G devices. It includes streaming video encoded with the H. 263 or H. 264 codecs, which are ideal for lossy video compression.
Which is superior in terms of quality: 3GP or MP4?
MP4 is the better format for video streaming on your desktop computer or media player since it supports higher resolution video. The 3GP, on the other hand, should only be used on 3G network phones because it was developed exclusively for them.
Is it possible to play 3GP files with Windows Media Player?
Yes. Windows Media Player can playback 3GP files. However, you may need to install a converter to play them properly, such as the AVAide Video Converter.
Your complete video toolbox that supports 350+ formats for conversion in lossless quality.