MOV is a native file format for Apple gadgets. It was developed as a default container for their iOS devices. Despite its high quality, this format carries and consumes so much storage space. This results in unnecessary glitches and distortion. Given these negative reasons, do you know that there's an easy way to resolve that issue? It is by using a downloadable MOV to FLV converter or through online. FLV is a great choice of changing file format. Especially, when you are a fan of preserving videos through different streaming platforms like YouTube. It is small in size responsible for a seamless download and reproduction. Given below are two powerful tools to enhance your MOV videos!
Part 1. How to Convert MOV Files to FLV using the Best Video Converter
Suggestively Try the AVAide Video Converter
AVAide Video Converter is an excellent tool intended on how to change MOV to FLV file format. This software allows you to experience a great range of video formats. Another distinct feature is that you can freely adjust the video output preferences including the bitrate, resolution, frame rate, and the video encoder. It has a batch processing feature to convert in a group simultaneously. Furthermore, you can enhance and edit your video with the toolbox feature given on the software. With all these bunch of unique features, let's altogether learn how we can convert our files using this attested tool.
Step 1Tool Installation
Visit the main website of the AVAide Video Converter. All you need to do is download the video converter. Once downloaded, install it on your device.
Step 2Files Selection
Files selection will happen when you click the Add Files button. Simultaneously, add as many files as you can for batch conversion.
Step 3Format Option
From the formats available on the interface, simply look for the FLV button and click it as your new file format.
Step 4Video Conversion
Afterwards, click the Convert All button to start the process. When finished, the new converted videos will automatically be placed in the local file folder you've chosen for your outputs.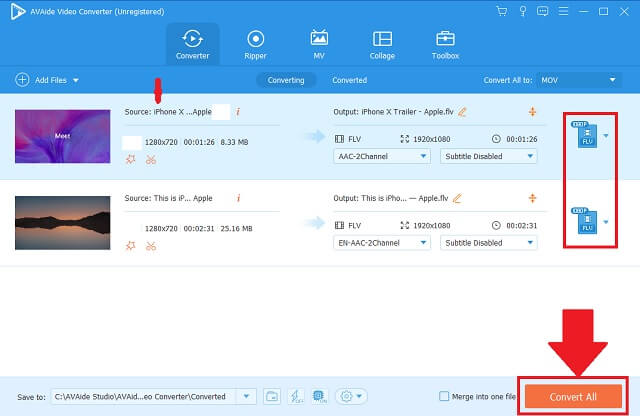 Step 5Process Completion
Check your files on their designated local folder once successfully done.
PROS:
When it comes to formats, this converter offers a long list of supported video containers.
It's a fast-speed converting tool for audio and video.
It can easily work in batch operation.
It is a downloadable software.
For the output's quality, you can adjust the settings to enhance the file even more.
CONS:
File links or video's URL from web videos are not supported.
Part 2. How to Convert MOV to FLV for Free
Utilize the VLC Media Player
The VLC Media Player is hugely famous in playing both of our audio and video files. It can be extended indefinitely to downloadable plug-ins. This tool can certainly be a MOV to FLV video converter. If you are a Windows platform user, you can easily do the job because it doesn't require you to download it anymore. It's already installed as a built-in converter. Try this one by following these basic steps.
Step 1Open the software
From your device, look for the VLC Media Player and click it to have access. From the Media tab, click the Convert button.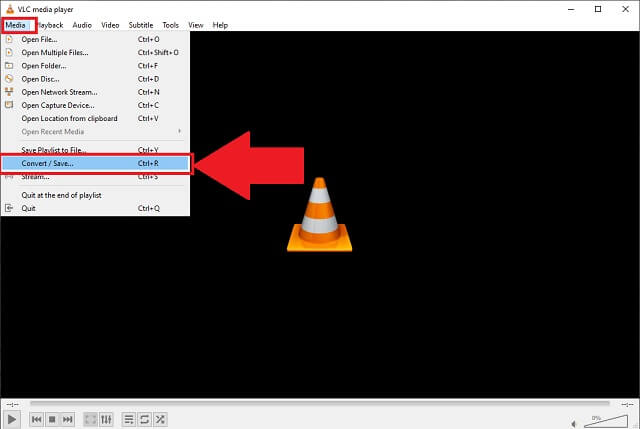 Step 2Add the MOV files
Browse the local files by clicking the Add button.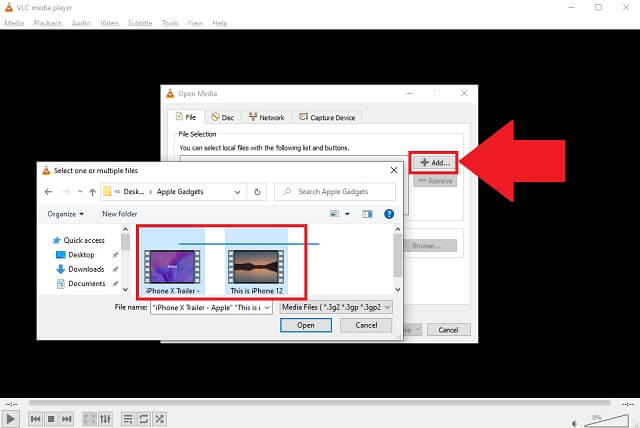 Step 3Select the FLV format
Click the FLV button from the list of file containers as your output format. Then, convert your videos.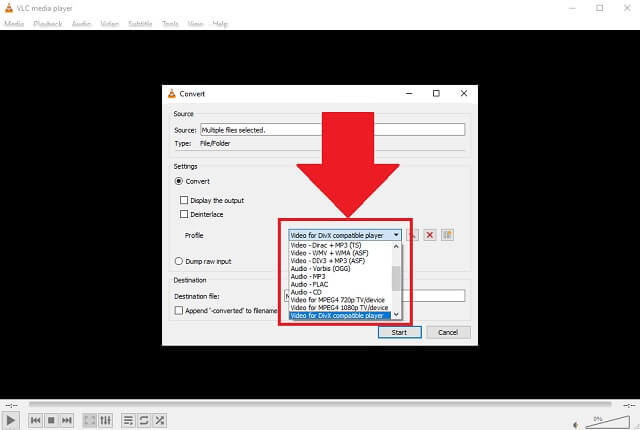 Benefits of Utilizing VLC
It's a built-in software on Windows platforms.
Well-known media player.
Shortcomings of Utilizing VLC
For Mac devices, you need to download it first.
A few lists of available video formats.
The interface is dull.
Part 3. Simplest Online Method to Convert MOV to FLV
Experience the Prowess of AVAide Free Online Video Converter
The quickest online method to undertake is with the aid of AVAide Free Online Video Converter. It is a hundred percent sure MOV to FLV converter for free without any charge. This free online tool supports multiple formats that are compatible for most used devices we have. It is reliable for both Mac and Windows users. It serves us a fast conversion speed especially in converting in groups without losing the quality of the outputs. Beyond these are simple procedures to undertake.
Step 1Accessing the web browser
Go to the web browser of your choice, open the official website of the AVAide Free Online Video Converter.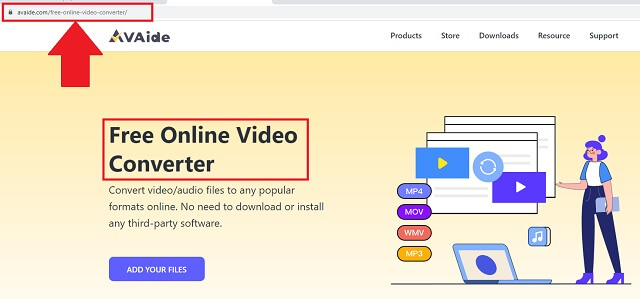 Step 2Uploading the MOV videos
Secondly, click the ADD YOUR FILES button to upload your raw files needed for a new format. Go beyond a single file and add more videos for group conversion.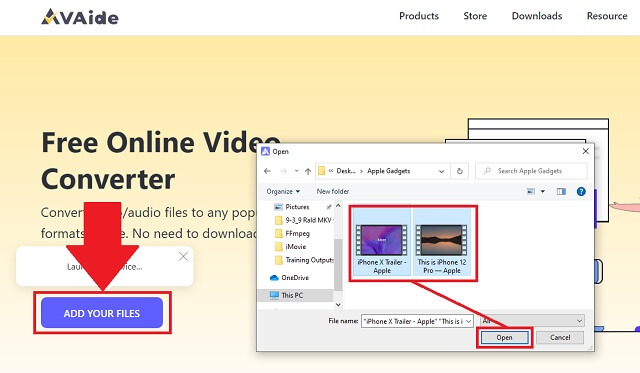 Step 3Choosing the new format
Among the available file containers, choose the FLV button for the output format.
Step 4Converting the old files
After adjusting the settings, begin the process by clicking the Convert button. Then, choose a local folder from your device where the completed files will be placed.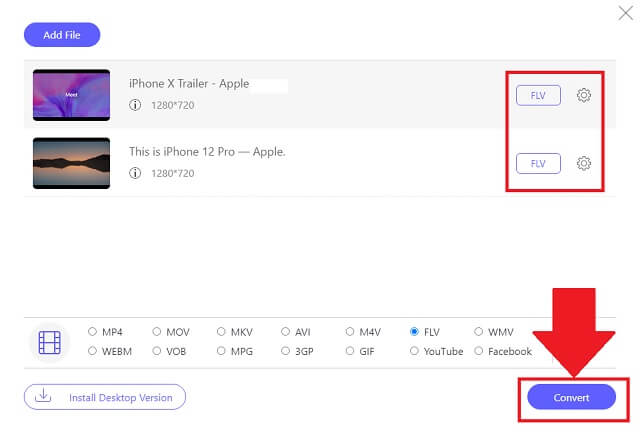 Step 5Checking the saved videos
To double check your outputs, see the folder icons on the right side of the interface. Click them to easily locate your converted videos.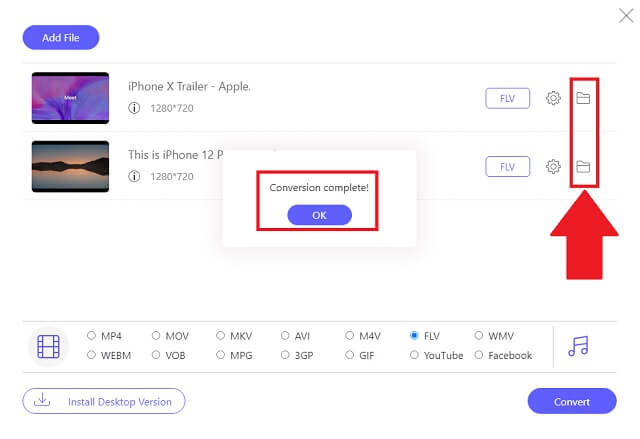 PROS:
It can convert MOV to FLV on Mac devices as well.
All you need is a stable internet connection to get access.
The free online tool offers multi-format features.
The speed is greatly advanced from other video converters.
It serves the users a comprehensive interface ready to use by anyone.
It is compatible with most devices.
CONS:
No button intended for group file conversion.
Part 4. FAQs of MOV and FLV
Is MOV a good format for videos?
MOV is undeniably a quality video file holder. Unfortunately, users with this type of format might experience glitches when using non-iPhone devices. This is a common problem from this format. Nevertheless, one may opt to use a MOV to FLV converter on mac for free like the AVAide Video Converter. This tool is immensely useful for similar needs like this.
Can I play MOV videos using Windows?
Yes, you can. However, you need to first download a MOV supported media player. Because this file holder is natively made for iOS devices.
Is FLV a lossless container?
FLV file format uses lossy format that is important for faster loading purposes and for transferring to other devices and platforms.
Conclusion
To sum up, AVAide Video Converter and VLC Media Player are both high performing video converters that can truly aid your need to convert MOV to FLV format of your files. Hence, between the two, AVAide Video Converter is your go-to FLV converter. It already gained a lot of trust due to its high-quality production in the media community.
Your complete video toolbox that supports 350+ formats for conversion in lossless quality.