MTS files, or known for AVCHD videos, are usually good containers for both Panasonic camcorders and Sony. Despite this, negatively, many don't use this format mainly because of its large-sized and incompatible characteristics. It's a must to incorporate the right MTS to FLV converters. Stay tuned as we provide you with the best format changers.
Part 1. Top 5 MTS To FLV Freeware Converter with Online Services
1. The Exceptional Services of AVAide Video Converter
First on our list is the website of AVAide Video Converter. It is an excellent software that would greatly aid you change MTS to FLV format. It allows you to smoothly choose videos and convert to your preferred format. The key features of this tool are with high-standards. Searching for a converter with editing and enhancing features? With the help of this solution, you can enhance, trim, crop, rotate, and change the resolution. More to discover by following these quick steps.
Step 1Install the video converter
To simply install the software, you need to visit the website of AVAide Video Converter. After that, you can click the Download button and freely install it on your device.
Step 2Attach the MTS files
To attach your MTS videos, click the Add Files button. With this, you can add as many files as you want. By simple means, you can frag your files on the interface with the same results.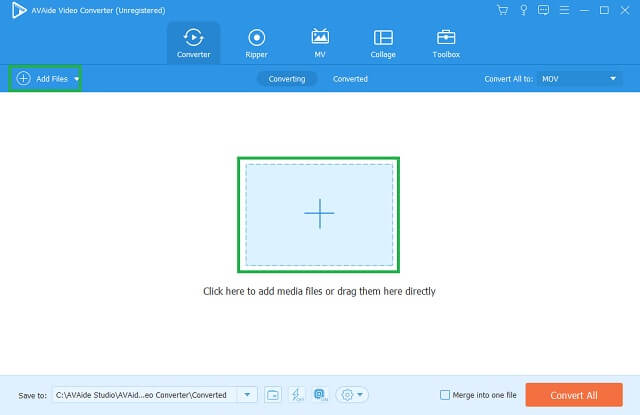 Step 3Select the FLV format
To select the right format, look for the FLV button from the list of formats. Adjust the settings if you want and once finalized, you're good to go.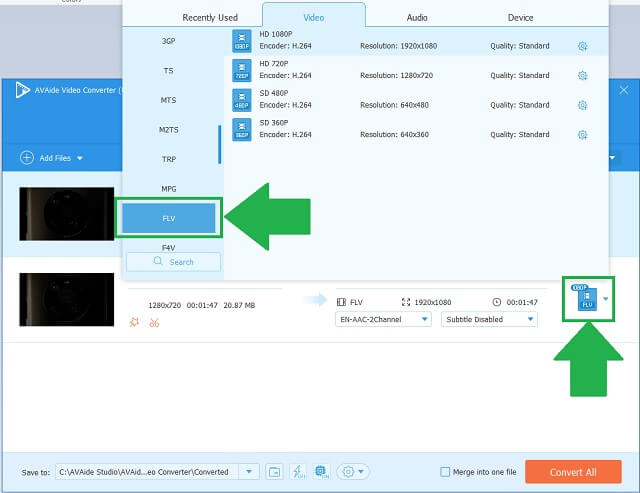 Step 4Convert the local videos
To convert your files to FLV, click the Convert All button. Your videos are now progressively changing.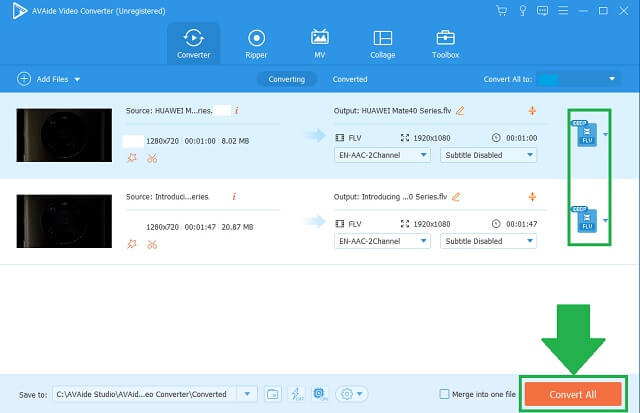 Step 5FLV videos are saved
To check your saved files, go to the file designation you've set. Your videos are now ready with their new format.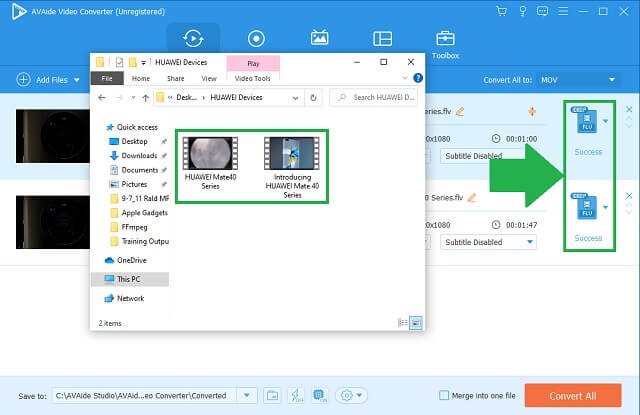 PROS:
It has a wide list of video formats.
You can adjust the outputs' settings.
Fast converting attribute.
Additional media toolbox.
2. Any Video Converter is our Ideal Choice
As its name implies, Any Video Converter is exactly what it means. It is responsible for converting videos with any format. More so, this tool can rip content from your DVDs. Also, it supports copying the URL, pasting it, and then converting. Try this MTS to FLV converter with effortless work.
Step 1Transfer your MTS files
When the tool is installed, click the Add or Drag File(s) button to transfer your MTS videos to the interface.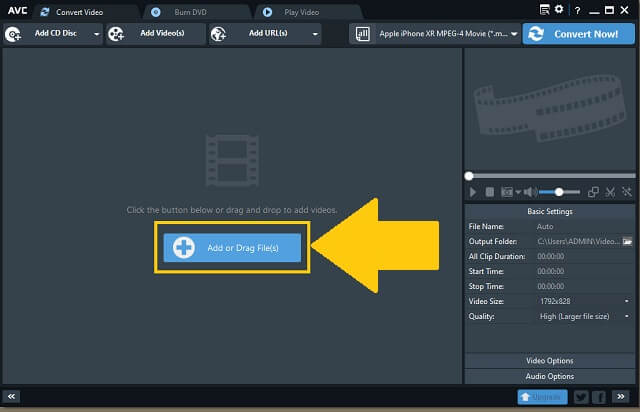 Step 2Choose your video format
Look at the Flash Video Movie button and click it as your new format for the videos.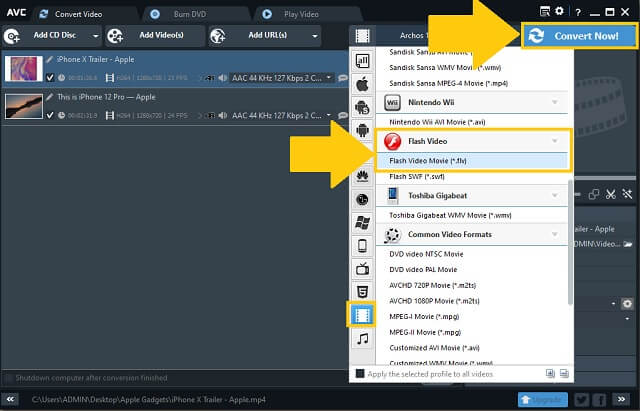 PROS:
Free to download.
It can change video format by any type.
CONS:
The process gets slow when videos exceed an hour.
It has an incomprehensive format panel.
3. The Good Features of FFmpeg
This tool is an open-source converter that handles multimedia and web hosting features. It also contains a roster of audio and video formats for your conversion needs. Surely, help is on the way with FFmpeg, a MTS to FLV video converter. Use this tool by following its quick steps.
Step 1Files and format selection
First, you need to download and install the application. Proceed to uploading your local files by clicking the Add Files button, Then, choose a format.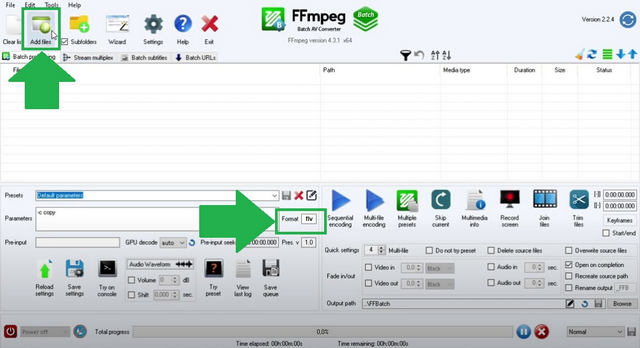 Step 2Start the format conversion
Upon selection, start to convert and wait for the completion.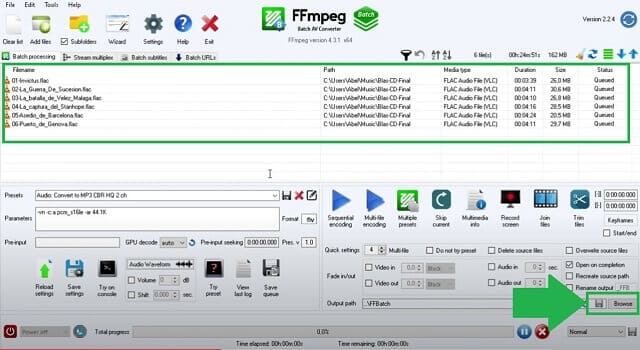 PROS:
Undeniably, it offers different tools for conversion.
Good codec and filter support.
It's a freeware converter for MTS to FLV with good outputs.
CONS:
Limited cross-platform support.
Not intuitive for beginners to use.
4. CloudConvert is an Excellent Online Tool
This tool makes it quick and convenient to change the format of your MTS to FLV. CloudConvert also accepts website snaps and converts them to the container you need. Additionally, you can grab a file from your Dropbox, Google Drive, One Drive, and Box. Better try this one!
Step 1Import your local files
Click the Select File button to transfer all the files you decided to change the format.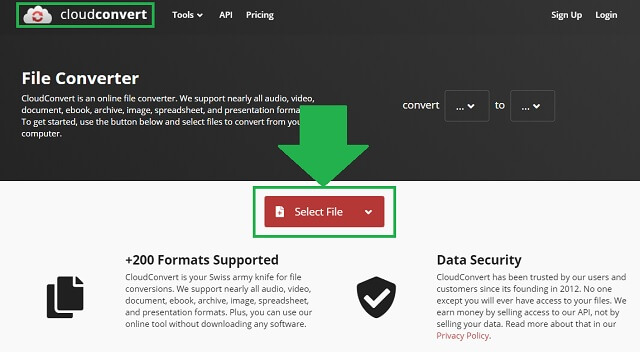 Step 2Set your file format
To change and select the file container, click the arrow down button. Now, you have a view on the list of available formats. Choose FLV.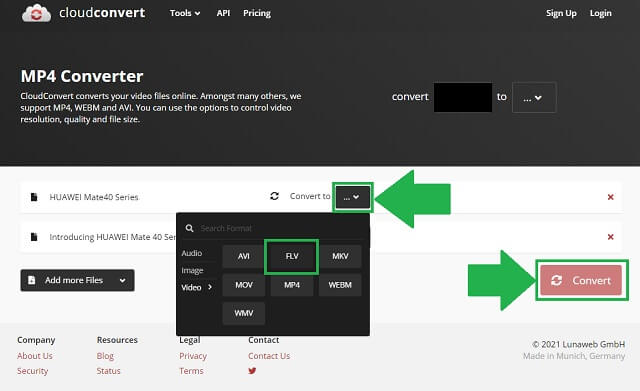 PROS:
Without any ads and spam.
Supports over 140 file formats.
CONS:
It only allows you to convert 10 times per day.
Refreshing the page is needed for the next batch of files.
5. Utilize the AVAide Free Online Video Converter
Online converters are everywhere nowadays. As the time advances so fast and demand of technology really kicks high in every aspect, it's but timely to use a solution that will suit us. One may realize that his MTS files conflict with the devices and platforms he's using. However, AVAide Free Online Video Converter will absolutely help you in dealing with it. Rest assured this one is the answer for your MTS to FLV converter searching. Experience the eminent characteristics of this online video converter by undertaking these speedy procedures.
Step 1Webpage visitation
Visit the available browser on your device. Then, search for AVAide Free Online Video Converter and access the page.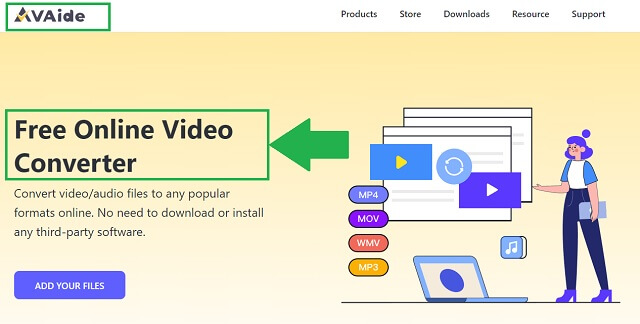 Step 2Videos selection
Secondly, select your video files by clicking the ADD YOUR FILES button. Locate your local files and simply choose all the MTS videos.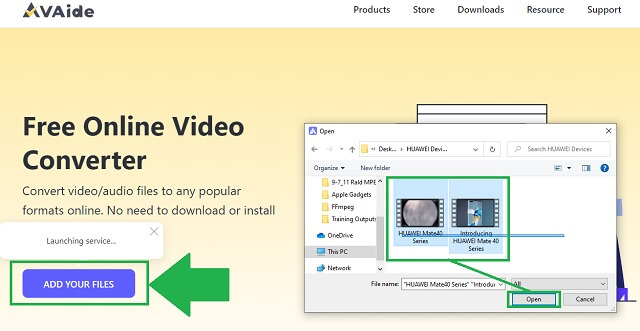 Step 3Output format option
To choose the format of your output by clicking the FLV button.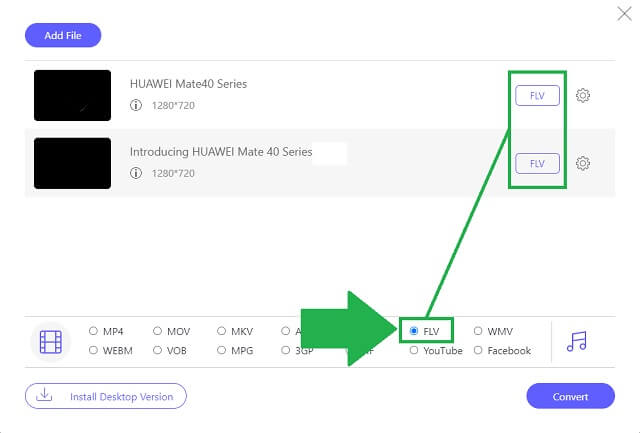 Step 4Start the conversion
Once the new format is finalized, you can proceed to the next step. Click the Convert button to start the process.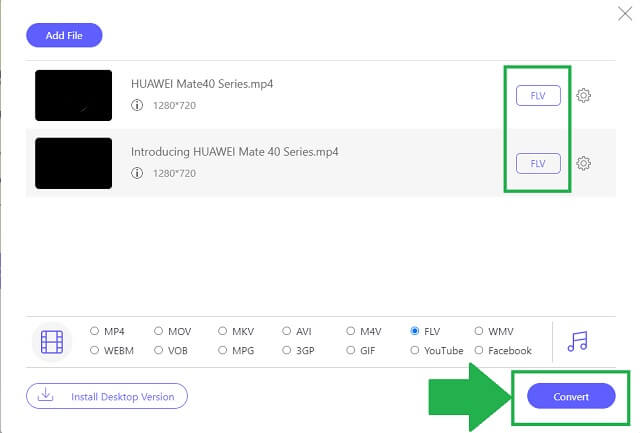 Step 5File completion
To check if your files are already saved upon completion, click the folder icon and it will immediately open the file location.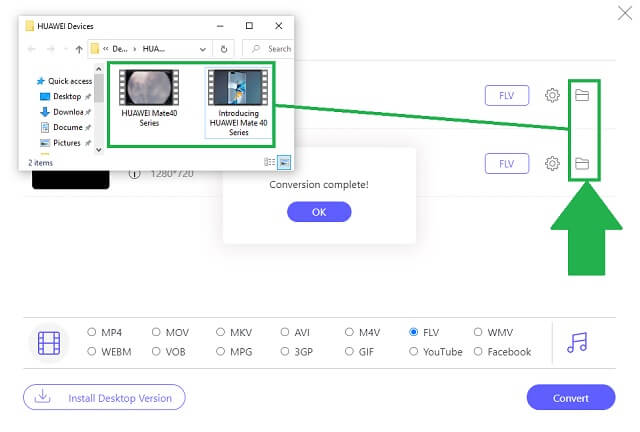 PROS:
Various video editing functions.
High quality outputs.
Fast conversion speed.
User-friendly interface.
CONS:
Individual setting for each attached file.
Part 2. Informative Comparison of Video Converters
TOOLS

Avaide Video Converter

Any Video Converter

FFMPEG

CloudConvert
| | | | | |
| --- | --- | --- | --- | --- |
| Web-based and software | Windows and Mac | Batch Conversion | Tool Box | Fast-Speed |
| | | | | |
| | | | | |
| | | | | |
| | | | | |
Part 3. FAQs of MTS and FLV
Some questions that are frequently asked for MTS and FLV:
Is the size of an MTS file huge?
Since MTS videos are really high in quality, it reflects the consumption of space from your storage. For instance, a video that contains two minutes in length correspondingly has 450MB. Sounds big right? Why not convert your MTS to FLV using AVAide Video Converter? This is attested by many!
Can a TV play an MTS video?
Sadly it may be, but we can't directly play a file with MTS format on TV.
Does my iPad support MTS files?
MTS format isn't supported by any iOS devices.
Conclusion
Reuse your MTS videos by partnering with the aforementioned video converters. The AVAide Video Converter, Any Video Converter, FFmpeg, and CloudConverter are undeniably interesting to use. To conclude, AVAide Video Converter won the attention of many users. Please try it yourself to convert MTS to FLV.
Your complete video toolbox that supports 350+ formats for conversion in lossless quality.