XviD video format is indeed popular because of its small file size while maintaining its high video quality. If you have Apple devices and you downloaded XviD files, there might be a compatibility problem. Why? Simply because XviD doesn't support Apple devices and other programs. Hence, if you want to play your XviD video files, you may need to convert them to FLV. In this post, learn how to convert XviD to FLV using the two commendable tools. Continue reading and find out how.
Part 1. Notable Tool to Convert XVID to FLV with Outstanding Quality Output
AVAide Video Converter
AVAide Video Converter is a dependable program that runs smoothly on both Mac and Windows computer systems. It can transform various formats and has incredible support for almost all output/input audio and video file types. Furthermore, you can convert multiple files simultaneously thanks to the high-level acceleration technology, which can convert 30x faster than the conventional converters. The most outstanding feature is that it includes an integrated media editor for improving and editing videos and audio. You can combine multiple songs into a single file, or you can enhance a video with visual effects or subtitles as needed. Explore the simple steps below to convert XviD to FLV using AVAide Video Converter.
Step 1Download and launch the XVID to the FLV converter
Go over to AVAide's official website and download the software to your computer. Or else, you can quickly obtain it by clicking the download button above.
Step 2Drag and drop your XVID video file
Drag your files on the Plus (+) button at once to upload them. Alternatively, you can add files by clicking the Add Files button in the upper left corner of the interface. If you want fast uploading of files, you can import the entire folder containing your files for conversion. Just choose Add Files, then Add Folder.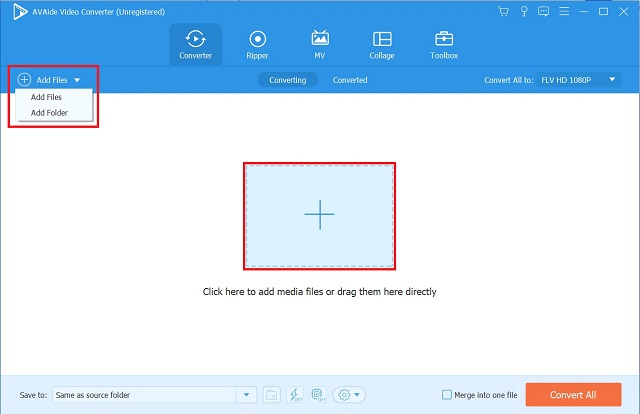 Step 3Set the video format and customize the settings
After successfully importing the XVID file, click Convert All to > Video tab. It will direct you with the list of video formats, then choose FLV as the desired format. You can hit the Custom Profile to customize the video setting before converting it.
Note: You can enhance the video quality, including its resolution, frame rate, and bitrate. More so, you also edit the file's audio quality, such as the sample rate, channel, and bitrate.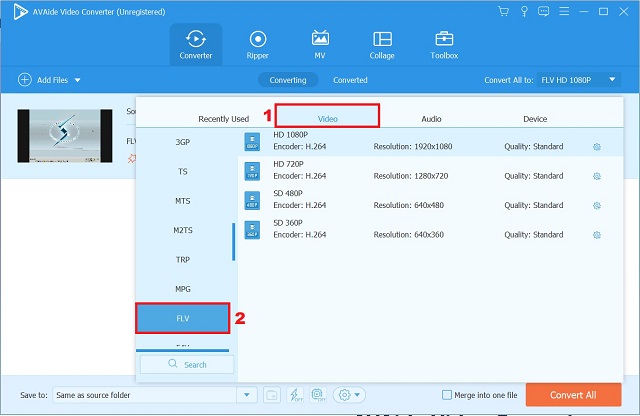 Step 4Convert the XVID to the FLV video file
To initiate the conversion, click the Convert All button at the bottom right of the interface.
Step 5Stand by for the completion of the conversion
Wait for the conversion process to finish. If you overlook a file and want to stop the conversion, hit Stop All located at the bottom right corner of the interface.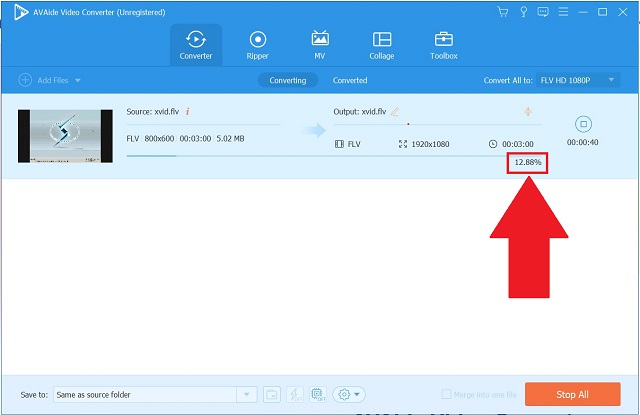 Step 6Preview your recently converted FLV video file
At last, go over to the Converted tab to review the completed files. The converted files can be stored on your computer as well. Press on the Folder icon beside the converted files to directly locate the file's destination on your computer.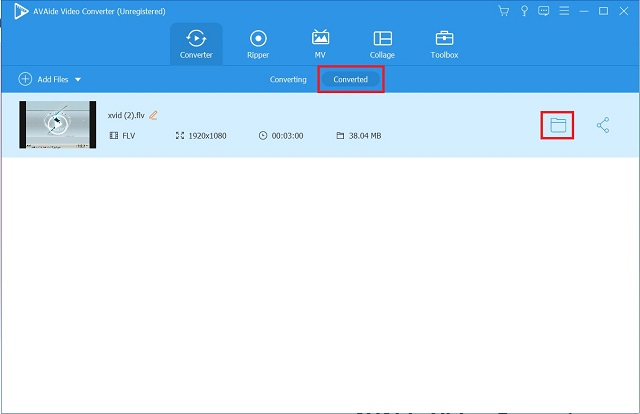 Part 2. Online Way to Convert XVID to FLV without Quality Loss
AVAide Free FLV Converter
AVAide Free FLV Converter Online is one of the top websites for XviD to FLV conversion that you should look into. You can also get the most out of a multi-functional conversion feature. It means it is possible to convert between a wide range of audio and video formats, and the tool has no limit on the types of conversions you can perform. Since it is a free online tool, you can convert your XviD files without any installation required. Plus, convert your files anywhere and anytime as long as you have a stable internet connection. Take a look at the easy steps on how to convert XviD to FLV.
Step 1Proceed to the online converter's official website
To begin, install the AVAide Free FLV Converter Online launcher on your Mac. To successfully launch the app, click the ADD YOUR FILES button. In the popped-up window, hit Open AVAide Launcher, then Download.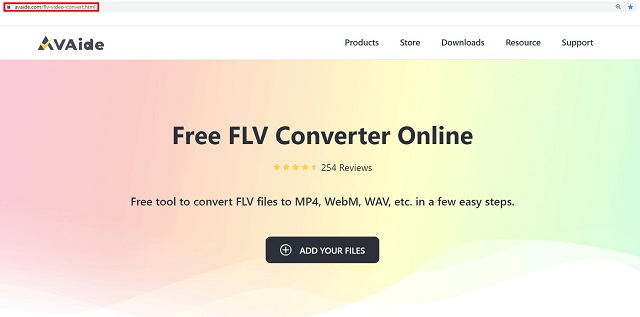 Step 2Attach your XVID file
When the app is already open, tap the ADD YOUR FILES button again and locate the desired file on your desktop.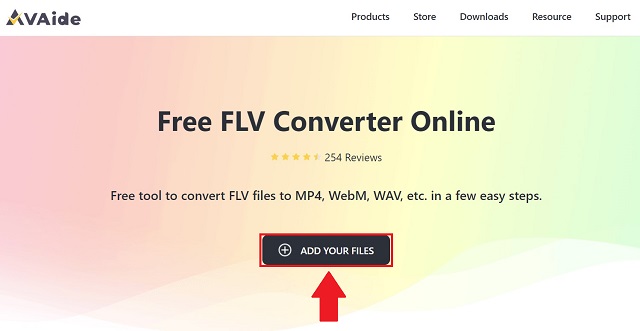 Step 3Determine the desired format
Next, tick the Film Icon to see the list of video formats. Then, click FLV as your desired video format.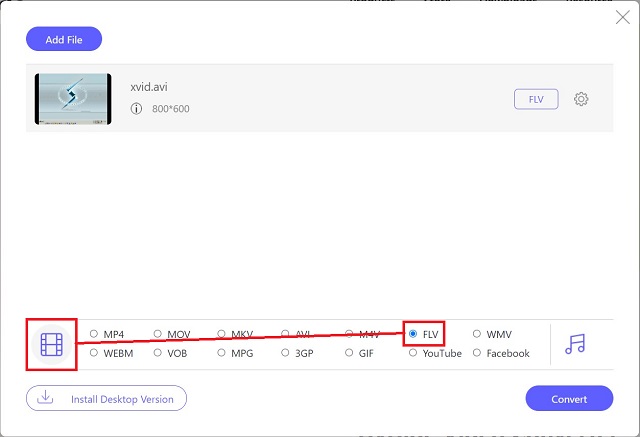 Step 4Turn your XVID to FLV by converting
After which, to begin the conversion, select the Convert button located on the bottom right corner of the interface. You can also stop and resume the procedure for some reason.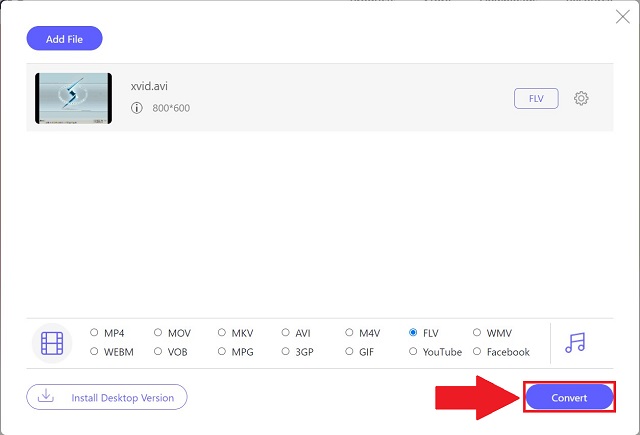 Step 5See your converted FLV file
Finally, when the conversion is done, check if each file has been converted to the new format by selecting the Folder icon beside it. Once you click it, the local holder for your files will show up and be accessible.
Part 3. XVID VS. FLV: The Urge to Convert
What is an XviD Video File?
An XviD file has been encoded with the XviD codec. XviD is an open-source video codec that compresses video using MPEG-4. Although most popular video players do not support XviD files natively, they can be played once the XviD codec is installed. XviD files are also used to burn CDs/DVDs. Furthermore, it is a file that can be used in any video length.
What is FLV Video File?
The FLV format was launched in 2003 with the official launch of Adobe Flash Player 7. It delivers online video content such as tv shows and movies, and it is one of the most well-known and widely used video formats on the Internet. FLV files caused a revolution in the online video world and produced videos of exceptional quality. One of the great advantages of this file format is its capability to retain high-quality files in small sizes and its widespread popularity and versatility. It is simple to convert to other popular video formats as needed.
Why do we need to convert XviD to FLV?
Since XviD has a limited capability of playback with different programs and devices, you may need to convert your XviD file to FLV.
Part 4. FAQs about XVID and FLV Video Formats
Is FLV still being used?
Yes, while the FLV format seems to be on its way out, it remains a video standard for internet users worldwide.
Are XVID and AVI the same?
Whether you have an XviD video, you almost certainly get an AVI file. It also can hold a wide range of video and audio content. The AVI container can keep XviD content.
Can I play an XviD file on my iPod?
Definitely, yes. However, you need to convert the XviD file first with a compatible file to have it play on your iPod. AVAide Video Converter is the most suggested and recommended choice for you.
Your complete video toolbox that supports 350+ formats for conversion in lossless quality.