Are you fond of listening to music? The digital world is rapidly innovating now. On this note, transforming files is also being called in demand. You will probably have the need to convert your WMV video files into an audio file like MP3 to pursue your music interest. Luckily, the net offers multiple converter tools which are free, and others are paid. Therefore, this post will bring you to the most practical method to convert WMV video to MP3.
Part 1. Convert WMV to MP3 on Windows and Mac
AVAide Video Converter has been the top prime converter that allows you to convert files into various file formats. Furthermore, this software contains a very high acceleration speed that could convert your files 30x faster without any fleet on quality. Countless users have downloaded this WMV to MP3 converter and been very satisfied with its amazing features, like the video collage, movie maker, DVD ripper, and much more. Moreover, you do not need to be technically skilled to operate this tool, for it has a very accessible interface that even a non-technical person could navigate.
As being the prime tool, AVAide Video Converter supports 300+ file formats. Moreover, Aside from the features mentioned above, this software has been very generous in producing additional tools such as GIF Maker, Video Enhancer, 3D Maker, Video Compressor, and Media Metadata Editor which are advantageous in producing excellent output.
How to Bulk Convert WMV to MP3 on Windows
Step 1Upload Files
After downloading and installing the tool, launch it. Drag your multiple WMV files directly on the interface. Or, click the Add Files button on the top left part.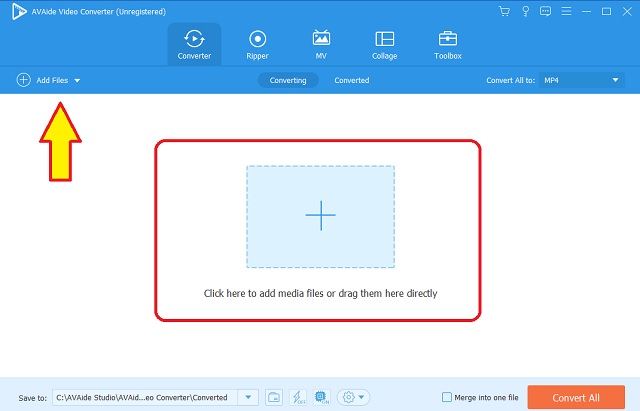 Step 2Set the Files to MP3
Click the Convert All to button on top right, go to Audio, then choose MP3. From there, you will also see the setting where you can adjust the bitrate. On the other hand, if you want to set the files individually, you may just click the Arrow on each file.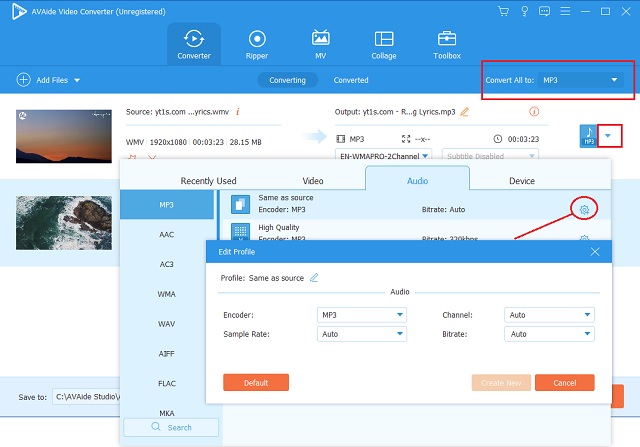 Step 3Start Converting
Start the conversion by clicking the Convert All button on the right bottom part of the interface.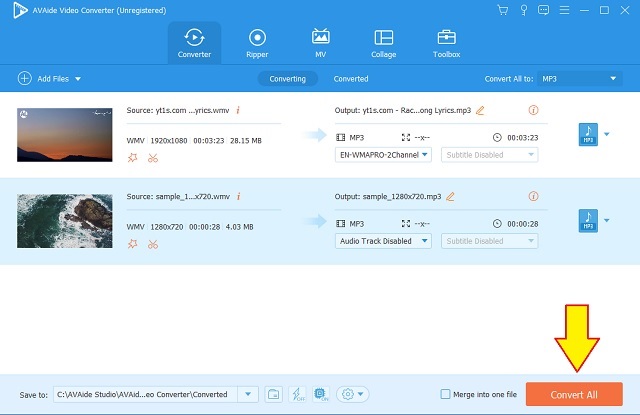 Step 4Check for the Completed Files
After the rapid conversion process, check the converted file in Converted. To locate their destination, hit the Image Folder beside the files.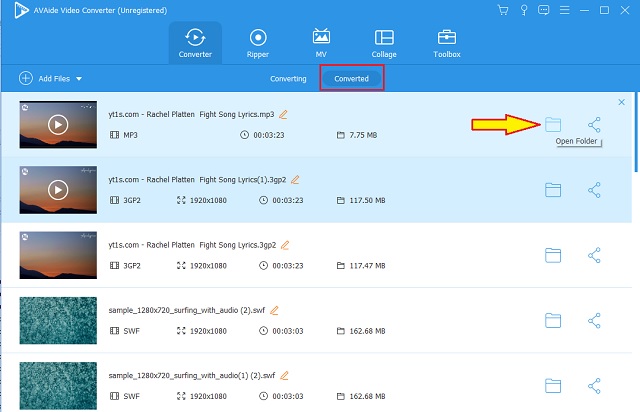 Part 2. Convert WMV to MP3 Online for Free
AVAide Free Online Video Converter
Convert MP3 to WMV for free with AVAide Free Online Video Converter. Just like its software version, this online tool is the most practical yet perfect in converting your files. Moreover, it also supports multiple file formats that you can choose from as well. For additional knowledge about this tool, please see boons and banes below.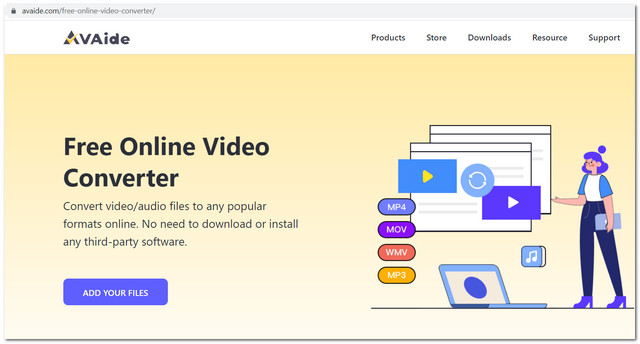 PROS:
It offers unlimited service for a lifetime.
Experience smooth conversion without Ads bugging.
No Watermark on your outputs.
With built-in settings.
Swift conversion process.
You can convert multiple files at the same time.
Super easy to navigate.
Compatible with the commonly used web browsers.
No need to sign up, it's totally free.
CONS:
Since it is an online tool, you cannot use it without the internet.
Online Converter
Online Convert is another practical online way to convert WMV video to MP3. In addition, this online tool is known for its flexibility, for it offers various conversion categories such as ebook, unit, document, etc. On the other hand, below are the pros and cons of using this tool.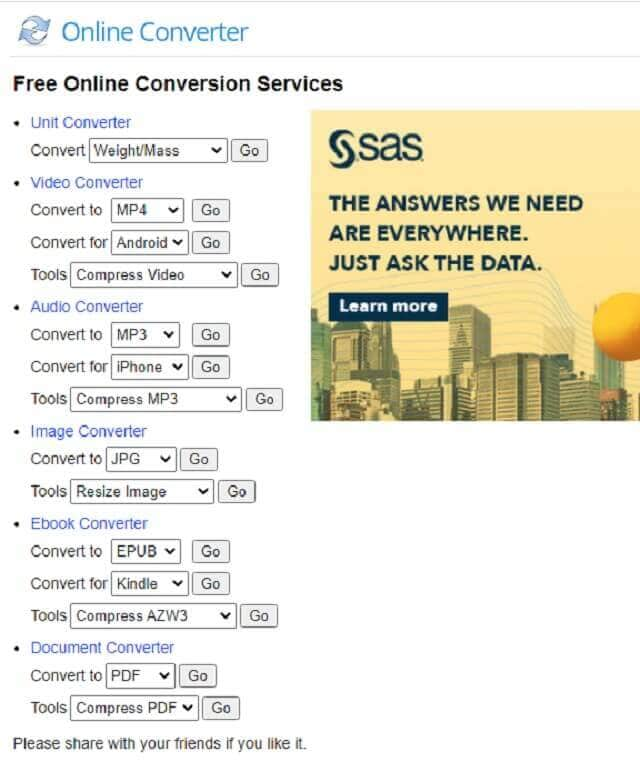 PROS:
You can convert different files aside from video and audio.
No limitation of files.
Easy to navigate
CONS:
Various Ads on the page.
Restricted on offline usage.
Conversion process takes a longer time.
Some errors in importing files.
Part 3. Extended Knowledge About WMV and MP3 File Formats
What is WMV?
Windows Media Video or WMV is a file format developed by Microsoft. On this note, it is a video and audio container for Windows Media framework that is compressed and incorporated with 3 types of video codecs. Moreover, this file is neglected by some devices, particularly Apple products. However, this doesn't limit the utilization of this format. In fact, it is still one of the commonly used video formats due to its high quality within a small file.
Additionally, WMV is mainly supported by Microsoft-connected platforms and devices such as Xbox 360, Windows-based mobiles, Microsoft Zune, etc. Therefore, it is also the required format for the Portable Media Center and PlaysForSure devices. Despite this, when it comes to compression, WMV is way better than MPEG-4 that makes it a good choice in internet video streaming usage.
What is MP3?
MP3 was initially known as MPEG -1 and MPEG -2 Audio Layer III. Released in 1993 with various Fraunhofer Society developers, this file is a container for audio data. Furthermore, it is a very well-known audio file with vast compression that however tends to be lossy. Despite this, it is being named as the universal audio file format for it is supported by most players and devices.
Part 4. FAQs of WMV to MP3 Conversion
I have a Macbook, can I convert WMV to MP3 on iTunes instead?
You may so, but if you are very particular in the speed and quality conversion output, AVAide Video Converter is a better choice. For its Mac version software works undeniably faster and better than iTunes.
How can I convert WMV to MP3 with VLC?
Converting files with VLC media player is also possible, as it is also known with its conversion feature. However, you might find it confusing to use it when it comes to that. Better to use AVAide Video Converter if you want experience converting in a facile and dominant tool.
Can I convert MP3 to WMV for free?
Yes you can, but with restrictions, MP3 is just an audio file so If you are aiming for a video file, that makes it impossible. MP3 converted to WMV video file will only give you a black image.
Conclusion
There are a lot of ideal converter tools in the market indeed. However, this article goes for the most excellent tool that could help you get a perfect verdict. For we have experienced others and we were not satisfied with the output they have given. On the other hand, AVAide Video Converter has brought out superb conversion outputs, without any quality loss.
Your complete video toolbox that supports 350+ formats for conversion in lossless quality.