Are you a music lover? You might have stored music videos, live concerts of your favorite band, or even a video of a singing loved one on your Windows storage. Those that you might want to enjoy listening to, while having a long drive, or even just to make you feel better after a stressed workday. With this being said, you should transform them into an audio file like MP3. This article will give you a hand in choosing the best free AVI to MP3 converter to acquire on the Web.
Part 1.What Are AVI and MP3
Audio Video Interleave also known as AVI, is a container of both audio and video data files. This format was produced by Microsoft in 1992. On this note, this format can playback both audio and video synchronously. Unfortunately, Apple products such as the iPhone, won't support an AVI file, not unless you use a media player or convert it directly to a format that suits the phone. On the other hand, MP3 which was known as MPEG-1 or MPEG-2 Audio Layer III is a file container that is designated only for audio encoded data. This file is commonly used by most music players and is tagged as the universal audio file, for it is supported by almost all devices.
Part 2. Professional AVI to MP3 Converter
As mentioned above, for you enjoy listening alone to your stored music video, it is advisable to transform them to MP3 alone. For you to do so, you must know about this amazing AVAide Video Converter which works professionally to convert AVI to MP3 files. Being a top converter tool, this software continues to produce perfect output without compromising the quality of the file. The AVAide Video converter has amazing features to help you enhance your file, especially on videos. When It comes to producing audio files, this tool gives you a chance to customize your audio file into your preference. Moreover, this tool not only transforms video files to MP3, but it also contains other audio formats that you can choose from like WAV, WMA, M4A, and many more. So without more ado, let's get it started and learn how to convert AVI files to MP3 using this tool.
Step 1Download the Tool
Install the software to your computer by clicking the download button below.
Step 2Drag Your Files
Upload your AVI files by dragging them directly to the interface. Or you may click the Add Files button located at the upper left part of the interface.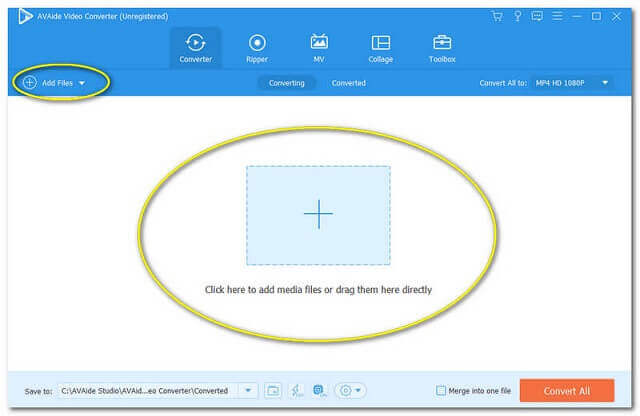 Step 3Set Your Output Format
Set your uploaded files to MP3 format by clicking the Convert All to button on the upper right part of the interface. Then go to Audio and choose MP3. You can customize your audio file from there if you want by clicking the setting image.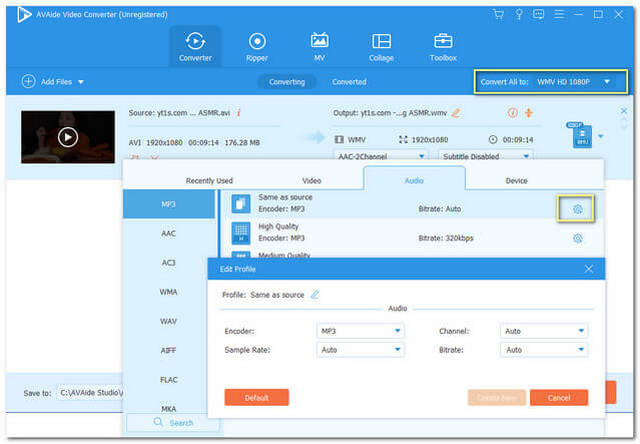 Step 4Start the Conversion
Begin to convert by clicking the Convert All button. Wait for the process to complete, then check the converted by clicking Converted on the center top of the interface. All the converted files are also directly saved to Local Disk > AVAide Studio > Converted.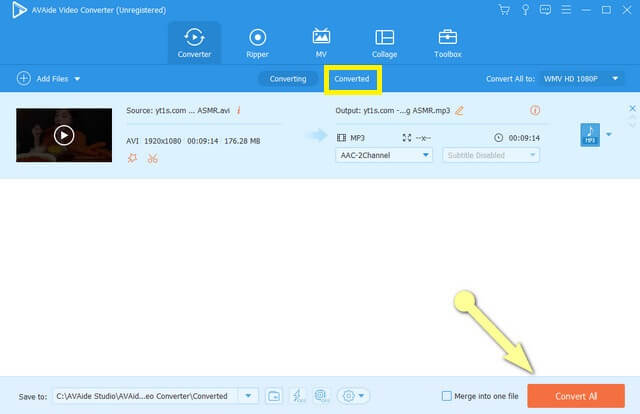 Part 3. AVI to MP3 Freeware You Should Know
AVAide Free Online AVI Converter
There are also freeware tools available to use. First on the record is AVAide Free Online AVI Converter. This best free AVI to MP3 converter as it says in its name is totally free of charge, you can use it anytime you want without a limit. This is the free tool that gives an instant conversion result in no time, with numerous outputs to choose from. Moreover, this amazing tool is also ads and watermark-free. Worry less because it has an interface that is very easy to understand, and a built-in video editor that will turn your videos amazingly great. So without any further ado, let's have a glimpse at the steps below in transforming an AVI file to MP3.
Step 1Acquire the Launcher
Get the AVAide launcher once, by clicking ADD YOUR FILES.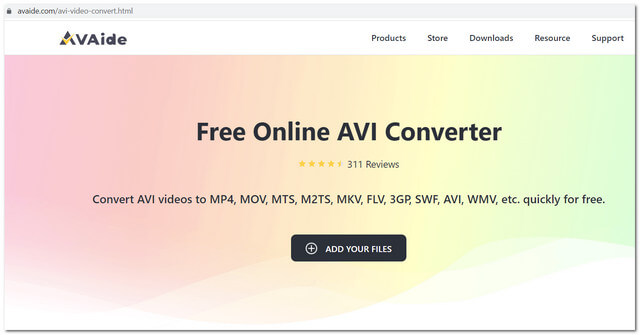 Step 2Upload The File(s)
Click the blue button saying Add File on the left top part of the interface.
Step 3Setup the Format
Click the Note image to see the available audio formats.Then Choose MP3 since we are aiming for this output.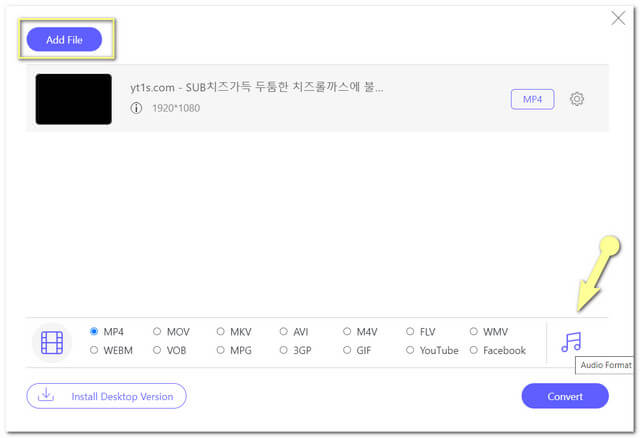 Step 4Start the Conversion
Click the Convert button, then select storage from your drive where to save the converted files. Wait for the conversion process that only takes seconds, then check for the completed file.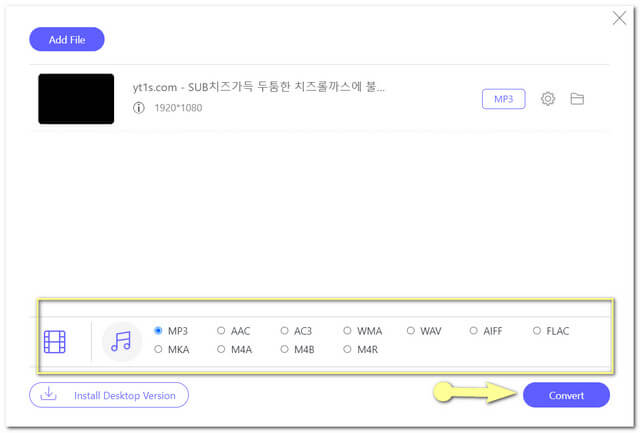 Online Converter
Another freeware on the list is Online Converter. It is a tool with multiple features to offer as well. This free online youtube video to MP3, MP4, 3GP, FLV, and AVI converter is also used to transform other files such as Ebook, document, unit, etc. Unfortunately, this multipurpose converter might give you some issues while converting your files. As it couldn't support encrypted audio files, there were also noted lapses in uploading files where re-uploading was the only option to have it work. Anyways, below are the steps to follow in converting an AVI file into an MP3 one.
Step 1Choose MP3 beside Convert to under the Audio Converter, then click the Go button.
Step 2Search for the AVI to MP3 by clicking the drop-down arrow beside Convert. Then click the Choose File button after to upload your AVI file.
Step 3Click the Convert button, and wait for the conversion process to complete. Then download the converted file.
PROS:
With multiple conversion categories.
CONS:
Multiple ads on the main page.
Takes time to complete the conversion.
Error in uploading files, especially large ones.
Convertio
You might also have heard about this online converter named Convertio. This online tool is probably one of the popular converters you know. Hence, you might already experience trapped files while downloading, which happens sometimes. However, aside from video conversion, this online tool offers different conversions as well, which includes image, document, and OCR conversion. Below are the steps on how to convert AVI to MP3 on Mac for free.
Step 1Upload your AVI file by clicking the Choose Files button.
Step 2Click the Arrow Down button and choose the MP3 on the choices from the Audio.
Step 3Start the conversion by clicking the Convert button. Wait for the completion, then download the converted file.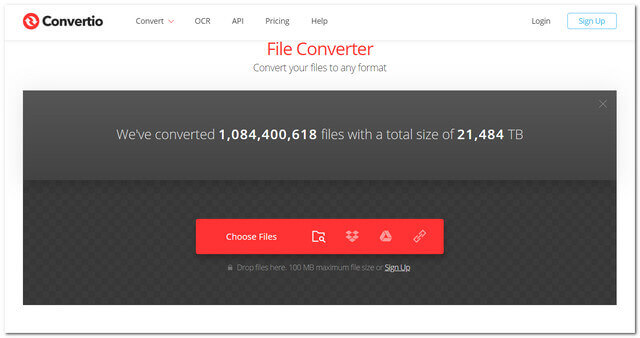 HandBrake
This open-source video converter can work on your conversion for free. This free open-source software was primarily created to make the ripping DVD from a film into storage easier. However, Handbrake might give inconvenience to users, especially to those non-technical people, for it is not that user-friendly. Despite this, it is still a good choice for others. Please see the simplified steps below.
Step 1Upload your AVI file upon clicking the Open Source button. Rename the uploaded file then click Save As.
Step 2Select MP3 from the Format under Output Settings.
Step 3Click Browse under the Destination, then click Start to convert AVI file to MP3 online.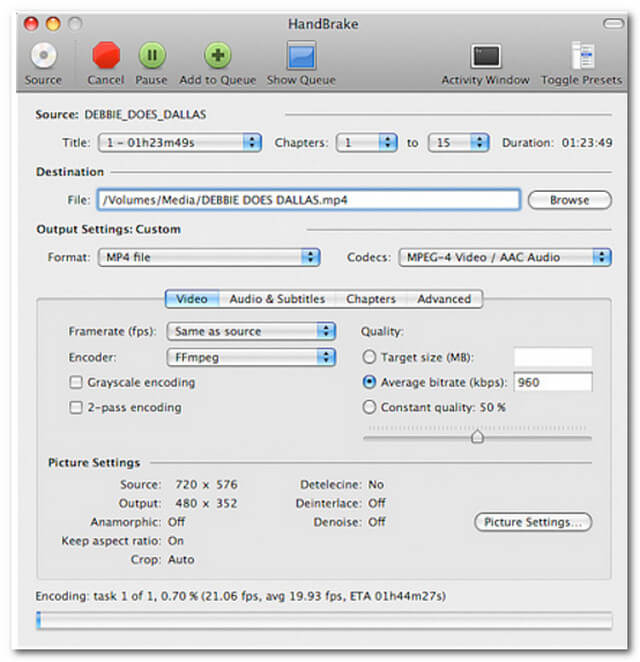 Part 4. Choose the AVI to MP3 Converter Right For You With The Comparison Chart
Please see the comparison chart below, to help you choose the right converter tool that suits you and your device.
Features

Platform

With Audio Editor

High Accessibility

Supported System
| | | | |
| --- | --- | --- | --- |
| AVAide Video Converter | Online Converter | Convertio | HandBrake |
| Downloadable,Online | Online | Online | Downloadable |
| | | | |
| | | | |
| Windows, Mac, Lunix | Windows, Mac | Windows, Mac | Windows, Mac, Lunix |
Part 5. FAQs
Is MP3 audio file greater than WAV audio file?
If you are after the compression of files, MP3 is better for compressing large audio files. On the other hand, WAV is great at retaining the quality for it is labeled as lossless format.
Will the AVI file be compressed when converted to MP3?
When you convert AVI to MP3 with a free downloaded tool or even online, it doesn't necessarily mean it will be compressed unless you intentionally compress it by setting it up. A video file converted to audio file can make the file smaller in size.
How do I compress my video files?
AVAide Video Converter offers a video compressor tool and other settings that will enhance your video to perfection.
Conclusion
Multiple trials have been done with different tools, and we have come out with the chosen tools to be featured above, as they have given so much reliability. As for you, choose a tool that will give you satisfaction. A converter tool that will make your conversion tasks easily handled. You may scrutinize the tools featured in this article, and experience yourself how AVAide Video Converter stands out amongst them.
Your complete video toolbox that supports 350+ formats for conversion in lossless quality.