In the era of modern technology, multimedia has become our partner in the tasks we accomplish day by day. Playing your favorite show while watching TV. Listening to your musical playlist and podcast while driving towards your destination. Media has been impactful as we continually reach this new age.
However, as someone who consistently uses this kind of recreational hobby, one should be aware that we need to choose the appropriate format on our devices, operating systems, and platform target. For instance, if you're an enthusiast of listening to different audio files, you might encounter various errors. If you're using WMA that is not compatible with most devices and media players, you can consider changing WMA to MP3. MP3 is the present ideal choice of many professional users. Know why with the given information below.
Part 1. An Informative Overview of WMA and MP3
Here's an informative overview about the purpose of the two formats.
WMA
WMA is short for Windows Media Audio that was developed and released by Microsoft along with their Windows Media Player. This audio file format also compresses the file size.
MP3
MP3 or MPEG-1 or 2 Audio Player 3 is the common audio file format. Most audio media players support this file container. It is a lossy compression that is small in nature. Significantly, it reduces the file-size but doesn't compromise the quality.
Part 2. How to Convert WMA to MP3 Using Fast-Speed Offline Tools
1. AVAide Video Converter
This tool tremendously gained its popularity throughout the digital community. AVAide Video Converter is the tool that perfectly suits your needs. With the help of this app, you can quickly convert WMA to MP3 with a rest assured high-quality output. This has been trusted by different users including the common users and professionals. The key features of this tool will absolutely amaze you.
The Key Features of AVAide Video Converter
Multiple formats for audio and video files.
30X advanced acceleration technology.
Group conversion.
Supported by Mac, Linux, and Windows.
Media toolbox for creating video collage, GIF, 3D, and ripping DVD.
Step 1Downloading the software
First off, search and open the official website of the tool on your device's web browser. Look for the download button and follow by installing it immediately.
Step 2Transferring the local files
Afterwards, by clicking the Add Files button you can select the local files you wish to convert or just simply drag them on the converting panel of the interface. Add each file or upload in a group.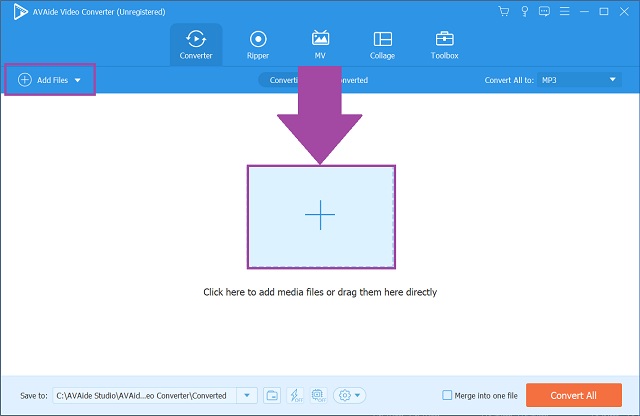 Step 3Selecting the MP3 format
Then, on the options on the menu bar, look for the Audio button and click it. Upon clicking it, the audio formats listed on the panel will automatically appear. Click the MP3 button as your chosen output.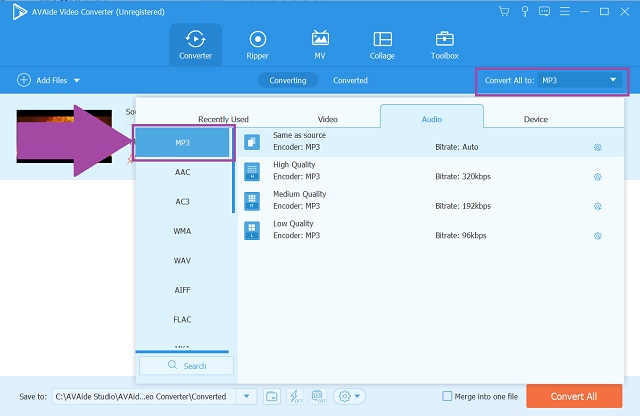 Step 4Starting the procedure
Click the Convert All button to start the simple procedure. With just a few minutes, your task will easily be done.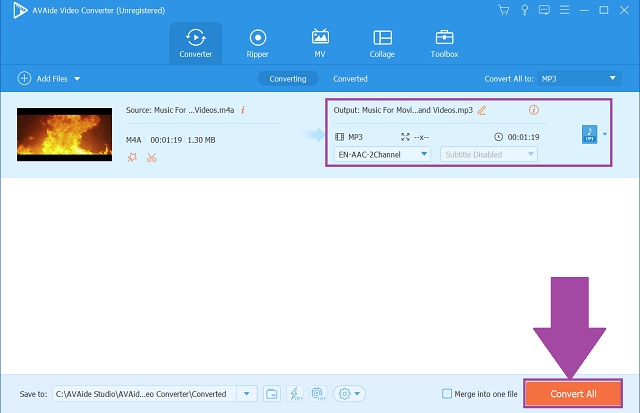 Step 5Finishing the process
Lastly, you can check your converted files by looking for them on their local file holder.
PROS:
Downloadable on Linux, Mac, and Windows.
Huge list of video and audio formats.
Fast-speed conversion.
Supports batch conversion.
Made with extra editing and enhancing toolbox.
CONS:
The free trial version has a limited time frame.
2. iTunes
iTunes has been one of the most popular media players for most OS devices. Do you know that this tool has a hidden converting feature? I guessed you're not. This freeware can completely convert WMA to MP3 on Mac! You don't need to download any tool including a third-party, because it's a default freeware for Mac and can be downloaded on Linux and Microsoft. Better to discover first-hand by doing these quick steps.
Step 1To access iTunes on your device, simply open the tool followed by clicking the File button on the menu bar. Then, click the Convert button as your tool to use.
Step 2With the view of available audio formats, click the MP3 Encoder button. Lastly, begin the format conversion.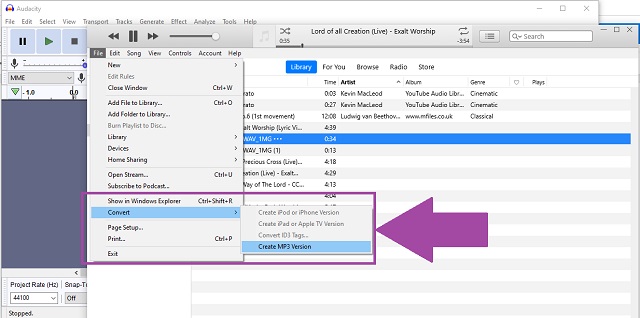 3. Audacity
Another freeware that can aid us on how to convert WMA to MP3 is the relentless Audacity. This tool received different positive feedback from the netizens. Additionally, it works well in editing and enhancing different media outputs. Believe it or not, this is almost an all-around tool. Try this by following the simple steps given.
Step 1Firstly, download the tool and install it on your device. Located on the menu bar, click the File button. Afterwards, look for the Export button and click it right away.
Step 2Choose the right format from the list of formats and click the Export as MP3 button as your expected output.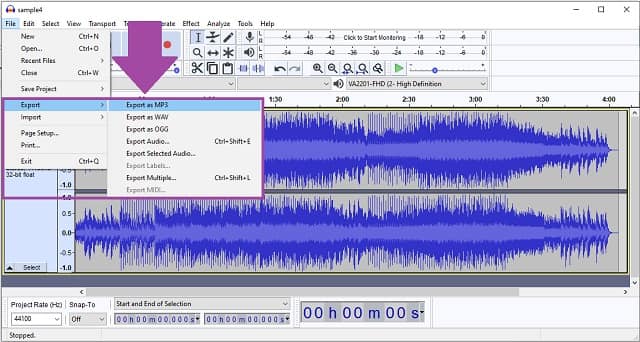 Part 3. Web-based Methods on How to Convert WMA to MP3
1. AVAide Free Video Converter
But if you're hesitating using software or freeware, use an online tool instead. Visit and utilize the AVAide Free Video Converter on your web! Convert WMA to MP3 for free by unleashing the powerful key features of this web-based tool. Experience the limitless possibilities of how this tool can assist you first-hand. Plus, never say sorry for not having any prior knowledge. Never mind the procedure if you're a common and first-time user. Don't waste any time, try it now.
Step 1Website visitation
To start, connect on your internet and open the web-based app on your default browser.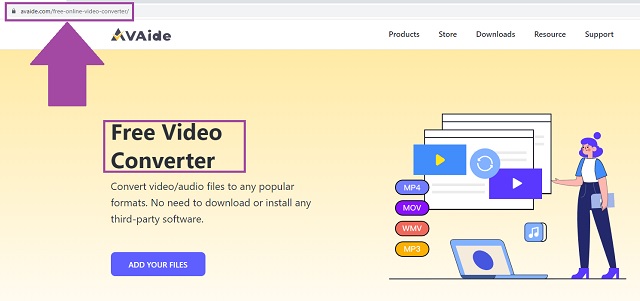 Step 2Files selection
The next step is to import your old files by clicking the ADD YOUR FILES button. This tool works best when you simultaneously upload your files for group conversion.

Step 3Format modification
To modify the current format, click the audio icon. Once clicked, the audio file containers will appear. Click the MP3 button as your product format.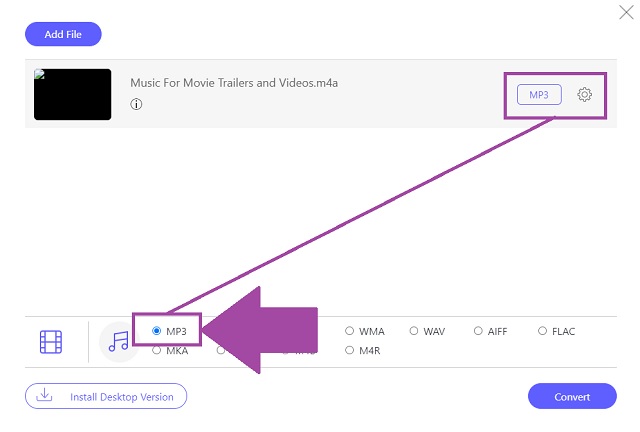 Step 4Start conversion
After that, you can start converting your files by clicking the Convert button.
Step 5Process completion
Finally, by clicking the folder icon located on each completed file, you'll be able to immediately see the location of your located files.
PROS:
It's a fast-speed process.
More than 300+ formats.
Comprehensive interface.
Group conversion.
Web-based.
2. FreeConvert
Another way to convert WMA to MP3 online is with the help of FreeConvert. It's undeniable that this tool has already done a wonderful job when it comes to producing quality outputs. Needless to say, it's easy to use. No hassle procedure involved.
Step 1Search for the AUDIO Converters button on the official web page. Choose your audio output, click the MP3 button.
Step 2By simply clicking the Choose Files button, you can import your local files on the interface.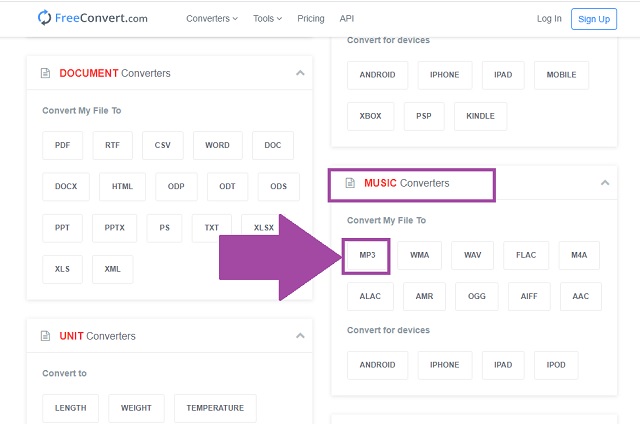 PROS:
Ads-free conversion panel.
Popular formats are available.
CONS:
Files must not exceed more than 1 GB.
Internet-based program.
3. CloudConvert
Last on our list being one of the best WMA to MP3 converters that meet our demands is the CloudConvert. Just try to imagine how millions of cyber users visit this tool for its effective service in converting our files. It allows us to experience an intuitive interface, Also, it can also convert video, eBook, and documentations. However, it has unclear Application Programming Interface and errors while conversion especially on large-sized files.
Step 1Visit the tool on your web. Once landed, visit the tool followed by clicking the Select File button to add your files.
Step 2After that, look for the audio containers on the Convert to panel. View them by clicking the arrow down icon. Then, start the file conversion by clicking the Convert button.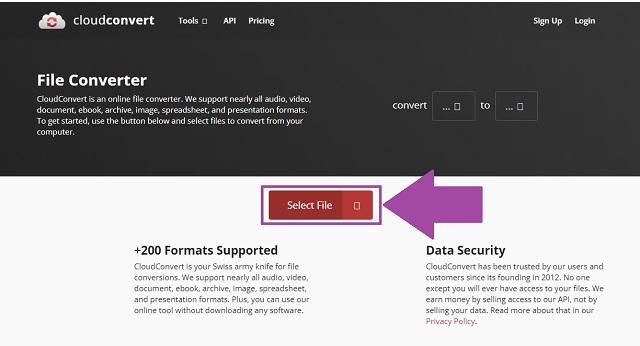 Part 4. Comparison of WMA to MP3 Converters
Let's compare both audio formats from the following parameters of comparison given below.
| | | |
| --- | --- | --- |
| Parameters | WMA | MP3 |
| Encoder | Developed by Microsoft Compressed the data Better bitrate | Data compressed Producing high-quality sound |
| Compatibility | Only a few multimedia support WMA audio format Poor in other OS devices | Supported by almost all multimedia, operating systems, and devices |
| Sound | Better sound | Not good quality as compared to WMA |
| Proprietary | Proprietary in nature | Not a proprietary audio format |
| File Size | About 20.8 MB | About 12.1 MB |
Part 5. FAQs of WMA and MP3
Is MP3 the same as WMA?
Both audio formats are high in quality. Also, it gained popularity compared to other formats. However, MP3 is undeniably the most compatible between them. How to convert WMA to MP3 on Mac and Windows made easy by using the AVAide Video Converter.
Does Android support WMA?
Unfortunately, files of this audio type can't be played in many devices such as Android cellular phones.
What benefits can I get from MP3?
The major advantages of MP3 are its small file-size, compatibility, and quality.
Conclusion
The aforementioned converters offer their distinctive features to all the users of audio contents. Among the 6 listed tools, AVAide Video Converter outdid the uniqueness of the others. It's an all-around solution and the fastest way to convert WMA to MP3. Consider making use of it and discover how excellent it works!
Your complete video toolbox that supports 350+ formats for conversion in lossless quality.