Do you love listening to music? Does it help you think and work effectively while listening to your favorite songs? Maybe you have lots of music videos that are stored on your computer. And maybe you might feel the need to transcode them into an audio file like WAV. This article pertains to the best tools you must have to convert AVI files to WAV in an instant.
Part 1. How to Extract Audio From AVI to WAV on Mac and Windows
In extracting audio from a video file, it requires a utility that will work perfectly in producing the quality audio that you are aiming for. With that being said, here presenting you with the most ideal software tool that will give you the perfect yet exciting conversion experience.
AVAide Video Converter
This amazing AVI to WAV converter has been very generous in giving the users exciting tools that will turn your conversion from agony to comfort. Furthermore, AVAide Video Converter has additional features such as 3D Maker, GIF Maker, Video Compressor, Media Metadata Editor, and a Video Enhancer that make the software more flexible. Convert your files in any format you wish to have, for it has 300+ formats to choose from. So without any further adieu, below are steps on how to convert your file to WAV with this super handy tool.
Step 1Download and Install the Tool
Click the link below, then download and install the tool to your PC.
Step 2Upload You File (s)
Upload your files by simply dragging them directly to the interface. As an alternative, just click the Add Files button on the left top part of the interface.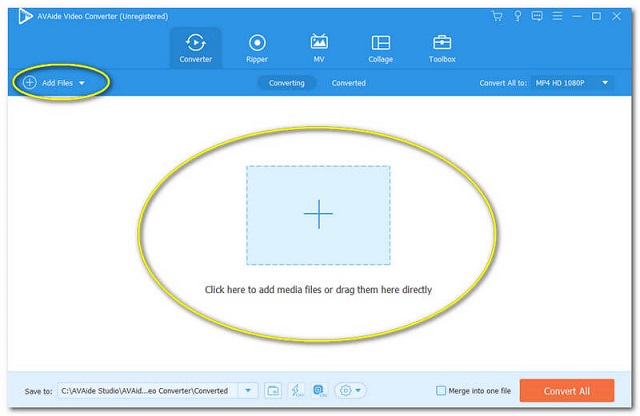 Step 3Setup Your Presets Output
To convert AVI files to WAV, click the Convert All to button, on the upper right part of the interface then under Audio configure your uploaded AVI files into a WAV format. If you want the other files to have a different format, click the Arrow button located on the tail part of the file.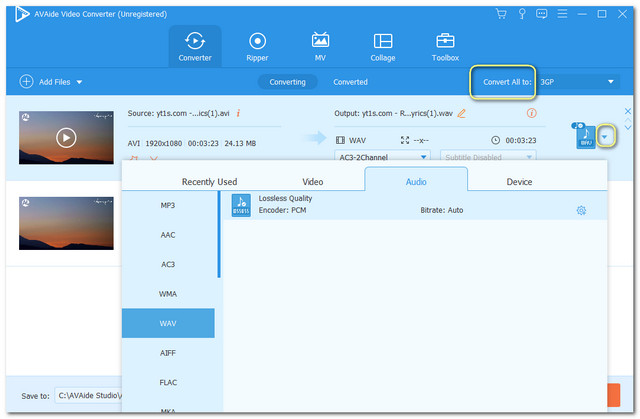 Step 4Start the Conversion
After the settings, you can start the conversion rightway. Click the Convert All button located at the bottom right part of the interface. Then wait for the process to be completed.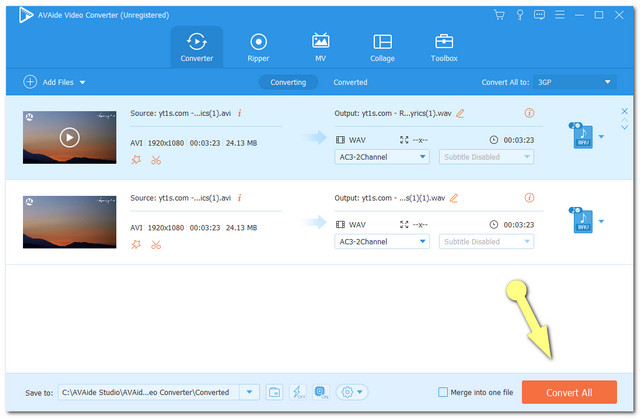 Step 5Check For the Completed Files
The completed files are automatically saved to your PC. To locate the files, you may hit the Converted button at the top center of the interface, then click on the Folder Image on the side of each file.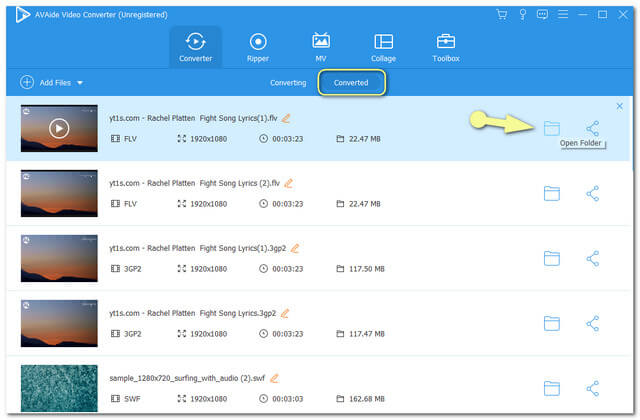 Part 2. Top 3 Ways to Convert AVI to WAV For Free
If you want to run into tools that offer gratis service, AVAide Free Online AVI Converter is on the top. This AVI to WAV free converter allows you to work without any ads and watermarks that might annoy you. Furthermore, this online tool has features to enhance and compress your video and audio files. Similar to its software, this online version also supports numerous formats for your conversion task. Moreover, you can use this anytime, no need for you to sign up to experience its unlimited service. With this note, the steps below will give you insight on how to transcode an AVI file into WAV.
Step 1Acquire the Launcher
Download AVAide Free Online Converter launcher once, by hitting the ADD YOUR FILES button. Next, click on the Download button from the popped-up window, then Open.
Step 2Import Your AVI File
Upload your AVI file after clicking again the ADD YOUR FILES button. If you desire to have a bulk conversion, click the Add File button on the top left part of the main interface, then add more files.
Step 3Set the Presets to WAV
To choose an audio file, click on the Note Image located on the bottom right part of the interface. Then, the audio file formats will be shown, select WAV afterwards.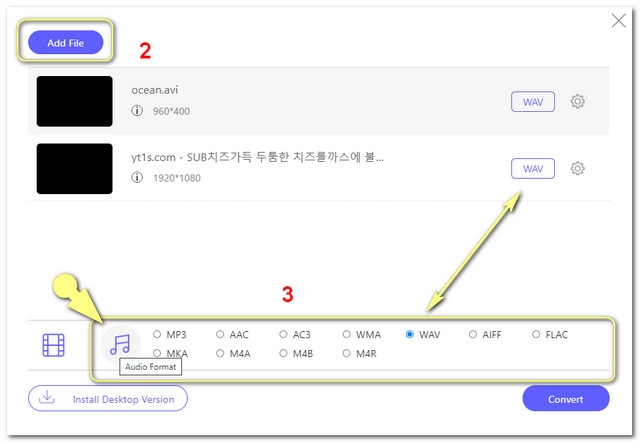 Step 4Start the Conversion
Hit the Convert button as soon as you finish setting up. Prior to the conversion process, a window of your computer storage will appear, and from there, choose the destination for the completed files.
Step 5Check The Completed Files
The conversion process only takes a few seconds. Then you may check on your selected storage. Otherwise, click on the Folder Image on the files tail to locate them.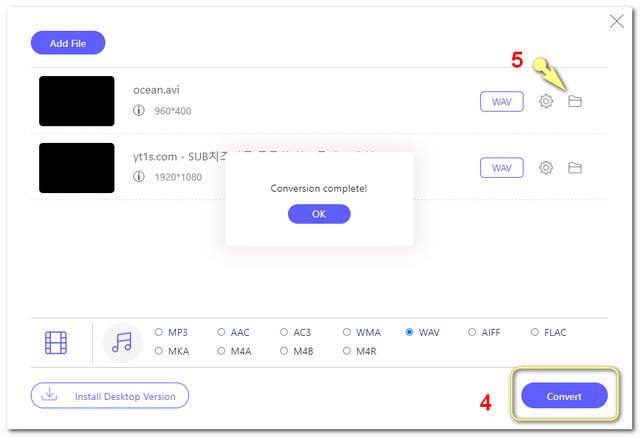 PROS:
With built in video and audio enhancer.
Super smooth interface.
Unlimited service.
Rapid conversion process.
CONS:
The only snag we have seen on this online tool is that it doesn't cater DVD burning yet and other features from its software version are not available like 3D maker etc.
How to Convert AVI to WAV With Audacity
Our second most ideal free converter is this open-source audio and recording software by the name of Audacity. This audio editor can work with up to 32-bit/384kHz audio quality. This another practical tool, can also help you extract an AVI video file into audio files such as WAV, MP3, AIFF, WMA, etc. On the other hand, below will give you an idea of how to transcode AVI to WAV using this tool.
Step 1Launch the downloaded Audacity tool. Then Click the File button on the left top part of the interface.
Step 2Go to Import then Raw Data then choose your AVI file. On the popped up window click the Import button.
Step 3Click the File button again, then Export then choose Export as WAV.
Step 4Choose your destination storage. Then wait for the conversion process to finish.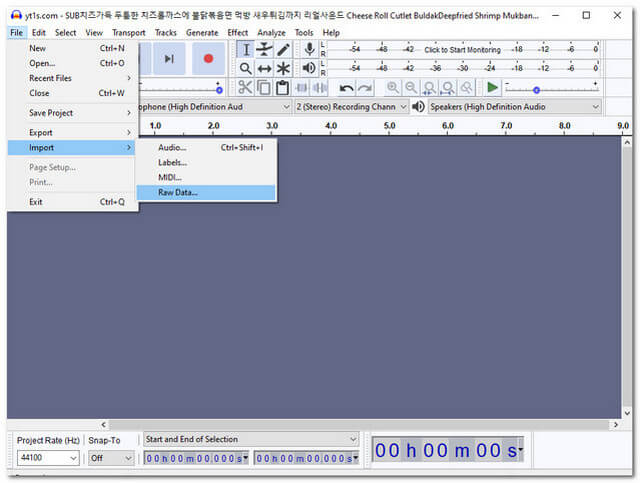 PROS:
Rapid conversion process.
CONS:
Classic interface.
Settings are for audio only.
How To Convert AVI to WAV With FreeFileConvert
Lastly, we have this FreeFileConvert. This online converter tool permits you to experience other conversion categories such as audio, document, archive, vector, etc. It claims to support 8749 conversion combinations of video, audio, image, document, archive, presentation font, and ebook file types. For further knowledge about how this tool works, below are the steps on how to convert AVI files to WAV.
Step 1Visit its webpage. Under Input file click the Choose File button to upload your AVI file.
Step 2Under the Output format choose WAV on the dropdown choices of audio formats.
Step 3Start the conversion by hitting the Convert button. Wait for the process to finish, then download the converted files.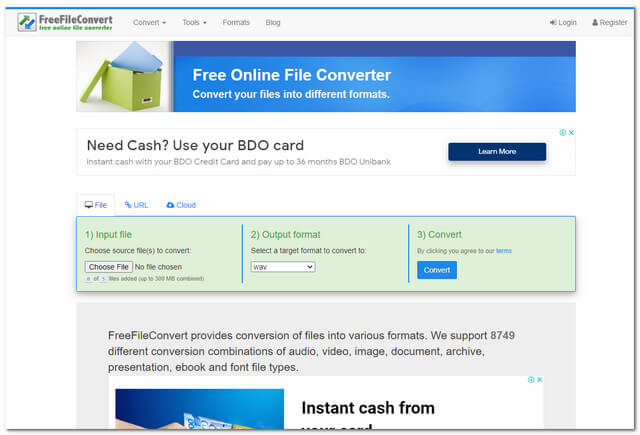 PROS:
Smooth conversion process.
Flexible
CONS:
So many ADS on the webpage.
Classic interface.
Part 3. AVI VS. WAV
Audio Video Interleave also known as AVI, is a file format that was developed by Microsoft. It is a file container of both audio and video files that coincide when playback. This file is being used worldwide, for its high output resolution. However, A large AVI video file tends to lose quality upon compressing it.
On the other hand, Waveform Audio File Format or WAV is an audio file also developed by Microsoft and IBM. This file format is a container of audio data, bitrate, track numbers, and sample rate. Moreover, it contains a high quality of audio which makes it larger than the other audio formats.
Part 4. FAQs on How To Convert AVI to WAV
Can I use VLC to convert AVI to WAV
Yes. VLC also allows you to convert AVI to WAV. However, if you are aiming for a powerful converter , you may use AVAide Video Converter.
Can I compress a WAV file with AVAide Video Converter?
Yes. AVAide Free Online Converter will get the job perfectly done. You can have a try yourself.
What are the other audio files that I choose from AVAide Free Online Converter aside from WAV?
M4V, FLAC, M4B, M4A, MKA, MP3, AAC, AC3, WMA, AIFF, etc.
Conclusion
To sum it up, it is still your choice which one among the tools presented, you think might be a very big help in your conversion task. However, it has been very evident how AVAide Video Converter made an extraordinary performance among the others. Have it downloaded and experience its amazing features.
Your complete video toolbox that supports 350+ formats for conversion in lossless quality.