As an Apple user, you may have a pile of good and favorite videos on your iOS device. Then, one day you realized how to export and transfer your MOV files on different devices and upload them to different operating systems. Apart from its default media players, the QuickTime Player, this format is only supported and run by a few media playback programs. But, worry less. There are still interventions we can undertake. One among which is doing file conversion. To maximize the use of your existing MOV files you can change their formats by utilizing MOV to WAV converters. Below are 4 tools to consider.
Part 1. The Need to Change MOV to WAV
Why is there a necessary need to reformat our files from MOV to WAV? Here is an overview and informative explanation based on several key features of the two file containers.
MOV is an MPEG-4 video format container specifically made and used for Apple's Quicktime program. The format uses a proprietary compression algorithm. The other one is the WAV or short for Waveform audio file. This particular format is a subset of Microsoft's Resource Interchange File Format or RIFF specification for holding different digital audio files. Also, this can store sampling rates and bitrates.
Use and Quality
Knowing that Apple main's function is to provide high-resolution videos, this file format is undeniably high in quality up to 4K resolution. While the WAV contains only audio files. A standard file stores 32-bit float resolution which means it's also high in quality.
Compatibility
In terms of compatibility, needless to say, WAV supports a wide range of devices and platforms. While the MOV only covers a few media players. There's a need to download and install a third-party tool.
Therefore, for us not to compromise the compatibility before transferring and uploading, gladly you can convert MOV to WAV as your prime option.
Part 2. Professional Way to Quickly Convert MOV to WAV
AVAide Video Converter
One professional way to use an offline method or a software app is to make use of the AVAide Video Converter. This is an impeccable desktop tool that runs for both Mac and Windows computer systems. You can absolutely accomplish your task rapidly by its advanced acceleration speed. On top of that, there's no restriction to the quantity or size of your files to be converted. That simply means, you don't need to worry to do batch conversion. See the detailed instructions given below on how you can change your files from MOV to WAV audio format.
Step 1Download and install the software
To start, first visit the official webpage of AVAide Video Converter on your browser. Download and install it right away on your device. Then, open it immediately.
Step 2Upload the video files
To upload your MOV files, click the Add Files button. The selection of local files is freely optional. You can add your media files each or in group to lessen the time consumption.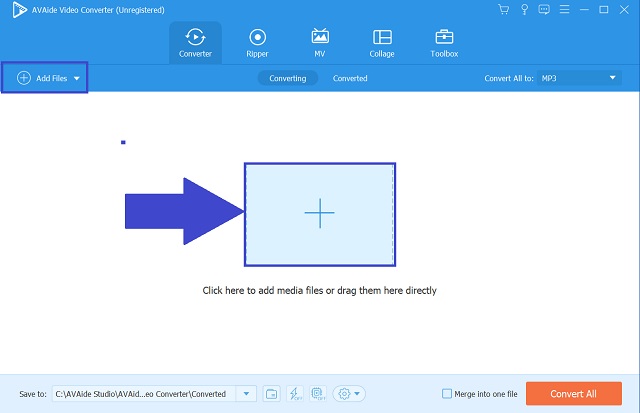 Step 3Select the audio format
Click the Audio button located from the menu bar. On the audio format panel, click the Convert All panel and change the format settings with a single button.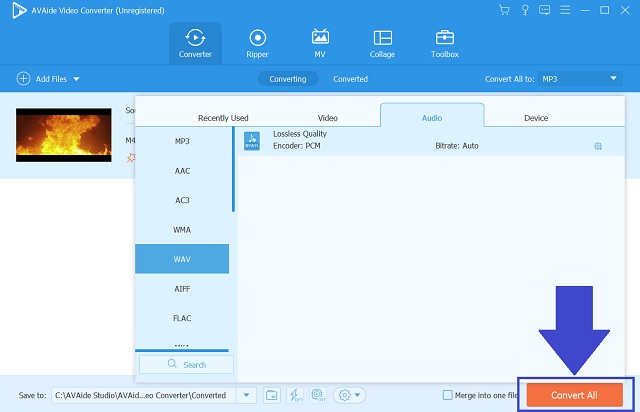 Step 4Start the quick conversion
After that, click the Convert All button to start the fast-speed conversion process.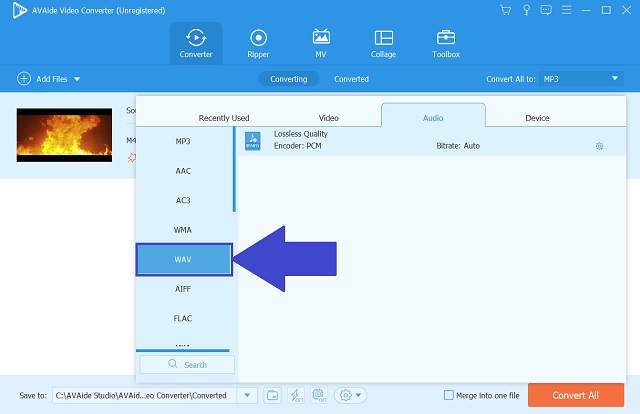 Step 5Check the saved files
To check whether your files are saved or not, go straight to your local storage on their file destination.
PROS:
It contains a huge number of video and audio formats.
Fast-speed conversion is evidently advanced.
Batch conversion works well in this tool.
Also, with DVD ripper, 3D, and movie maker.
With adjustable format settings.
CONS:
The premium version is not free.
Part 3. 3 Free Online Ways to Convert MOV to WAV
1. AVAide Free MOV Converter
To quickly transform your files through the web, use a MOV to WAV converter for free. Choose the AVAide Free MOV Converter. As the app's name implies, this online tool offers us to convert into other audio and video formats directly on the webpage. But make sure, you are connected stably on the internet to operate smoothly. This chargeless method produces high sound quality and resolution. Though you are converting in a group, it will never compromise the quality of your original media files. Most importantly, it can be used on different platforms including Linux, Mac, and Windows'. Check out the following simple steps to acknowledge.
Step 1Web browser visitation
On your web browser, go to the main website of the online tool. Make sure that your device is stably connected to the internet.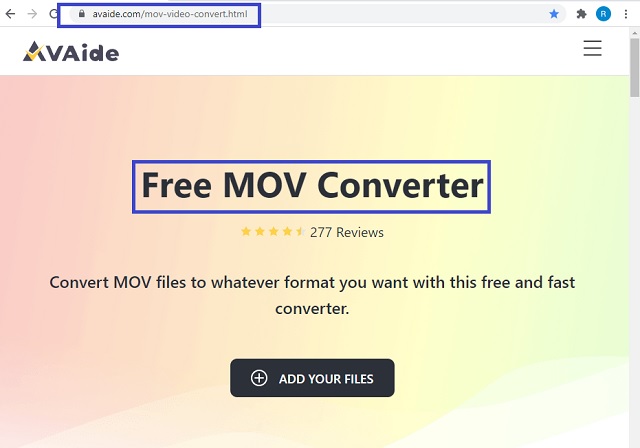 Step 2Local file selection
Second to the steps, select all your local files by clicking the ADD YOUR FILES button. Discover the batch conversion by uploading them simultaneously.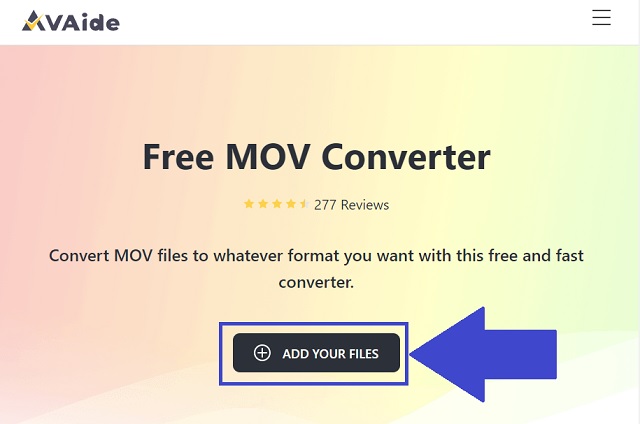 Step 3Audio format option
Afterwards, to generate all the available formats, click the audio icon on the format panel. From the list of containers, click the MP3 button as your output format.
Step 4Begin file conversion
Then, click the Convert button to start the quick transformation.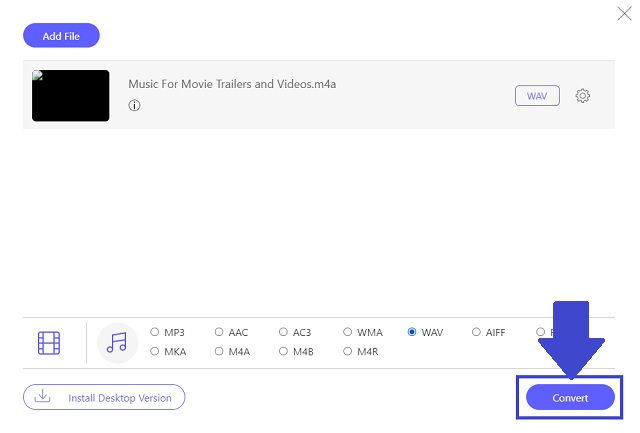 Step 5Process completion
To complete the procedure, examine your newly converted files on the local storage you've set them to be saved. Click the folder icon to view them immediately.
PROS:
Provides supports with all major file containers.
Easy and fast conversion acceleration.
Comprehensive interface.
Doesn't contain ads and fancy banners.
CONS:
Internet-dependent conversion services.
2. Audacity
Audacity offers a total web-based service that can assist you in changing old formats to new ones. If you convert MOV to WAV using Audacity, possibilities are endless. This can also be utilized by simply installing it on your device. Once you open it, it may look peculiar but it has a real converting feature that is accessible anytime. Do you want to explore this one? Then, download and follow the few steps it has.
Step 1First off, download and install the app on your device. On the menu bar placed above, click the File button. After that, click the Export button to convert.
Step 2To choose a format, from the list of containers, click the Export as MP3 button and click it.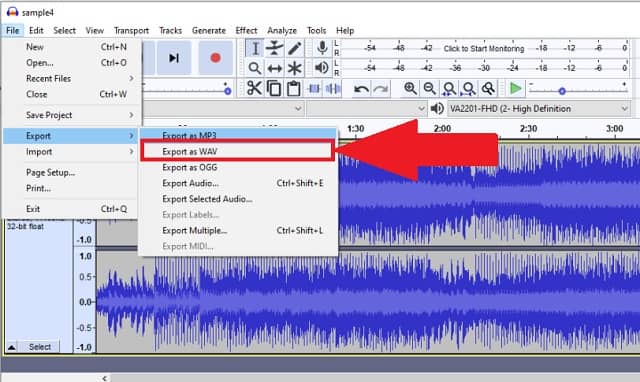 PROS:
Media player and editor.
Intuitive and comprehensive.
CONS:
Can't run without internet connection.
3. CloudConvert
Another online audio solution is the CloudConvert. This is a well-functioned MOV to WAV converter for free online. All transactions and procedures are done online with the aid of a comprehensive interface. You can also convert online videos through pasting their URL. Also, you can customize and adjust the format settings freely. Discover this hassle-free audio converter by better understanding the procedures it has below.
Step 1On your device's search engine, open the tool. Click the Select File button to transfer your files on the conversion panel of the tool.
Step 2Afterwards, view all the audio formats from the Convert to panel. Upon selection, start the procedure by clicking the Convert button.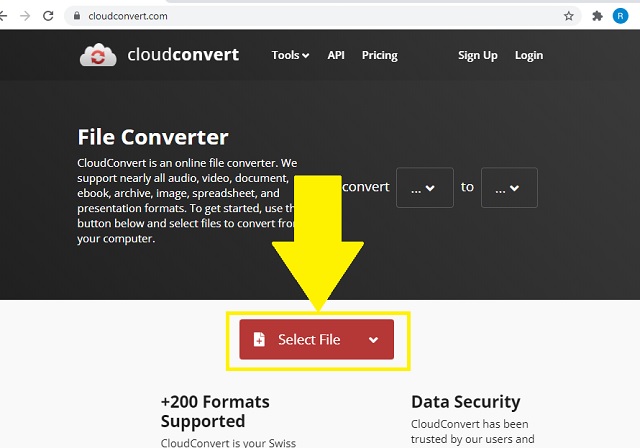 PROS:
Multiple audio-visual formats.
Intuitive and comprehensive.
Part 3. The Best Audio Converter
The aforementioned audio converters are all ideal options to convert from MOV to WAV your existing old files. Nevertheless, it's our right to choose among them the best and most reliable.
Converters

Avaide Video Converter

Avaide Free MOV Converter

Audacity

CloudConvert
| | | | | |
| --- | --- | --- | --- | --- |
| Web-based and software | Windows and Mac | Batch Conversion | Tool Box | Fast-Speed |
| | | | | |
| | | | | |
| | | | | |
| | | | | |
Results have shown that AVAide Video Converter possesses all the standards under the criteria of the most reliable audio converters.
Part 4. FAQs of MOV and WAV
Can I play my MOV files through Windows?
Gladly, you will be able to play them on Windows. However, you need to download and install first a third-party tool that supports the said format. Or search for the best mov to wav converters such as the AVAide Video Converter.
What is the standard size of MOV?
The standard file size of MOV is 3 GB. That's why it's very convenient to convert files from a more suited one.
Is MP3 better than WAV?
Technically, both are excellent in sound quality. But WAV format objectively has a great quality and can even provide more accurate audio clips.
Conclusion
Finally, we have come up putting into summary this write-up. Needless to say, AVAide Video Converter, AVAide Free MOV Converter, Audacity, and CloudConvert, are listed on the best audio converters today. Hence, the best tool to choose to convert MOV to WAV on Mac, Windows, and Linux is the AVAide Video Converter. Try this first-hand without prior knowledge and experience. Users are sure enough that what you spent will surely satisfy and can even outdid your expectations.
Your complete video toolbox that supports 350+ formats for conversion in lossless quality.