Have you ever noticed, when you transfer MOV video files to other devices, you can encounter some glitches and unintentional pauses? We both had the same experience! MOV holds files in large size, preferably suits all iOS gadgets. Why? Because Apple invented this type of tool for their users' convenience but not so for everyone. To get rid of this concern, we greatly encourage everyone to convert MOV to DivX using mac devices. Listed below are solutions that will surely help you find excellent ways to convert.
Part 1. The Professional MOV to DivX Converter for Windows and Mac
Use the AVAide Video Converter
AVAide Video Converter is a software solution that can be used to convert audio and videos to any supported file format of your choice. This includes videos on Youtube and Facebook. Furthermore, this tool can be utilized on any smartphone, tablet and even on your computer. As such, you can convert MOV to DivX on your Mac device. It offers video resolutions in HD to 4K. You can also adjust the video parameters like video codec, quality, frame rate, and bitrate.
Step 1Download and install the tool
Open your browser and enter the official webpage of AVAide Video Converter. Simply look for the Download button and install it immediately.
Step 2Drag the video files
Once installed, open the software and drag your MOV files to the center of the interface. Another option is to click the Add Files button placed on the upper part.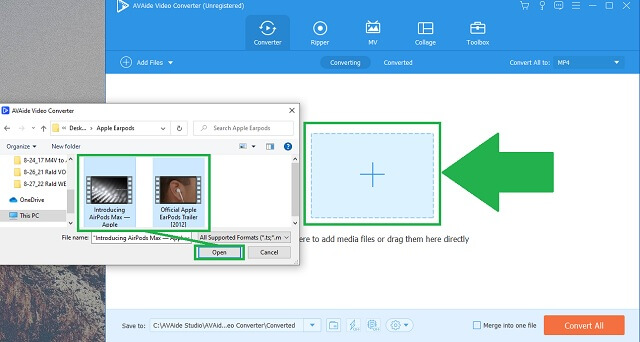 Step 3Change to DivX format
Afterwards, click the DivX button from the choices of formats. Also, you can freely adjust the settings or just keep it the same as with the source.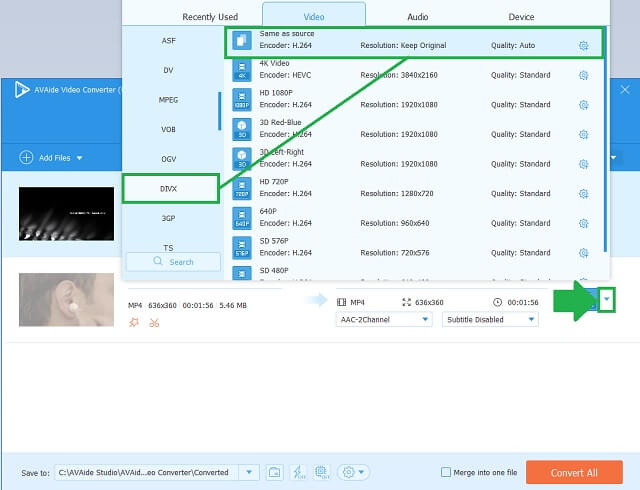 Step 4Start to convert
Click the Convert All button on the bottom part of the interface.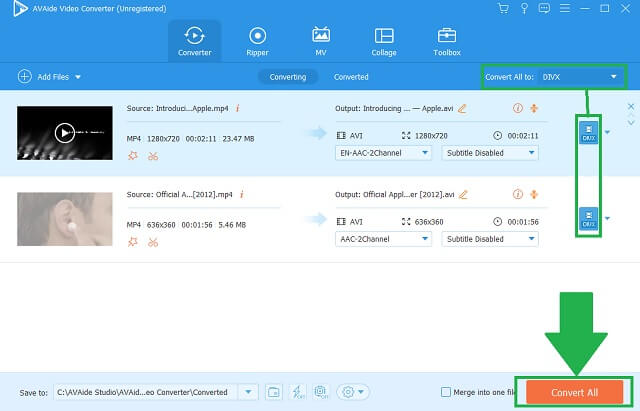 Step 5Check and play
Upon completion, your newly converted DivX files are ready to play and share.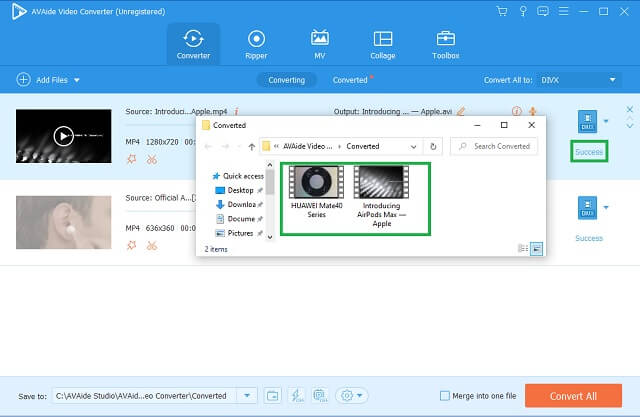 PROS:
High resolution outputs.
Fast-speed conversion.
Multi-format audio and video formats.
Work in batch conversion.
Editing and enhancing tools.
CONS:
Limited version for free trial.
No DVD burner.
Part 2. Free Online Tools to Convert MOV to DivX Files
1. Explore the Power of FreeConvert
First on the list is FreeCovert. This tool is incredibly free. It offers more than 200 formats ready for your viewing and storage. Having this on your options can deliver an easy way to convert your MOV to DivX videos. Follow these basic steps to experience the tool first-hand.
Step 1Select a video format
First, you need to click the VIDEO Converters button. Once clicked, choose your desired file format.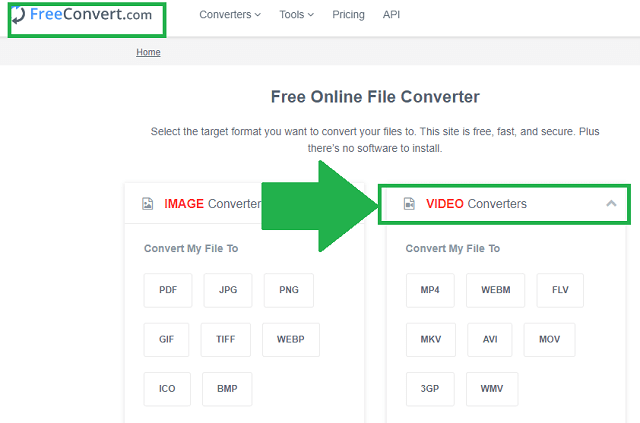 Step 2Upload the files
Then, click the Choose Files button to choose files from your local file storage and convert.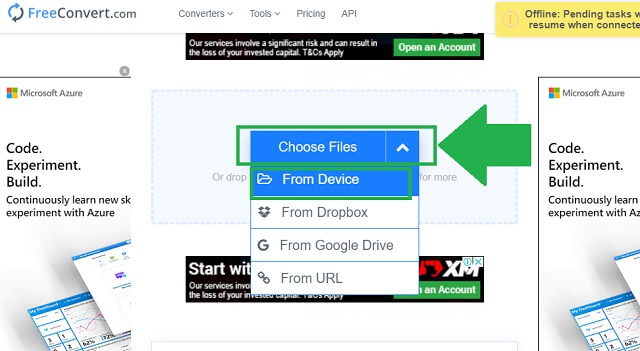 PROS:
It has a simple and clear instruction.
CONS:
There are issues when playing videos.
It's having a hard time compressing files.
2. Use Zamzar to Convert your Files
Making use of Zamzar will effectively convert your MOV to DivX for free. This awesome tool is available at the comfort of your stable internet connection. It's just a search away to encounter its quickest conversion feature.
Step 1Import the videos
Move your files on the interface by clicking the Add Files button.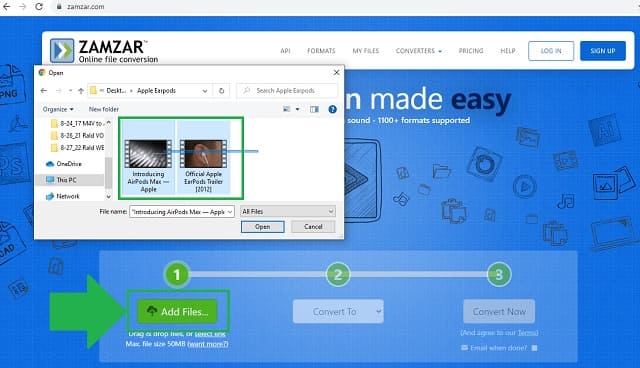 Step 2Adjust the format and convert
Lastly, the next step, click the Convert To button and look for the DivX container. Then, click the Convert Now.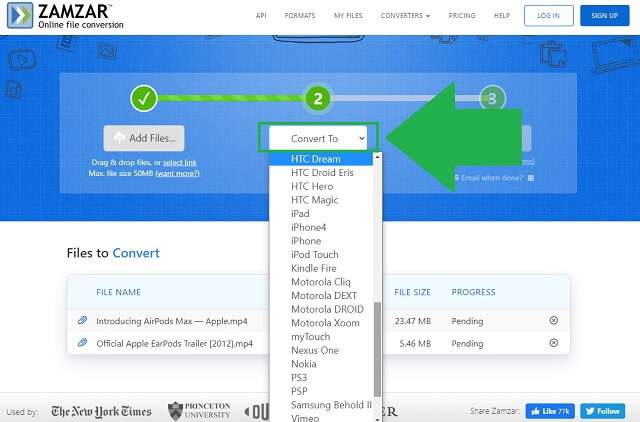 PROS:
It's a comprehensive online converter that offers audio-video formats.
CONS:
You might encounter a reduction of speed during batch conversion.
You can only import videos with the maximum size of 50 MB.
3. Try the Excellent CloudConvert
Another solution from our list is the excellent service of CloudConvert. This tool can give you the intended answer for your media difficulties. This converter is very much known for its multi-format feature. It's a must use MOV to DivX converter.
Step 1Upload your MOV files
Go directly to the official website of the tool. Look for the Select File button and click it to allow files selection.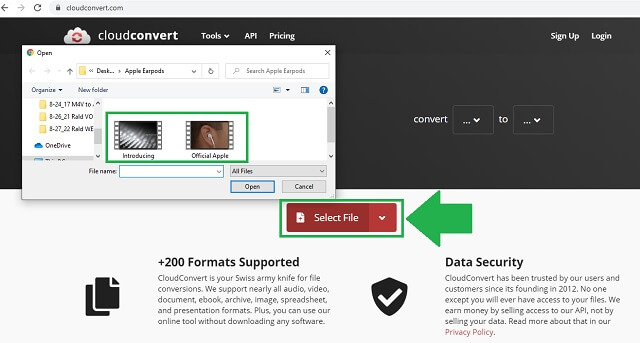 Step 2Choose your container
Select the new format by clicking the Arrow Down icon. Lastly, begin the conversion.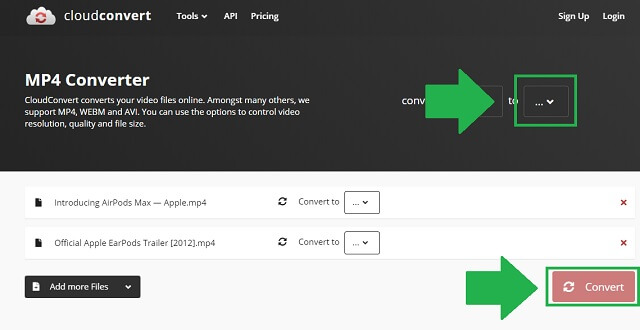 PROS:
The tool is user-friendly.
It supplies the users a roster of formats for audio and video.
CONS:
It needs to refresh the webpage to convert again.
Files with large sizes slow down the processing speed.
4. VLC is your Go-to Converter
And if you're searching for a built-in software, VLC is a free MOV to DivX converter from your Windows. No need for installment! Let VLC take the work to convert your media files. Here are some steps to follow.
Step 1Attach the files
Open the VLC Media Player on your computer. Find the Media tab and click the Convert button. When done, upload the files.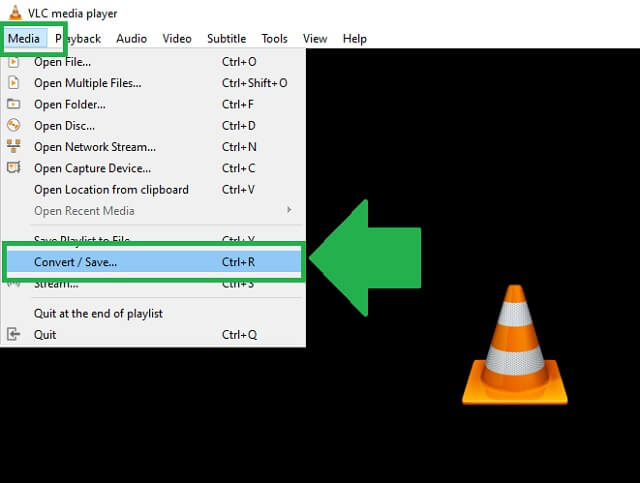 Step 2Select the format and file holder
From the format options, click the Videos for DivX as your output format. After that, browse the file holder.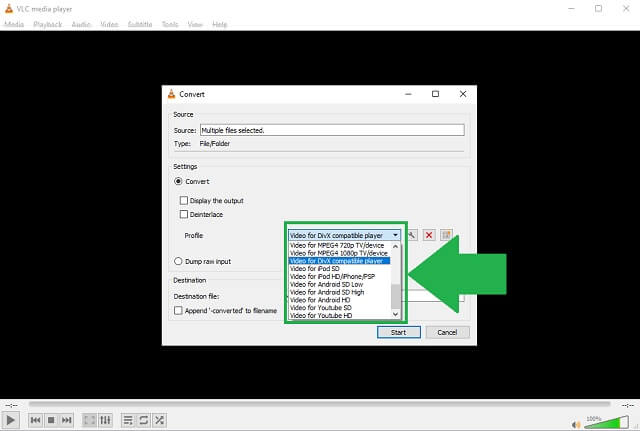 PROS:
It is a built-in software for Windows.
Freeware.
CONS:
Limited in terms of available formats.
The interface itself is complicated.
Part 3. MOV vs DIVX
We provide you this comprehensive table to clearly compare MOV to DivX file format.
| | | |
| --- | --- | --- |
| File Extension | MOV | DivX |
| File Type | Apple QuickTime Movie | DivX encoded video file |
| Description | MOV is a file format for saving video or movies files with audio, text files, and more. | DivX is a file container and a hack extension of AVI. It holds high-quality standard video and audio content. Best for DVD players and TVs. |
| Developer | Apple | DivX, Inc. |
| Advantages | 1. Best suits the Apple gadgets users. 2. For web transmission. | 1. Contains HD files. 2. Supports Windows and macOS. 3. Gaming system compatibility. |
| Drawbacks | 1. Not compatible with other devices, especially smartphones. 2. Holds a large-sized file. | 1. Only for operating systems with DivX codecs. |
| Recommendations | Best format for iOS users. | For all devices with DivX codecs. |
Part 4. FAQs of MOV and DivX
Is MOV a quality container?
MOV format offers a very high-quality video playback. However, you might encounter some existing issues whenever you play a MOV file on your phone. Lagging is a usual problem. As recommended, go and convert your MOV to DivX on your Mac. By doing this, issues are prevented.
Can I play my MOV on Windows?
Since the format was developed by Apple, you can't play a MOV video on Windows' default media player. You need to download and install media players that support the container.
Are AVI and DivX similar?
The DivX file container is also based on the AVI file format. Positively, DivX can provide additional features like XSUB chapters and subtitles.
Conclusion
To sum up everything, you can always maximize the use of your video files by having a clear understanding of what needs to be done. You can always convert MOV to DivX for a compatible transfer, playability, and other benefits. With the aid of AVAide Video Converter, FreeConvert, Zamzar, CloudConvert, and VLC, you can easily do the work first-hand! However, if you're desiring for a professional way to produce a high-quality output, choose AVAide Video Converter.
Your complete video toolbox that supports 350+ formats for conversion in lossless quality.