Have you ever asked yourself, why sometimes when playing and listening to your fan-listed audio files in podcast and music contents, there are sudden jumps and glitches? Or in the worst-case scenario, errors that disable your device or platform in playing them. One prime reason is the compatibility of the audio file format. Just like your downloaded AAC files. This format rejects many devices and platforms. As recommended by experienced entities, change AAC to WAV instead. And this can only be possible by using the best audio converters today. As you continuously read this article, partner with the explained solutions below.
Part 1. A Simple Overview of AAC and WAV
What is AAC?
AAC or simply the acronym of Advanced Audio Coding is an audio file container that compresses the content it has. Needless to say, this format offers its users a small file size. Additionally, it reduces the size but never the quality.
What is WAV?
WAV is short for Waveform Audio File developed by Microsoft Windows. This audio format is mostly used and popular when creating contents in audio CDs. Also, you can save audio files at different bit rates. This is the ideal format for audio in terms of compatibility and quality.
The two audio formats are useful and their excellence depends on your choice of operating systems, devices, and resolutions.
Part 2. Best Software Tool to Convert AAC to WAV on PC/Mac AVAide Video Converter
The top-rated AAC to WAV converter software is the AVAide Video Converter. This offline program supports the known operating systems like the MacOS, different versions of Windows, and Linux platforms. What is more, it contains tons of audio and video file formats. Also, the speed is incredibly the quickest among its rival software tools. Most of your conversion format types are adjustable depending on your personal needs and preference. Settings such as the quality and more other options. Do you want to be impressed? Then, check by yourself the amazing features of AVAide Video Converter.
Step 1The first thing you need to do is to go straight to the official website of AVAide Video Converter. Simply, find the download button and install it on your device.
Step 2Secondly, effortlessly drop your local files on the interface so you can also click the Add Files button. If you're transferring multiple files, that's totally fine since the app works for group file conversion.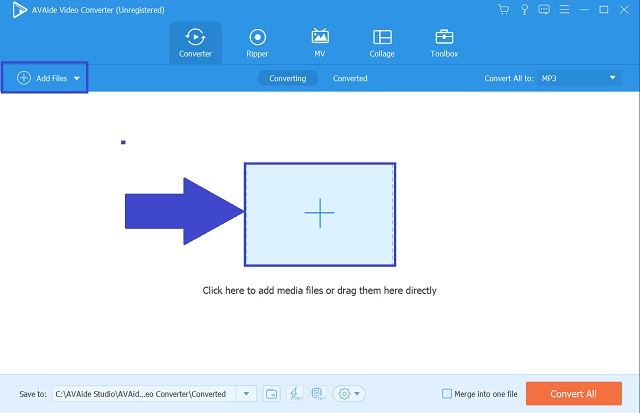 Step 3The third step is to choose the intended formats by clicking the Audio button. Once clicked, the long list immediately appears. Then, click the MP3 button.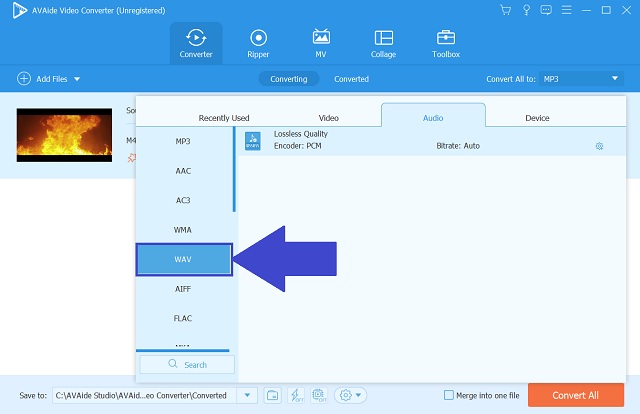 Step 4Lastly, start the procedure by clicking the Convert All button.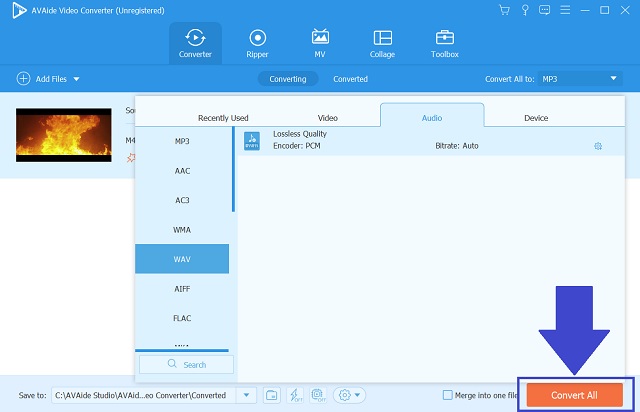 Part 3. How to Easily Convert AAC to WAV Using Audacity
Audacity
You can also use freeware to convert AAC to WAV using Audacity. This is also an offline tool that is well-acknowledged by its editing and enhancing features for your audio files. Export your files to the most suitable file format for your devices. Install this tool on your device and explore the matchless ways to use it easily.
Step 1First off, once the app is already downloaded and installed on your device. Click the File button placed on the menu bar followed by clicking the Export button.
Step 2Choose the right format from the list. Click the Export as MP3 button.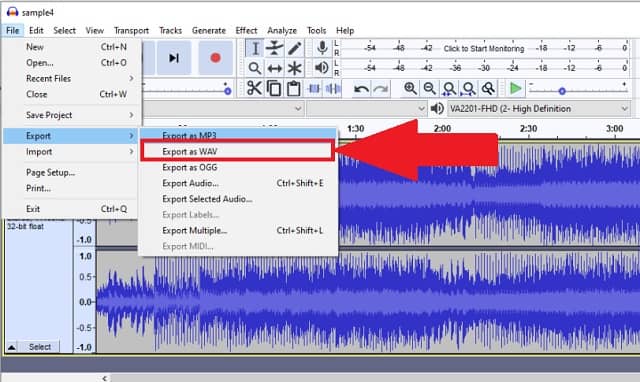 Part 4. Quickest Online Way on How to Convert AAC to WAV
AVAide Free Video Converter
This write-up doesn't just end there discussing two offline tools. If you are looking for the quickest online AAC to WAV converter, think about landing on the official website of AVAide Free Video Converter. Similarly, it offers plenty of advanced key features. This suits your skills whether you are an expert or merely a common user. No need to have any prior knowledge. Why? It allows us to use it with full simplicity. The procedure and interface are well-designed. Undoubtedly, it's informative and comprehensive to navigate. Make use of this by effortlessly undertaking these quick procedures given below.
Step 1From your web, open the tool's main webpage.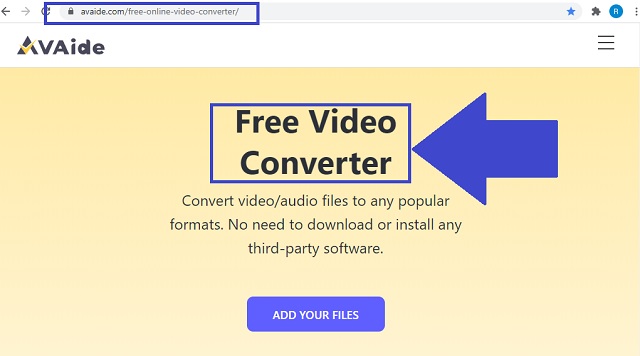 Step 2Afterwards, click the ADD YOUR FILES button to upload your local files. You add each file or transfer them in a batch.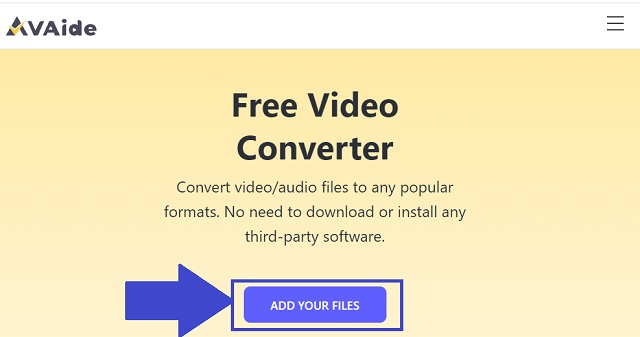 Step 3To select a format, make them appear by clicking the audio icon on the format panel. From the available containers, click the MP3 button as your format preference.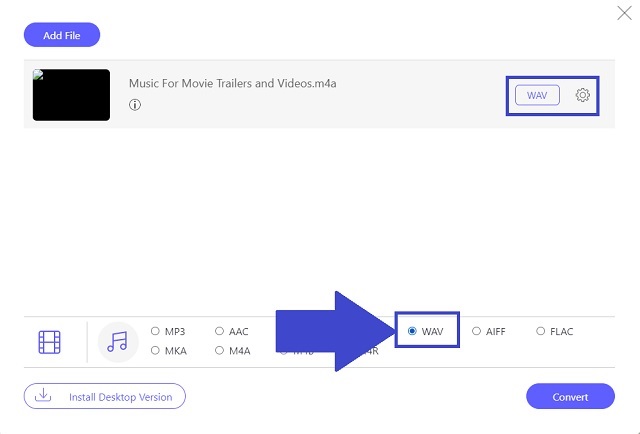 Step 4File reformatting starts by clicking the Convert button.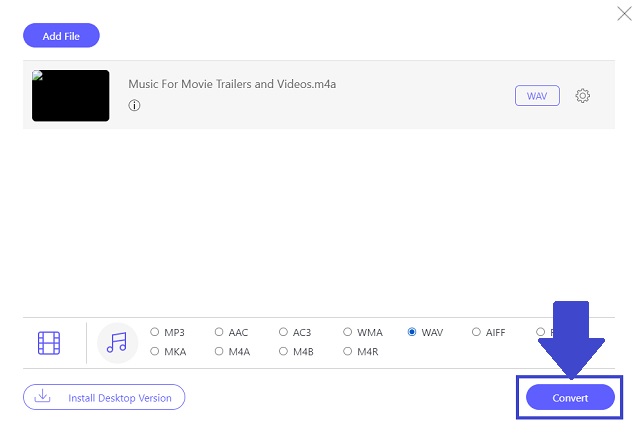 Step 5At last, click the folder icon to automatically view your saved files on their designated file folder.
PROS:
Free AAC to WAV converter.
Web-based services.
300+ audio and video formats.
Group converting process.
Free from ads.
Part 5. Comparison Chart of AAC to WAV
This comparison chart illustrates how AAC and WAV differ from each other. It allows us to clearly understand their similarities and differences.
Descriptions

Original Name

Format Content

Portability and Compatibility

Size

Sound Quality
| | |
| --- | --- |
| AAC | WAV |
| Advanced Audio Coding | Waveform Audio File |
| Audio File | Audio File |
| Supported by all iPods and iPhones AAC players | It retains the quality from the original sound |
| Standard size of 6.7 MB | Standard size of 10.09 MB |
| 1. It retains the quality from the original sound 2. Better for Apple Music streaming | 1. High in resolution. Standard format in CD and are encoded 2. Uncompressed but excellent in quality |
This simply means that Waveform Audio file excels in both sound quality, portability, and compatibility. As suggested, if you still have original AAC files, convert AAC to WAV using a trusted and reliable tool.
Part 6. FAQs and AAC and WAV
What format has the best audio quality?
Generally, WAV and AIFF provide excellent audio quality. This is because of their CD quality audio attributions.
Is WAV bigger than AAC?
Yes, WAV has a bigger file size than those of AAC. However, the gap is just short. And if you're minding the compatibility and quality, WAV is your go-to option. You can reformat your AAC files through AAC to WAV file converters like the AVAide Video Converter.
Is WAV a lossless format?
Waveform Audio File has a lossless characteristic that achieves its best sound quality.
Conclusion
The AVAide Video Converter, Audacity, and AVAide Free Video Converter are great tools to choose to reformat your AAC to WAV files. Among these three possible solutions, AVAide Video Converter offers all the needed standards for gaining effectiveness and popularity.
Your complete video toolbox that supports 350+ formats for conversion in lossless quality.