WAV or short for Waveform Audio File Format is an audio container created by Microsoft and IBM. Others refer to this as WAVE. This works well to store audio bitstreams on PCs. Files with this type of format are accepted on Windows PC and are uncompressed files. Another thing is that it is supported by both Windows and Macintosh OS without any playback issues. What makes this format disregarded is its size. It has a large-sized content that makes it harder to transfer files over the web. Consider converting WAV to M4A. Use the most used converters to retain the original sound quality of your file but reduce the size for your storage usage and management.
Part 1. Differences of WAV and M4A
What is WAV?
Waveform Audio File Format or WAV is a subset of Microsoft's Resource Interchange File Format or RIFF specification responsible for holding digital audio files. This format doesn't contain different sampling rates and bitrates. This works well for Compact Discs and holds a large size of content or can consume a big memory space.
What is M4A?
MPEG-4 Audio or also known as the M4A is a format specifically made for audio content. This audio format supports many music players including Apple Music for macOS and iOS, Apple iTunes, and even Microsoft Windows Media Player though it was developed by Apple gadgets and encoded with Apple Lossless Audio Codec (ALAC) or Advanced Audio Coding (AAC). The key capacities of this file format are its compatibility and sound quality. And these attributes can improve our listening time to our favorite musical playlist, audiobooks, podcasts, and many more.
Therefore, you need to consider choosing the best audio format for your favorite audio files. Converting WAV to M4A is the right thing to do. This is possible with the aid of the best format converters.
Part 2. How to Quickly Convert WAV to M4A without Quality Reduction
Make Use of the AVAide Video Converter
Try to use a full-featured desktop of AVAide Video Converter. You can convert WAV to M4A on your Mac, Linux, and Windows platforms. This tool incredibly aids all our converting needs that can help us manage our devices and file storage. It may sound biased, but the speed of this solution is 50X advanced compared to similar tools. It has a batch conversion service where you can attach your files in a group and convert them simultaneously. Explore all these unlimited possibilities by simply doing these following steps.
Step 1Software installation
To download and install the AVAide Video Converter, you need access to its official website first. Once visited, download it and then install to experience first-hand its full-featured display and capacity.
Step 2Local files selection
Afterwards, select all the WAV files you have by clicking the Add Files button. Import as many files as you want to convert them all simultaneously.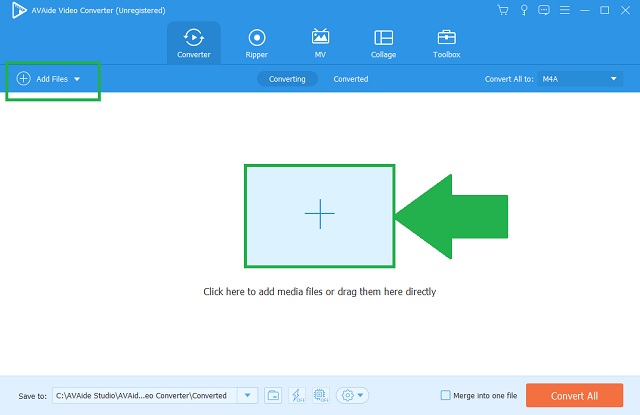 Step 3Format transformation
Change the audio output by clicking the audio icon from the format menu. Click the M4A as your product output. But if you want an easy way to do it, click the Convert All button to adjust the format all in one click.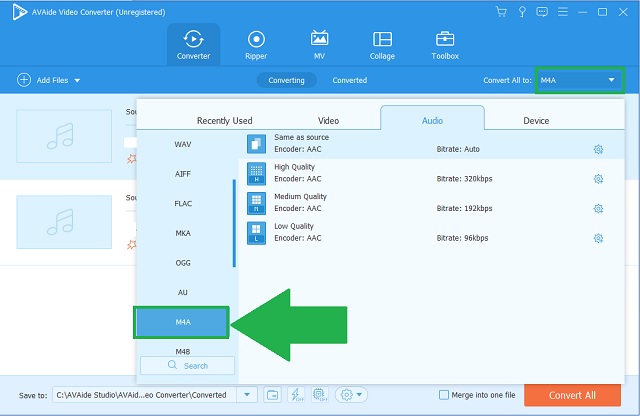 Step 4Audio conversion
Now, start the process of transforming by clicking the Convert All button.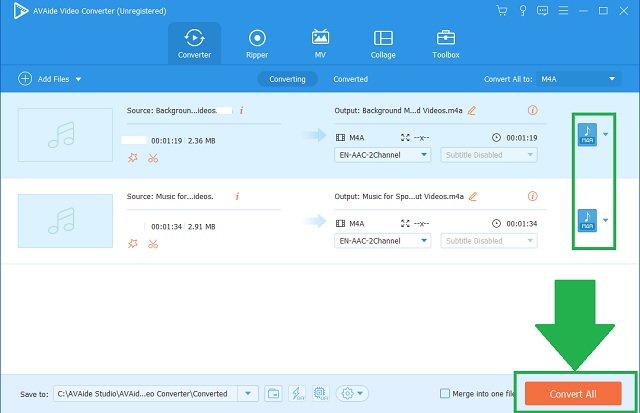 Step 5Files completion
Finally, the procedure is done and you can check them out.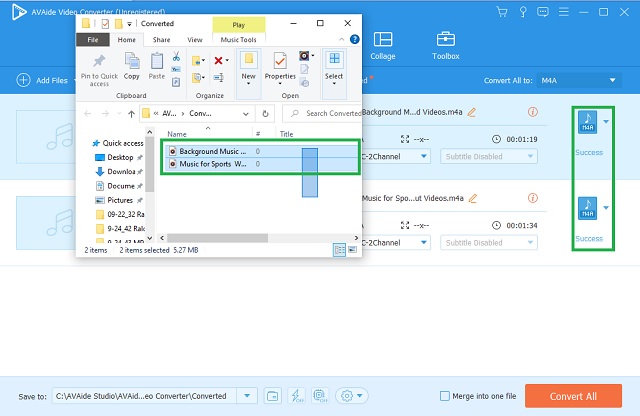 PROS:
Over 300 audio and video formats.
50X faster.
Batch conversion.
Without quality loss.
Comprehensive.
Part 3. How to Use Free Converters of WAV to M4A in 2 Reliable Ways
1. Convert WAV to M4A Using iTunes
Save your storage by trying to convert WAV to M4A on iTunes. This default media management for all Apple gadgets has an amazing way to change the format of our files. Be amazed by what this program can offer you! Never be late by discovering this hidden feature.
Step 1Going to iTunes
To unlock the converting feature of the tool, click the File button on the above menu bar. Followed by clicking the Convert button.
Step 2Adjusting the format
From the short format list, click the Create in AAC version button. Which happened to be the encoder type of M4A.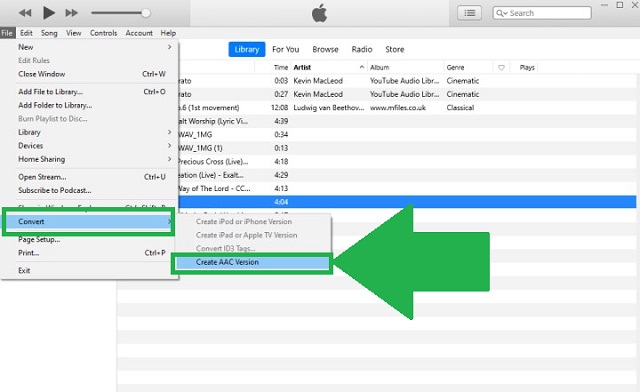 PROS:
Built-in app for Mac.
Popular music player.
CONS:
Few audios formats.
Not user-friendly.
2. Try to Convert with Audacity
Audacity is a well-known audio-editing and enhancing tool. This is a free WAV to M4A converter that can absolutely help you. This editor can easily convert and produce music, podcasts, and different audio projects. Moreover, it can be installed on both Windows and Mac. Try this one by undertaking these procedures.
Step 1Install the application
On the menu bar presented above, click the File button. Proceed to clicking the Export button to convert.
Step 2Adjusting the format
Once clicked, look for the Export as M4A button and click it.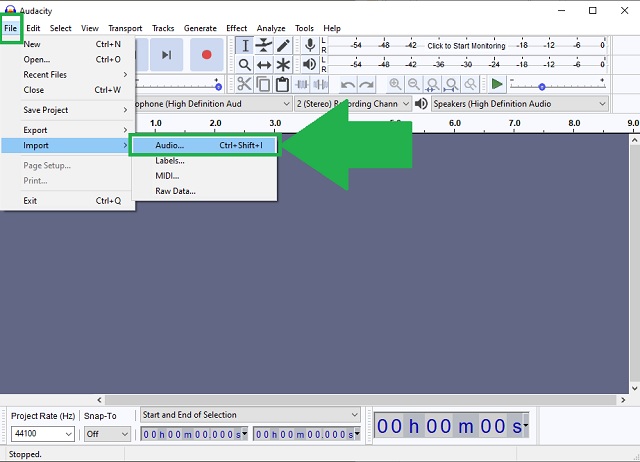 PROS:
Audio editing tool.
Approachable on PC and Mac.
CONS:
Incomprehensive for first-timers.
Can't update edits once made.
Lack presets.
Part 4. How to Convert WAV to M4A Using a Web-Based Program
Another option to count is the prowess of AVAide Free Video Converter. This is the exact answer if we want to convert WAV to M4A online. It simply means accessing the tool without paying and installing anything. It offers a dozen of format choices. Whether for video or audio, this one has it all. The results are undeniably impeccable. From the speed, resolution, and batch conversion, all these are within the reach of your web. Try this matchless online tool quickly.
Step 1Visit your browser
Visit the webpage of AVAide Free Video Converter.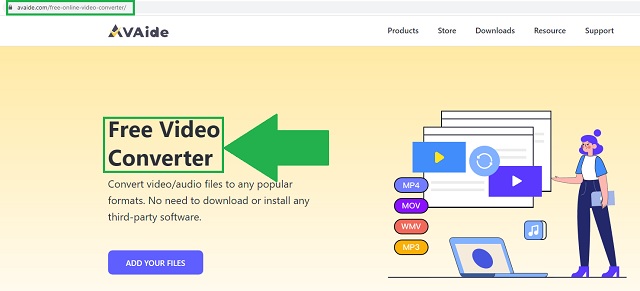 Step 2Upload your files
Click the ADD YOUR FILES button. Add in a group would lessen the time process.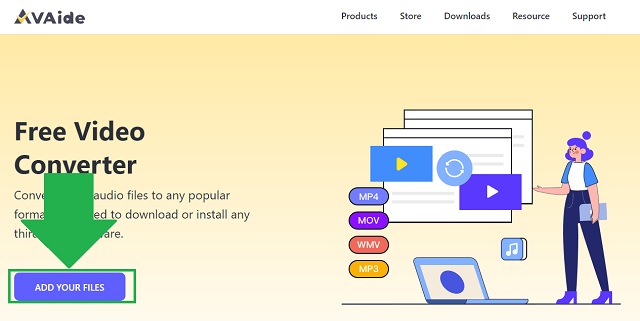 Step 3Select your audio format
Afterwards, click the M4A from the audio formats presented on the container panel. You can expose these audio formats by clicking the audio icon.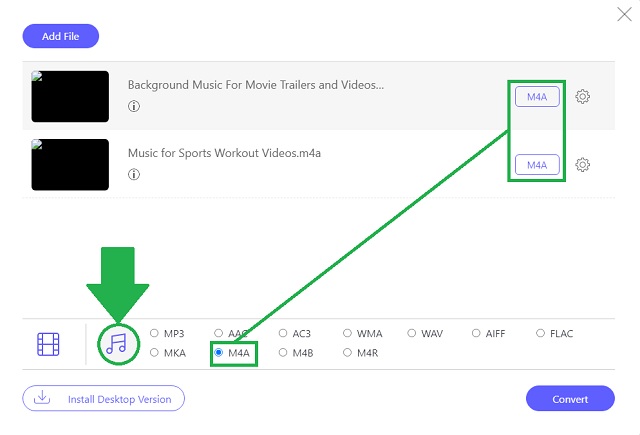 Step 4Begin your conversion
Begin the conversion by clicking the Convert button.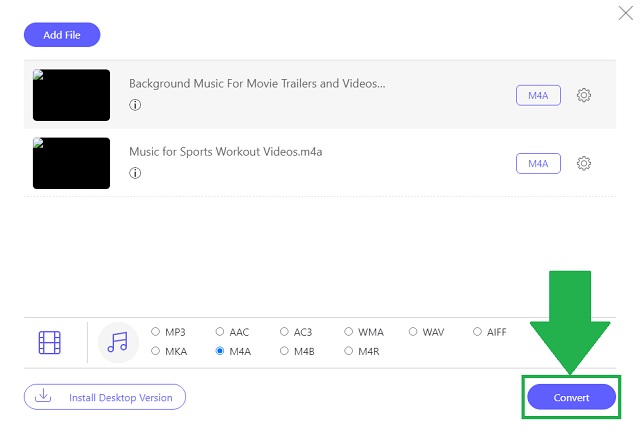 Step 5Check your new files
Lastly, click the folder icon to open the files on their set holder.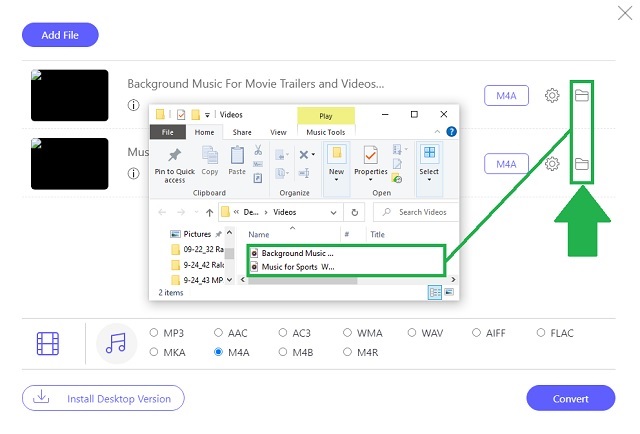 PROS:
Fast-speed tool.
Multiple formats.
High Resolution.
Adjustable settings.
Group conversion.
Part 5. FAQs of WAV and M4A
What is the major drawback of WAV?
WAV is quite impractical for portable gadgets or devices. Due to its large-sized content, streaming would have several issues. Given this challenge, try to search for WAV to M4A converter online and offline like the AVAide Video Converter.
What works well with WAV?
WAV files work well with televisions, DVDs, radio, and other media.
Is M4A the ideal format for audio?
Yes, it is. It contains a higher and greater sound quality. This attribute can also be applied at a smaller file size.
Conclusion
The aforementioned tools reached their unique reliability. With the assistance of AVAide Video Converter, iTunes, Audacity, and AVAide Free Video Converter, you can discover first-hand the easiest ways to convert WAV to M4A. Needless to say, as read above, AVAide Video Converter caters every demand we need. And that made this solution the most used one amongst many.
Your complete video toolbox that supports 350+ formats for conversion in lossless quality.