When we watch tv for entertainment, browse videos on our mobile phones, and stream videos on other social media sites, the video sizes vary on the devices we use. Some videos we watch may lose quality or be distorted if uploaded in the wrong aspect ratio. You might ask about the need to know more about the video aspect ratio. Because sometimes, in the media content world, professional sound, crisp visuals, great lighting, and other cinematic quality measures are typically prioritized first, but aspect ratios are frequently discussed as a side note. Yet, keep in mind that the aspect ratio of videos must be put into consideration also.
What are aspect ratios, and how are they used on the different social media platforms? We'll answer these questions and more in today's post.
Part 1. Find Out What is Aspect Ratio
What is an aspect ratio?
Two numbers in an aspect ratio represent the width and length of a screen or image. Use this manual to select an aspect ratio appropriate for your project. For instance, a clip with a 16:9 aspect ratio is not 16 pixels wide by 9 pixels tall. You would be unable to see such a small video. 1920 px by 1080 px is a resolution with a 16:9 aspect ratio.
Throughout the historical past of films and tv, there have been several different aspect ratios, but today, there are common video aspect ratios we will discuss in this article.
1. Aspect Ratio – 21:9 or 2.4:1
It is ultra-full high-definition widescreen or anamorphic. It is frequently used in movies to create an ultra-cinematic atmosphere. You're likely to come across videos in specialty theaters, theme parks, and museums with this aspect ratio.
2. Aspect Ratio – 16:9
A 16:9 is a wide rectangle. Additionally, it is frequently referred to as 1.71:1, which is the most simplified mathematical expression of the ratio. It is the industry-standard widescreen aspect ratio seen throughout the web. There are several reasons why 16:9 is becoming the accepted standard. Such screens have a higher resolution than those with 16:10 aspect ratios, previously considered the international standard.
3. Aspect Ratio – 9:16
It is a vertical video that we watch on our mobiles. It's an ideal reversal of a 16:9 video. For tall videos, a 9:16 aspect ratio is used. This aspect ratio gained popularity when mobile phones with wide-angle cameras were introduced.
4. Aspect Ratio – 4:3
This aspect ratio is appropriate in SDTV/Video computer displays. This includes video recordings back in the '80s, camera recorders, televisions, and films. It was also considered the standard video aspect ratio back then because, before the 16:10 and 16:9 aspect ratios, the 4:3 aspect ratio was the industry standard for televisions and computer monitors. The main factor for the switch was the advent of high-definition television because 16:10 and 16:9 aspect ratios support higher resolutions than the 4:3 aspect ratio.
5. Aspect Ratio – 1:1
1:1 is a perfect square ratio. Nowadays, the 1:1 aspect ratio is far less prevalent. It's most likely to be found on social media platforms like Instagram. While it wasn't the most popular aspect ratio, numerous cameras still have a square mode.
Part 2. Aspect Ratio and Resolution
To those in the field of the creation of films, it's beneficial to realize the distinction between the aspect ratio and resolution of a video.
What is the resolution?
The term resolution refers to the number of pixels or dots that comprise the image on your television. The more dots in the image, the higher the resolution and the better the total quality of the image for any given display size.
It is the number of pixels exhibited on the screen that determines the aspect ratio of a video. More resolution means that the video is clearer or has a better quality. Let us remember that there are numerous counterpart resolutions for each aspect ratio. Aspect ratio and resolution are intimately connected. To determine the resolution, multiply the width by the height.
Meanwhile, the aspect ratio is calculated by dividing the width by the height. The total square pixels on the screen are multiplied by the width by the height. The higher the number, the greater the video quality.
Part 3. Aspect Ratios of Different Social Media Platforms
1. Video Streaming Site
16:9 is the video aspect ratio of the most known video streaming site we utilize today. This means that regardless of the aspect ratio in which you record your video, the platform will convert it to 16:9. It is also considered the best video aspect ratio for this video streaming site.
2. Instagram
Below is a detailed list of Instagram's recommended aspect ratios:
◆ On Instagram Stories: 16:9, 1:1, 4:5, 9:16 (recommended: 9:16)
◆ On Instagram Feeds: 1:1 or 4:5
◆ Instagram Television (IGTV): 9:16
3. Facebook
In a nutshell, the optimal aspect ratios for Facebook are as follows:
◆ In-Feed Videos: 16:9, 9:16, 1:1, 4:5, 2:3, (recommended: 1:1 or 4:5)
◆ On Facebook Live: 16:9
◆ On Facebook Stories: 9:16
4. TikTok
The following are the aspect ratios utilized by the users of TikTok:
◆ Tiktok Feeds: 9:16 and 1:1
5. Twitter
The platform utilizes the following aspect ratios:
◆ Twitter Horizontal Video: 1:2.39 – 2.39:1
◆ Twitter Vertical Video: 9:16
Part 4. The Best Video Aspect Ratio
From all of the different video aspect ratios we have presented, which one do you believe is the best? The answer is that it is dependent on the goal of your project. Every ratio has its range of opportunities. It is critical to understand the video aspect ratios and the standard resolutions used in videos. Because if you don't, you'll end up with a distorted video on your hands.
Part 5. Determine a Video's Aspect Ratio
You might ask, how to see the aspect ratio of a video? To determine the video's aspect ratio, you may do it in two ways.
1. How to view the video aspect ratio on Mac?
On Mac, hit the information button, which resembles i surrounded by a circle.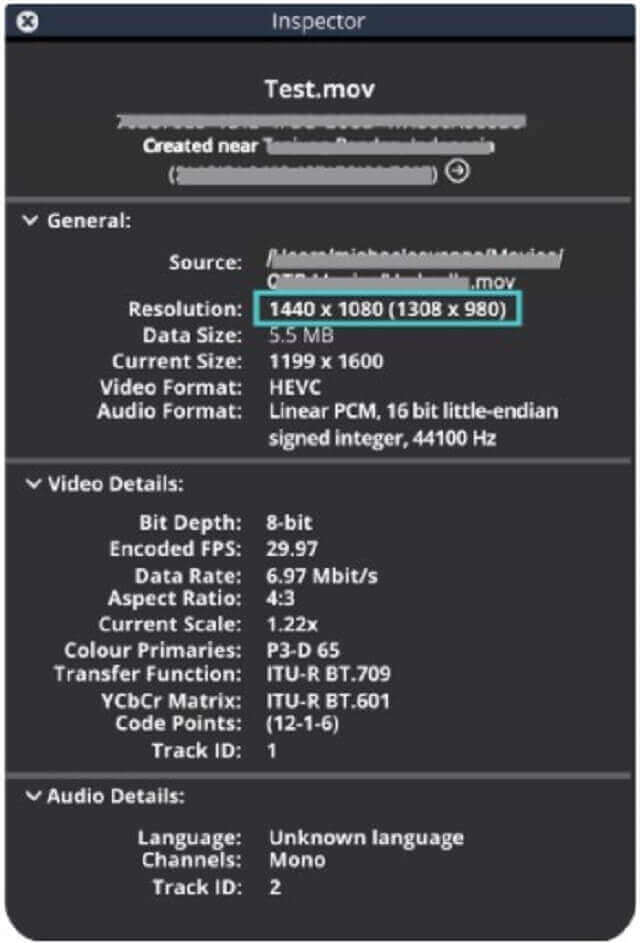 2. How to view the video aspect ratio on Windows?
On your Windows desktop, right-click the video and select Properties > Details.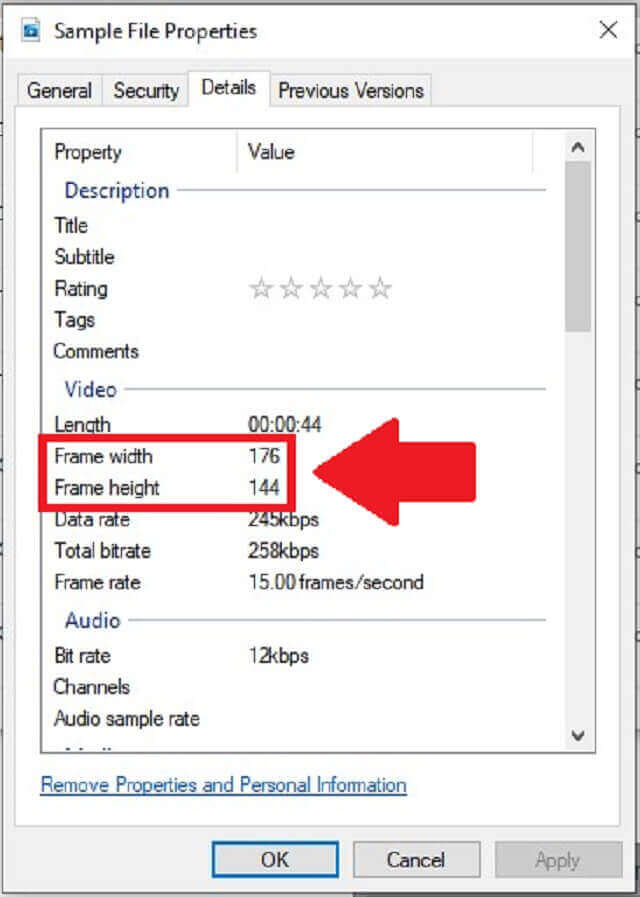 Part 6. Changing of the Aspect Ratio of a Video
AVAide Video Converter
If you wish to alter the video aspect ratio of your clip, AVAide Video Converter will come in handy. This is not your typical video converter; instead, this tool is jam-packed with advanced features that make editing videos simple. Do not be concerned about your converting, editing, DVD ripping, making films in minutes, collage-making, reversing video, and other tasks anymore because AVAide can assist you with all of them. It makes it even more intriguing because it has a user-friendly and straightforward user interface, which makes it even more appealing. Even inexperienced users will find the software to be straightforward to use. Without further ado, please see below a comprehensive guide on how to change the aspect ratio of a video.
Remarkable Tool: AVAide Video Converter
built-in video collage maker and movie maker.
edit ID3 info, make GIFs, and create 3D movies.
30x faster conversion empowered with acceleration technology.
works without internet connection.
convert in bulk without interruption.
supports nearly 300+ audio and video input/output formats.
Step 1Click the download buttons
First, download the AVAide Video Converter using the download buttons above. Or, you can visit the main site of the tool. Download and install it right away.
Step 2Unload your video clip
Import your video clip by hitting the Plus (+) button on the main interface.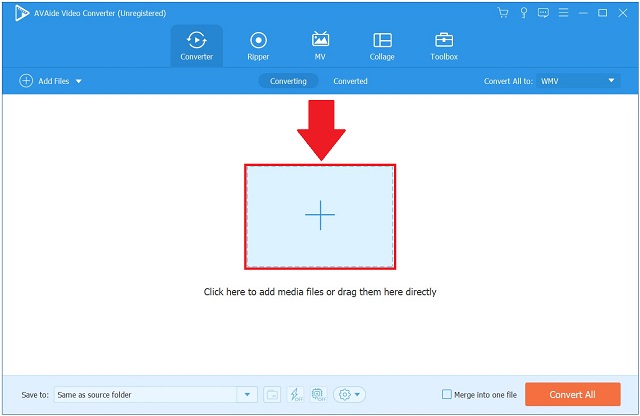 Step 3Locate the edit button
After uploading the video clip, tick the Edit button located at the right side of the video clip. Afterwhich, the tool will direct you to the editing interface.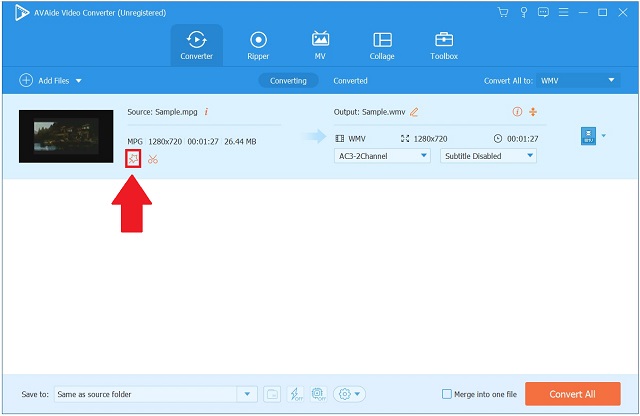 Step 4Choose the appropriate aspect ratio
Look for the Aspect Ratio dialog box at the editing interface and click 16:9 as your desired aspect ratio. Then hit OK.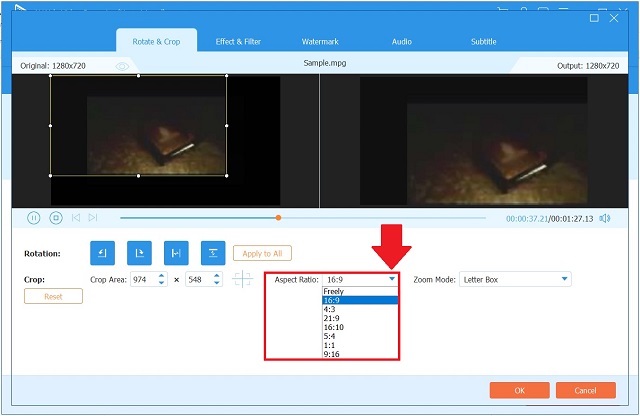 Step 5Export your video clip
At last, after choosing the preferred aspect ratio in the video, select Convert All.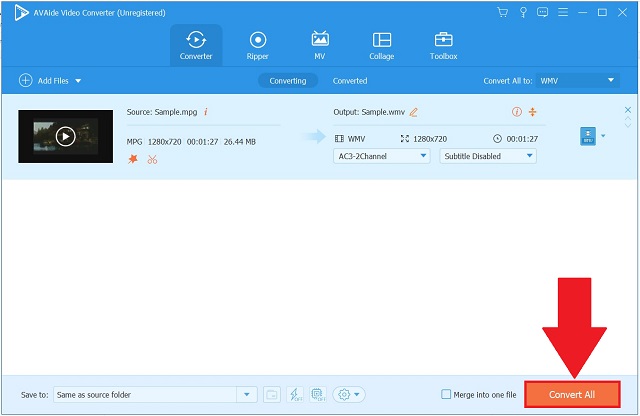 Part 7. FAQs about Video Aspect Ratio
What is the aspect ratio of 4K?
4K typically refers to a 3840 x 2160 px resolution with a 16:9 aspect ratio.
In pixels, what is the 16:9 ratio?
Although many videos have a 16:9 aspect ratio, most smartphones and DSLRs will record in 1920 x 1080 resolution.
What is the distinction between a 4:3 and a 16:9 aspect ratio?
The 16:9 aspect ratio results in a frame that is 78% wider than tall. In contrast, the 4:3 aspect ratio results in a frame that is 33 percent wider than tall. The distinction between the two aspect ratios is that 16:9 records more information downwards, whereas 4:3 records more information upwards.
Conclusion
Simply put, that's the whole article about! Those concerned that their video will be distorted due to using the incorrect aspect ratio need not be concerned any longer! As previously stated, we've provided an exclusive guide to the video aspect ratio of the video and more. The fact that AVAide Video Converter is a fantastic tool for changing the aspect ratio of your video is another vital point to consider. You should give it a shot now!
Your complete video toolbox that supports 350+ formats for conversion in lossless quality.