When we are frustrated with our videos, we become irritated. This may be due to the unwanted output of the capture. In this case, you would want to edit the video to enhance, furnish or polish the video. Cropping video is an essential editing tool, especially if you want to snip your videos into short segments. It can help cut out unwanted scenes in the footage if you're going to adjust or remove a portion of your clip. However, if you want to highlight important scene videos, you can use this tool quickly and without worrying. Check out the most convenient tool in this article, and it will undoubtedly assist you throughout.
Part 1. Learn How To Use Kapwing Resizer to Crop Video
When it comes to resizing your video, Kapwing Video Resizer is one of the simple tools that will help you properly adjust your video. This software is one of the most convenient web application solutions. It is not necessary to install it in order to use it or download anything, nor do you need to create an account; all you need is an internet connection. With the assistance of this tool, you can make your task more effortless than ever before while spending minor time editing. Because this tool is designed for video editing, it will undoubtedly assist you in illuminating your load. Furthermore, you can use this alternative tool to crop your videos easily. The following are the fundamentals of employing the most practical means.
Step 1Visit The Official Website
Before you begin, you must first visit the official page of Kapwing Video Resizer.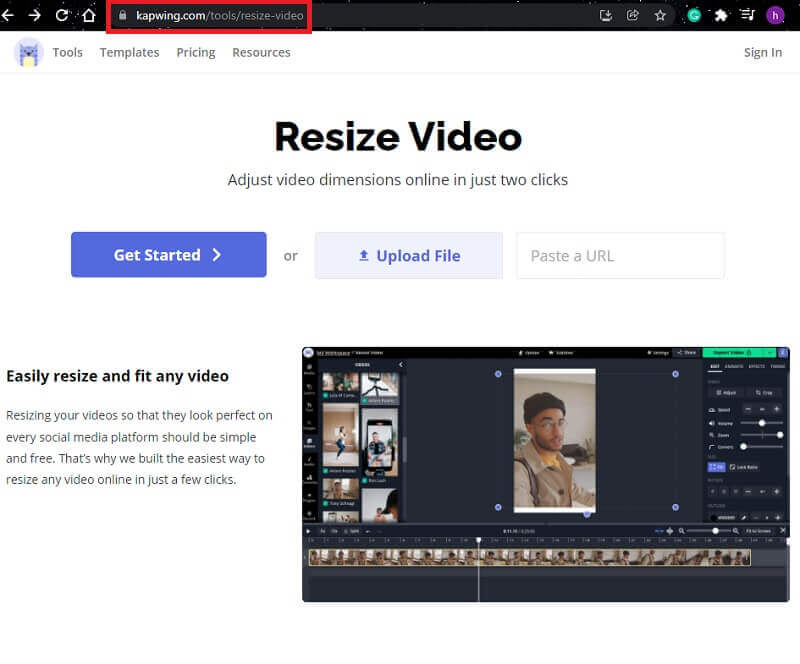 Step 2Upload File
You may begin with a blank canvas or upload a file. Then, in a sidebar, adjust the size of your content using the controls.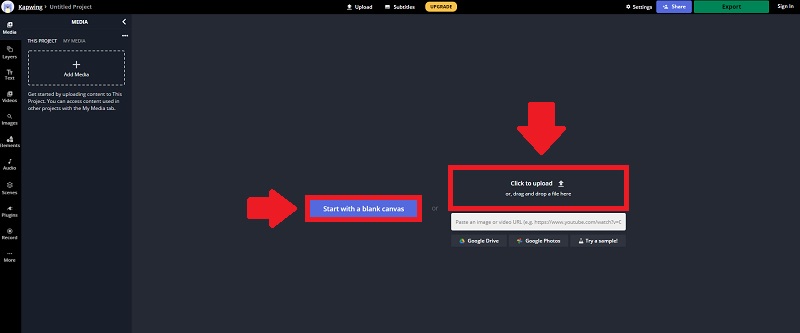 Step 3Crop the Clip
After you've uploaded your video, you can crop your video by dragging the crop handlebar to the desired position.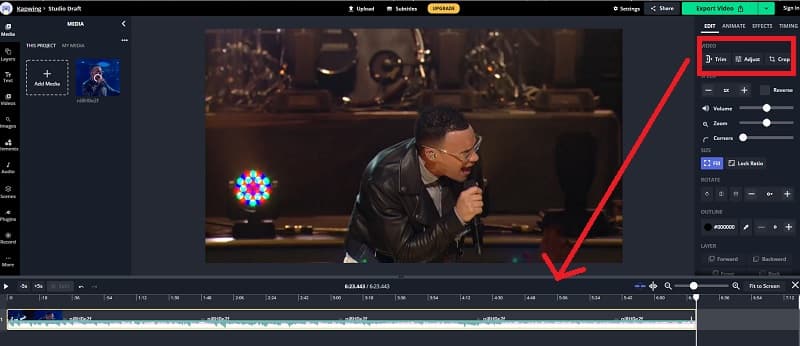 Step 4Export your Video
Finally, you can now share your video by clicking the Export Video button. You can also export as MP4, GIF, Image, and MP3.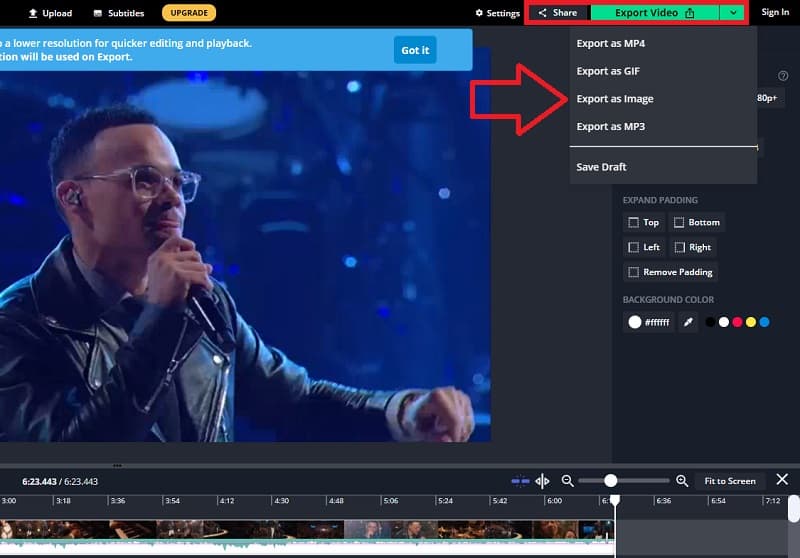 Part 2. Best Alternative To Kapwing To Resize Video
When it comes to editing software, there are numerous options. One of the lists is to use Kapwing to crop video. It becomes as easy as pie to use it as high-quality software. Still, suppose you want to try the most easy-to-use and outstanding software with the best editing capabilities. In that case, AVAide Video Converter is the most recommended. This is the most trusted software for editing and resizing your clips. Professional features, popular tools, and themes can all be found in contrast to the other editors.
AVAide Video Converter is also well-known for its powerful video editing features. It includes a lightweight video editor that makes creating and editing your videos a breeze. Trimming, rotating, cropping, applying an effect, and adding a watermark are all options for editing your video. Isn't it amazing? It also has a high-end video processing feature that allows you to change the video quality completely. Furthermore, you can always preview the quality of your work while editing.
Here's a quick walkthrough of using the special software to understand better how to use it. The procedure is detailed below.
Step 1Download the Tool
To install and download this tool, visit the official website of AVAide Video Converter on your computer.
Step 2Upload your Files
After you've finished installing the tool, launch it to begin navigating it. Click the Add Files or the plus (+) for a faster method.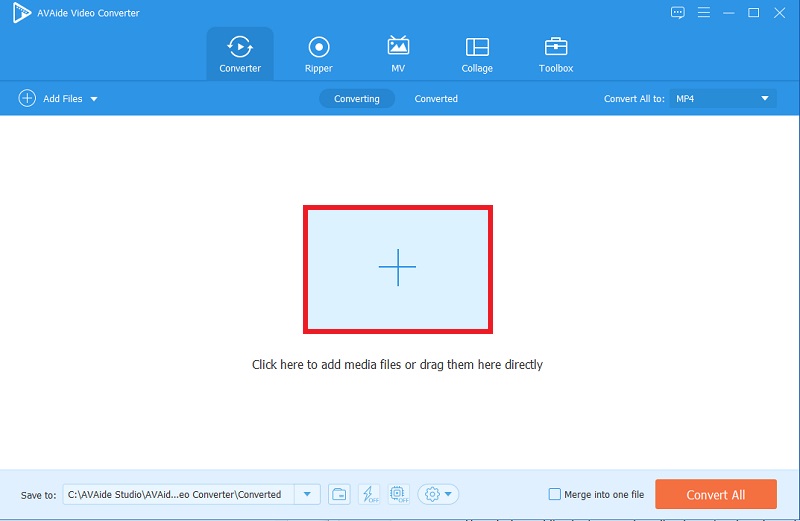 Step 3Crop your Clips
After you've uploaded your chosen file, click the Star icon, then select the Crop button, and you can resize your video.
Step 4Enhance your Video
You can also add effects and filters by clicking the Effect and Filter button and selecting your desired effects. You can also adjust the preliminary results: Contrast, Saturation, Brightness, and Hue.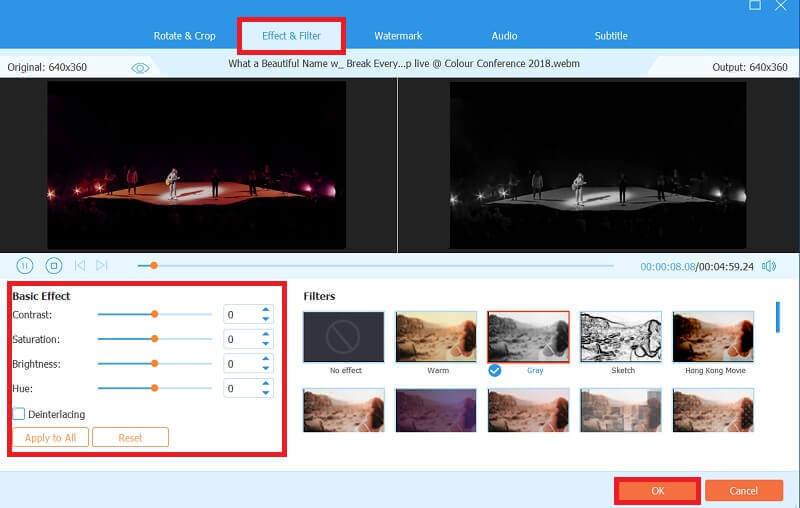 Step 5Apply the Changes Permanently
If you're happy with the finalized version of your video, you can now select the conversion format that works best for your device. AVAide Video Converter does not sacrifice video quality, so you don't have to worry about deteriorating quality due to the format you've chosen. Nonetheless, your video will be a work of art.
After you've decided on a conversion format, click Convert All. It will not take an eternity to convert because it will only take a few minutes.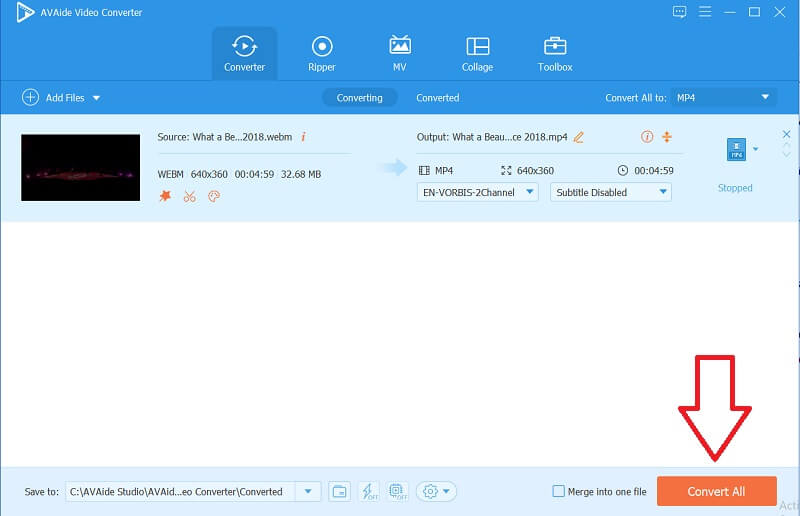 Part 3. Frequently Ask Questions About Cropping Video
Is AVAide Video Converter available on the phone?
No, it's only available in a variety of desktop configurations. This software can only be installed and downloaded on desktop computers such as Windows, Mac, Vista, etc. However, it allows you to produce media content that is suitable for nearly all mobile devices, including iPhone, Samsung, Huawei, Oppo, and so much more.
Can I use AVAide Video Converter without the Internet?
Yes, AVAide Video Converter is designed to work even without an internet connection. All you have to do is to download the program, install and run it on your computer to use it. Therefore, you can crop and edit videos anytime and anywhere without worrying whether you are connected to the internet or not.
Does kapwing keep zooming video in?
When you are trying to crop videos with Kapwing, it will automatically zoom in on the video. Technically speaking, it does not naturally zoom video. By contrast, it comes with a built-in zooming capability that will help you zoom in or out on the center of the video. What's more, it uses a slider that allows you to control the zooming capability easily.
Conclusion
Overall, using Kapwing to crop videos is workable. Both software is easy to try, especially AVAide Video Converter. Because it is an excellent tool for trimming and cropping videos, with many valuable options for getting the most acceptable video and audio output you want. Without a doubt, it is the most helpful and convenient software. The interface of this tool is user-friendly and straightforward to use. Even a first-time user of the software can use it with simplicity utilizing this application.
Your complete video toolbox that supports 350+ formats for conversion in lossless quality.