Cropping videos is one of the most important things to do if you want to remove unnecessary segments from your video. We can't deny that we are irritated when our clips contain distracting elements. Suppose you want to crop your video. In that case, you badly need a better tool to help you enlighten your load.
Moreover, we can easily edit our clips by utilizing a fantastic tool. If this is the case, we will walk you through the process step by step, using practical yet convenient programs that you can use right away. After the jump, you can learn more about them.
Part 1. Simplest Ways on How to Crop Videos in VLC
When it comes to cropping your videos, one of the most user-friendly software is VLC Media Player, which allows you to crop, trim, and edit your videos in the simplest way possible. It is free software that you can install and download on any Windows computer, Mac, Linux, or mobile phone, including Android and iPhone.
Moreover, this tool is simple to install and supports many file formats without a license and any purchase. On the other hand, you can use this tool to play videos while downloading and installing. Take a look at the basic steps below to learn how to use VLC to crop videos.
Step 1Launch VLC Media Player and navigate to Media > Open File > the video you want to edit with this tool.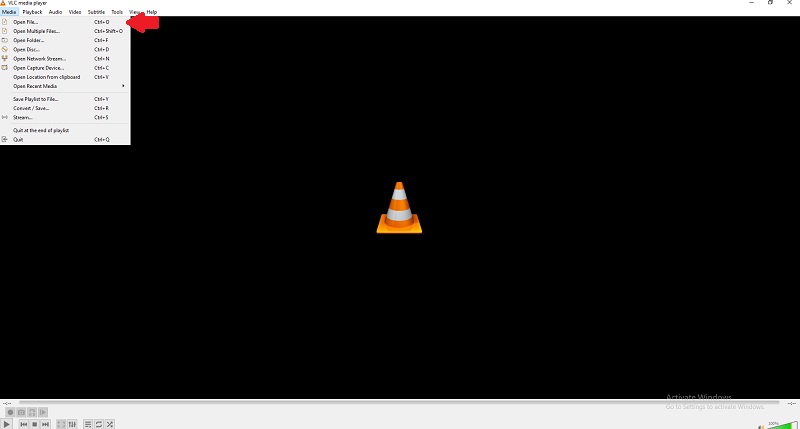 Step 2If the video is not playing, you do not crop it. However, click the Video > Crop button while the video is playing.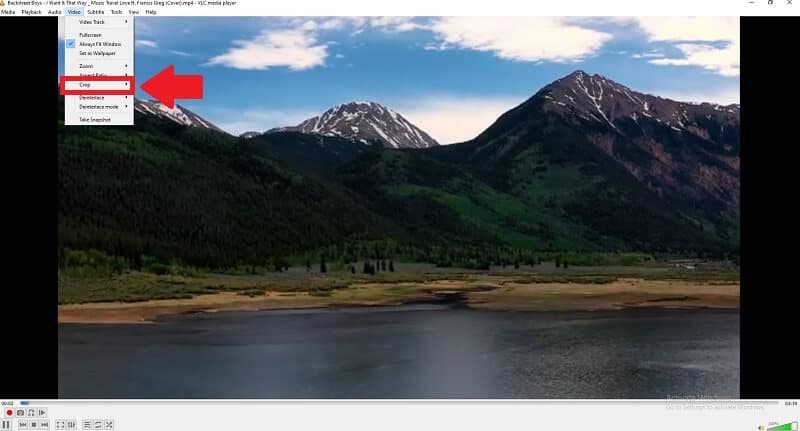 Step 3Suppose you want to resize your video clips. In that case, you can do so by selecting the aspect ratio while the video is still playing.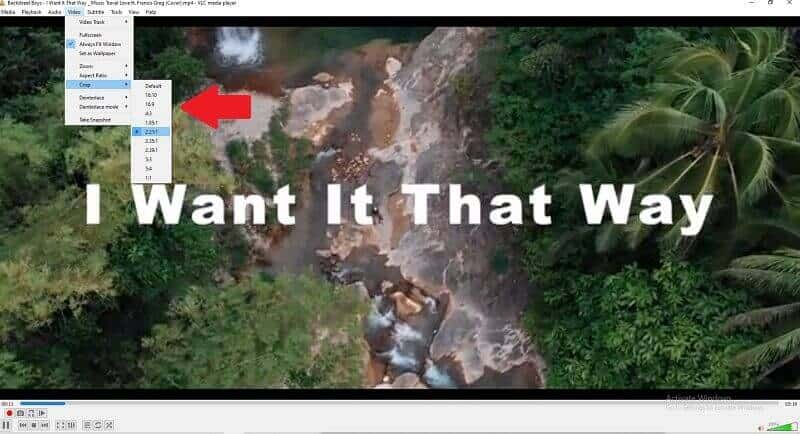 Part 2. Using the Best Software to Crop Videos Without VLC
If you are looking for a perfect and outstanding tool that will undoubtedly assist you with your problems. There is a tool for that. AVAide Video Converter is one of the best programs for cropping, trimming, rotating, and editing video clips professionally. It is straightforward to use and has a plethora of powerful features. It is not a video converter, but it will assist you in cropping and converting your videos without sacrificing quality.
Professional video editing software, such as VLC, isn't the best choice if you're a web content creator or want to crop your video because of its steep learning curve. You may wonder if there is a more straightforward way to crop a video. If you're going to crop your video clips in the simplest way possible, try AVAide Video Converter, which allows you to crop the video in just a few minutes.
It is a powerful tool for editing and converting videos because it supports over 300 formats. And over 18 million people have downloaded it, with 8 million of them pleased. It also employs advanced encryption to safeguard user data. You can also use this tool for other purposes, such as video editing. All options are cropping, trimming, merging, flipping, and rotating your video.
Furthermore, AVAide Video Converter is the most convenient and exceptional tool. It is also available as online software that you can install and download for free. This tool allows you to improve your creativity while also providing everything you need. Among other tools, you will use the best.
Learn the step-by-step process of using the most professional software below.
Step 1Download the Software
You must first download the best software by clicking the download button above.
Step 2Directly upload your file
After you've installed the software, drag and drop your files into the (+) Plus button to continue.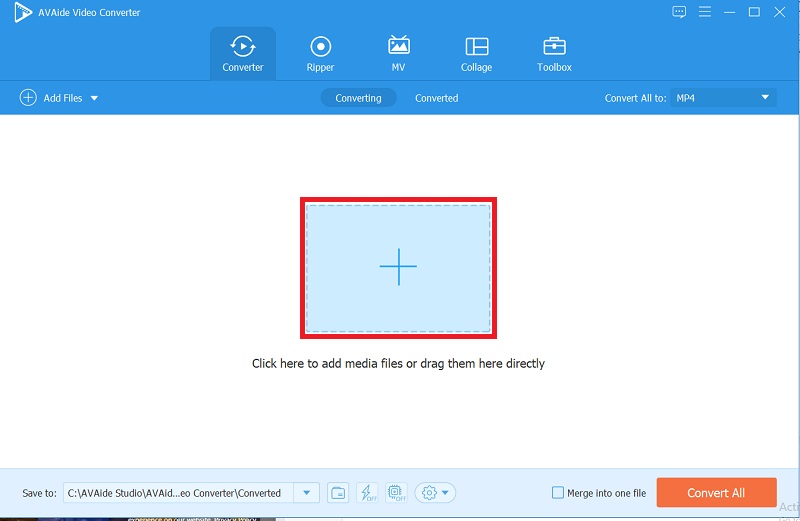 Step 3Crop your Video
Crop the video by selecting Crop from the toolbar above the interface. You'll be able to start editing once you've arrived. It is possible to manually crop the video by using the arrow cursor in the upper left corner of the screen. You can also change the aspect ratio of the video by your choice. Then, when you're finished, click OK to save your changes.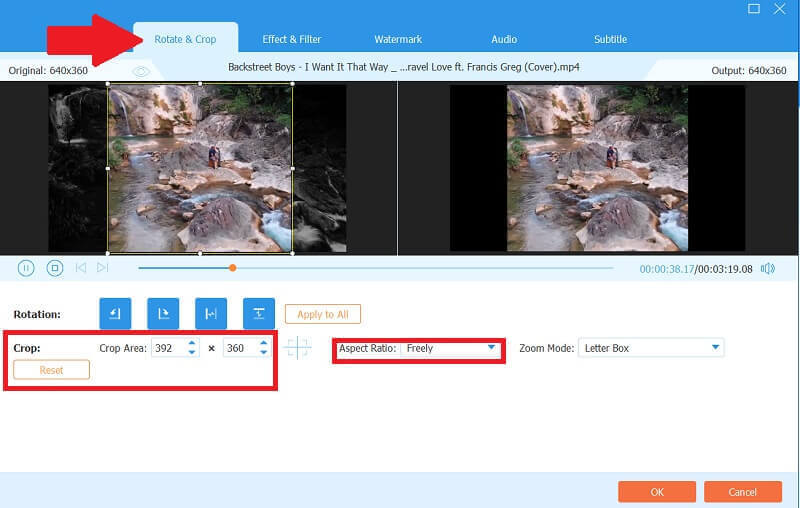 Step 4Adjust Rotation
If you want to rotate your video clips, you can freely select the rotation button.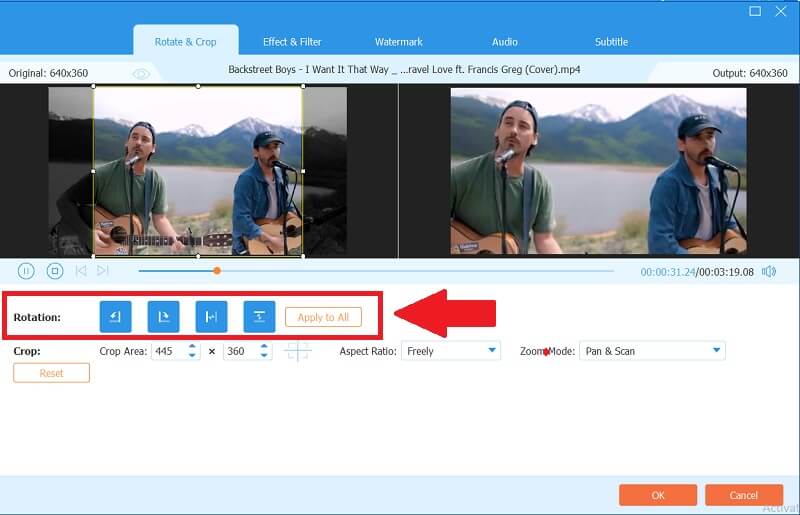 Step 5Convert your Video Clips
Finally, after you've cropped and adjusted your video, click the Convert All button to convert your finished work.
Part 3. FAQs About Cropping Videos
Can I resize the mp4 video in VLC?
Yes, VLC is well-known for being the simplest tool for resizing videos. You can, on the other hand, resize your video by going to Video > Aspect Ratio and selecting the size you want.
Can I install VLC on any smartphone or iPhone?
As mentioned, yes, you can download and install this software for free whether your phone is Android or IOS. You can enjoy using this on your mobile phone and you can also share it with others.
How can I save the video in VLC?
You can save it quickly by clicking the Media > then Save playlist to file, then rename your file, and there you have it. You can save it without a hassle.
Conclusion
To wrap up, both software makes it simple to crop your videos. Using VLC to crop videos will help you improve your creativity. It would be best if you had figured out how to do this by now. You can use the default method, especially with AVAide Video Converter's best software. When it comes to cropping your video clips, this software is at the top of the list. Despite its professional and excellent features, it is more than just a video converter.
Your complete video toolbox that supports 350+ formats for conversion in lossless quality.